Gibson's illustrious history started with its founding in 1902 in Kalamazoo, Michigan, making just mandolins at first. They very quickly became the go-to for luxurious, classy electric instruments, with big jazz bands favouring their hollow-bodied guitars. Gibson remain the true innovators of the electric age with the invention of the P90 pickup and the groundbreaking hum-cancelling humbucker pickup.
And then, of course, there was Les Paul. Any musician worth their salt would be familiar with the world-class musician and inventor of the solid body electric guitar. The Gibson Les Paul remains one of the most popular guitars across generations of musicians, versatile enough to span a wide range of genres. It's little wonder that some of the most amazing guitarists, from Slash to Jimmy Page, have relied on the Les Paul throughout their distinguished careers, and influenced many dreamers and aspiring guitarists to pick a Gibson.
Here are 10 of our Gibson guitar heroes in no particular order. You might just run into some of your idols…
1. Slash

The top hat, leather tights and the Les Paul. Slash was the symbol for the era of sex, drugs and rock 'n' roll. His image of a low slung Gibson Les Paul was the go-to look for many wannabe rockstars from the 80s till today. The Les Paul was his axe of choice, calling it "the best all-around guitar for me".
The iconic riff in Sweet Child Of Mine is what most guitarist recall of when they think of the warm, fat tone of a Les Paul. Like Jimmy Page, Slash brings out the double-neck ES-1275 for Knockin' On Heaven's Door.
2. Angus Young
Is there anyone more synonymous with the Gibson SG than Angus Young? Originally marketed as the double cutaway version of the Les Paul, the unmistakable "two horns" of the red SG is fitting for a man of Angus Young's stage persona.
The writer of some of rock's greatest riffs like Highway To Hell, his signature tone was achieved with the simplest of rigs: a Gibson SG into a Marshall Plexi amplifier. The SG was perfect for the job – it is thinner and lighter than a Les Paul. How else could Angus Young duckwalk perfectly across the stage?
3. B.B. King
Everyone knows the Lucille – the luxurious black and gold Gibson ES-355. But the late, great blues legend B.B. King owned and played a number of different hollow-bodied Gibsons – all of which he named Lucille.
B.B. King's signature ES-355 is an absolute beauty, and the smooth, wailing tones King coaxed out of the guitar were unmistakable. He called Lucille an extension of his voice.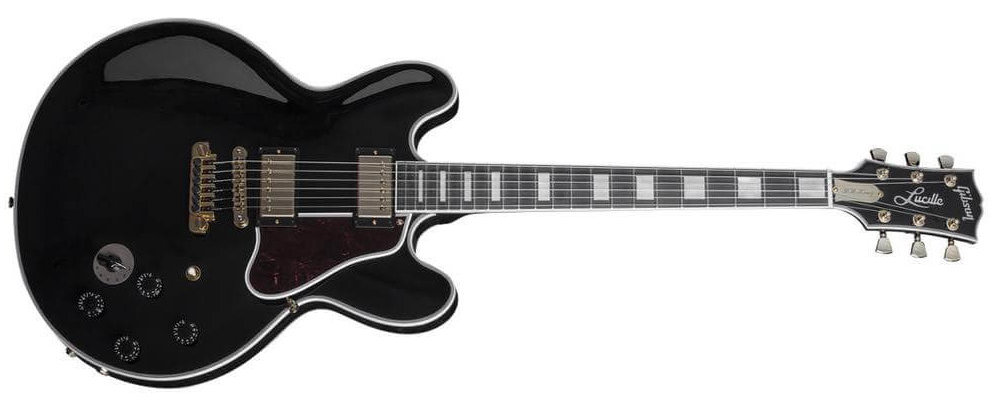 4. Les Paul
This list would not be complete without Les Paul of course! The Gibson Les Paul was the very first solid-body electric guitar Gibson made and was invented by the man himself. His inventions didn't stop there – he probably was the first person ever to do a live performance of guitar looping. His legacy lives on in all the Les Paul guitars today, and is the model which best defines Gibson as a brand.
5. Jimmy Page
Quite possibly the ultimate guitar hero, Jimmy Page was a showstopper in his Led Zeppelin days. Walk into any guitar store and high chance you'll hear a Page riff or lick being played by the aspiring guitar enthusiast at the demo booth.
His main guitar is his '59 burst known as Number One, which he purchased from Joe Walsh and had a number of modifications done to it over the years. Page played numerous other Gibsons later including a 1960 Black Beauty Les Paul and a double-neck ES-1275 for Stairway To Heaven.
6. Eric Clapton
You probably think of Eric Clapton as a Stratocaster player, but when the famous "Clapton is God" graffiti was painted he was playing a number of iconic Gibson guitars.
During his days in Cream, he played a '64 SG Standard, handpainted in a psychedelic scheme that became a cultural icon of the "make love, not war" era. Known as the "Fool", this was the guitar that produced one of the most sought-after guitar tones ever – the "woman tone".
Prior to the Cream years, Clapton used a 1960 burst Les Paul when he played for John Mayall & The Bluesbreakers. Named "Beano" after the comic book he was reading in the album cover photograph, it was unfortunately stolen from him and is still missing till this day.
7. Ace Frehley
The Spaceman – Ace Frehley is the epitome of the glam-rock era. This was the lead guitarist of KISS, who put smoke bombs in the cavity of his Les Paul, and shot fireworks from the headstock of his guitars. Ace Frehley chose the Gibson Les Paul as his guitar of choice. The most iconic Les Paul was a 3 pickup 70s Les Paul Custom, which he played on the stage at Nippon Budokan in Japan in 1977.

8. Randy Rhoads
Randy Rhoads was an upcoming metal sensation in his early days at Quiet Riot and found himself at an audition for a lead guitarist position with Ozzy Osbourne. Today he might be best known for playing Jacksons and a polka-dotted flying-V, but it was a cream 1974 Gibson Les Paul Custom that he recorded with and used as his main guitar on Mr Crowley and Crazy Train. Rhoads' ascent to stardom was cut short, far too early in a tragic plane crash, but his name lives on as one of the all-time greats.
9. Zakk Wylde
Another guitarist to play for heavy metal vocalist Ozzy Osbourne, Zakk Wylde went from a nobody to a metal guitar legend. His fearsome, aggressive licks and riffs, littered with the squeals from his signature pinch harmonics set the tone for his work with Ozzy and later, Black Label Society.
His weapon of choice? A Gibson Les Paul Custom, a black and white bullseye paint job and two EMG humbuckers, which Zakk Wylde calls "The Grail". The bullseye paint has become a Zakk Wylde signature, and are on many of his guitars, including a monster SG/Flying V hybrid known as the Gibson Zakk Wylde ZV.
10. Alex Lifeson
The lead guitarist of Rush redefined the boundaries of prog rock. Alex Lifeson's electrifying fretwork saw him praised by fans as a virtuoso on stage and the studio. Alex Lifeson relied heavily on Gibson Les Pauls, and has his own signature model – a Les Paul Axcess with higher fret access, a Floyd Rose bridge and Piezo pickups for acoustic sounds. He also tours with an alpine white ES-335 and is another famous user of the visually iconic EDS-1275, which can be heard in numbers like Xanadu.

Bonus: Joe Bonamassa
One of the shining lights in today's blues community, Joe Bonamassa has been lighting up the stages with his electrifying brand of blues-rock. Equally impressive is his collection of guitars which he calls the "Bonaseum". He owns multiple (yes, MULTIPLE) holy grail Les Paul "bursts" – a '59 sunburst he calls Snakebite being his favourite – together with a string of other impressive vintage Gibson guitars.
---
Inspired and ready to wield a Gibson of your own? Head on down to the Swee Lee flagship store at The Star Vista and have a strum of our Gibson guitars and fulfil that dream today.
[the_ad id="2737″][the_ad id="2740″]