It's new amp(s) day here at Swee Lee and this is one we're really excited for. This time we're bringing boutique amps builders – Bad Cat Amplifiers – into the spotlight. Designed and built in the rock 'n' roll state of California, Bad Cat's extraordinary amplifiers have captured the hearts and ears of musicians far and wide with their spellbinding sound and impeccable craftsmanship. But don't take our word for it. Tosin Abasi (Animals as Leaders) and Troy Van Leeuwen (Queens of the Stone Age) are just some of the big names that rely on these feisty felines for their immaculate tones.
Now that we've got your attention, join us as we introduce the amp powerhouse that is Bad Cat Amplifiers.
A Brief History of Bad Cat Amplifiers
Before we get into the details, let's take a trip down memory lane. The Bat Cat journey began back at the turn of the 21st century and was one of the first brands to pioneer the boutique amp wave. With the aim of bringing players thoughtfully designed amplifiers made with the highest quality components, Bad Cat's early amps have gone on to become modern classics.
An Overview of Bad Cat Amplifiers
By now it should be evident that Bad Cat Amplifiers isn't your typical tube amp company. They pride themselves in building outstanding purpose-built amplifiers that allow players to express themselves in their own unique way. While their amps can be traced back to a handful of original designs, Bad Cat has no interest in offering cookie-cutter vintage amps.
Each Bad Cat amplifier is thoughtfully designed to be incredibly flexible without being overly fussy and complex. This results in great guitar amplifiers that offer an instant connection to the player. Ask around! When most guitarists play a Bad Cat amplifier for the first time, they immediately notice a difference in clarity, dynamics, and tonal balance.
With that out of the way, it is high time we introduce the different breeds you'll find in the Bad Cat Amplifiers lineup: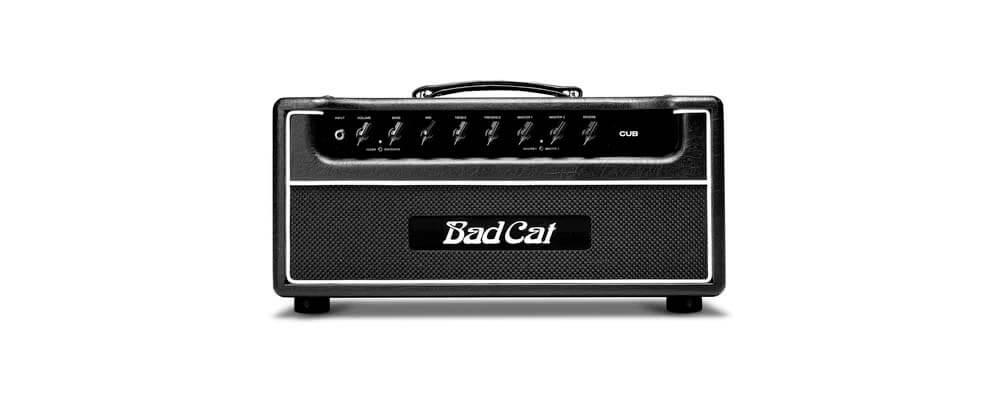 We're starting at one of the original Bad Cat designs in the Cub. Coming in at 30 Watts, this single-channel boutique amp is a darling for both studio and stage applications. Punch and chime are fortes of the Cub, and its latest iteration brings two gain modes to the table.
The clean mode offers classic clean tones that are also capable of producing smooth and touch-responsive edge of breakup tones. Toggle over to overdrive mode to engage an additional gain stage for heavier tones not found on Cub models of the past. Aggression and crunch are words that come to mind here.
With two gain stages also come two switchable independent master volume controls that can be preset for lead and rhythm volumes. Midrange control, studio quality reverb, and a fully buffered effects loop are added perks tone-conscious players will also enjoy.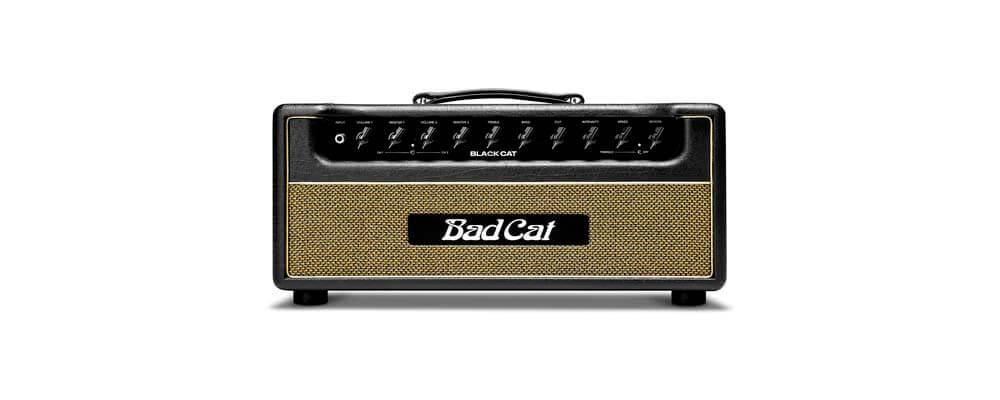 The Bad Cat flagship amp has a pedigree that hearkens back to some of the most legendary and coveted amps from the early 1960s. At two-channel and 20 Watts, this amp has ample headroom to keep up with the band whilst being quiet enough for home use – all while experiencing no tone loss.
Channel 1 produces bright and clear cleans that are the quintessential Bad Cat sound. Expect a highly responsive and complex character that produces an almost tangible three-dimensional sound. Channel 2 has all the complexity and chime of its counterpart but is augmented with a generous helping of gain. This gives way to an addictive crunch and snarl that still retains impeccable note definition.
The Black Cat also comes standard with a fully buffered effects loop – something that guitar effects connoisseurs will get excited about. However, this amp isn't just a fantastic pedal platform. The inclusion of a line out allows the more modern player to connect the Black Cat to an IR loader or a Wet/Dry rig for added flexibility and ease of recording. A bias-modulated tremolo and studio-quality reverb round out the plentiful features of this very special amp.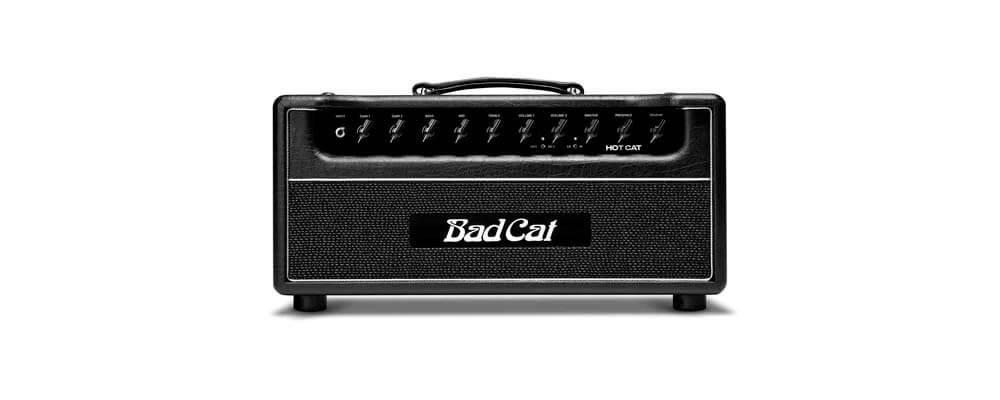 The successor to the award-winning amp introduced back in 2005, the Hot Cat is a reimagining that puts 20 years of refinement and experience into a highly acclaimed circuit. Limitless tonal shaping is the name of the game here.
While 45 Watts is a departure from the original model, single-coil players will be chuffed about the abundant clean power with minimal operating noise. Another noteworthy feature is the inclusion of two gain modes (Lo/Hi) per channel – a unique element that empowers players with virtually limitless gain combinations. All this makes this feverish feline versatile enough to play anything from chill jazz to hard rock.
The Hot Cat also comes equipped with studio-quality reverb – each custom-tuned to work with each channel. Just like the other Bad Cats, the Hot Cat also has an entirely transparent, buffered effects loop that will work with all effects. Another nifty mention has to go to the two-button footswitch that comes stock with each amp – a cool function that allows toggling between channels and the Lo/Hi gain mode settings from just one footswitch.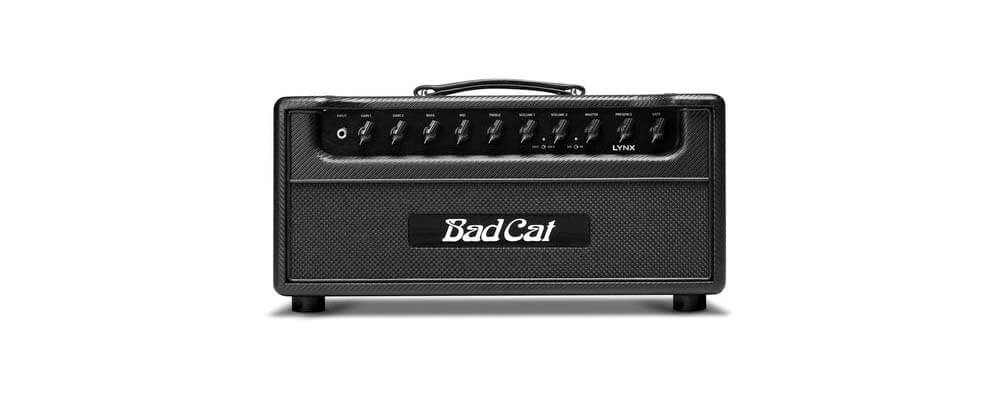 If gain is what you're looking for, look no further than the Lynx. A modern high-gain amplifier infused with Bad Cat DNA, the Lynx is designed with modern metal players in mind. Tighter low frequencies and precise midrange shaping are key additions here. The end result is an amp that punches hard and is able to cut through the mix without sounding harsh or grainy.
50 Watts with two EL34 in fixed bias class AB configuration make the base for the Lynx. Closer inspection will reveal two distinct channels with 7 gain stages. Furthermore, like with the Hot Cat, the Lynx has access to channel-specific Lo/Hi gain switches for added tonal versatility. Channel 1 is where you'll want to be if classic high-gain amps of the eighties are your jam. Channel 2, on the other hand, is a bonafide modern high gain that'll get you into the heaviest metal tones out there.
You don't even have to worry about getting a separate noise gate pedal too! The Bad Cat Lynx comes integrated with a uniquely designed noise gate to combat any unwanted signal chain noise. As with the other amps, the Lynx also has a buffered effects loop.
---
We invite you to explore Bad Cat's incredible lineup and discover the amplifiers that are changing the game. Whether you're a professional performer, a dedicated studio artist, or an aspiring guitarist, Bad Cat's amplifiers offer a world of sonic possibilities waiting to be explored.
Read more: Best Mini Guitar Amps of 2023