The old adage of "beauty is only skin deep" might ring true for most things in life, but for drum shells, the exterior qualities matter just as much. Construction and finishing aside, drum shell materials can make a world of difference in your playing.
Shop Acoustic Drums
Many beginner guides place emphasis on components and hardware. However, drum shells also contribute to your sound. While the difference may be subtle, each wood, metal, or synthetic build imparts its own tonal qualities. If you're in the market to upgrade your kicks, snares, and toms, then read on to find out more about drum shell materials.
Read more: Buying Your First Drum Kit: A Guide For Beginners
Woods
Perhaps the most well-known type of drum shell material, drum tonewoods are as varied as they come. Though some brands equip premium models with luxurious wood types, those are usually few and far between. Here are the most common woods you'll most likely come across while searching for your perfect kit.
Birch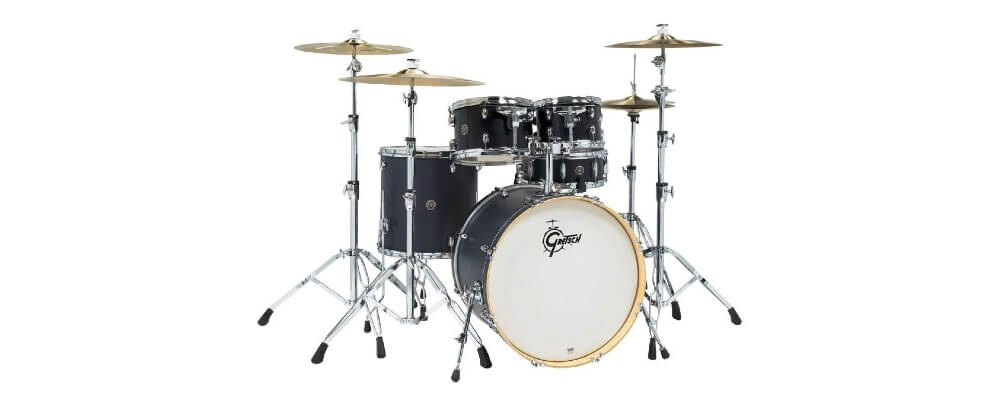 Relatively inexpensive and easy to source, birch is a popular choice amongst intermediate musicians. While sometimes unfairly slighted, birch is actually a highly versatile wood that caters to both starter and professional kits. Its acoustic properties boast reduced mids, slightly boosted lows, and elevated highs, giving the drums a fast and punchy attack.
While it still does well in closed, intimate settings, birch shines best in situations where volume is key. When rock ensembles require extra oomph from their drums, birch is often their top choice. Some metal acts are known for incorporating higher tunings, resulting in a higher attack and added agility.
Maple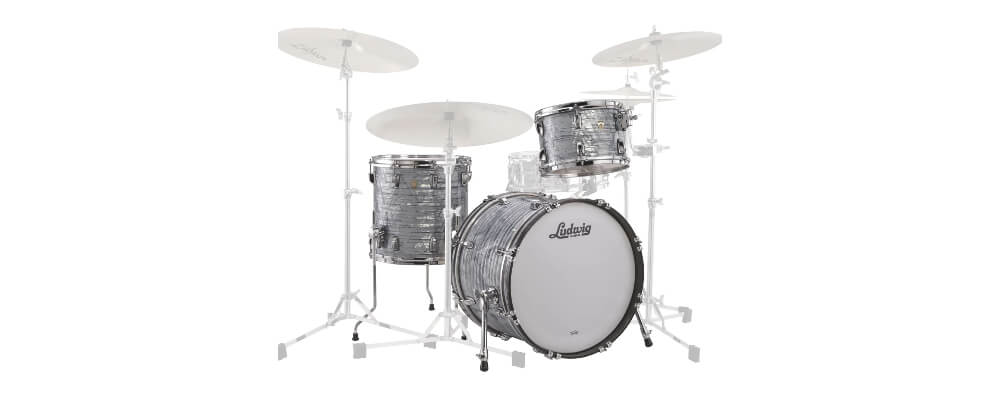 Slightly more luxurious than birch, yet still sturdy enough for practice kits, maple is another all-purpose paragon. Maple shells pull back slightly on mids and highs, focusing instead on warming the low ends. The tonality of maple drum shells stay crisp and balanced, giving you full control when tuning your kit.
The mellow qualities of a maple build complement other instruments, allowing your drums to sit nicely in a mix. They also provide a longer sustain compared to most other woods, which allows room for EQ experimentation.
Mahogany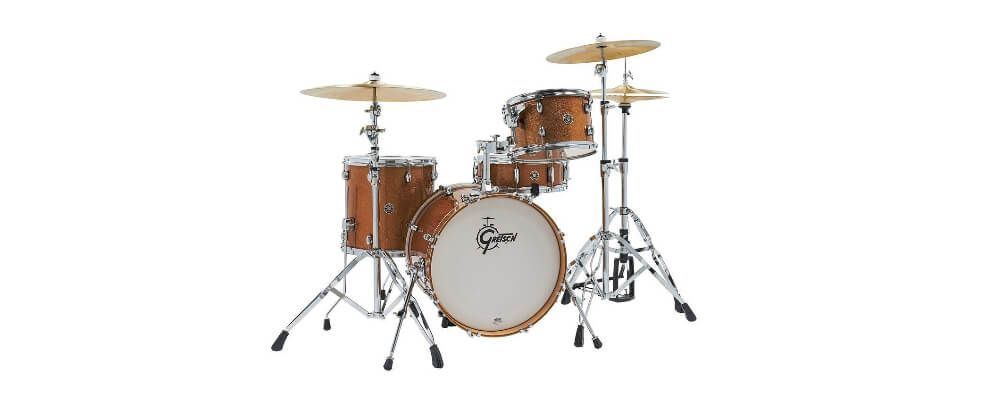 Heavy with a straight, fine grain, mahogany is usually sourced from parts of South America and Africa. African mahogany, in particular, is denser and therefore more sought after in mid-range to higher-end drum sets.
In any case, a good mahogany set will lend a rich and glossy quality to your low ends. Highs are muted, and the midrange remains smooth. Mahogany shells are vibrant and intense, with ample projection rivalling that of its maple counterpart.
Oak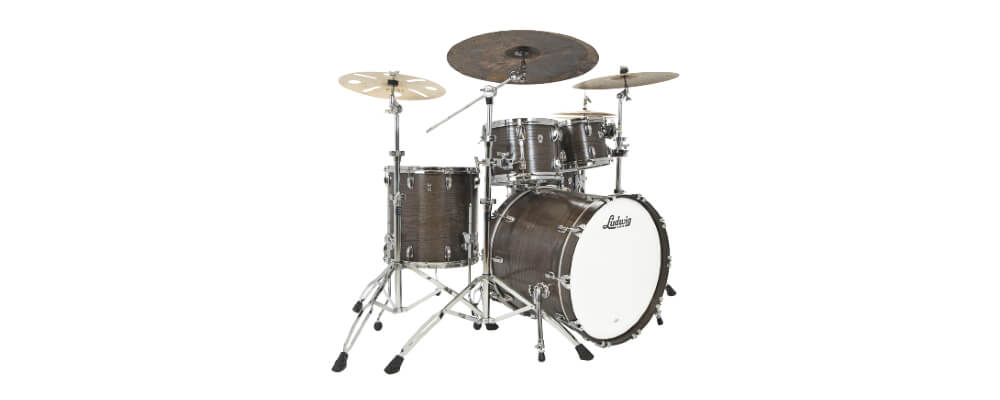 One of the more uncommon woods, oak is a hardy, dense tonewood found in the Northern Hemisphere. Japanese oak is typically the chosen variant for shells and with its distinctive, deep grain, it's easy to recognise.
Oak shells are fairly adaptable, possessing a decent amount of midrange with softer highs and bright lows. Armed with a fairly rapid decay, these shells have a lowered fundamental tone that allow players to go big on sound projection. It's also great for recording purposes, with its cheery voicing requiring next to no EQ adjustments.
Poplar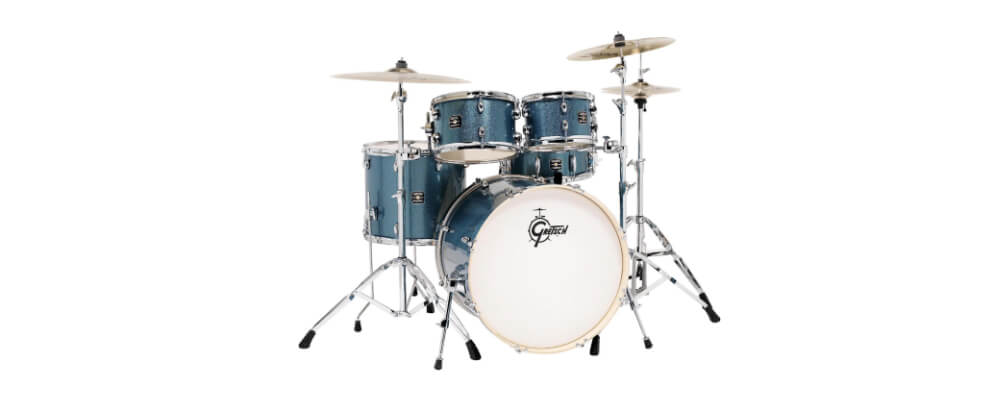 Lightweight and stiff, poplar is a fairly well-favoured material in starter models. Being a softer wood, manufacturers often use it as a filler, stacking sheets of poplar between plies of other woods.
With poplar shells, expect softer highs and mids, along with an elevated lower end. Its tone is even and gentle, making it one of the more accommodating choices across genres.
Bubinga and walnut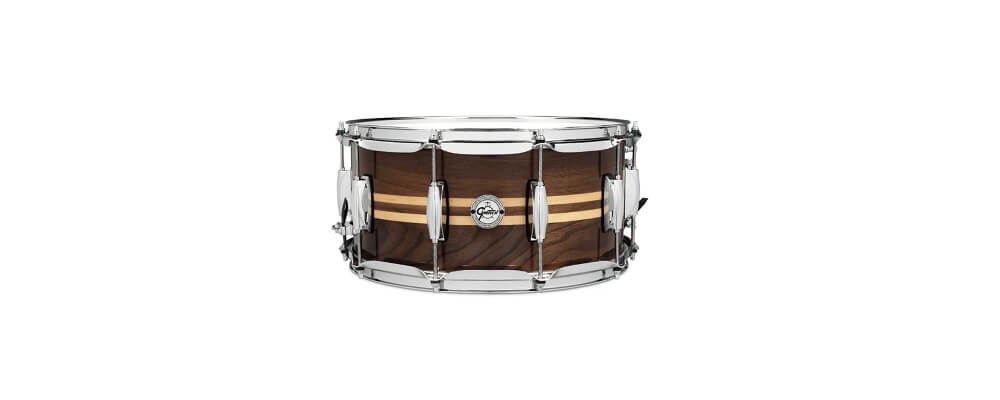 You're likely to find these two woods among pricier models. Walnut tends to make its way into hybrid models, since its soft, malleable composition tamps down on a drum's ability to project sound. Bubinga, also known as African rosewood, is denser and serves well as a solo drum shell wood.
Both woods are hardly used in tandem, but possess similar tonal traits. Their shells go hard on the low ends, amplifying them to a potent degree. Dark and rich, with a capable attack, these are not shells for the faint-hearted.
Metal
Fully-metal drum sets are not something you'll often come across. They're heavy and cumbersome to bring around, with a polarising sound that splits most drummers. However, metal is essential to any kit. Snares are regularly made from one or more types of metals. When a combination of metals is needed, there are two go-to manufacturing techniques – seamless crafting and hand-hammering.
Seamless crafting machine-spins the metals, resulting in a smooth and flawless finish. This allows air and sound waves to speed through the drums with minimal disruption, enhancing articulation and sound clarity.
Hand-hammering creates crater-like effects on the drum body, intentionally slowing down vibrations through the drums. With a lowered tone, hand-hammered snares often have a warm, wood-like sound.
Stainless steel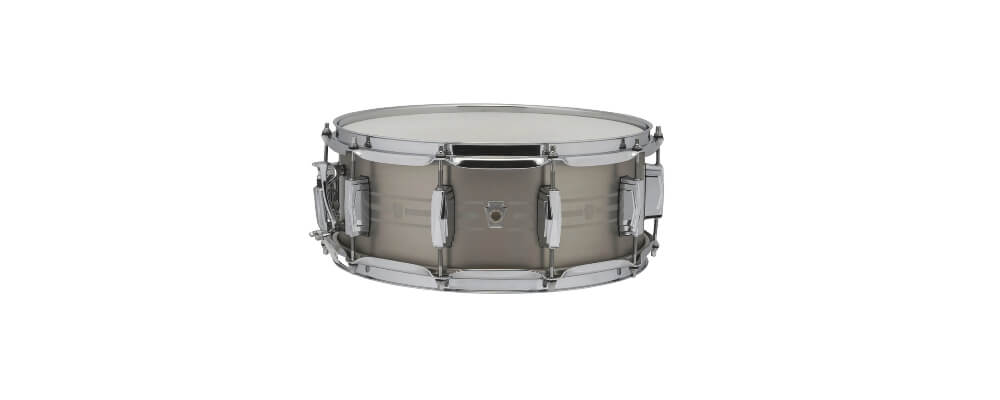 Effortlessly slick, stainless steel is loud. Its piercing, in-your-face sound really makes a dent in rock tunes. While stainless steel snares boast volume and crisp highs, their midrange and lower ends remain balanced, giving these snares an all-rounded tonality.
Aluminium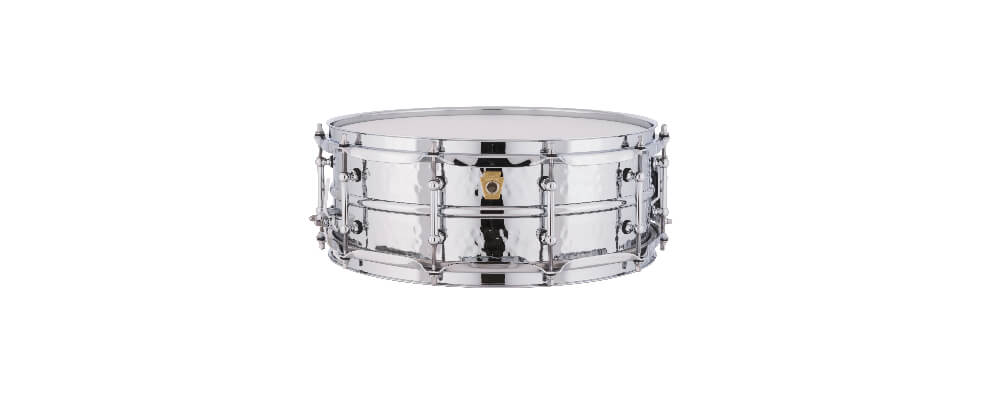 Another popular choice for metals is aluminium. A lightweight and reasonably-priced metal, aluminium's biggest selling point is its ability to resist corrosion. Aluminium snares have a dry and aggressive tone, due to an open midrange and low ends. Colourful and sensitive, these snares have massive audio impact.
Brass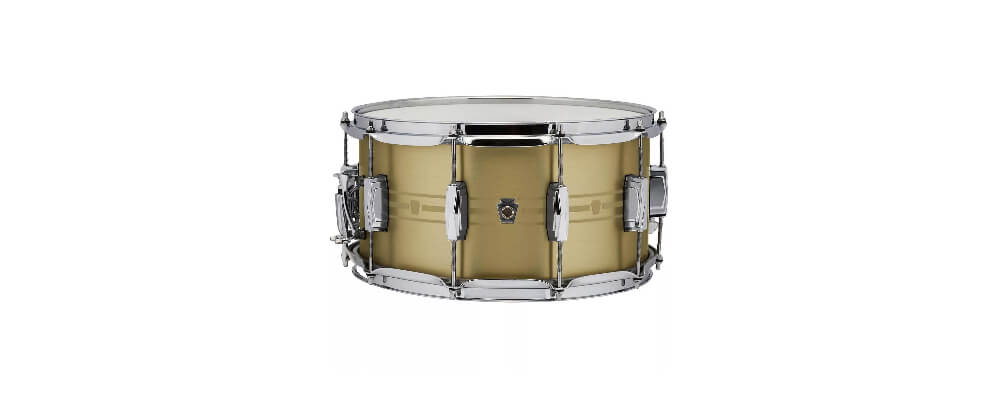 With its highs, mids, and lows generously warmed, and particular attention paid to low-end emphasis, brass is a highly dynamic material. We'd recommend incorporating brass snare drums into jazz, rock or progressive funk – genres that require highly responsive snares.
Copper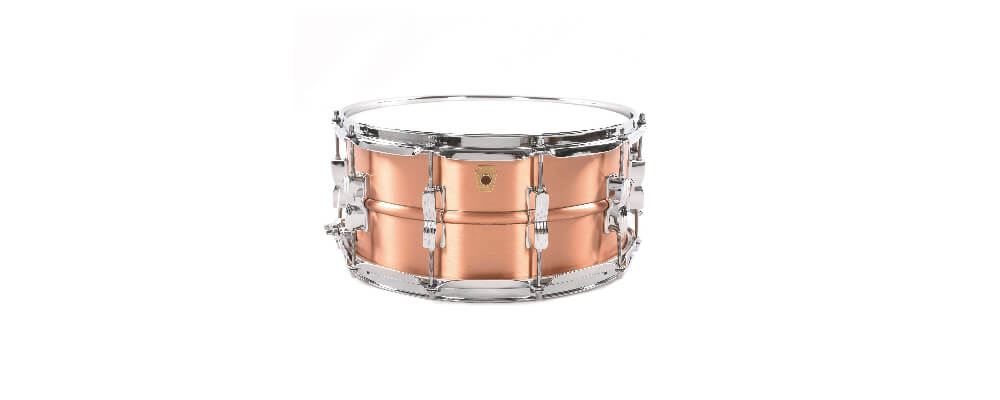 We're not going to lie – copper hardware comes at a steep price, which probably explains its rarity amongst drum kits. With muted highs, copper snares shift their focus to the pronounced midrange and lower ends. While uncommon, copper snares stand out with a loud and powerful presence.
Synthetics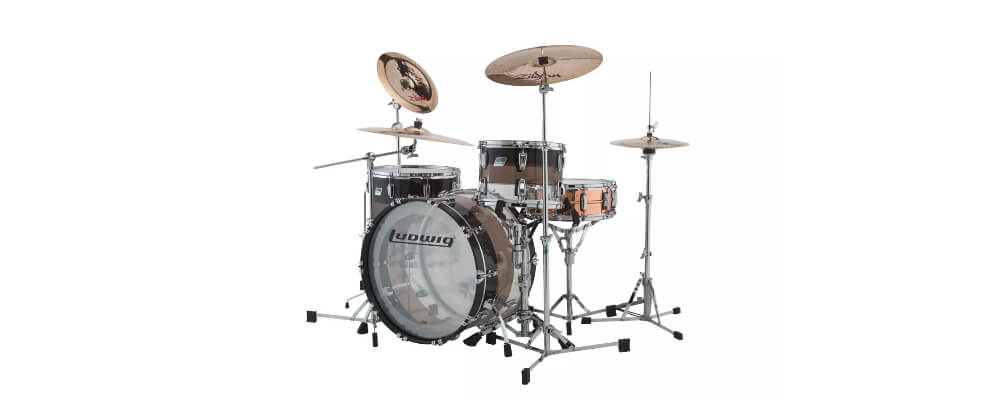 Despite being around for decades, synthetic materials aren't as commonly used as woods and metals. However with a unique look and sound, synthetic drum shells are slowly rising the ranks in preferred materials.
Shells made of translucent, resin-shelled acrylics boast vibrant highs, mids, and low ends with a strong attack. Carbon fibre models boom with balanced highs and mids with a warmer low end, resulting in a dry and restrained overall tone. Finally, resilient fibreglass shells maintain a controlled balance across highs, mids, and low-end, giving them a well-rounded sound for the versatile drummer.
---
As you might have noticed, there seems to be no end to the types of materials that go into making a drum kit. Each one comes with its own characteristics and benefits, so it helps to know your own unique preferences before making a choice. Keep in mind that other factors will most certainly change the sound of your drums, including but not limited to drum heads, tuning, and additional hardware.
Shop Acoustic Drums
On that note, why not start your search at one of our Swee Lee stores, where you'll be able to test out the goods for yourself? Once that's done, sift through your options on our website, or approach one of our staff members for all your questions! Build your dream kit now.
Read more: Drumology 101: Entry-Level Drums vs High-End Drums