Mini amps have come a long way. Back in the day, manufacturers were focused on making amps bigger and louder. That isn't strictly the case now. Innovations in mini guitar amp technology have elevated them from niche products to gadgets with personalities of their own. In many cases, companies have even found a way to make mini amps that are just scaled-back versions of industry favourites.
Read more: A Beginner's Guide to Guitar Amplifiers
What is a mini amp?
From a size perspective, any handheld portable amp could be seen as a mini amp. Amp heads with their lower wattage also qualify. However, some combos might be petite yet high-powered. Others might be larger in size and weight but only have 15W of power or below. So don't be surprised if you see a 6" speaker that boasts 100W of power. At the end of the day, the definition of a mini amp is subject to interpretation.
Who would benefit from a mini amp?
Are you a travelling guitarist who needs all your gear to fit within a car boot? Maybe you are an apartment dweller who can't spare much desk room for space-gobbling rigs. Perhaps you're just someone who loves miniature items. If any of these descriptions resonate with you, a mini guitar amp might just be right up your alley.
Even those with regular-sized amps can consider adding a mini version to their toolkit. Plug-and-play versions are small enough to use as practice amps, especially for impromptu jam sessions. Additionally, they can facilitate subtler performances that require detailed sounds at a lower volume.
Features to look out for
Size and portability: Mini amps are extremely popular with musicians on-the-go or anyone facing a lack of space. It's easy to see why – their petite dimensions are much more portable than that of a regular-sized amp. A mini amp will take up minimal room in a studio or desk space. Some models are even small enough to fit in a pocket.

Power/Output: When selecting a mini amp, consider the wattage, speaker, and cabinet design. A larger speaker with ample power delivers an impressive output, perfect for busking musicians aiming to captivate a crowd. On the other hand, if you have limited space and wish to avoid noise complaints from neighbours, a smaller cabinet with lower wattage will suffice.
Connectivity: Most mini amps have an aux input – a common audio connection that you'll be able to find on most computers and devices. This enables you to plug your phone or music player directly into the amp to play music tracks that you can jam to. However, Bluetooth connectivity is fast becoming a popular option. Assuming your guitar is equipped with a wireless adaptor, you won't have to worry about accidentally forgetting its audio cable.
Audio and features: Good sound comes down to components. For more volume, select a larger speaker and cabinet. Built-in effects will suit players who want to add instant delay, reverb, distortion, and other tweaks to their sound. Some mini amps even have capabilities like backing tracks, or are able to download new presets and models directly onto the device.
Build and durability: A hardy amp might not seem like an issue if you're only using it at home or in the studio. Consider a tougher build if you're going out on the road.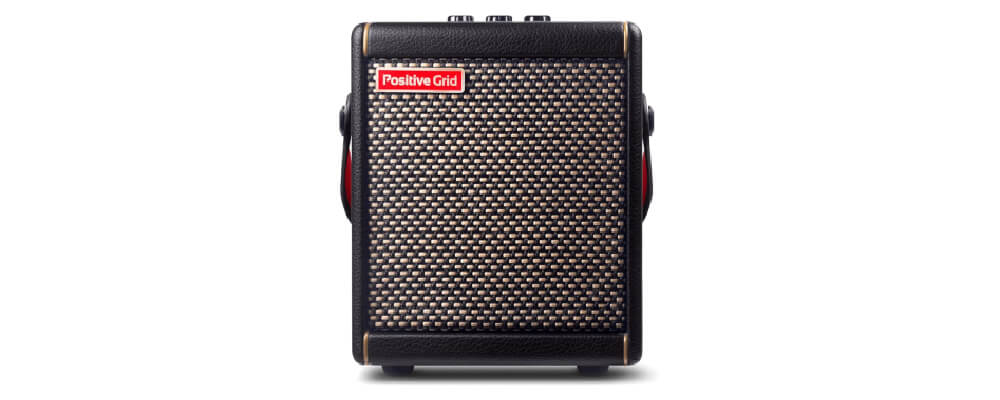 Positive Grid is on the bleeding edge of amp tech – utilising machine learning and innovative tech components in the construction of their amps. As a result, even their tiniest gadgets pack a massive punch, including the 4-inch tall Spark GO.
Speaker of the house: A unique dual-angled speaker design uses its own omnidirectional bass response, custom EQ, and damping to get a huge sound. Of course, you can use the precision-engineered acoustics of the Spark Mini to enjoy your music via Bluetooth connectivity too.
Road-worthy: The Spark Mini doubles as an audio interface, ensuring you have less to carry around. Throw in a built-in battery that charges via USB, and you're set for up to 8 hours of performance.
Record your own music: Stumbled upon a riff that you think has potential? Hook the Spark amp to a computer via USB for multitrack recording purposes. Now you can layer track upon track until you're satisfied.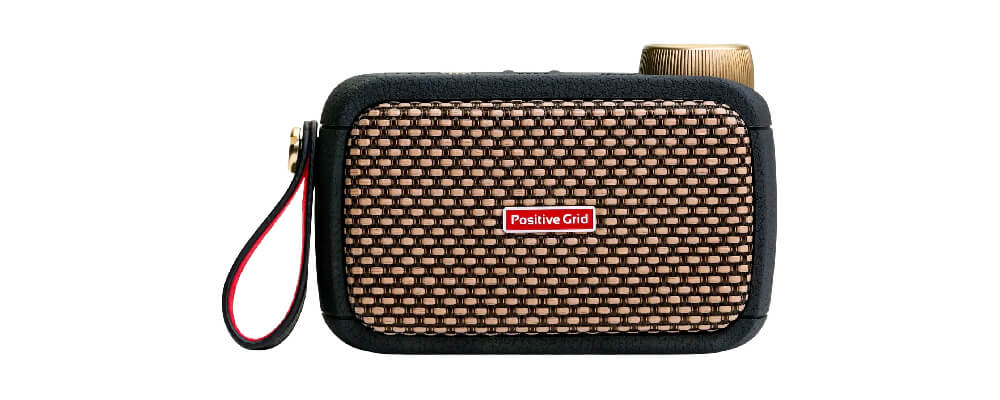 Positive Grid has another little ace up its sleeve with the Spark GO. Coming in at a featherlight 350 grams and a footprint no larger than a contemporary smartphone, this mini guitar amp and Bluetooth speaker is the definition of ultra-portability.
Spark-boosted projection: The custom-designed 2-inch speaker tuned with computational audio can really roar. Whichever the instrument of your choice, its response is full and dynamic.
Massive library of tones: It's equipped with 4 onboard preset slots, alongside 33 unique amplifier models and 43 effects. Paired with the Spark mobile app, you'll get to choose from over 50,000 custom patches.
Practice makes perfect: Budding musicians will definitely benefit from the Auto Chord and Smart Jam features. The former generates custom chord sheets in real-time, while the latter provides personalised backing tracks that cater to your individual playing style.

Pocket-sized practice partner: Don't like being weighed down? The Spark GO is petite enough to slip right into your front pocket. With its compact size and 8-hour battery life, this mini amp is the perfect companion for any impromptu outdoor jam sessions.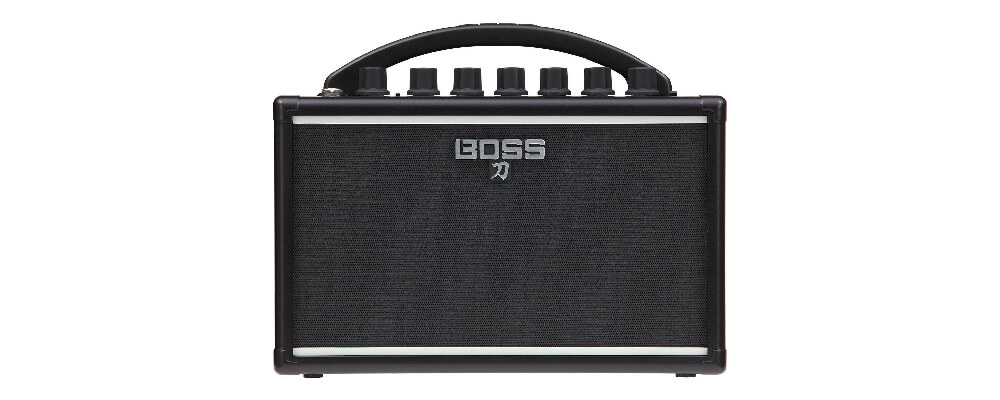 At less than three pounds, the Katana Mini can go anywhere. BOSS is known for rock-steady tone, and this amp's 4-inch speaker is more than up to the task.
Emulated output: When you want some private time, the speaker-emulated output is there for you. Simply plug in your headphones and rock out. It also doubles as a direct connection to a recording device so you can save your riffs with little fuss.
Juice up: There are two ways to power up this 7W baby. Either use an AC adapter or 6x AA batteries. It'll run for 7 hours with no sweat. Not having to rely on a direct power supply at all times ensures that the Katana Mini is ready to roll at all times.
Tone-shaping: A trio of bass, middle, and treble controls onboard the amp allows you to control sound definition while you're playing. For anyone who's looking to pad out their tones, the built-in delay effects panel should do the trick.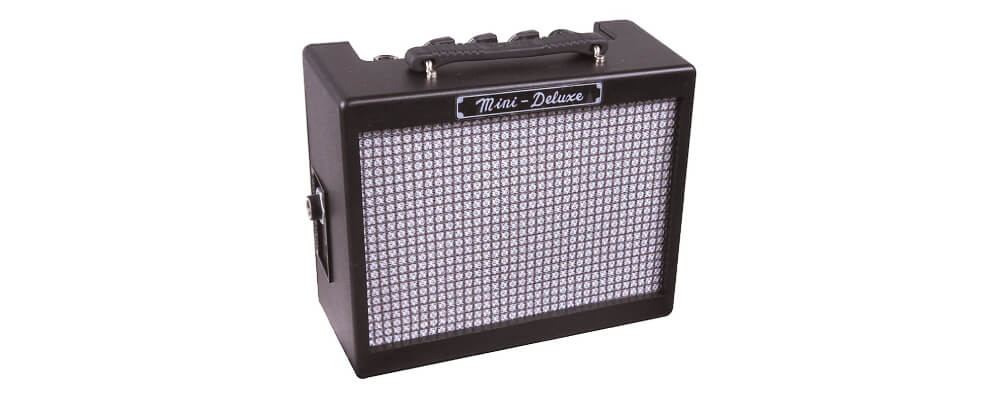 This wouldn't be a proper amp list without a Fender, and the Mini Deluxe is one to be reckoned with. It's often called the best small amp around, and one that'll definitely serve all levels of players well.
Bare essentials: With a pared-down array of volume, tone, and drive knobs, the Mini Deluxe is highly accessible to beginners. The tone knob in particular functions as a single-band EQ, so you can still achieve crunchy or clean sounds.
A tiny footprint: Clocking in at a 1W power rating, this micro amp still manages to contain a 1/4″ headphone jack and a 9V adapter jack.
Versatile sound: Armed with its single 2″ speaker, the Deluxe Mini has no problem keeping up with all genres of music. It may be at a lower volume, but the tone that comes through is beautifully clear and true to life.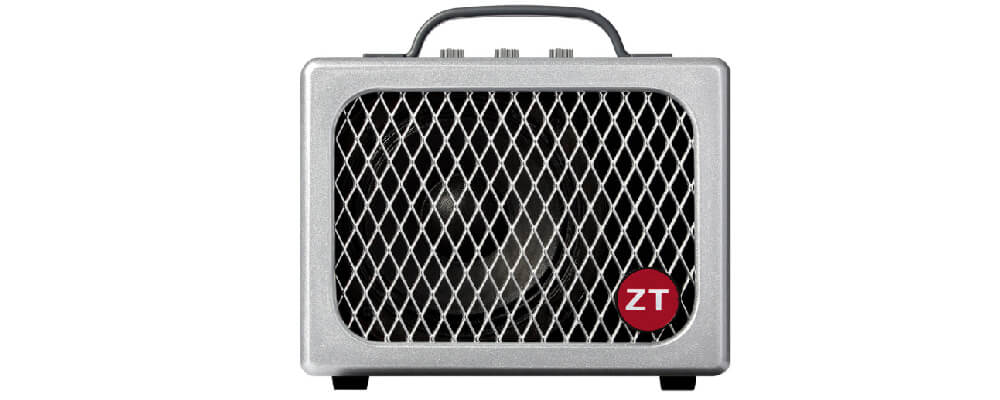 ZT amplifiers have earned a reputation as compact beasts, with Jeff Tweedy and Nels Cline among their fanbase. Their smallest offering is a mini version of the acclaimed Lunchbox.
Streamlined features: Handle the volume, tone, and gain parameters of the Lunchbox Jr. with finesse, and you'll be rewarded. Pump up the volume to increase the output. Hoping for more saturation and bite? Turn up the gain knob. Dialling the tone control clockwise boosts treble but decreases bass.
Built to last: While the sleek, flaked finish of the fibreboard casing looks cool, it also resists damage. Likewise, the metal grate protecting the 5″ speaker is tough enough to handle long journeys.
Thoughtful design: There are quite a few details that make the Lunchbox Jr. roadworthy. Firstly, the power cord is detachable, improving its portability. The 12V DC input can be connected to the auxiliary power outlet in your vehicle – so you can jam out on the road. It's also much easier to source headphones or adaptors for the 1/8″ jack, especially when compared to the 1/4″ jack favoured by most other amps.
Guitarists love the tone of a Marshall, and the diminutive MS-2C Micro Amp has plenty to spare. At 1W of power, this battery-powered gizmo will make a great practice amp.
Versatile power supply: Plug your MS-2TM into the mains when you're at home or the studio to juice it up. For everywhere else, all you have to do is connect it to a battery instead. It's the best of both worlds.
Simplicity at its finest: Amateur players won't be overwhelmed when they first try out this amp. With only volume and tone controls at your disposal, alongside clean and overdrive settings, it's a minimalist's dream. When your sound is this great, you don't need extra showy effects.
Tone, tone, tone: Marshall amps are synonymous with great tone. This little guy sounds exactly like its older siblings at a slightly lower volume. If you're on the fence about getting a full-sized Marshall, why not try this out first?
---
And there you have it. With all these different options, it's just a matter of finding the right mini amp for your needs. Whether as a starter amp, a practice aide, or part of a backup rig — there's definitely room for one of these in your arsenal.