There are few releases as highly anticipated as Fender's Japan 2022 collection. Over the years, Fender Made in Japan (Fender Japan) has made a name for themselves with their range of affordable and incredible guitars and their latest release is no exception!
Our Fender Made in Japan Collection
Fender Japan started out in the 80s with direct competition from other Japanese companies that were pushing out replicas of Fender and Gibson builds. Focusing instead on crafting instruments with unique retro-modern features, Fender Japan quickly made a name for their winning combination of vintage-toned pickups paired with modern hardware and appointments.
In their latest release, Fender Japan returns to their roots with reissues of familiar models from the 80s – right down to vintage specs and colourways. With so much in store, 2022 promises to be an excellent year for both Fender Japan and everyone who manages to land one of these guitars!
Fender Japan Limited International Color
Back in the 80s, Fender USA wowed the market with vibrant designs that captivated and inspired a new era of musicians. Made in Japan pays homage to the 80s with matching spec sheets and colour samples sourced from Fender USA's original builds. Each guitar is charmingly topped off with a finish named after specific countries that have inspired each colour. Talk about global domination.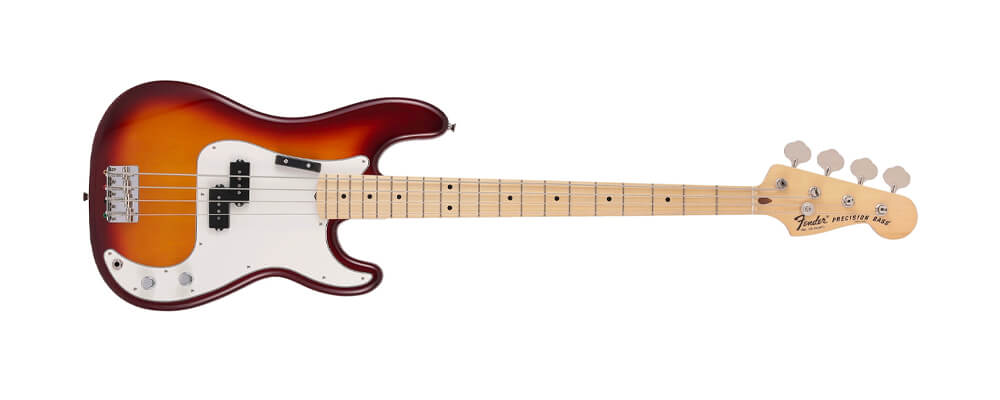 The Precision is the go-to for chunky, hard-hitting vintage bass lines. The quintessential split single-coil pickups launch into intense dynamics which go with anything from growly rock to soulful blues. An upgrade on the classic build, the Precision comes with a "U" shape neck, vintage-inspired 4-saddle bridge, and retro tuning machines. Coated with a high-gloss finish, it comes in Morocco Red, Sienna Burst, and Maui Blue finishes.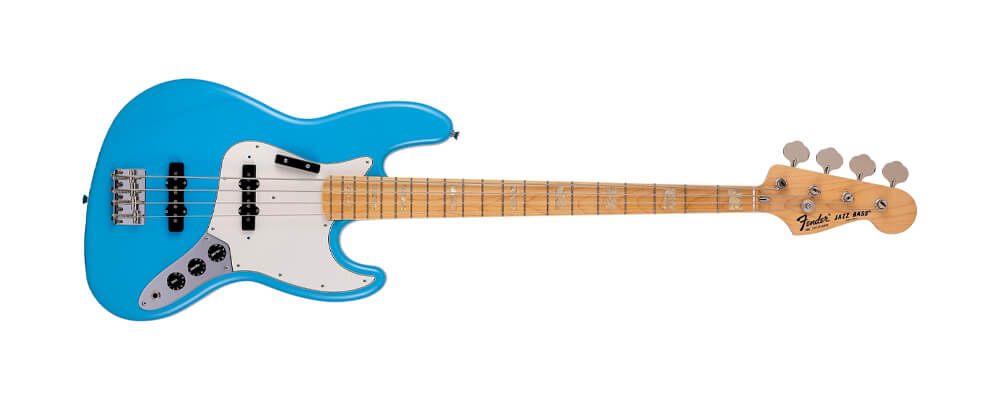 Where the Precision goes big, the Jazz hones in on tonal flexibility, courtesy of its dual single-coil neck and bridge pickups. When both pickups are fully engaged and the tone pot is completely open, the Jazz sings with a complex range of blossoming lows, gritty highs, and scooped mids that is perfect for funk players. The Jazz also comes in Monaco Yellow, Maui Blue, and Sienna Burst finishes.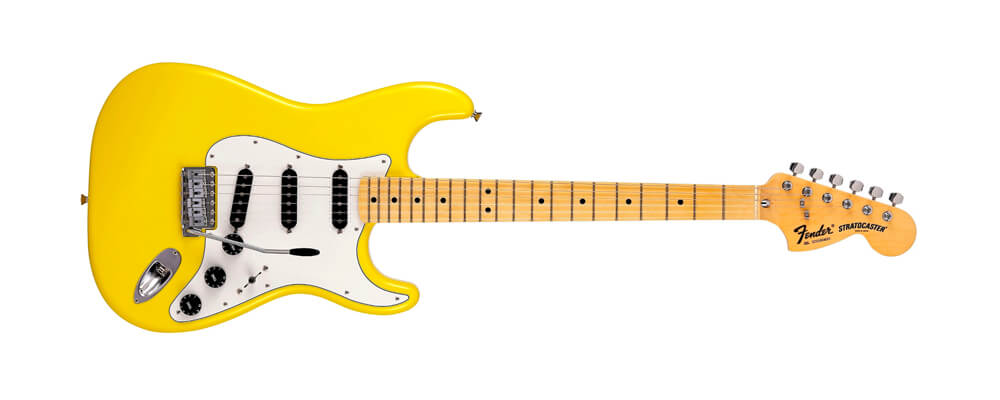 It wouldn't be a Fender release without the classic S-style. Fender Japan stays loyal to the original's hardware aesthetic, including the serial number on the oversized headstock, along with "F" stamped tuners. There are a few departures from form, namely the basswood bodies in place of ash, plus rosewood fingerboards alongside the standard maple variety. Take your pick from the lot as these Strats come in Monaco Yellow, Maui Blue, Morocco Red, Capri Orange, and Sahara Taupe finishes.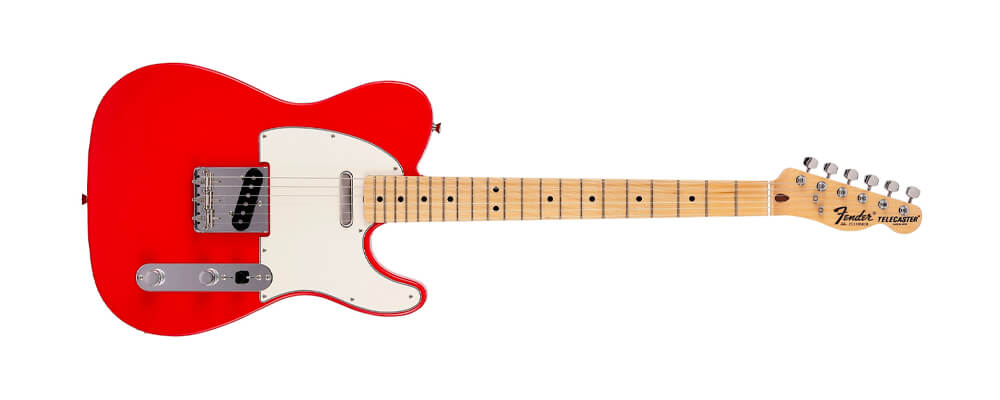 Fender Japan's 2022 release of the Telecaster keeps pace with its 80s predecessor with its matching three-play eggshell pickguard, U-shaped maple neck with bone nut, as well as its three-bolt neck plate. The Tele croons with that signature, sizzling Twang due to its dual single-coil pickups. Put it all together and the Tele's honeyed mids and taut bass notes ring crystal clear. Take your pick from a variety of finishes such as Sienna Sunburst, Morocco Red, Monaco Yellow, and Maui Blue and get ready to wow the crowd.
Fender Japan Junior Collection
Shaving up to 6% off the prototype's standard size, these guitars have a shorter scale length and a new cavity design that makes them ideal for players with smaller hands. With shorter fret lengths, these guitars are also a great choice for beginners who are still getting acquainted with the fretboard.
Unlike their brightly coloured counterparts, guitars in the Junior Collection come in an array of sweet, pastel finishes – simply gorgeous!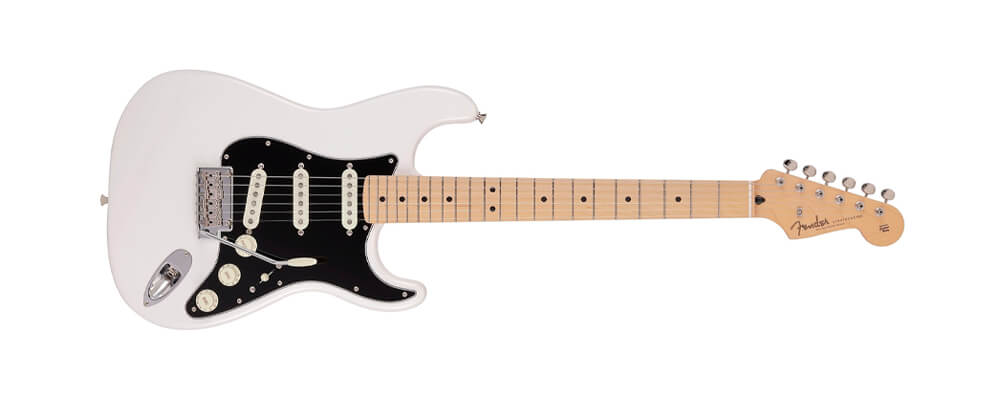 Lightweight and compact, the Junior Stratocaster is a great gigging instrument. While everything else remains true to size, its 24" scale length makes it easier for select players to hit their notes and nail solos. Like any signature Fender Strat, the Junior Strat chimes with bright tones from its modified single-coil pickups. Decked out in Arctic White, Satin Shell Pink, Black, Satin Daphne Blue, Satin Surf Green, Satin Vintage White, and 3-Colour Sunburst, match your guitar to your outfit for that picture-perfect moment!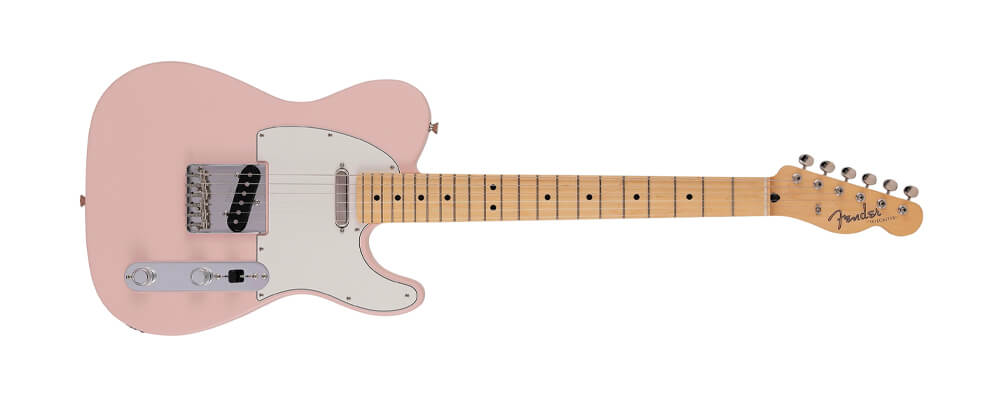 The Junior Telecaster keeps the standard Tele 42mm nut width. Along with the usual hardware and fittings, this model comes with a control layout of a 3-way selector switch with master volume and tone controls. Tele-specific single-coils and a string-through-body bridge plate complete the retro ensemble. Similar to its Strat counterpart, the Fender Junior Telecaster comes in a variety of finishes – Satin Shell Pink, Butterscotch Blonde, Satin Surf Green, Satin Vintage White, Black, 3-Color Sunburst, and Satin Daphne Blue.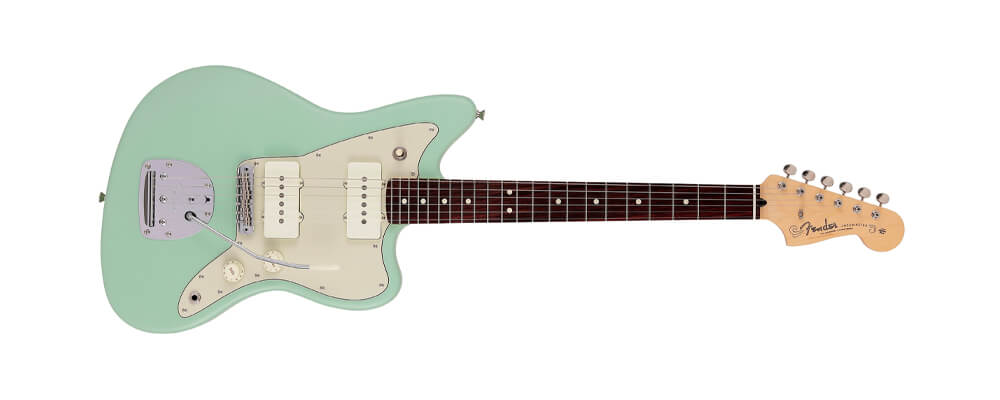 With its quirky, offset body and full, warm sound, the Jazzmaster rounds up Fender Japan's latest collection of guitars. With dual humbucking pickups, the Jazzmaster presents a mellow tone when turned down, but hits heavy with punchy growls when engaged. Stick to traditional hues with Black, Satin Vintage White and 3-Colour Sunburst, or take it up a notch with Satin Surf Green, Satin Shell Pink, and Satin Daphne Blue options.
---
Fender Japan is known for some of the market's wildest guitarists but their latest release shows us that classic designs never go out of style. Take to the stage with a pop of colour with any of the Limited International Colours guitars, or go small and chic with a model from the Junior Collection.
Our Fender Made in Japan Collection
If something has caught your eye, drop by any Swee Lee outlet and talk to us! Or shop online and receive your order in the comfort of your own home. For the latest guitar updates and promotions, sign up for our newsletter!
Read more: New Squier Guitars for 2022