It's oh-so-natural to obsess over your favourite artists' gear. Even brands go crazy when they see their best guitars on stage in front of millions of people. That's why it's become even more common that brands rope in these famous artists to collaborate on developing their very own signature guitar models. It's a win-win for everyone!
Signature guitars have become icons in their own right, and deservedly so. There are great practical reasons to justify the expense of getting one. Playing a signature guitar might just take you a step closer to emulating your favourite artist's trademark sound. Not to mention how cool and inspiring wielding it feels. And who knows? It might just have the potential to become a collector's item after a while.
But just as importantly, a signature instrument is a golden opportunity for us mere mortals to own a piece of our favourite's gear setup. And there's absolutely nothing wrong with wanting to be more like our music heroes! Take the ever-popular John Mayer for example – last month the SE version of his original Silver Sky landed at Swee Lee and they sold out in the blink of an eye (☝️ you can pre-order one!) Everyone loves a good signature guitar! It's not just John Mayer though. Over the years, tons of drool-worthy signature guitars have hit the market, and we fans are only too happy to show the love.
From retro-harkening beauties with heaps of vintage charm to souped-up axes which could only be meant for rock n' roll gods. The adage "something for everyone" comes to mind. Choosing our favourites was difficult, but we think we've managed to round up the best signature guitars on the market. Onwards and upwards to our selections.
Read more: 8 Reasons It's Time to Upgrade to a Better Electric Guitar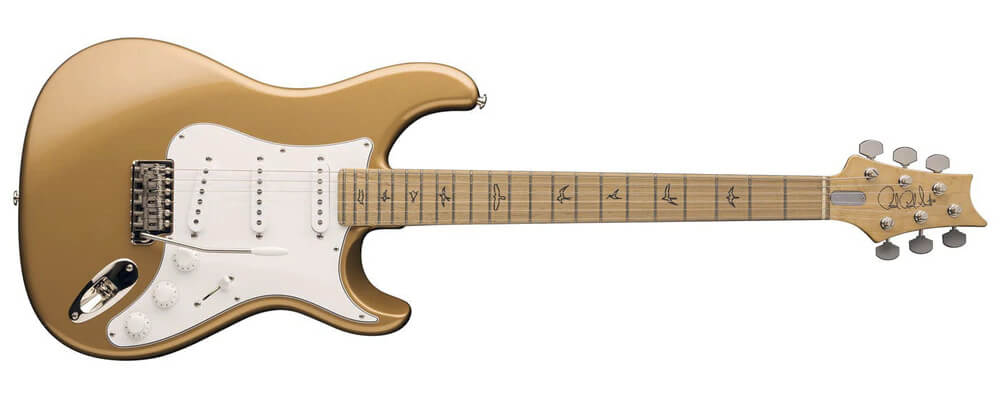 At its core, the Silver Sky is a love letter to 60s single-coil guitars. Designed in tandem with the Grammy Award-winning guitarist, John Mayer, the Silver Sky takes elements of classic PRS and spins them to suit John's playing style. Take the comfy bolt-on maple neck for instance – a feature modelled after John's own treasured vintage instruments. It's also topped by an inverted headstock that keeps string length behind the nut consistent, so each sweet, glassy note holds its tune for ages after you start jamming.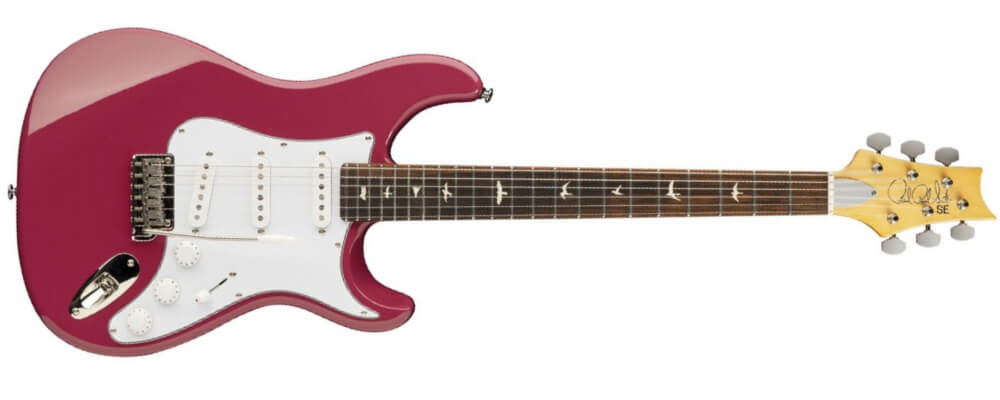 For fans of the Silver Sky who want all the good stuff from the original USA model, but want a whole lot of bang for your buck – the SE Silver Sky is the bees knees. Housed within a lightweight poplar body, a trio of 635JM "S" pickups delivers on that quintessential single-coil sound. By upping the fingerboard radius to 8.5 inches, the SE gets a boost of modernity without losing its old-school appeal.
We just received a batch of these guitars late last month but they've all been snapped up! Don't fret though. We'll be getting in another shipment really soon. However, this time you might want to get a pre-order in to prevent yourself from missing out this time around.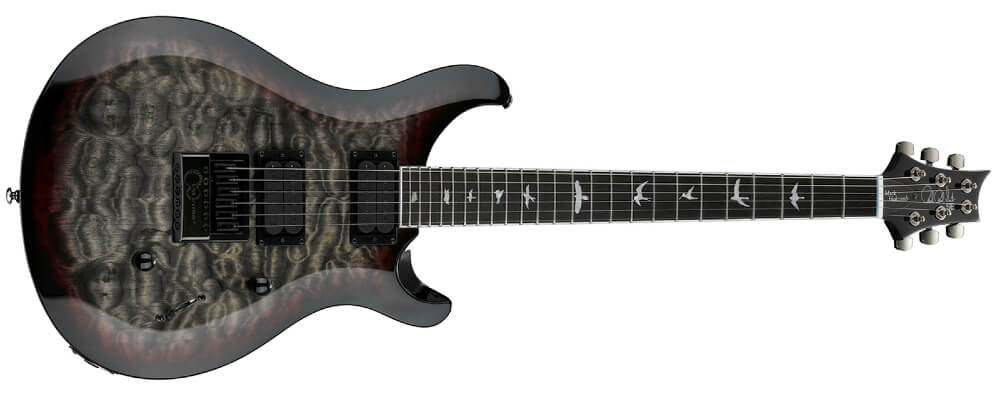 If you're a fan of modern metal, you'd have undoubtedly heard of Mark Holcomb of Periphery. While this SE has much of the PRS DNA, there are a few marked differences that make it more "modern" than your normal Paul Reed Smith instrument. Instead of a tremolo, a rounder fretboard radius, and PRS's own proprietary pickups, you'll find an ultra-stable fixed bridge, 20″ radius, and Mark's signature Seymour Duncan pickups. These select mods make this signature ideal for chunky palm mutes, shreddy lines, and bone-crushing chugs!
Mark's SE also comes in a 7-string variant too. This extended range guitar retains much of what makes the 6-string original such a hit but extends the scale length to a longer 26.5″ for lower note clarity.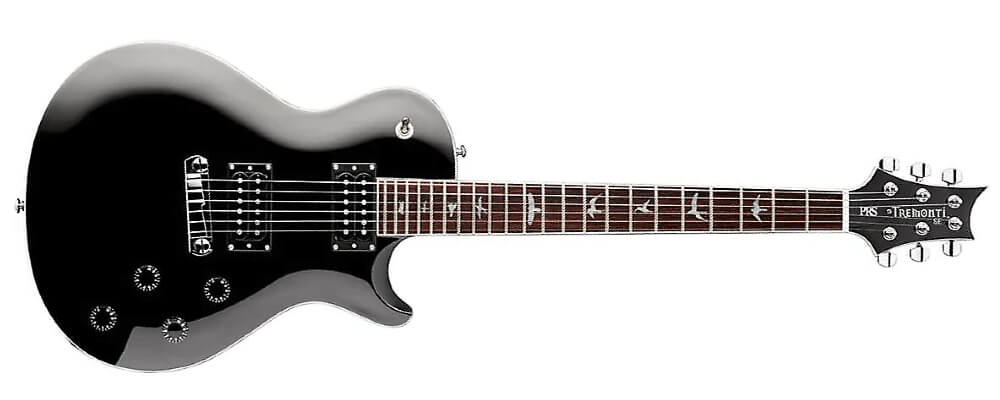 As a founding member of Creed, Alter Bridge, and Tremonti, Mark Tremonti's passion for music is apparent. That same can't stop, won't stop energy gets transferred to his signature model. Bevels on all sides soften bodily contact points, keeping you playing for hours. Cause when you're speeding soloing on the razor-thin Japanese-made Wide Thin neck, it can be hard to quit. Good thing then, that the dual "S" humbucking pickups croon smooth, addictive tones that remain responsive even with the chunkiest of gains.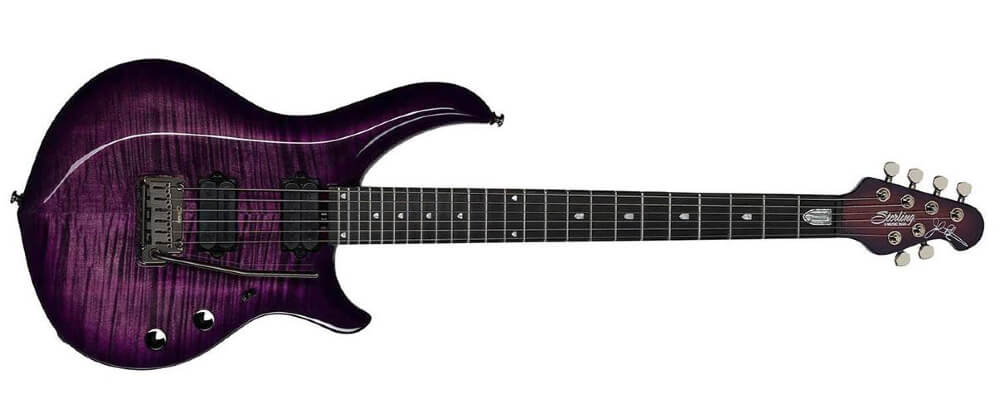 Call John Petrucci, King Midas, if you please. Everything he touches turns to gold. His guitars are constantly in demand, and the Majesty reigns supreme amongst them. It's not just the elegant mahogany shieldless body with flame maple top that has hearts beating. DiMarzio LiquiFire and Crunch Lab humbuckers bring out tone like no other. Prepare for varied voicing, focused attack, and more than enough bite to make amps scream. One thing's for sure, you'll feel like royalty when you play it.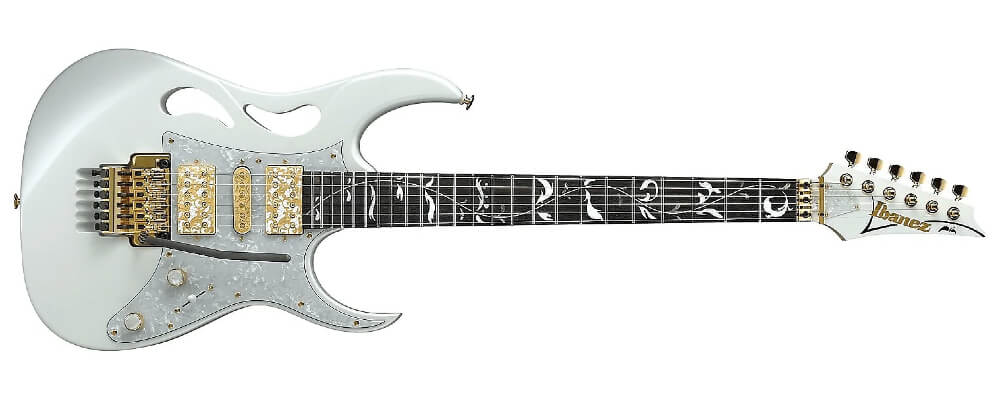 It's impossible to find a guitarist who's never heard of Steve Vai. Believe us, we've tried. His signature guitar is just as recognizable. From the delicate Tree of Life inlay that cascade down the fretboard, to the iconic "Petal grip" handle punched through the body. It sounds distinctive too, thanks to the ear-blasting Dimarzio UtoPIA pickups. Get your fingers around the ultra-fast 5-piece PIA neck, and you'll be wondering 'Vai' this guitar isn't part of your collection yet.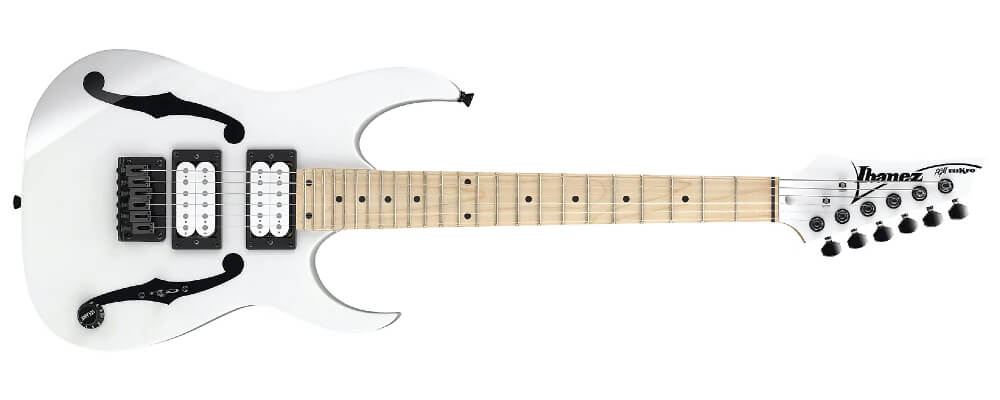 What's small and does it all? Paul Gilbert's MiKro, of course! Just from the facetious F-hole graphic, you can tell that instrument is all about having fun. Based around a short-scale, this PGM is both slinky and easy to play – something that beginners and players with smaller hands will no doubt enjoy. Dual Infinity humbuckers boost aggression to their limits, tempered by the sustain of its poplar body. It's a solid effort, literally, thanks to the hardtail bridge that keeps everything running tightly.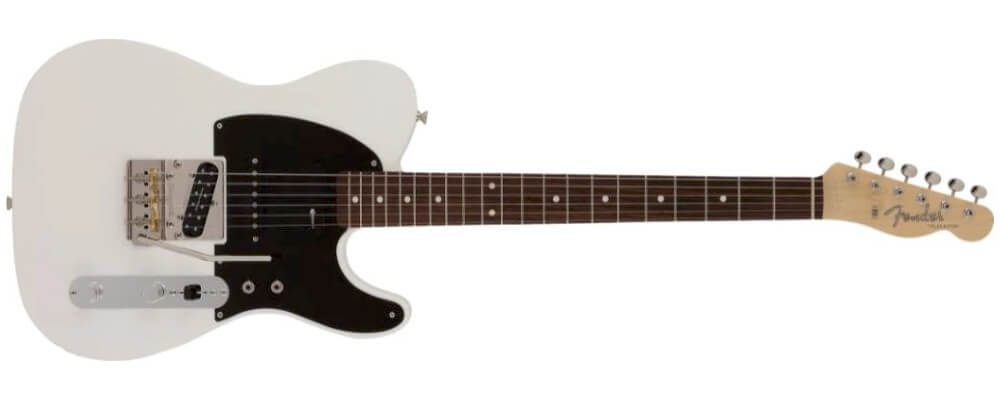 When you're coming up with a fitting axe for Japan's premier rockstar, it's go big or go home. Just like the man himself, this Telecaster has some unusual, yet enticing accoutrements. Look past the minimalistic facade, and you'll be transported into a new sonicscape by a trio of pickups. The neck's Sustainer Driver is singularly one to covet – it's got the potential to deliver a barrage of individual notes usually only achievable with an electronic bow.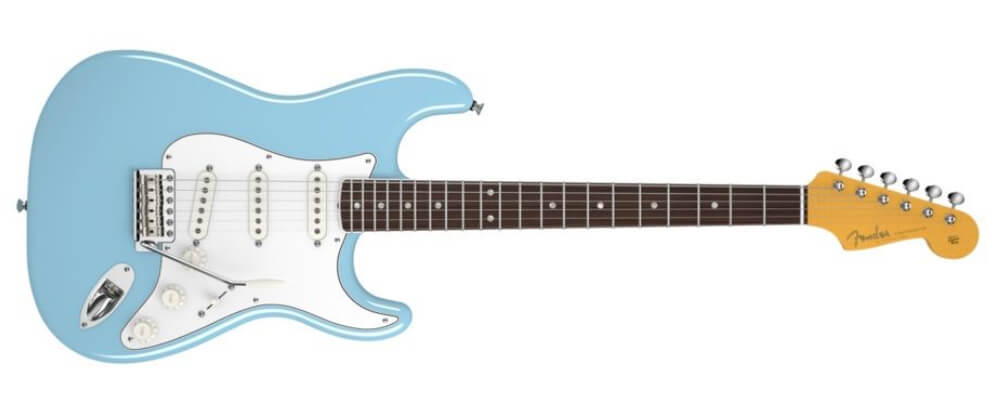 Eric Johnson has searched for the ultimate guitar his whole life. We're not sure if he's found it, but his signature guitar collab comes pretty close for us. Lightweight and ergonomic, its alder body extends into a single-piece quarter-sawn maple neck. The quintessential vintage Strat sound perseveres here, as do other vintage characteristics like the silver-painted block tremolo and '57-style string recess left endearingly bare.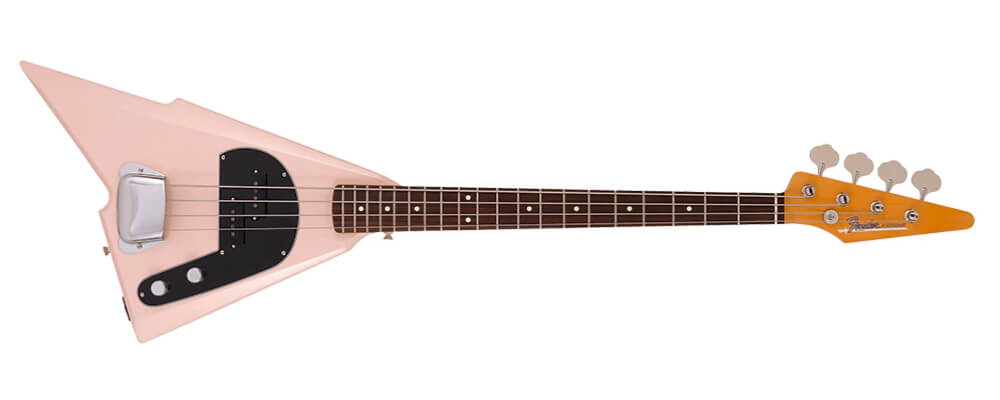 If you've ever wanted a slice of Japanese individuality right in your life, you seriously need the Katana bass. It's Okamoto's own model resurrected from 1985, but loaded with some new and top-notch details. Thick and chewy in tone, the Pure Vintage '63 Precision bass pickups are endlessly customisable with the control layout knobs. It plays as cool as it looks too, thanks to the U-shaped bolt-on neck that rests comfortably in your grip.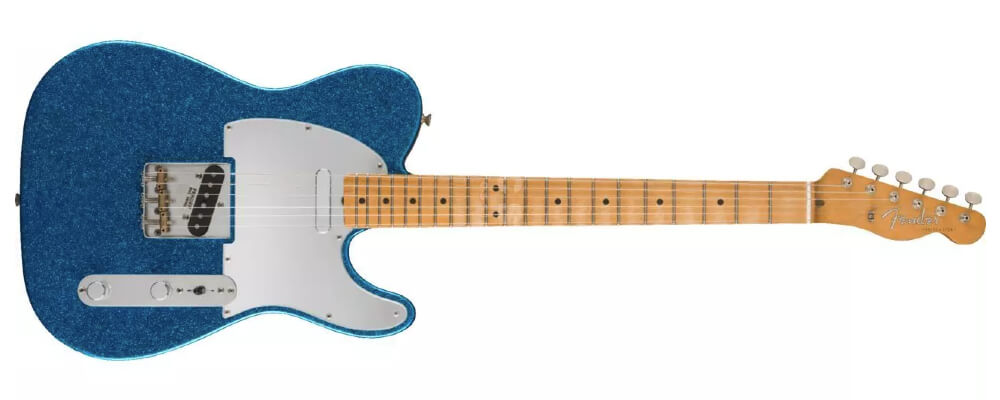 Fender's inimitable guitar meets Dinosaur Jr.'s J Mascis' alt-rock machinations. Clean-cut with simple good looks that belie an ability to go big and bold, it's all about the twang factor. The bitey yet balanced sound comes from a set of Custom '58 single-coil pickups, and the 3-position blade switch adds all the texture you're looking for. Road Worn to just the right level, the C-shaped bolt-on neck is stout yet natural-feeling, fitting reassuringly in the palm of your hand.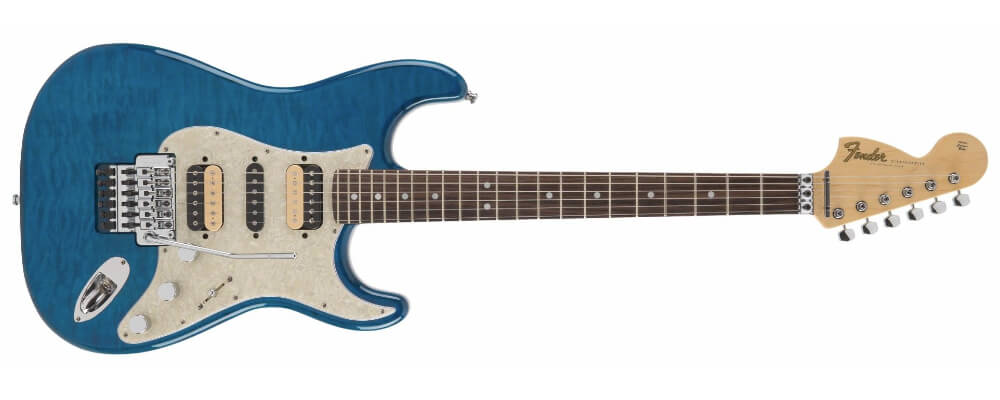 An unsung gem that often flies beneath the radar, Michiya Haruhata's custom Strat has all the hallmarks of a soon-to-be cult classic. Inspired by his technical prowess as TUBE's lead guitarist, he's chosen a soft V maple neck, complete with a reversed headstock to ensure tuning stability. Set in an HSH config, two DiMarzio pickups soar between bell-like highs and gritty lows, with an extra Custom Shop Texas Special thrown into the middle for good measure.
---
That was our list! Don't worry if you didn't see your favourite on here, because each person has their own idea of what makes or breaks a guitar. With so many excellent names to choose from, we're confident that players of all ages and skill ranges will find the instrument that's right for them in our catalog.
So, what do you think of our picks? Maybe you've already fallen for a few yourself. If that be the case, then come on down to Swee Lee and make the commitment. Or start slow with a few tender glances on our website. Get registered on our mailing list, and you'll be the first to know when we bring in new stuff.
P.S. The PRS Silver Sky and SE Silver Sky have been extremely fast-selling guitars for us – they sell out real quick as soon as we receive them! What's the best way to best way to secure one for yourself and avoid disappointment? Get in touch with us for a pre-order! Our team will be in touch with you to help you grab the guitar of your dreams.
Read more: Swee Lee's Best of 2021