Everyone loves a good comeback story, even more so when it belongs to Marshall. Only a few days ago, the iconic British manufacturer quietly re-issued four of its best-loved pedals – Bluesbreaker, Shredmaster, Drivemaster, and The Guv'nor. These handmade-in-the-UK stomps are near-faithful reproductions of their original predecessors, right down to the dimensions and specs. To celebrate their arrival in our stores, we're giving you a crash course on what to expect from each one. Read on and enjoy.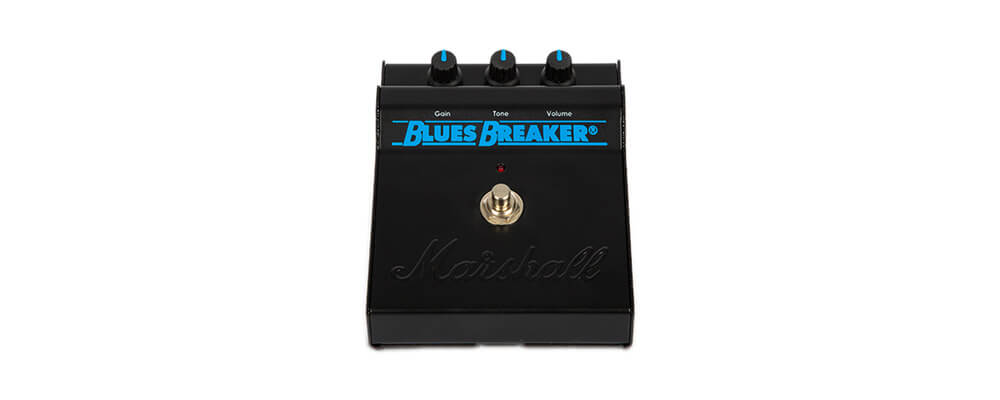 The BluesBreaker is arguably the one that's done the most rounds on social media thus far, and for good reason. It takes its cue from a 1962 amp that Eric Clapton once used, which was then distilled into a pedal format in 1992 and wielded by artists like John Mayer, on his studio album, Continuum. Needless to say, this stomp has some pedigree.
With its distinctive blue-on-black colour palette, swooping Marshall script, and uniquely-shaped enclosure, this reissue looks almost exactly like the original BluesBreaker. It's the same sound-wise, oozing with smooth overdrive tones that shift quickly via the intuitive Gain, Tone, and Volume knobs. This pedal delivers all the rich character, subtle boosts, and massive headroom to achieve that ideal vintage overdrive sound.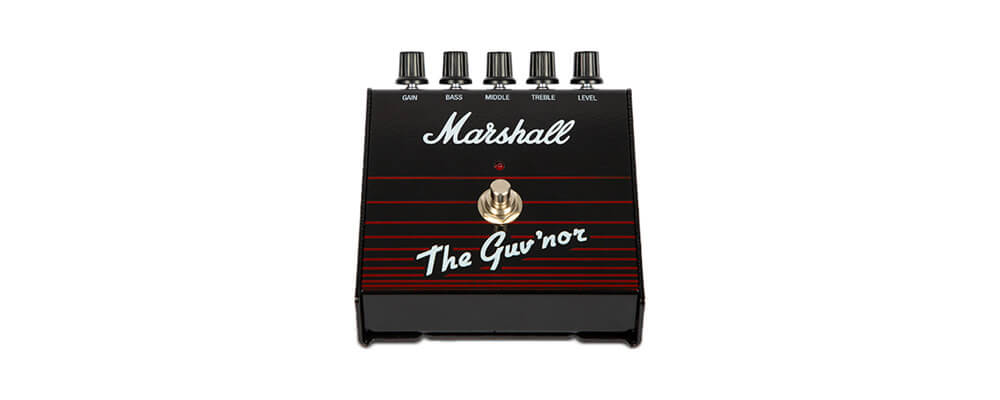 It wouldn't be blasphemy to say that the 1988 Guv'nor set the standard for every distortion pedal that came after it. The late and great Gary Moore was a huge fan, featuring it prominently on his highly-acclaimed 'Still Got the Blues' album.
Reissued for 2023, the Guv'nor still has it. Decked out in the prominent black and red colour scheme with white script, it drips with the snarling, biting JCM800 tones we've come to expect. Marshall promises a "smooth overdriven sound with a touch of compression", and that's exactly what you get.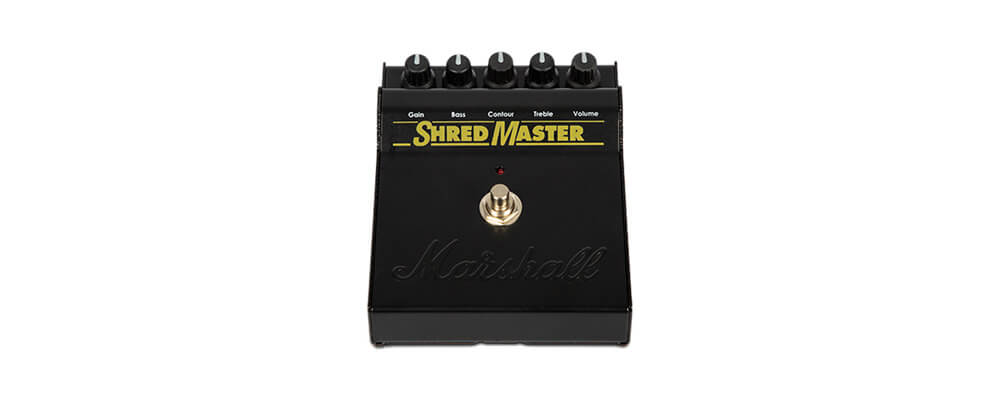 Following the success of The Guv'nor, Marshall kept up the momentum by releasing its first-ever high-gain pedal, the ShredMaster. It was a perfect fit for the high-powered rock and metal genre dominating the industry, churning out sizzling hot distortion for fiery solos and highly-saturated riffs. Everyone from Jonny Greenwood and Thom Yorke of Radiohead, to Kevin Shields of My Bloody Valentine had a ShredMaster in their arsenal.
One glimpse of the reissue's familiar gold-on-black graphic scheme, and you know you're in line for Brit-tinged crunch taken to a whole new level of high-gain. It's pure thrash, versatile enough to traverse softer rock melodies yet capable of ramping up for heavy metal enthusiasts. Setup is simple, with Volume, Gain, Treble, Bass, and Contour dials. That last one controls the midrange frequencies, and you can achieve a super-scooped tone by turning it down to zero.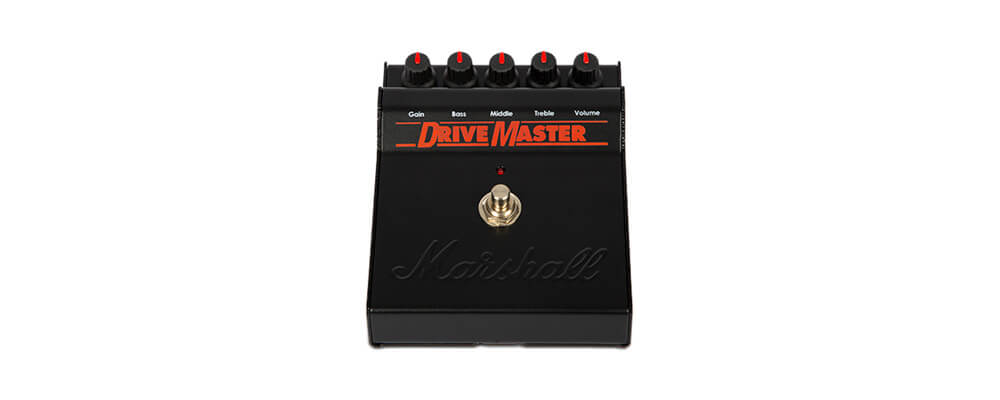 To many, the DriveMaster is simply The Guv'nor taken a step further. The three-band tone network essentially functions as a de facto extra amp, providing more attitude than ever. Its circuitry was simplified, and Marshall thoughtfully added a little more gain at lower frequencies. This souped-up pedal won the heart of Jeff Buckley, who used the DriveMaster for all his overdrive tonal ambitions.
Just like the original, the DriveMaster simmers with rich, organic drive tones via its all-analogue design. The straightforward format of Gain, Bass, Contour, Treble, and Volume parameters is a breeze to navigate. Anticipate drive tones reminiscent of a cranked-up JCM amp, carrying you from low-gain crunch to shred-worthy metal growls.
And with that, you're all caught up on the Marshall re-issued pedals. Be sure to check them out at our online store ASAP. Make no mistake about it – these stomps are all legends in their own right, and they'll definitely be making an appearance on some of your favourite artists' pedalboards soon.
Read more: Guitar Pedals for Beginners