It's Week 4 of Swee Lee's 75th Anniversary Celebrations and we're here to give you some more! To share the love with you guys, we've handpicked some of our favourite guitar-related gear. Today, we're letting the supporting cast shine, so say hello to our exciting range of effect pedals and amps!
That's right, we've got the best guitar accessories the industry has to offer. We've slashed our prices, so you'd best not miss this one-week-only affair. If you snooze, you'll lose out on some absolutely drool-worthy pedals and amps.
Save 5% on selected Amps & Pedals
These essentials are a welcome addition to every guitarist's toolkit, and we're pretty sure you'll find something you like in here. Be it something you've wanted for years, or a replacement gizmo for your existing rig – why not start searching and see what bargains lie in store?
P.S. Guess what's up for grabs for this week's giveaway! This time around we've got two awesome pedals to give away – a Teisco Overdrive Effects Pedal and a Teisco Distortion Effects Pedal. Itching to find out how you can stand a chance to win? Hit the button below to learn more!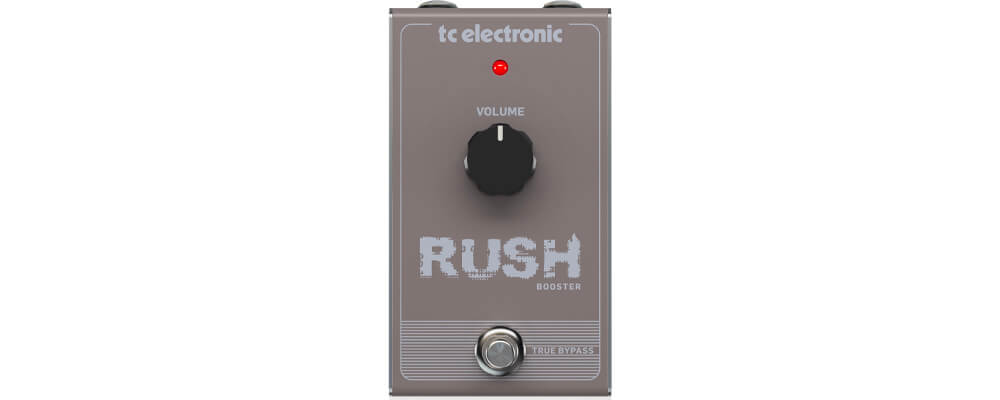 Playing guitar can get complicated, so it's nice to have something straightforward by your side when you're rocking out. Simple doesn't mean boring though! One glance at the Rush Booster and you'll understand why. Boasting up to 20dB of squeaky-clean gain, it sends signals into overdrive with ease – creating that sizzling, meaty tone you've always wanted. The sturdy protective housing can take a real beating too, so don't hold back on the foot stomping on its account.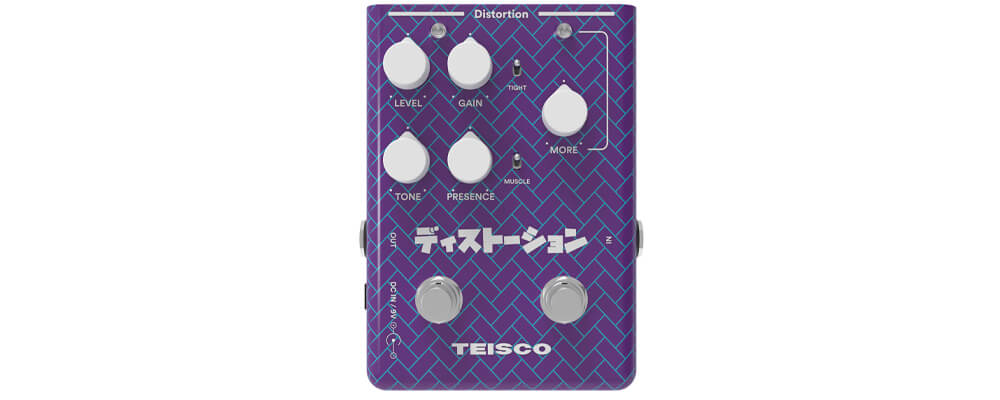 There's style, and then there's style. Housed within a vibrant graphic-adorned zinc case, this pedal falls squarely into the latter. Here, Japanese aesthetics meets British flavour, resulting in a unique look + tone that lends an almost lo-fi-ish quality to your tunes. With five knobs, two toggle switches, and a duo of independent channels at your disposal – all that's left to do is experiment. Turn the "MORE" dial for a crystal-clear boost, flip the "MUSCLE" switch for an added gain stage, or just try stacking circuits – the choice is yours!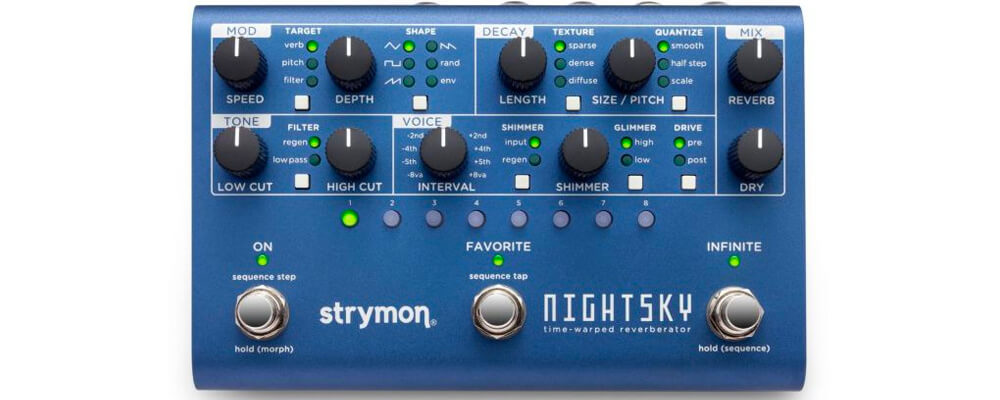 Comprehensive is the word we think best suits the NightSky. Much like the vast cosmos its handle pays homage to, its possibilities are infinite, so forgive us if we don't do it justice. It's deceptively uncomplicated to dial into its five main reverb sections – Mod, Decay, Tone, Voice, and Mix – for the ultimate range of sound. Not feeling too creative? Let the 300 MIDI-bound user presets do the thinking for you. Conjure up the precise dynamics or ethereal sustains of your dreams, then commence tempo-tapping via dual sequencing options. Its Class A JFET preamp keeps signals analogue, so everything stays immaculate while you're letting the SHARC DSP 32-bit processor do its thing. Ever resourceful, the NightSky even accommodates mono and stereo setups, so feel free to deploy every available pedal in your arsenal while you're at it.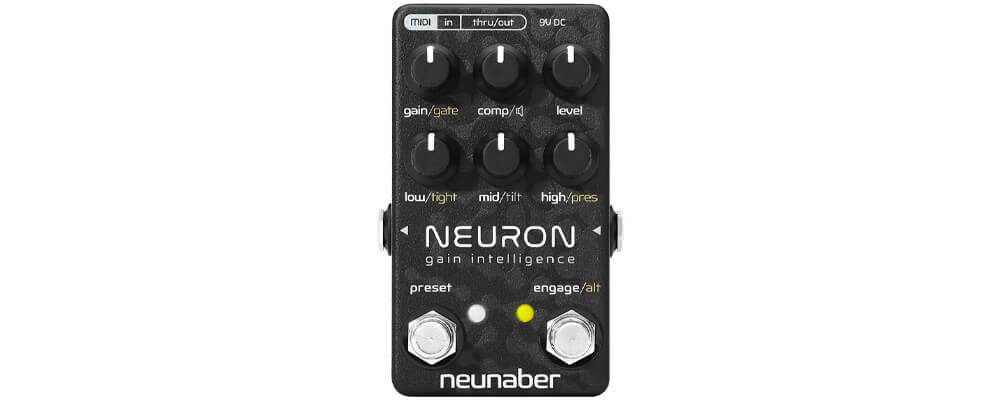 When is a preamp not just a preamp? Answer: when it's also an effects pedal. And you don't need to be a genius to appreciate the versatility of this all-in-one gadget either. Seriously, it's got everything. From a single-knob compression setting that delivers tonal consistency at any volume, to the tilt EQ that transforms tones without needing to fiddle with presets – each feature maximizes playing experience and control. Start off with the footswitch which stores up to half a dozen presets, and once you've gotten the hang of things, switch over to the MIDI controller to recall 24 more.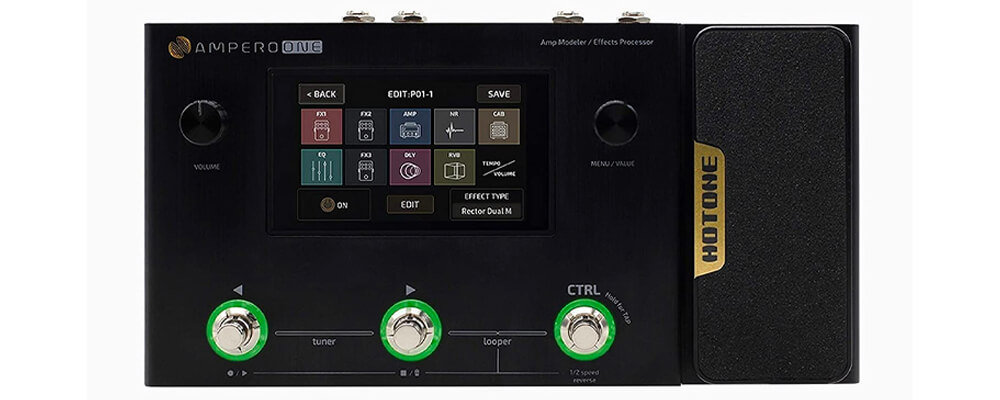 If you like versatility, then you're gonna love what the Ampero One can do for your tonal needs. It's an all-in-one workhorse, serving as an amp modeller, audio interface, and effects processor. Best part? It can handle up to nine simultaneous effects at a go – all selectable from its 50+ original pedal effects. Compact and running on a 9-volt DC operation, it's particularly well-suited to musicians who don't like lugging too much stuff around. Think of this as a smartphone for your guitar or bass. It's even got the touchscreen interface to match!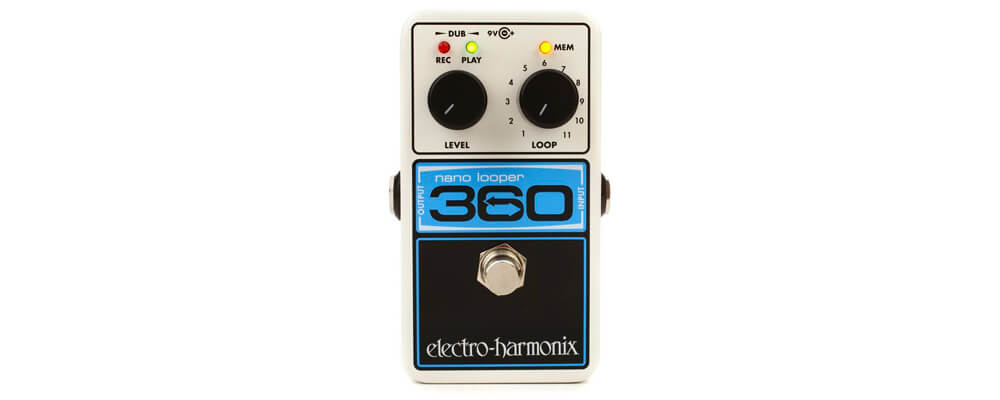 Picture this. You've been working hard on a new song all day and finally come up with a new melody. You hit record, lay down notes, then accidentally hit the power switch on your pedal. Infuriating, right? That's why pedals like this are lifesavers. Even when turned off, it stores and recalls up to 11 loops, totalling 360 seconds of record time. Top-notch 24-bit converters maintain sound clarity and authenticity, even during bouts of overdubbing. Hands full? No problem. Hop between modes with the momentary footswitch for full control over recording, overdubbing, undo-redo, and loop erase.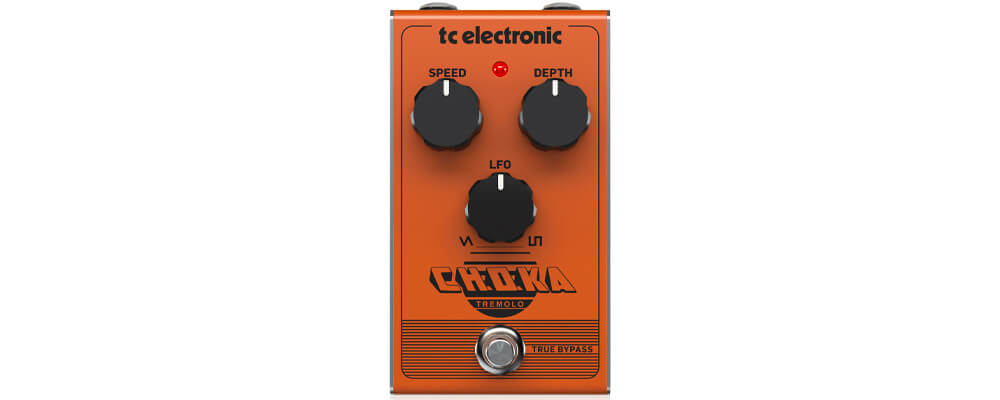 Kick it old-school, literally, with tremolo tones wrapped up in a groovy tangerine case. Its all-analogue layout is a breeze to navigate, thanks to an intuitive 3-knob system. With the twist of a dial, signals are primed for speed, depth, and low-frequency oscillation (LFO) to give you whatever timbre you're craving. Even when the pedal is disengaged, true-bypass circuitry comes to the rescue, preserving the sound for as long as you need it. Also, that cheerful orange housing? It's made up of heavy-duty metal that'll easily see you through extended jamming sessions or road trips.
You may know them for their quirky vintage guitars but Teisco makes pedals now too. And yes, they're uh-may-zing. This one claims the famously iconic Foxx Tone Machine as its muse, so you know what you're in for. Dense fuzz, bordering on synth, ideal for psychedelic riffs and savage power chords that Hendrix would be proud of. And that's not even including the octave effect. Turn that baby on and prepare to be blown away by the extra dimension. Its glossy exterior also hides other nifty tricks – removable feet and a textured base plate for firm grip-age. Looks like this is one pedal that's gonna stick around.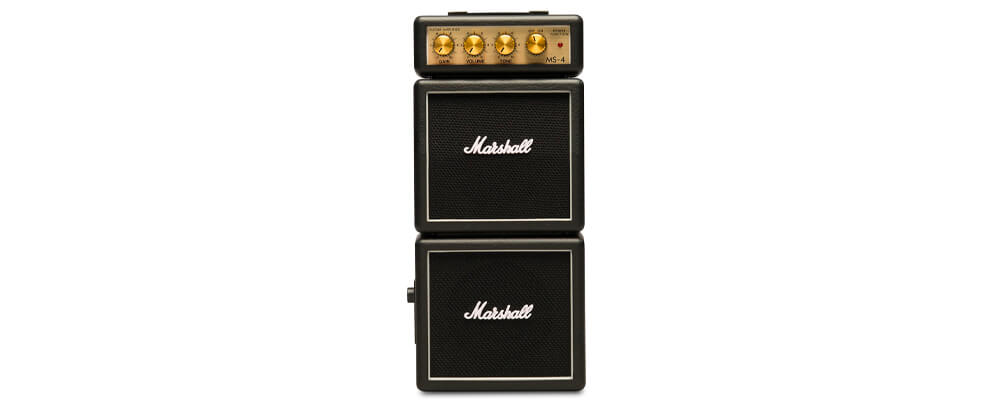 Property is at an all-time premium, so what's a guitarist to do when space is sparse? Downsize, of course. Notice we didn't say downgrade, though. That's because this tiny tower pumps out a surprising amount of volume for its proportions – all on a single watt. But trust us, you won't be missing out on anything a full-scale amp can provide. Switch between clean or overdrive settings, and monkey around with the gain and tone controls to achieve your sound. It runs on batteries or AC power and even has enough oomph to drive an external power amp plugged into the headphone jack.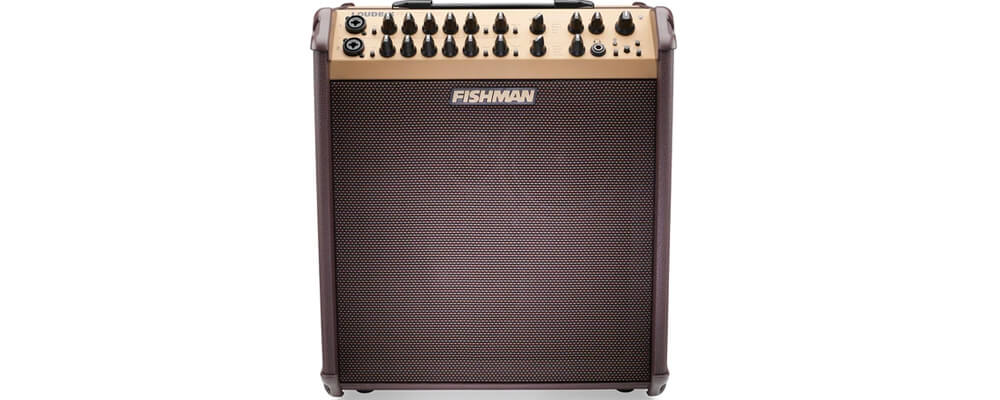 With a name like the Loudbox, how could anyone not expect extreme volume from this amp? You can thank the on-board long-throw acoustic suspension woofer for its pristine bass. Bi-amplification for tweeter and midrange only gives it a larger playing scale. And there's no distortion or muddiness here, just the pure, untouched sound of your instrument. As a bonus, the kickstand design even allows you to tilt it 50º to better project your playing into the crowd. Hard-wearing and portable, it's convenient for practice, outdoor festivals, and performances when you need to be heard.
Fender Champion 100XL Guitar Combo Amplifier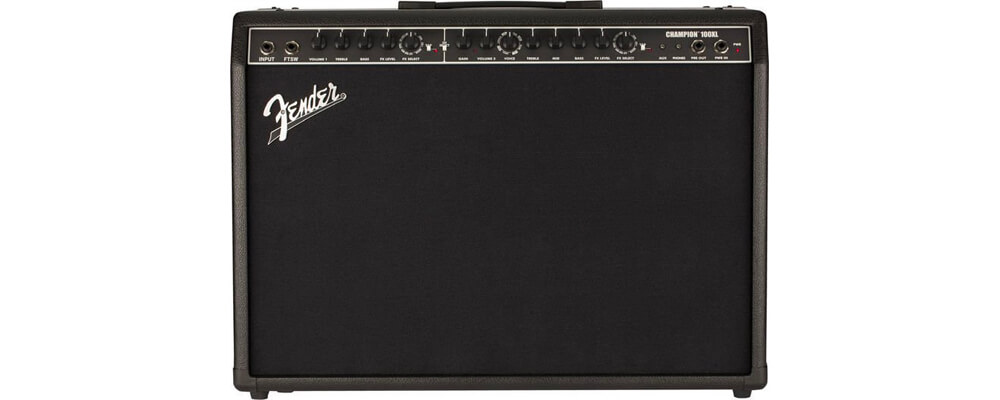 Padding out Fender's Champ XL series in the best way, this 40-pound behemoth is hard to ignore. With a solid-state front end, the amp operates on a completely-independent dual-channel configuration that you can switch between with your feet. It doesn't lack in playability either. Each channel features four amp voicings and four extra effects that run the gamut of every music genre. Pair that with the FX Select dials, and you can coat each note in rich reverbs or delays, and stir in precisely as much wet and dry signals as needed. Make sure to lock in your repeats with a press of the tap tempo button, then you're all set to put on a show.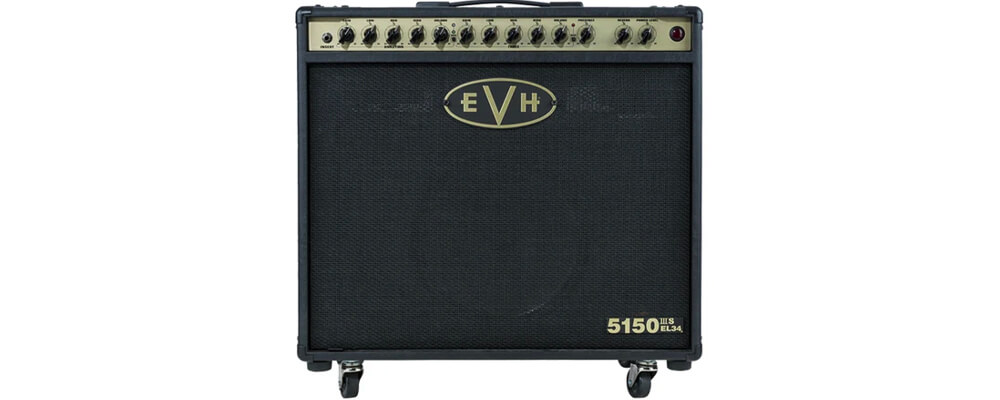 A long-awaited successor to the Van Halen amp dynasty, the 5150III 50W EL34 deserves all the hype. Beneath its elegant gold-and-black surface is a custom-designed Celestion speaker, replete with the tightest of lows and sweetest of highs. It doesn't pull punches in the volume section either, the high-gain tones getting extra potency from the EL34-based power amplifier component. Wish you could go back to the good ol' days in the 70s and 80s when Brit-rock was king? You will with this flamethrower. It's got the unrelenting timbres and deliciously dirty tones that exemplify much of that sought-after "Brown sound".
---
You made it! Already picked out a few items? Get yourself over to our collection page and grab those supplies while they're still available, or see all the other great stuff on offer. Remember, our 75th Anniversary deals are valid for both in-store and online purchases!
Save 5% on selected Amps & Pedals
Want to be on the pulse with our 75th Anniversary celebration? Head on over to our 75th Anniversary Page to keep up to date with everything that is going on! We've got specially curated music gear bundles, discounts codes, giveaways and weekly discounts on gear collections all in tow.
We hope you're just as excited as us for the next four weeks of celebrations! Want a hint for next week's collection? Well, it might have to do with capturing ideas and creating – so watch this space or make sure you've signed up for our mailing list.
Read more: Celebrating 75 Years of Swee Lee