So you've got the guitar, the amp, the effect pedals, and you're sounding amazing. However, there's just one more piece of equipment that you're missing. Enter Evidence Audio's legendary audio cables. Trust us when we say that these audio cables will take your tone to the next level.
But do cables really make a difference to your sound? Absolutely! Cable quality and construction can affect tone just like any other piece of equipment in your guitar rig. To the trained ear, a good cable definitely makes a discernible difference.
We're not the only ones raving about Evidence Audio. The brand boasts an impressive clientele with the likes of David Gilmour, Noel Gallagher, Radiohead's Ed O'Brien, and many more. In fact, highly respected guitarist and founder of TheGigRig, Daniel Steinhardt (of "That Pedal Show"), only exclusively uses Evidence Audio's solderless kits. As far as name-dropping goes, it's evident there's a lot to love about these premier cables.
Read more: A Beginner's Guide to Guitar Amplifiers
When less is more
No one knows what makes for a good audio cable as much as Evidence Audio's founder, Tony Farinella, does. As espoused by Farinella's "less is more" ethos and more than 30 years of research and development, Evidence Audio has produced an audio cable that minimises noise and audible distortion. Their cables have no sonic signature of their own and neither add nor take anything away from the overall incoming signal. This helps address problems that guitarists experience at certain ranges, resulting in a purer and cleaner sound.
There's no escaping the fact that each cable within your signal path will add some degree of colouration or degradation to the signal. Additionally, this distortion accumulates over a greater cable length too. As a result, your tone might suffer from blurred midrange details to suppressed bass notes.
Stranded cables are particularly susceptible to this distortion. As stranded cables are made up of multiple small wires, the magnetic field generated from a signal's charge stacks across neighbouring strands as it is being transferred down the wires. The nearer the signal is to the bundle core, the more your higher frequencies migrate outwards – resulting in a mix-up of signals, and that confusing distortion you might have experienced.
Evidence audio cables provide a faithful transcription of your sound by passing it from point A to point B on the signal chain with near 100% fidelity. What you put in is pretty much what you get out – a sound that is both cleaner and truer to life.
What makes them unique?
Evidence Audio's research has gone into developing a streamlined cable build. Made with IGL™ Copper and IGL-ECS™ Copper, these highly refined copper grains are elongated and fall within parallel boundaries. Each cable foot thus contains fewer grains, drastically reducing any impurities that might collect between individual grains of copper, reducing the chance of sound degradation via oxidative buildup.
The Reveal and Forte audio cables are made with Enamel-Coated Strands (ECS) where each individual copper strand is coated with a patented finish. Much like cables built with IGL™ Copper, cables with IGL-ECS™ Copper cores are more durable with the reduction of audio distortion triggered by strand interaction. While cables that utilise copper and silver strands might have boosted midranges and higher frequencies, there is often an unwanted dullness discolouring the original sound. Similarly, cables that claim to bring out bass notes might also cause slowed, sloppy notes with little articulation and punch.
In contrast, Evidence Audio cables don't succumb to the darkening of midrange and high frequencies and are also able to retain the nuances of lower frequencies – hitting hard at the moment of impact and releasing just as quickly once fingers leave the fretboard. Best of all, there's a massive amount of articulation and intricate detail that emerges from these cables. Other cables might produce blurred, out-of-focus tones with flattened dynamics but Evidence Audio cables sing with an almost holographic effect, preserving clarity and modulation for a fuller-bodied sound.
Which products might suit me?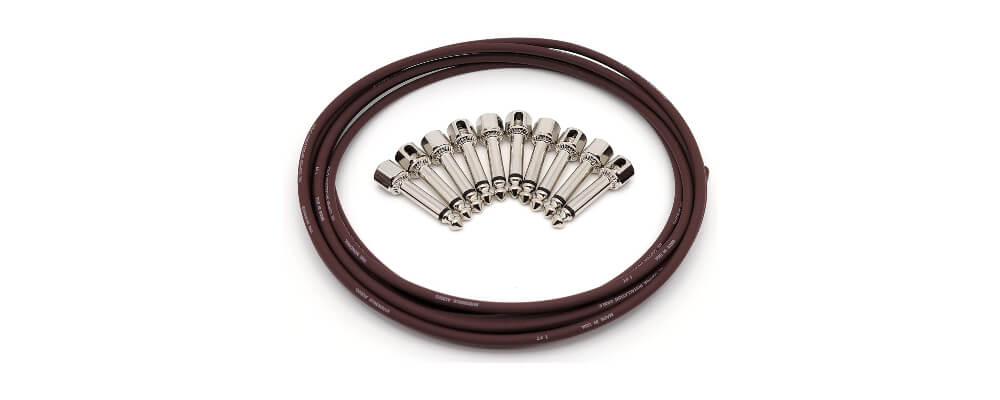 Evidence Audio's cables come in a variety of combinations. If you're looking for patch cables, the SISPACKBK10-10 kit is where it is at. Containing 5 feet of cable and 8 right-angled jacks, you can tailor a cable setup to fit the trickiest of set-ups. It's a solder-free system, so just cut out a new length of cable, screw in the head and twist the plug into the cap so ground contact against the body is airtight. Changing pedalboards? Just rinse and repeat! Slender and flexible, the SIS cables easily snake around pedals without any disruptions but are also strong enough to withstand lots of force without snapping.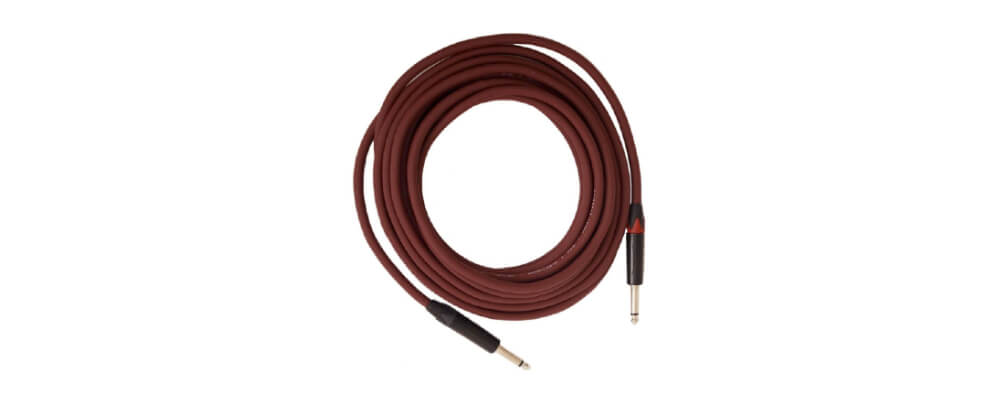 Not only is it as thin as a reed, the Forte is one of the quietest cables you'll find out there. Sound signals filter through smoothly, courtesy of the dual stranded leads for "hot" and ground. The leads are surrounded by an unbleached-cotton dielectric, as opposed to the typical polymer construct. This cuts out the need for the Forte's shield to act as part of the transmission signal process. You're best served by this cable if you're big on gigging. Not only does it deliver on volume, but it's fantastically pliable – able to both coil or lie flat on the floor surface. And crucially, it doesn't buckle under pressure.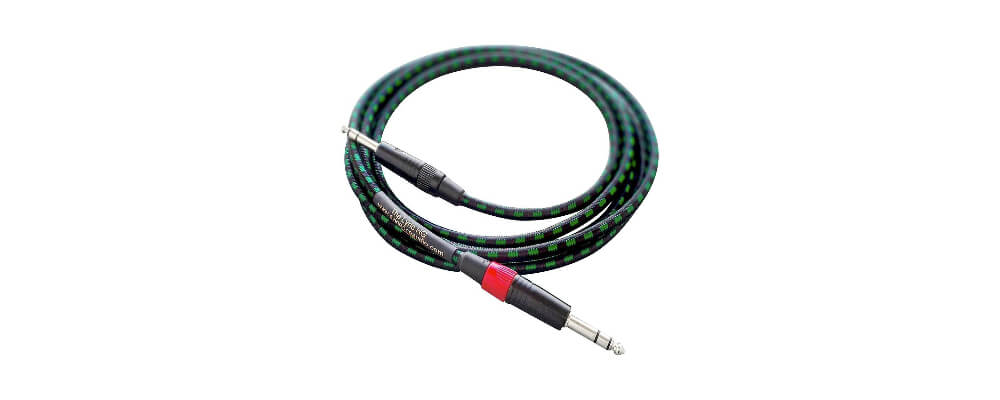 The Lyric is Evidence Audio's OG. It's for the discerning musicians who can pick apart subtle nuances in tone and sound. As with the Forte, this construct uses high-end conductors dedicated to positive and negative leads to channel the signal entirely on their own. In terms of shielding, the Lyric's conductors are squeezed under a carbon-heavy compound to whittle down triboelectric noise. One interesting thing to note about the Lyric is its resistance to "muscle memory". Where most cables settle into a coiling pattern over time – due to strands getting fatigued from repeated cable usage, the Lyric stays as it is for the long run.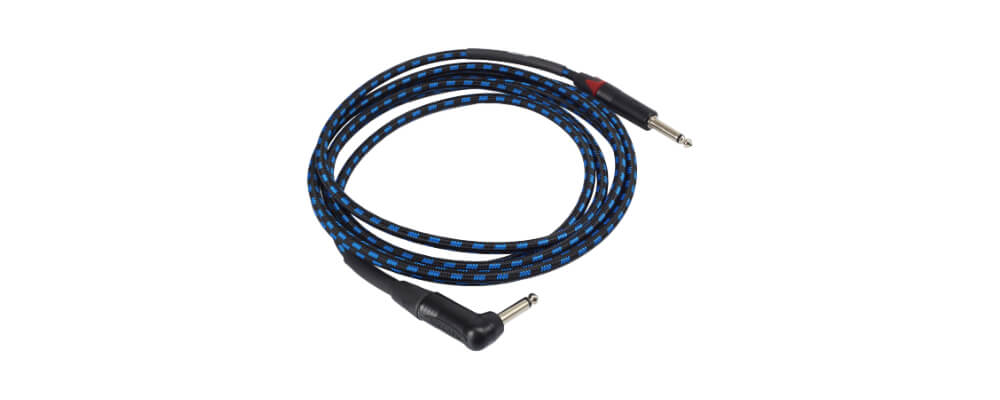 If you aren't ready to shell out on the Forte and Lyric, the Melody is a great intermediary cable in its own right. Even Pink Floyd thinks so! And who are we to argue with rock stars? Even if you're not a performer, this line-level cable is perfect for studio settings or at-home usage. Where you'd normally see a braided shielding element, the Melody turns to parallel-configured conductors that negate crosstalk with up to 98% coverage. Its response is crystalline, instantly elevating it above other cables in terms of clarity and tonal perception.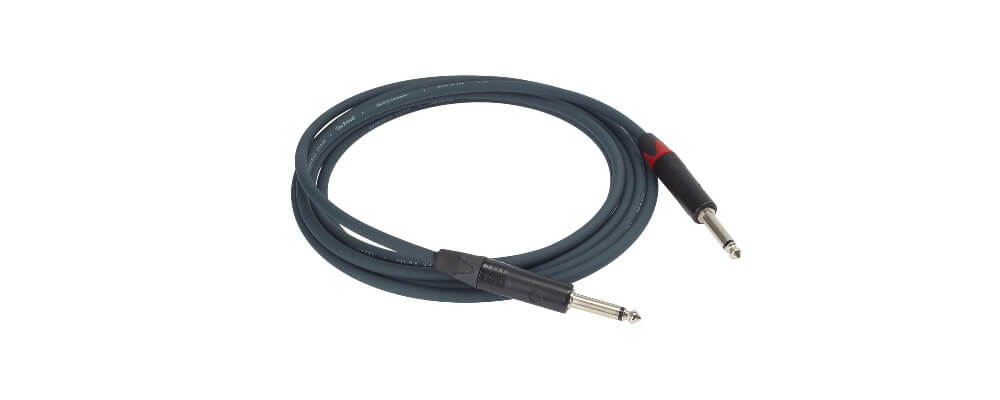 Much like the Melody, the Reveal is another affordable Evidence Audio staple. Once again, the parallel aligned conductors stamp down on the cons of electromagnetic modulation. The Reveal is especially adept for fuller and warmer tones, with a plateauing EQ arc that doesn't sacrifice high-end coherence for mid and low lucidity. We'd recommend these for guitarists who love switching instruments, as the plug automatically shorts whenever it's disconnected. Easy on the ears, easy on the amp.
---
We hope this feature has given you some insight into what makes Evidence Audio cables so special. Being able to take the control of your guitar tone and tweak it to your heart's content is definitely one of the most enjoyable parts of being a guitarist – and we hope these cables will help you on your musical journey.
Need further confirmation that you're making the right Evidence Audio cable choice for you? We're more than happy to hear you out, so drop by any of our Swee Lee locations. If you think you can pick out a winner on your own, the online store is ready to serve. For more brand launches and other can't-miss events, feed our newsletter form your details.
Read more: B-Stock Products Explained