2021 continues to be the year that keeps on giving for us here in Swee Lee, and today, we're really, really excited to introduce the latest brand to join us in – PRS Guitars.
One of the most exalted brands in the industry, Paul Reed Smith guitars have long since earned their reputation as one of the premier builders of instruments and amps in the world. Often hailed as the gold standard for gorgeous high-spec instruments, it's no surprise that some players believe PRS are the closest thing the electric guitar world has to the legendary Stradivarius violins of Cremona.
As incredible as these instruments look, Paul himself takes pride in the incredible sound and reliability that have made his guitars a staple among guitarists worldwide. Acclaimed artists such as Carlos Santana, Mark Tremonti, Dave Grissom, Mark Holcomb, and John Mayer have sworn by the consistency and quality of their guitars and have chosen PRS as the conduit for their immense musical talents.
The PRS philosophy is and always has been to make better guitars that inspire guitarists to become better players. Simply put, PRS guitars do not build their guitars dogmatically – instead they consistently push the boundaries of innovation to find new methods to make the best possible instruments today.
Check out our selection of PRS Guitars on our online store. For models that are not yet available at Swee Lee, you can always pre-order your dream instrument by contacting us today!
As we celebrate PRS becoming one of the brands available at Swee Lee, let us explore a few noteworthy models from their extensive catalogue!
The PRS Guitars Core Line
The original progenitors that started the PRS empire, The Core Line are the instruments that people think of when they envision the quintessential PRS guitar. Proudly made in the USA in PRS's Maryland facility, these guitars are made with high-quality craftsmanship and meticulous attention to detail. Voiced to be harmonically rich, and full sounding, these instruments genuinely hold their own in any style of music. Needless to say, these guitars are as gorgeous to the eyes as they are to the hands and ears.
Currently, the Core line for 2021 includes the Custom 24, the McCarty, the Hollowbody, Speciality and Artist series in its roster.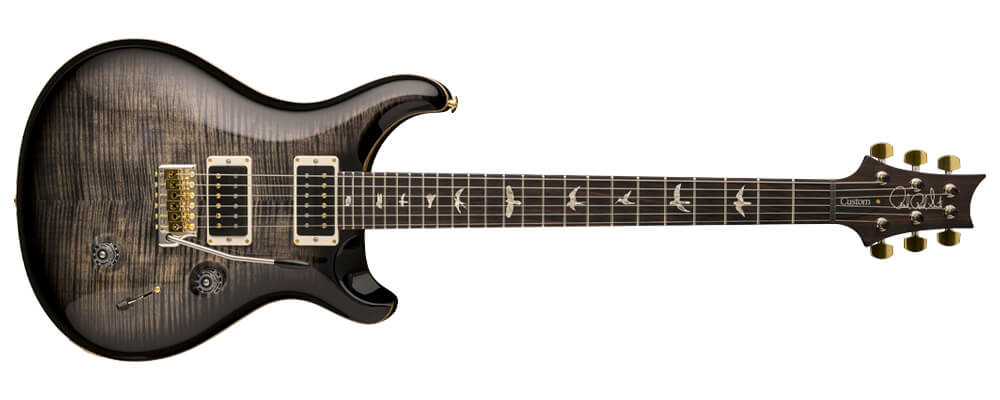 PRS Custom 24
The first model that Paul Reed Smith brought to the public at the Winter NAMM show in 1985, the Custom 24 is a modern classic and ever present model that seamlessly blends vintage specifications with modern features for guitarists looking for the best of both worlds. Crafted from a time-tested pairing of mahogany body and curly maple top, the Custom 24 features PRS's patented Gen III tremolo system and PRS 85/15 pickups which offer remarkable playability, unparalleled reliability and the ultimate tonal flexibility for the discerning player.
The Custom 24 also comes in Floyd Rose, Piezo and Mini-Toggle Coil Tap (24-08) variations.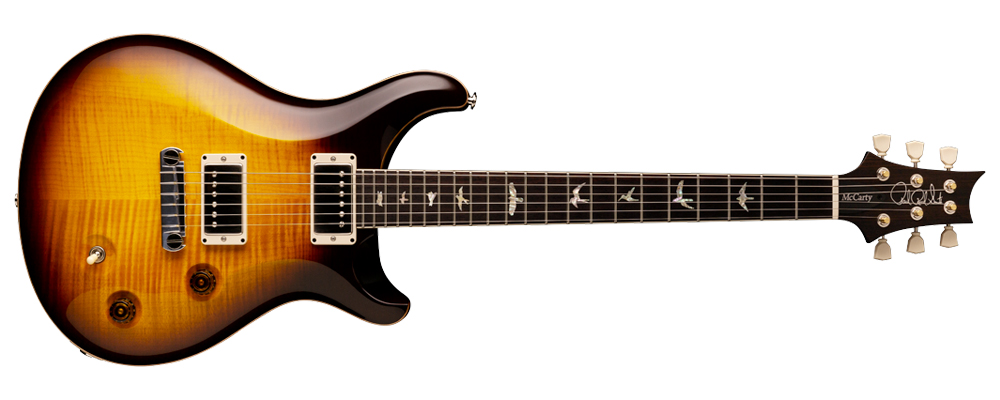 PRS McCarty
Originally introduced way back in 1994 as the most "vintage-styled" model in the PRS catalog, the McCarty model that was built in a tribute to the legendary Ted McCarty, who had served as a mentor to Paul Reed Smith during the early days of PRS. Beefier and bigger than the usual core PRS, the McCarty utilises a PRS stoptail bridge with brass studs, a bound 22-fret Pattern Vintage neck, and chunkier body that gives this beauty enhanced tone that sustains like no other. Coupled with 58/15 LT (Low Turn) pickups, you can easily traverse between rich PAF humbucking tones and sparkly single-coil sounds via its dual volume controls and coil-tap functionalities. Like the Custom 24, the McCarty employs a foreign yet familiar 25" scale length – giving you a feel in between some of the most cherished vintage instruments out there!

The McCarty also comes in 594, Hollowbody 594 and Singlecut 594 variations. The 594 denomination represents a change of scale length, which has been shortened to 24.594″, to give it that same comfy response and feel found on the great single cuts from the '60s.
Bolt-On Line
The first bolt-on guitars created by PRS were made in 1988 to appeal to a demographic that wanted the quality of a PRS guitar at a lower price bracket. Easily covering sounds from a plethora of genres, the bolt-on models were also addictively comfortable due to their slick maple necks and ergonomically contoured bodies. After vanishing from the catalog for a good few years, the bolt-ons are back and are better than ever.
Currently, the Bolt-on line includes the CE42, the CE24 Semi-Hollow, the Dustie Waring CE24 "Floyd" , the John Mayer Silver Sky, and Mark Lettieri Fiore models in its roster.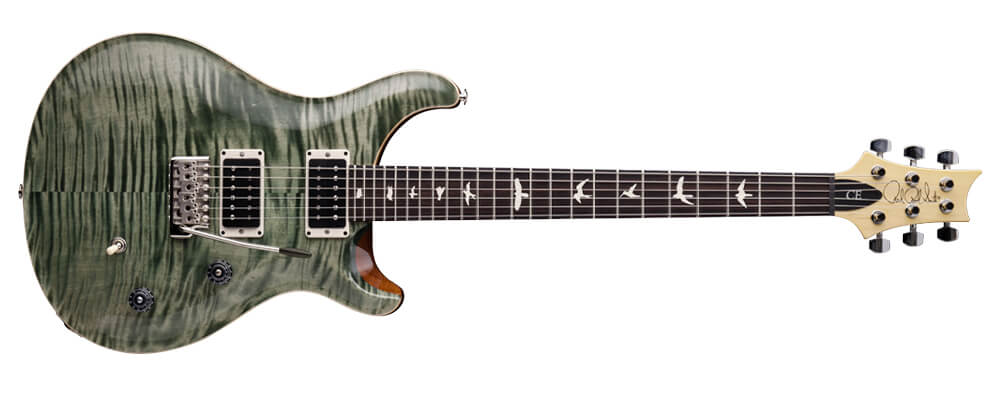 PRS CE-24
A remix from the original CE models of the 20th century, the newer iterations of the CE24 take the attack of American-made bolt-on guitars and launches them to another echelon. A familiar combination of a maple neck and rosewood fretboard is complemented with PRS's traditional pairing of a mahogany body and a maple top for a clear but balanced tone. While it may look uncannily like its set-neck brother, the CE24 is a snappier beast that easily transitions between rock 'n' roll flamethrower and country twang with assistance from its push-pull controls. As with the Core series, the CE24 utilises the 85/15 pickups that have been tuned to perfection via PRS's Tuned Capacitance and Inductance (TCI) process.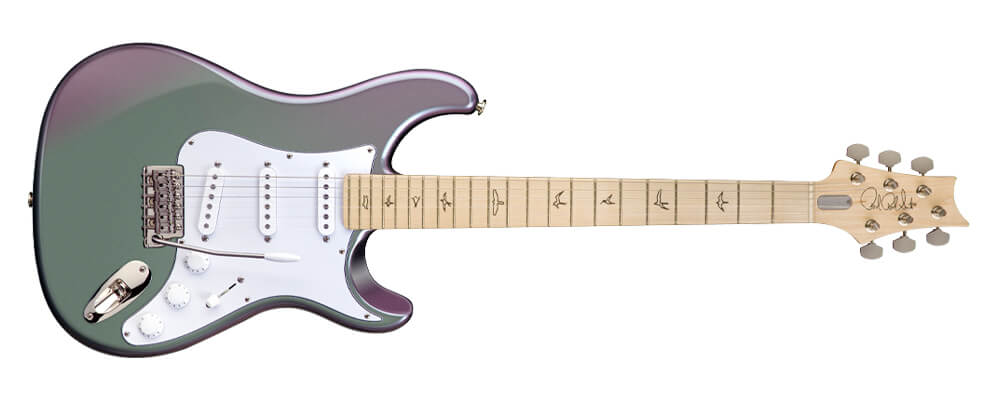 Probably the most debated guitar of the decade, the PRS Silver Sky is the result of a covert collaboration between the Grammy-winning, blues virtuoso John Mayer and Paul Reed Smith. Combining PRS's world-class build quality together with John's favourite vintage elements, the Silver Sky is a tasteful reboot of the classic alder & maple electric guitar that appeals to both modern players and purists alike.

Modern updates include an inverted PRS headstock that keeps a consistent length of string behind the nut for tuning stability. The tuning heads retain a vintage aesthetic but incorporate PRS's locking design for hassle-free string changes. The classic tremolo design is also updated to incorporate PRS's tremolo arm and Gen III knife-edge screws for effortless dives and flutters.

Vintage features include the pickups and neck profile which take inspiration from fabled instruments from the Goldilocks years of 1963 and 1964. A 7.25" radius fretboard and 25.5″ scale length in conjunction with a vintage correct neck profile instantly make this guitar feel like home. The proverbial icing on the cake, the highly coveted 635JM single-coils pickups were painstakingly developed to sound round and full yet extremely musical like those found on vintage specimens.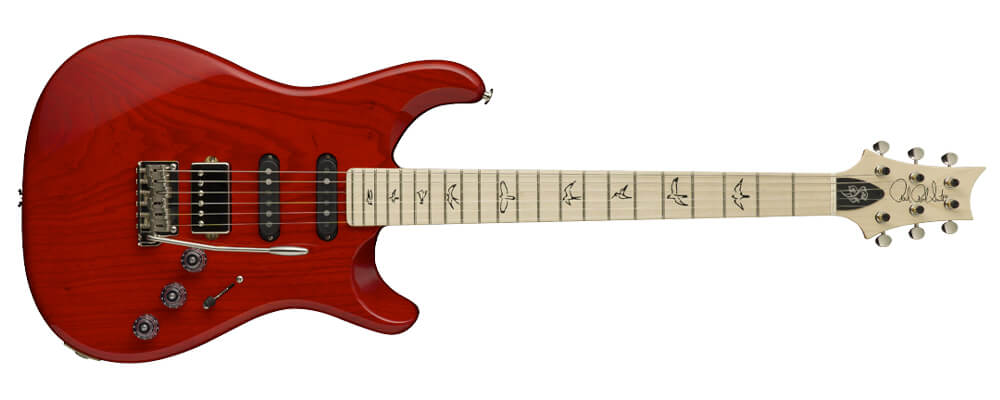 PRS Fiore
Developed in conjunction with Mark Lettieri of Snarky Puppy fame, the PRS Fiore is a modern take on the bolt-on, single-coil guitar. While the S-style sensibilities such as a Swamp Ash body, 22 fret maple neck, and 25.5" scale length are all present – a closer look reveals an extremely innovative guitar.

Designed with a new-age aesthetic, effortless playability, and a versatile tonal canvas in mind, the Fiore is an instrument that allows guitarists to finally realise that illusive "sound in their head". Custom designed PRS Fiore pickups were carefully voiced by Lettieri and PRS to offer exceptional malleability in tone – a set capable of capturing articulation and dynamics while also being powerful enough to punch you in the gut at higher gain stages. The Fiore model features a 5-way blade switch and two push/pull tone controls, which further adds to this guitar's tone-shaping capabilities.
The PRS Fiore is offered in a choice of three colours – a deep red Amaryllis, Black Iris and Sugar Moon white.
The PRS Guitars S2 Line
Launched in 2013, the Stevensville 2 series, better known as the S2 series, is named after the second manufacturing line that was created inside the PRS Factory within Stevensville, Maryland. Blending new innovative manufacturing methods with PRS's legendary quality control and workmanship, the S2 series are guitars that rival the quality of the Core series without the premium price tag. These guitars are workhorses that appeal to modern metalheads and rockers but as with the PRS ethos, can easily fit into any style of music.
Currently, the S2 line includes the Custom, the McCarty, and Standard series in its roster.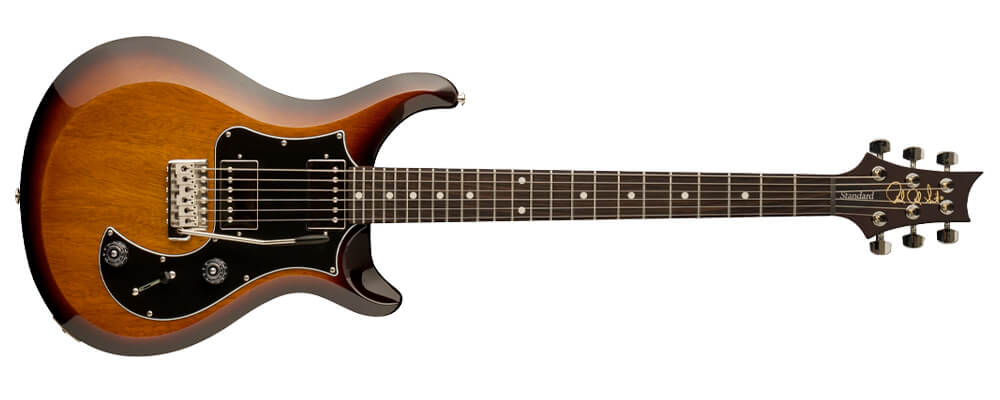 PRS S2 Standard 24
Reimagined here with the S2 Series, the PRS S2 Standard builds upon the foundation of the original PRS Standard that was introduced to the world in 1987. Made with an all mahogany body and neck construction, this rock 'n' roll machine is topped off with a rosewood fretboard that works synergistically to deliver the same fantastic tone that you get from any guitar from PRS.
Outfitted with 85/15 "S" pickups that are modelled after the 85/15 pickups designed by Paul Reed Smith himself, you can expect to get sparkly cleans to blistering high-gain squeals without ever breaking a sweat. With locking tuners and a push pull pot paired together with an ergonomically contoured body, this guitar is a no brainer for any gigging musicians that requires versatility, comfort, and convenience to make their best music.
The PRS S2 Standard 24 also comes in Satin variation as well.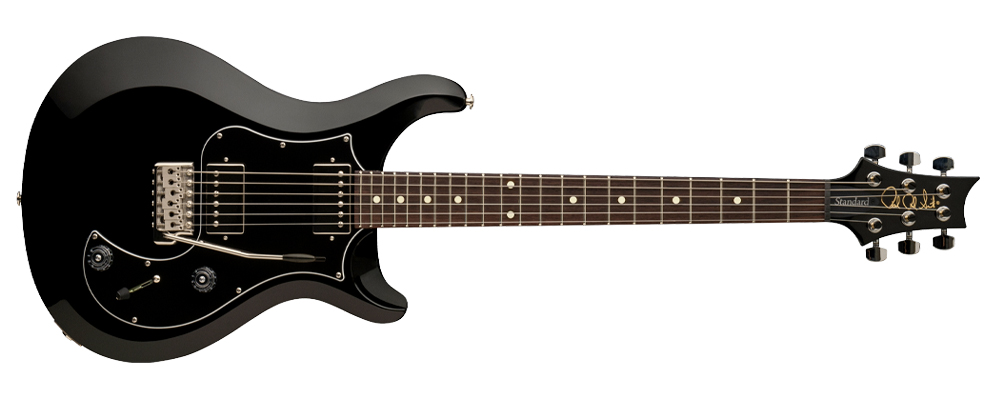 PRS S2 Standard 22
Like the Standard 24, the S2 Standard 22 is a working person's guitar. Spec-wise, the Standard 22 is similar to its 24 fret counterpart barring the 2 fret difference. As mentioned earlier, the closer proximity of the neck pickup to the centre of the fretboard gives the guitar a warmer, mellower tone. This makes the Standard 22 more adept at genres that require a round singing tone as is the case with jazz and blues.
The PRS S2 Standard 22 also comes in Satin variation as well.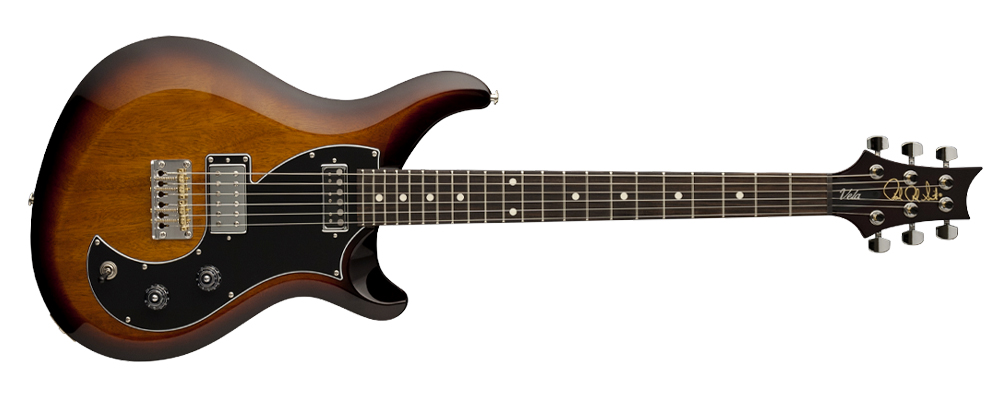 PRS S2 Vela
An original offset body shape, the S2 Vela is a guitar that makes a statement. Built from solid mahogany with a rosewood fretboard, the Vela is both elegant and edgy in both looks and sound. Powered by a Starla pickup in the bridge position and the newly developed Type-D single-coil in the neck, this guitar is made for those who love extra bite and cut in their guitar signal. Embellished with sleek looking hardware that includes a recently designed plate-style bridge that holds two brass saddles specifically designed for great sustain and intonation, you can rest assured knowing that this guitar can take a beating and still sing in key.
The S2 Vela also comes in Satin, Semi-Hollow and Semi-Hollow Satin variations.
The SE Line
Introduced in the 1990s, the SE (Student Edition) guitars were originally made to make the PRS quality available to the budding musician. Fast forward to today, these instruments have been hailed as some of the best playing instruments in their price brackets and have even proven themselves as road-worthy guitars. Made in the best facilities in Asia, the SE instruments go through the same stringent process that all their USA counterparts are subjected to, resulting in a guitar line that captures the spirit of PRS at an accessible price point.
In 2018, PRS signalled their intention to disrupt the acoustic market by unveiling a selection of SE acoustic guitars. With two body shapes in production, the Angelus and Tonare Grand, PRS Acoustics are versatile enough to cater to multiple musical stylings, yet at the same time share the common thread of PRS quality and reliability. Consisting of six uniquely voiced models for each body shape, PRS SE Acoustics have made picking an acoustic guitar that suits your music significantly easier and cost-effective.
Currently, the SE line includes the Custom, Standard, Signature, Extended-Range and Acoustic models in its roster.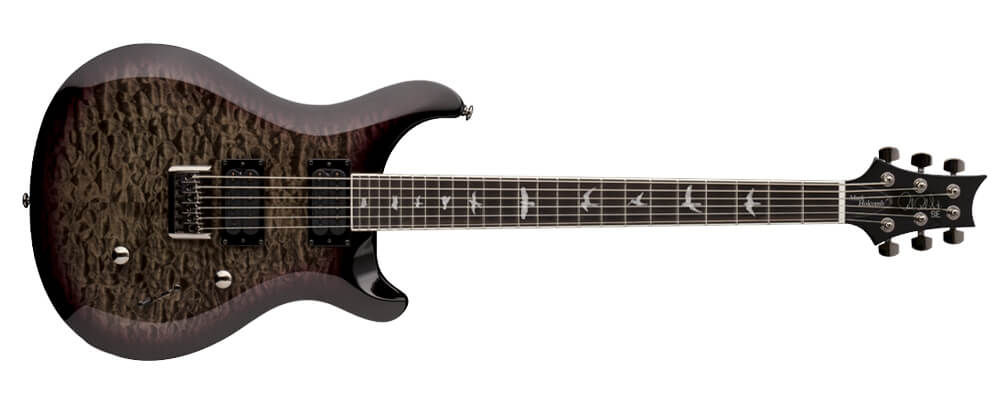 PRS SE Mark Holcomb
Based on the highly-acclaimed run of Holcomb Signature guitars that were made in the Maryland factory, the PRS SE Mark Holcomb is an instrument that punches way above its price tag. Using the Custom 24 as a template, the Holcomb Signature sports a maple top (+ figured maple veneer) and mahogany body but deviates with the inclusion of a 25.5" maple neck with a flat 20" radius on its ebony fingerboard. Somehow, the wizards at PRS managed to include the Seymour Duncan Alpha and Omega humbucking pickups that were previously available as Custom Shop exclusives only. Tight and focused, while retaining single note clarity under high-gain distortion, this axe is a modern metal behemoth that can moonlight as a clean country player due to its coil-split functionality.
The PRS SE Mark Holcomb also comes in in a seven string version (either with a quilted maple or walnut veneer).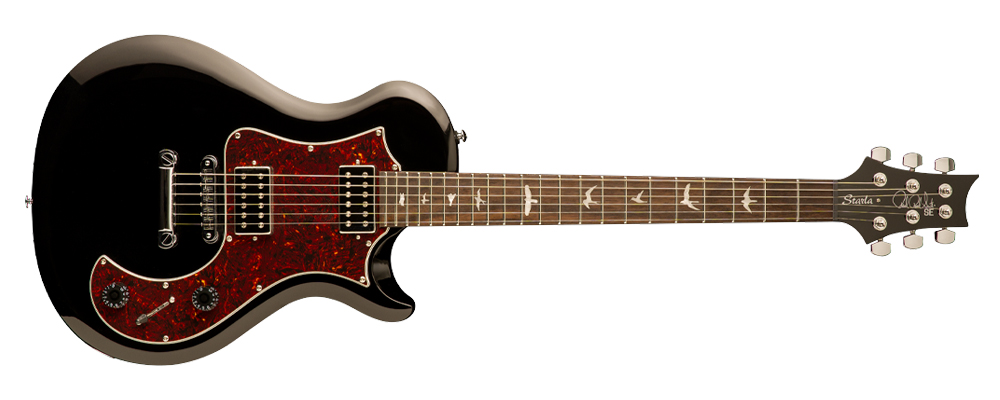 PRS SE Starla Stoptail
A throwback to the cool aesthetics of the '70s, the SE Starla is a mahogany-on-mahogany singlecut with serious retro vibes. Inspired by the USA made Starla, the SE version is driven by two DS-02 humbucking pickups with push-pull coil splitting for access to almost any guitar tone under the sun. Bundled together with Grover Tune-O-Matic and stoptail brigde along with high-quality PRS designed tuning heads, you will never have to worry about intonation and tuning issues with this marvel. An instrument born for the stage and the road, the SE Starla Stoptail is a perfect guitar for anyone looking to let their playing do the talking.
PRS Guitars are currently only available exclusively on our online store. As always, sign up to our mailing list, or follow us on our social media to keep up with new PRS arrivals.
If you're keen to own your dream PRS as soon as possible, contact us for a pre-order and we'll gladly sort it out for you!


Read more: 6 Keyboards and Pianos for Beginners