Mark Twain once wrote, "Continuous improvement is better than delayed perfection". If he'd met any of these pedals, he'd have realized how wrong he was. Us contemporary performers know how indispensable time-based effects are in music. Which is why a significant chunk of your guitar budget spills into accessories. Run-of-the-mill gear can be just as good, but that feeling you get once you've saved enough funds for premium equipment? Incomparable. What can be compared, however, are these 5 high-end delay pedals.
First, a little ice-breaking session so you can get to know delay pedals a little better. Essentially, it's all in the job description. The effect involves taking the incoming signal, and then repeating it after a period of time. Nearly all these pedals feature controls for delay time, feedback (number of repetitions), and balance between signals. As for types, you'll usually have to choose between analogue or digital. Each one has its own individuality, so it's best to identify your musical preferences before starting. Or better yet, just get one of each! If you really can't decide, go for a hybrid instead.
Shop our new pedal arrivals
Like each piece of gear you add to your arsenal, your pedal features need to correspond to your unique playing flair. Tap tempo might be perfect when you're following in The Edge's footsteps. Not so much if you're leaning into fuzzy, ambient washes. Likewise with trails, which mix repeats on top of your dry signal. Ideal for buttery smooth transitions, not so much for true-bypass operation. While you're chewing on your wants and want nots, let's get to the meat of the matter. Here's a comparison of 5 high-end delay pedals.
Read more: Every Strymon Delay Pedal Compared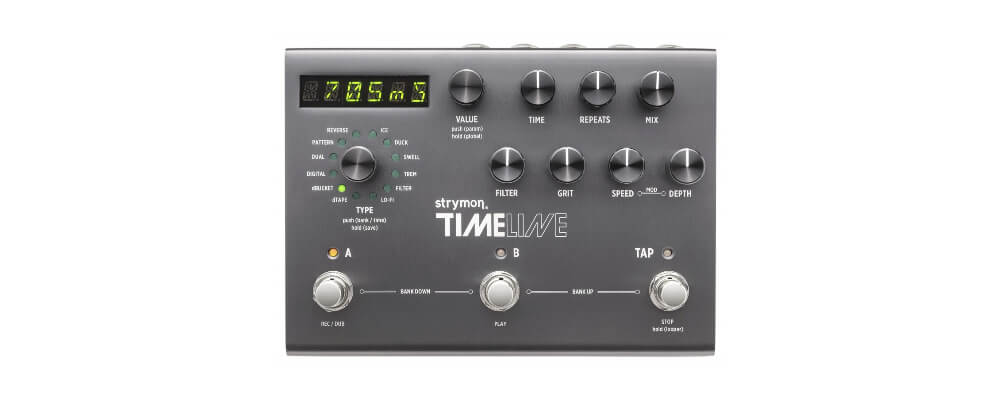 Starting off with a banger. Strymon's models have defined a generation of digital pedals, and the TimeLine is no different. It's lean, clean, and easy to navigate. Put away your fragile bucket brigade-style analogue pedals and echo machines. Twirl the rotary switch for 12 delay machines that emulate everything from filtered synths to wicked distortions. Basic parameters are equally modifiable once you've figured out the dials. Oh, and there's a 30-second looper for experimentation anywhere in the signal chain.
And who says musicians can't have cheat days as well? The TimeLine's whopping 200 factory presets generate sound for you when you're too tired to think. Hit on a tone but worried you might lose track of it? Instantly recall your favourite presets after saving and naming them. If you're up to the challenge, the TimeLine offers up even more complex tone-shaping options. Twin footswitches select presets for each bank, while a third triggers tap tempo. As you're stomping, fiddle with the value knob to boost or cut, control repeats trail, or smear attack into an ethereal haze.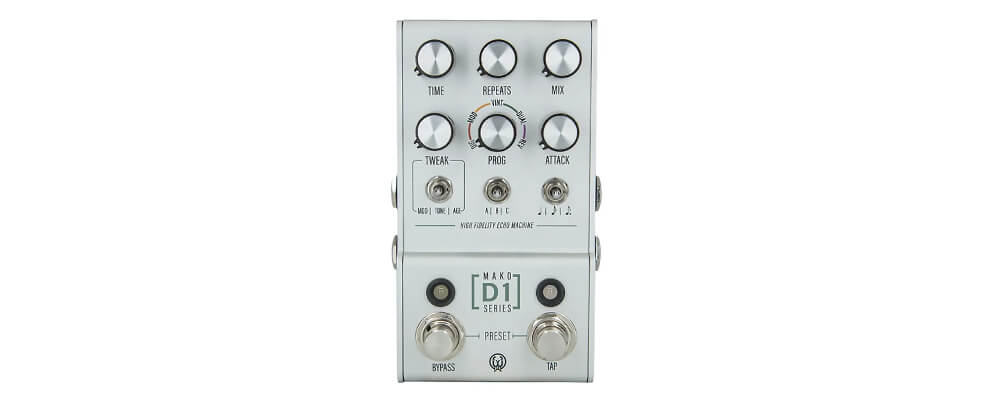 This digital delay pedal is out for blood. Walrus' introduction to the Mako series takes a deep dive into high fidelity waters. With five studio-level programs, multifunctional doesn't even begin to cover it. Churning modulations, simmering vintage grit, and a 3-way toggle to texturize it all. And all is plenty, especially when nine onboard preset slots exist with up to 128 MIDI-accessible presets. The entire system's tied into the bank and footswitches. At a single glance, the pedal's red-green-blue Tap LED colour change illuminates your current selection. Make an on-the-fly tweak, and it lights up in purple. That's going to look so cool during your DJ gigs.
Channel your inner chrono-mancer via the subdivision switch, crafting rhythmic repeats (quarter, eighth, and dotted eighth) with the flick of a finger. For more control, there are three different bypass modes that determine how your repeats fade. True-bypass keeps colouration from seeping in when the pedal is idle. Global retains tempo even as you swap presets, while Preset tempo retains delay time from stored presets. Oh yeah, that aforementioned Tap switch also plays double duty by keeping you in sync. The rhythm is gonna get you.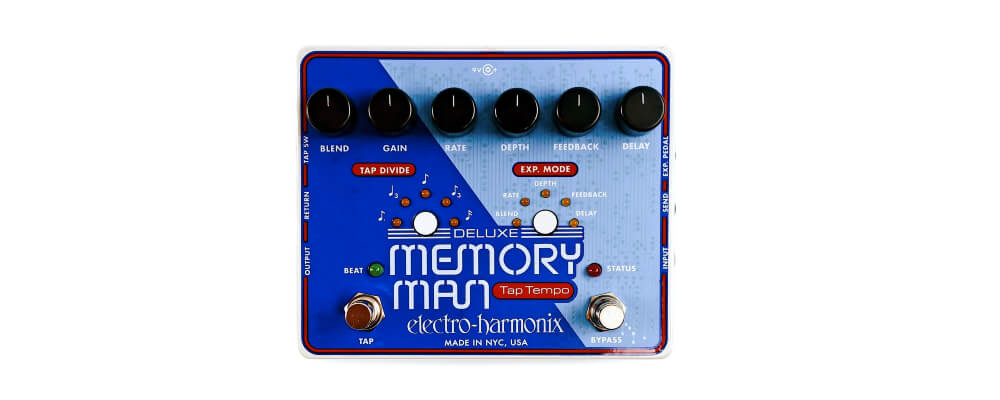 From its vibrant façade, you know you're in for some serious playtime with the Memory Man 1100-TT. It's a fun homage to the original Memory Man pedals that were so beloved back in the day. Nostalgia goggles on, because the 1100-TT's chip seamlessly replicates the performance of those Panasonic Bucket Brigades, but with a few welcome additions. After all, we're in the 2020s. Modern delay pedals need their tap tempo fix, and this stompbox's comes in five flavours. With that many tempo subdivisions and 1100ms of delay time, versatility seems like such an understatement.
Know what's not an understatement? The 1100-TT's level of sonic control. We're talking an expression pedal input for blend, depth, and feedback. That modulation effect on the old Memory Man that seemed to be everywhere? It's still around, provided you whip tone into shape via the depth and rate knobs. You can always put your own spin on it with the onboard effects loop. But through it all, there's true-bypass to ensure you'll never lose sight (sound?) of your guitar's natural tone.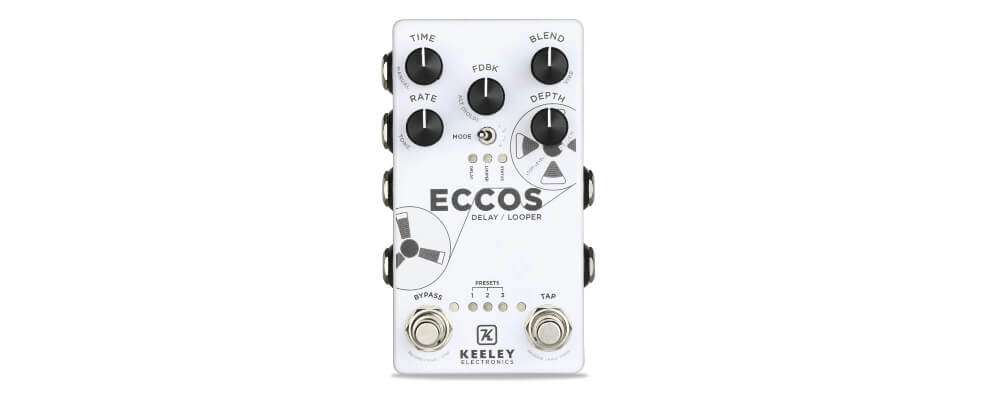 Want to have your cake and eat it too? While the ECCOS isn't strictly edible, it does blend the lush tones of analogue tape delay with the conveniences of digital in a most delicious manner. Both a delay pedal and a fully-fledged looper, it's an excuse for layers upon layers of recordings. Stereo loops extend to 60 seconds, while mono doubles that time bracket. You're set to wow listeners by half-looping and reversing tracks. Or go the distance, and tack on tape-flanged trails to guitar riffs. Keeley's 24-bit DSP and codec DREAM platform keeps the end result pristine, but still loaded with motion and dimension.
Got your tone figured out? Let true stereo I/O patch it into mono and stereo signal paths. Once dialled in, the three onboard presets make absolutely sure that sound stays where it is. Cue on-the-spot commands over your effects with the expression control feature. Flit over them with impunity too, because the footswitch's bypass/tails prevents repeats from unceremonious cut-offs. And the remote switcher option means that you'll never have problems integrating with the most complicated of pedalboard setups.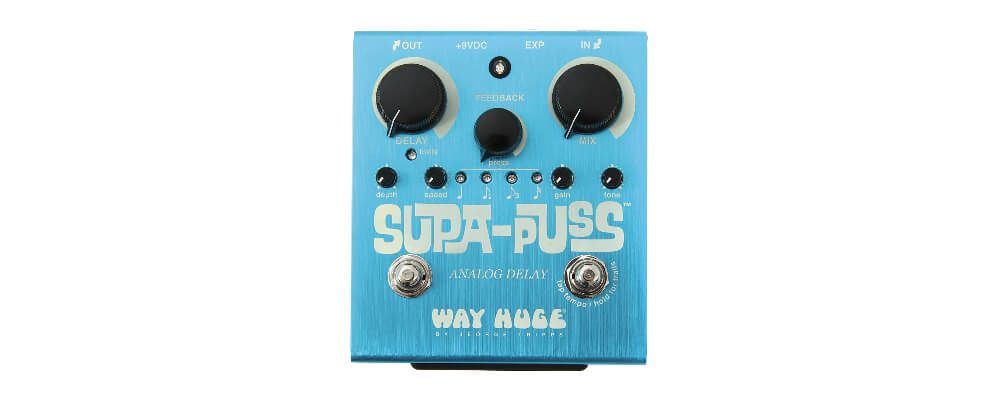 Think analogue pedals are the cat's pajamas? Then consider Supa Puss the purr-fect accessory for your jamming needs. Thanks to its MKII predecessor, it's got the basics down pat. Tap-tempo function, for prompting just the right amount of speed control. The delay takes a big push to 900ms, leaving you primed for the glow and saturation of a vintage-tape echo. Minus any sound degradation issues, of course. Paws for effect, then trigger textures via the depth, speed, gain, and tone knobs. Blend, blend, and blend wet and dry (signals, not kibble) with the Mix control. Maybe even add an expression pedal through the jack socket for extra kick-control.
With 4-way timing subdivisions, which you can access via the feedback knob, there's ample room for airy leads and percussive arpeggiations. It goes without saying, but the Supa Puss handles both subtle and aggressive experimentation with ease. Still, it's worth sinking your claws into the Chase function for a bout of sonic mayhem. Hold down the feedback knob for just a touch longer, and delays automatically race through rhythmic subdivisions. What ensues is a kaleidoscope of delay shifts that shimmer and pulse with a feral vengeance.
---
Breakdown
Model
Type/Emulation
Delay Sounds
In & Outs
Power
Requirements
Price
Strymon Timeline
Multi-delay
12

Stereo inputs, stereo outputs
300mA
RM1,990.00
Walrus Audio MAKO Series D1 High-Fidelity Delay
Multi-delay
5
Stereo inputs, stereo outputs
300mA
RM1,325.00
Electro-Harmonix Deluxe Memory Man 1100-TT
Analogue
1
Mono inputs, mono outputs
200mA
RM1,540.00
Keeley ECCOS Neo-Vintage Tape Delay
True-stereo (tape), looper
1
Mono inputs, stereo outputs
115mA
RM1,110.00
Way Huge WHE707 Supa Puss
Analogue
1
Mono inputs, mono outputs
43mA
RM1,200.00
---
There you have it! With digital everyman pedals and mood-shifting analogue bucket-brigades all over the map, the realm of delay pedals is yours for the taking. Provided you've figured out what you're looking for, that is. But just like music, sometimes the mix-and-match approach works best. Nothing wrong with throwing together a few pedals that you like the sound of and building from there. Plus, what's an extensive pedalboard for if not an opportunity to get in a good leg workout?
Shop our new pedal arrivals
Ready to get stomping? Make a beeline to your nearest Swee Lee store, where we've got tons of other mind-blowing stompboxes in store. Don't believe us? Just check out the inventory on our online store. There's some grade-A stuff in there, and we're always bringing in more. So get your particulars on our mailing list to keep yourself in the loop.
Read more: Your Guide to Hollowbody & Semi-Hollowbody Guitars