Not so long ago, if a pedal sounded great, you'd ask, "but is it analog?" The popularity of digital pedals never quite hit their deserved height till Strymon announced itself to the scene with the blueSky Reverberator delay pedal.
Today, the analog question bothers few – and you can thank Strymon for that. They are one of the builders responsible for turning the tide on digital technology and emulation in guitar pedals in the past decade. Whether it's class-leading technology or black magic, one thing we're all in agreement is Strymon makes some of the best sounding pedals in the effects market today.
Unsurprisingly, their best-selling pedal is their powerful do-it-all Timeline delay. It's just one of six delay pedals in their current lineup, each bringing something unique and different to the table.
Let's be clear: Strymon delays are not your average delay pedals. Packed filled with features and powered by a "ridiculously powerful" SHARC digital signal processor (DSP) chip, the sky's the limit.
If you're looking to join the Strymon delay owners club, you'll first need to figure out which delay (or delays) earns a place on your pedalboard.
To make that decision a little easier, let's take a look at all six of Strymon's delay pedals.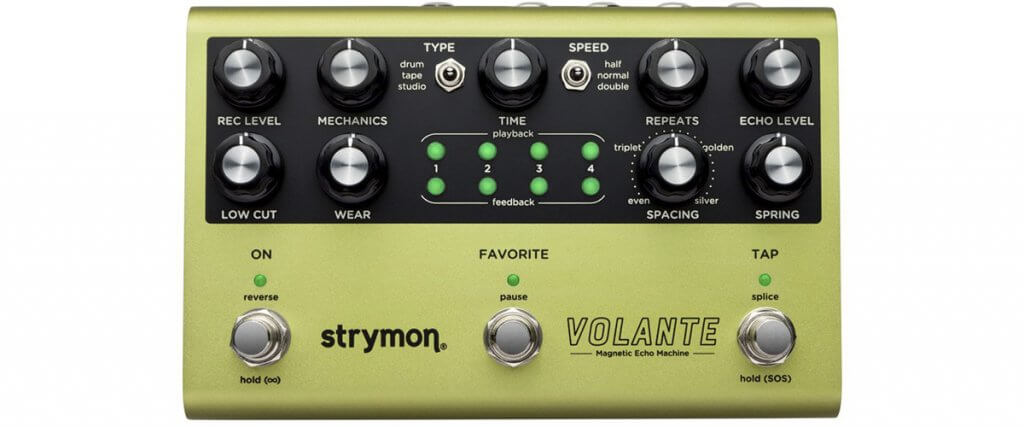 Strymon's newest addition to their already impressive lineup, the Volante is a stereo multi-head delay inspired by the delay sounds of the past.
The Volante takes inspiration from the Binson Echorec, a magnetic echo unit that defined the sounds of guitarists like David Gilmour of Pink Floyd and Hank Marvin of The Shadows. But it's more than just a meticulous sonic reproduction of the Echorec.
There are three vintage delay sounds – magnetic drum echo, tape delay, and reel-to-reel studio echo. You get even more control with four delay playback heads with individual feedback, panning, and level controls. If that wasn't enough, there's a dedicated vintage spring reverb algorithm and an infinitely expressive looper called Sound on Sound.
Strymon has gone to lengths to capture the nuances of these old echo units. There are controls for mechanics, wear, head-spacing, and low cut – used to simulate the inconsistent disc motor and the attenuated highs of old tape.
We love: Four playback heads with individual feedback, panning, and level control for limitless creativity.
Buy if: You're obsessed with the delay sounds of the 70s. You love the El Capistan but you want even more control, sounds and functionality.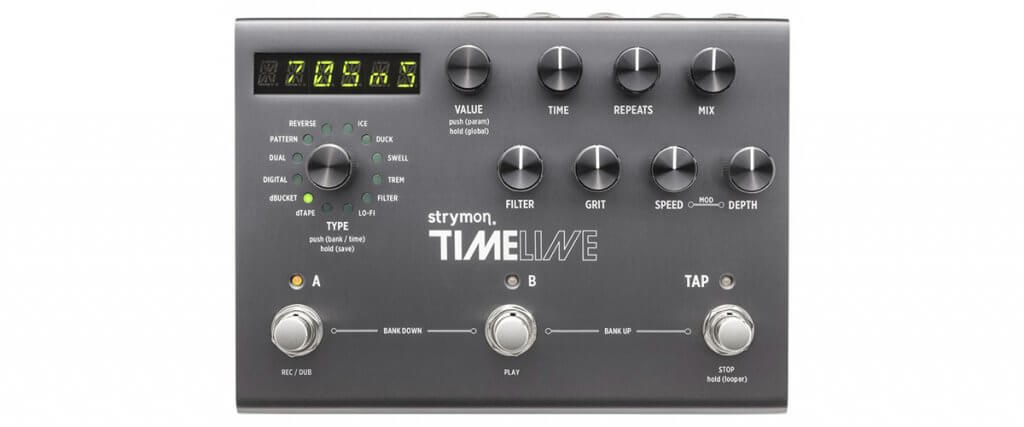 The delay to rule them all – the Strymon TimeLine is the brand's answer to the world of do-it-all multi-delay pedals. This studio-quality stereo delay and looper pedal boasts a mind-bogglingly extensive feature set, starting with twelve meticulously crafted delay sounds, Digital, Dual, Pattern, Reverse, Ice, Duck, Swell, Trem, Filter, Lo-Fi, dTape and dBucket.
Each sound has a host of editable parameters which lets you tweak to your heart's content. Aside from the usual repeats and time controls, the TimeLine gives you extensive control over how the repeats sound with its Filter and Grit knobs. These controls have different functions for some of the delay types. You can also hook the TimeLine up to an external MIDI controller for even more control. The level of control and processing power the TimeLine possesses is something akin to a studio rack effects processor.
Three footswitches line the front of the pedal – one for tap tempo, and two for activating your preset. The TimeLine comes with 200 editable and rewritable presets. You can further manipulate these presets by pressing and turning the Value knob.
To top off the impressive set of features, the TimeLine has a 30-second stereo Looper routable pre or post delay.
We love: You can store 200 rewritable presets in 100 banks of two.
Buy if: You're a control freak. You find yourself craving a different delay sound every other day.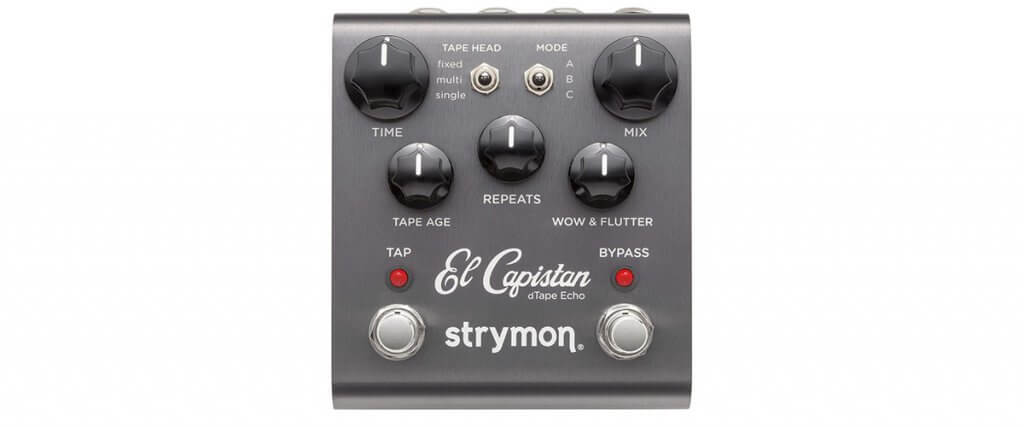 Strymon entered the already saturated "tape" segment of the delay market with the El Capistan. Tape sounding delays have been immensely popular for their lush and modulated repeats.
Some of the very earliest delay units utilised tape. There was a charm to the many imperfections of these tape delay units, such as the Wow and Flutter, which produces a desirable, subtle modulation. Strymon's take on the tape delay is built around their dTape technology, a painstaking recreation of the nuances and distinct qualities that tape delays like the Echoplex, Copicat and Space Echo possessed.
You can tell immediately how comprehensive the El Capistan is by looking at its knobs. The Tape Age control recreates the warm, rolled-off high end of old tape, and Wow & Flutter reproduces the mechanical imperfections that cause the subtle modulation in the repeats. It doesn't stop there – by holding down the Bypass and Tap footswitches the five knobs now hold a secondary function. Even more parameters are tweakable, like Tape Bias, Low End Contour, and Tape Crinkle. Two switches at the top of the pedal toggle between three different types of tape machines, offering a dizzying permutation of delay sounds.
Like the Volante that followed it, the El Capistan has included a built-in spring reverb and a unique looper they call Sound on Sound.
We love: The additional secondary functions let you shape your tape repeat quality to your heart's content.
Buy if: You want your tape echo sounds to be as close as possible to the original tape delay units.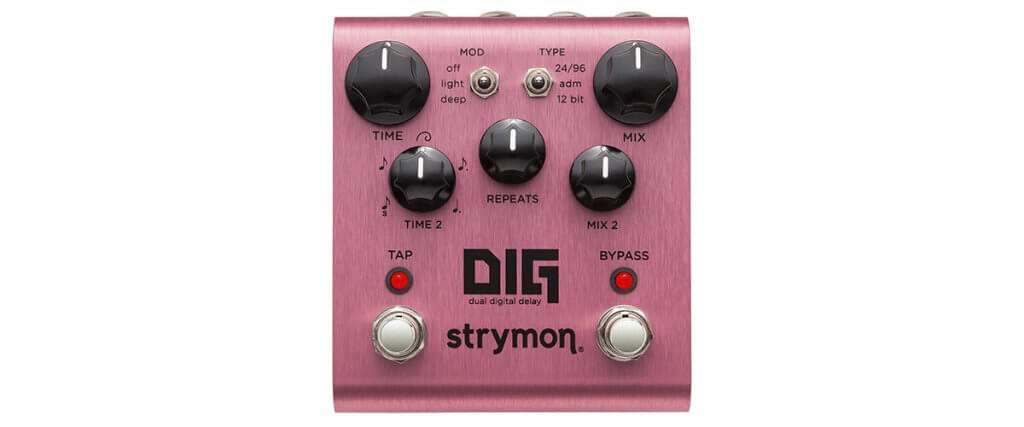 The Strymon DIG pays homage to a time when clean, pristine delay repeats ruled the stage. The bulky rackmount units during the 80s that powered the sounds of many musicians in the studio and stage had a distinctly digital sound, and the DIG is Strymon's attempt at recreating that.
In an era of tape and analog emulation, digital-sounding delays tend to be frowned upon, but the Strymon DIG proudly wears this distinction on its sleeve. There are three delay voicings – an early '80s adaptive delta modulation (ADM) mode, the mid-'80s 12-bit pulse code modulation mode, and the modern high-resolution 24/96 mode, each offering a unique and interesting delay sound.
The dual delay function on the DIG is where the magic really happens. You first set a delay time on the master delay (Delay 1), and Delay 2 is synchronised with it, depending on the subdivisions you set on the Time 2 knob – choose from triplet, eighth note, dotted eighth note, dotted quarter note, and the golden ratio. Tweaking the two delays takes a bit of time to dial in, but when you do, it opens up a world of rhythmic sounds and possibilities. Dialling in shorter delay times can get incredibly lush chorus and flanging tones as well.
We love: The synchronised secondary delay is extremely usable and musical.
Buy if: You enjoy rhythmic, percussive delays with a hi-fi, pristine quality to them.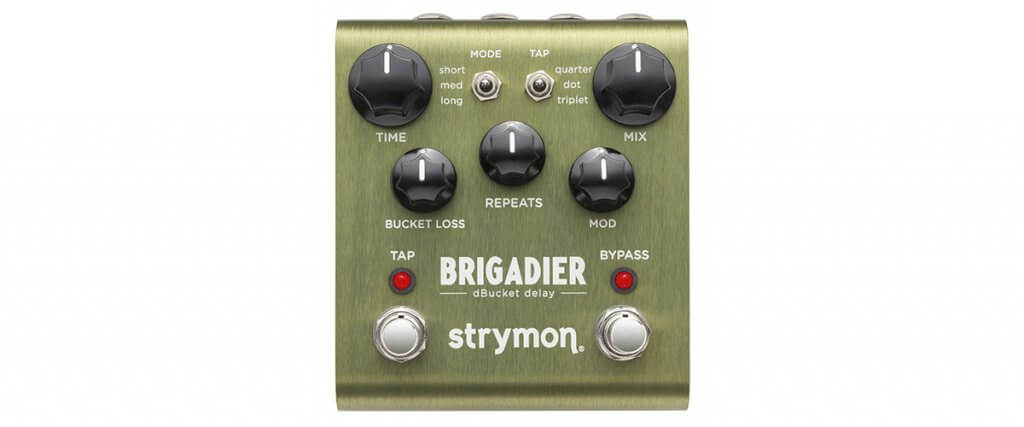 If you're acquainted with the world of analog delays, you'll know the bucket brigade technology that gives the repeats their signature warm sound that's loved by many.
Digital recreations of this analog warmth are far from uncharted waters. Strymon, being the innovators they are, presented us pedal heads with the Brigadier – utilising a powerful dBucket algorithm to replicate the idiosyncrasies of analog delays.
Bucket Brigade technology is not without its drawbacks. Like tape delays, these imperfections are all part of the charm – the noise, the fuzzy degradation of the repeats. The Bucket Loss control on the Brigadier lets you choose the intensity of these artefacts in your repeats, going from warm and clean, to fuzzy and distorted.
We love: The Bucket Loss knob is so much more than a low pass filter, and stays musical whichever setting you choose.
Buy if: You love everything about the analog delay sound but want none of the limitations.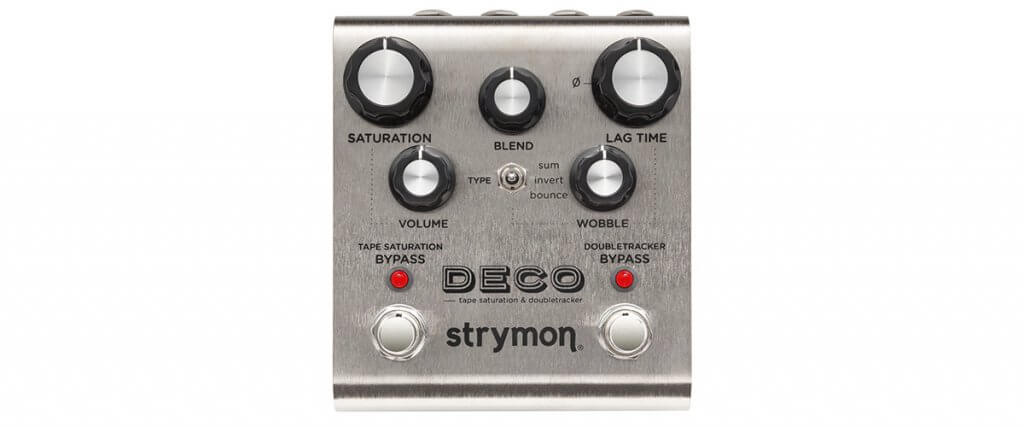 Tune in to any of your favourite records of yesteryear and chances are they are littered with ingenious examples of tape manipulation by creative audio engineers pushing the limits of their craft.
Today, it's unlikely that any of us have operated, let alone seen a reel-to-reel tape machine. The Strymon Deco brings those early recording studio sounds onto your pedalboard. The Deco does not try to be another El Capistan. Instead of emulating the multiple heads used to create the distinct echos, the Deco captures the other nuances of a tape machine and some of the studio tricks used by studio engineers in the 50s and 60s.
The Deco, at its core, has two sides – one to emulate the distinct saturation achieved on tape, the other for doubletracking. The Tape Saturation knob goes from subtle compression to tape overdrive, and when paired with the Doubletracker, you get uncannily authentic tones that are extremely musical. The Doubletracker functions like a second tape deck, and modulation effects like flanging, chorus and slapback are just a few of the many sounds the Deco achieves. There's even a control for Wobble, which simulates the random speed modulations that let you go from subtle to extreme undulations.
We love: The rich intense flanging and doubletracking are spot-on to the old records of the 60s.
Buy if: You're dead serious about authentic-sounding tape-based effects other than delay.
---
Model
Type/Emulation
Delay Sounds
In & Outs
Power
Requirements*
Price
Volante
Magnetic Tape Multidelay
3
Stereo inputs, stereo outputs
300mA
$539
TimeLine
Multidelay
12
Stereo inputs, stereo outputs
300mA
$609
El Capistan
Tape
3
Mono input, stereo outputs
250mA
$429
DIG
Dual Digital Delay
3
Mono input, stereo outputs
250mA
$429
Brigadier
Analog
1
Mono input, stereo outputs
250mA
$429
Deco
Tape & Doubletracker
1
Mono input, stereo outputs
250mA
$429
*All Strymon pedals here use 9V DC power supply with a 2.1mm centre-negative barrel. You can find Strymon's power supplies and accessories over on our website too.
Strymon delay pedals are hands-down, some of the best you will find today. In order to fully appreciate these pedals, head down to our Swee Lee stores to try them out for yourself – you might just find your perfect delay. You can also order these Strymon pedals on our online store too.

Read more: Guitarology 101 : Passive Pickups vs Active Pickups