Welcome to Week 7 of Swee Lee's 75th Anniversary Celebrations! Right now, we're turning our eyes (and ears!) to digital pianos and keyboards. It doesn't matter if you're coming off a lifetime of piano concertos, scouting around for a MIDI controller, or merely in the market for a synth that can do everything. You're in the correct place!
No joke, we've cherrypicked the dandiest digital claviers our brands have to offer, and we're marking down prices while we're at it. Fair warning, it's limited to a single week though, so don't forget to click checkout on these digital pianos and keyboards in time.
Shop our 75th Anniversary Digital Pianos and Keyboards Collection
You can't go wrong with a keyboard, which makes it an ideal addition under the Christmas tree for you or another music aficionado in your life. No more dawdling – we're serving up our favourites for Swee Lee's 75th Anniversary Digital Pianos and Keyboards Collection!
Enter our Alesis Prestige Artist 88-Key Digital Piano Giveaway
We've also got an absolute treat for this week's giveaway – an Alesis Prestige Artist 88-Key Digital Piano. It could be you walking away with one of these, so click the button above right now for more details!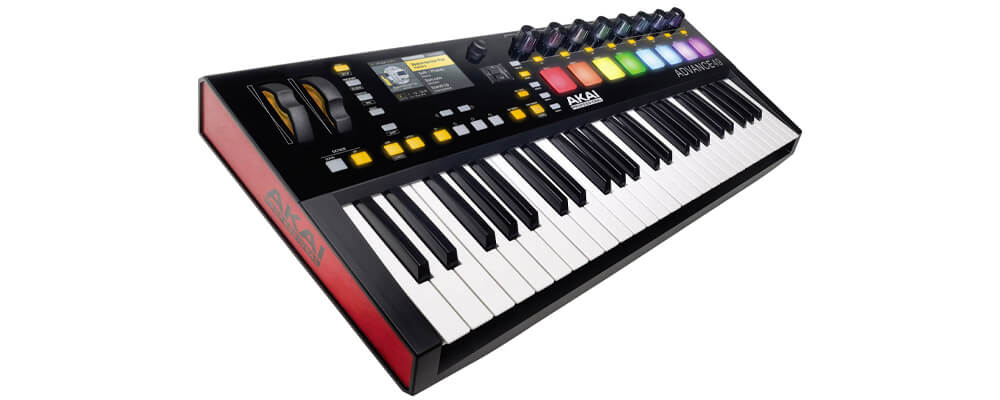 Not everyone has enough space for a whole slew of instruments, which only makes this multi-functional synth that much more appealing. Despite its 25-key range, it performs superbly as a mini keyboard. Where it truly shines, however, is as a standalone controller for virtual rigs. Even without a Digital Audio Workstation (DAW), the VIP3 software instantly switches between your favourite sounds. 8 is the lucky number here, judging from the octet of endless encoders that shift and bend musical parameters effortlessly. Repeat notes, arpeggiate patterns, and set the tempo to your fancy. A set of velocity and touch-sensitive MPC squares continues the dual-purpose trend, serving both as RGB-illuminated drum pads and on-the-spot note/chord assigners.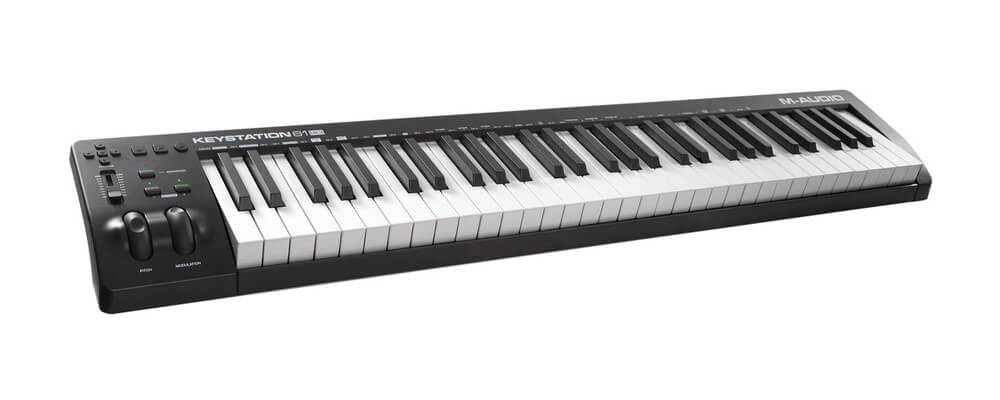 Simple-looking though it may seem, the Keystation 61 has a few tricks up its sleeves. To start off, it makes a few concessions to traditional piano veterans with full-sized and semi-weighted keys, giving each note a bit of assuring solidity. But it's not all old-fashioned characteristics, as the carefully considered range of controls prove. Twiddle the Pitch, Modulation, and Octave variables, or pair it with your choice of smartphone apps for a spot of creation and editing. This latter attribute is particularly useful if you're considering bringing it along for gigs, and the lightweight chassis and USB bus-power function can't hurt as well.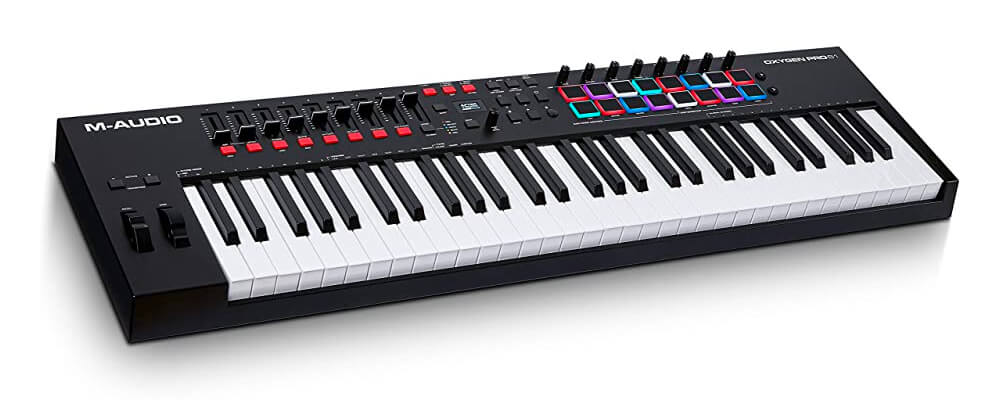 Much like a well-cut diamond, a good keyboard possesses many facets and is truly indispensable. This one's worth its weight in gold, but luckily, it's tons more affordable. Jam-packed with features, the Oxygen's strength lies in how versatile it is. You've only got to glance at the intuitive layout comprising a quick-response OLED screen, 16 backlit RGB pads, level faders, and various assignable knobs and buttons to see that it means business. It plays well with any DAW system on hand, but does just as capably on its own. Beginners and live performers should find the Smart Scale mode – pardon the expression – particularly noteworthy. Assign the keyboard one of 16 preset scale variations, and you'll only be able to play notes within that scale range, thus reducing the probability of "mistakes".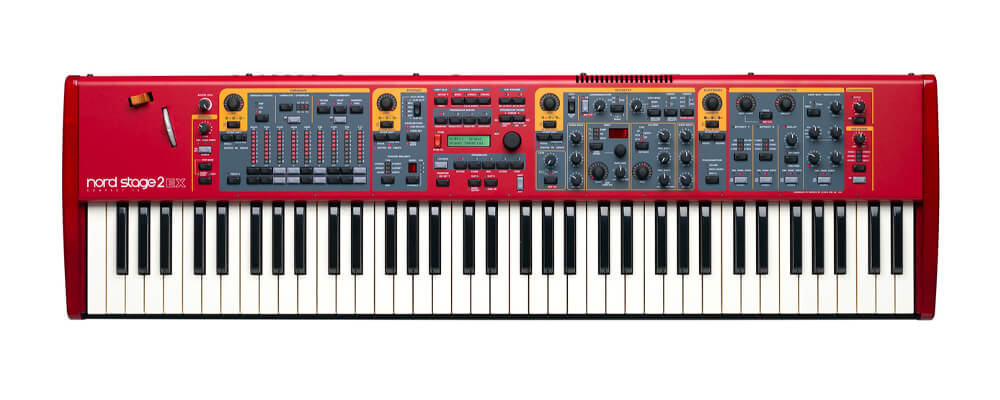 Do you believe in love at first sight, or should the Stage 2 EX Compact walk by again? Right off the bat, this scarlet beauty woos you with a trio of award-winning sound-generating sections – Piano, Organ, and Synthesiser. Play them separately or layer them all at once for a full, resonant tone. In fact, you'll have the whole orchestra at your fingertips with the Factory Bank. 1GB of memory gets you all the strings, choir, and folk instruments you'll ever need. Workflow is a snap too via the straightforward panel, whether it's layering, splitting, designating morphs to control pedals, and saving those settings to memory. Glissando away on the smooth waterfall keys, seamlessly integrating your music in real-time with external MIDI modules via the Extern section function.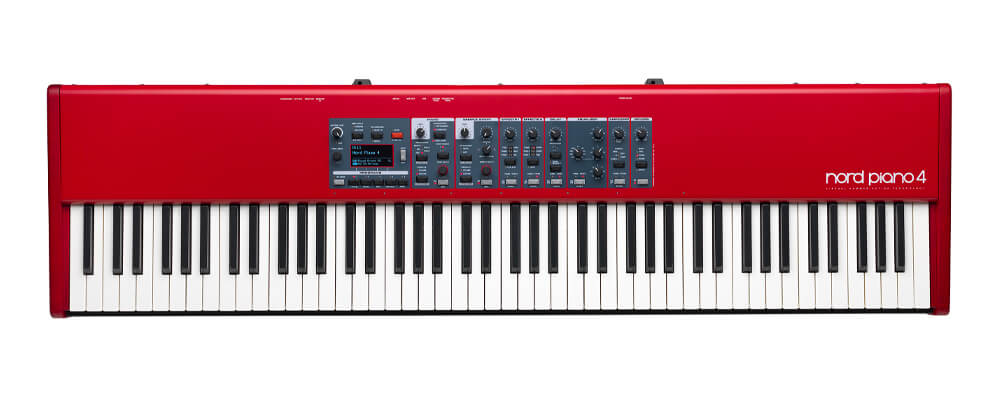 Enjoy the bells and whistles of a synthesiser but also yearn for the larger range of keys that pianos provide? Get you an instrument that can do both! Nord's 4th generation scion reaps all the benefits of its predecessors but does it even better. Try out a solo on the whopping 88-note Virtual Hammer Action-weighted bed and you'll immediately perceive how physically impactful each note feels, reminiscent of actual acoustic piano keys. Another thing that sets it apart? An oh-so-simple interface that earmarks functions to specific buttons and dials instead of forcing you into endless menu scanning. Cause with more than 1,000 top of the line sample-based instruments to choose from, you're gonna want to save every bit of energy to test out each sound. And just when you thought it couldn't get more realistic, Nord's Triple Pedal attachment even boasts a dynamic sustain that emulates the piano's natural dampening to a tee.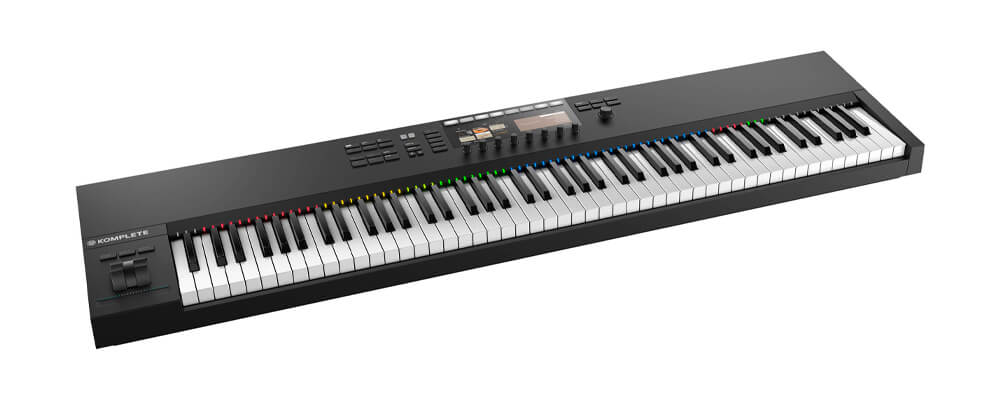 For musicians in the know, we need only mention two words here – Fatar keybed. Each key is fully-weighted, putting up enough resistance for that authentic piano experience, yet also recovering rapidly during the most intricate of trills. Dual high-resolution colour screens remind you of the Kontrol S88's full techy capabilities, along with a built-in browser that handles all inputs with ease. Not only can you pick out any NI instrument from a comprehensive selection, you're also in line for individual tag-based presets that'll do all the hard work for you. But if you must lift a finger, let it be towards the touch-sensitive controls. The 4-directional push encoder flits between sounds and projects with a single hand, and the MASCHINE control strip is a godsend for quick access to Scenes, Patterns, and other editing-friendly tools.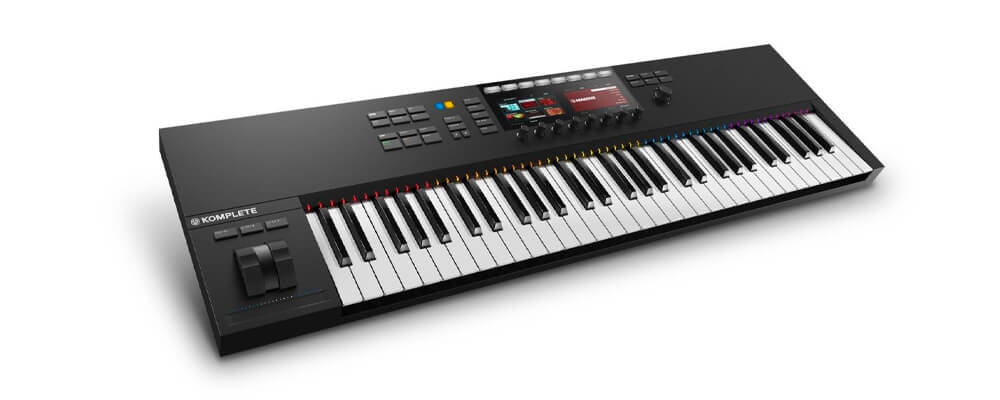 The original Kontrol was all about complete integration of hardware and software, and its current reincarnation is no different. Sure, it's got a few updates, like the high-res colour screens which shift between functions to suit modus operandi, along with highly navigable wheels and buttons that can be operated even while you're tickling the ivories. But the keystone of the Kontrol has to be its innovative browser system. Simply type in a search term, scroll through the suggestions, and pick out the sound that grabs you most. Each instrument automatically maps to the controller knobs once selected, so all that's left to do is fiddle around with the parameters. You're not just bound to NI instruments either! Any 3rd-party VST instrument will load into the keyboard, provided the developer has accounted for Native Map, Light Guide, and Smart Play support. Guess this is what they mean by 'playing the field'.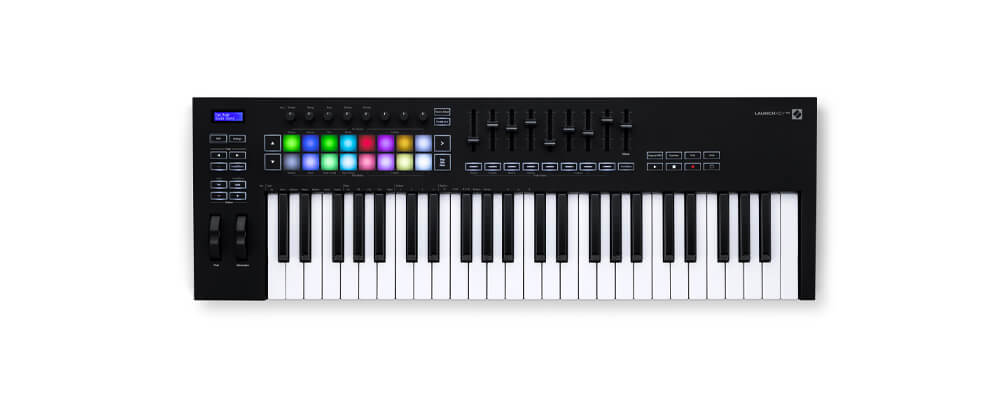 There's something to be said for innovation, and that something is the Launchkey 49 MK3. It's loaded with features, including 8 onboard Scale Modes that transpose notes on the fly, and a Mutate function that shuffles notes from one Pattern to another. Or simply program your own custom mode with the Novation Components tool. That adaptability carries over into DAW territory, as the controls instantly map to any major software you match it with right out of the box. Any external gear you've got can join in on the fun too, as long as it's got a 5-pin MIDI DIN connection. Wanna use it as an autonomous machine? That's fine too. Assign the ample-sized pads to their own dynamics, and tweak the fixed rotary knobs to sort out performance control.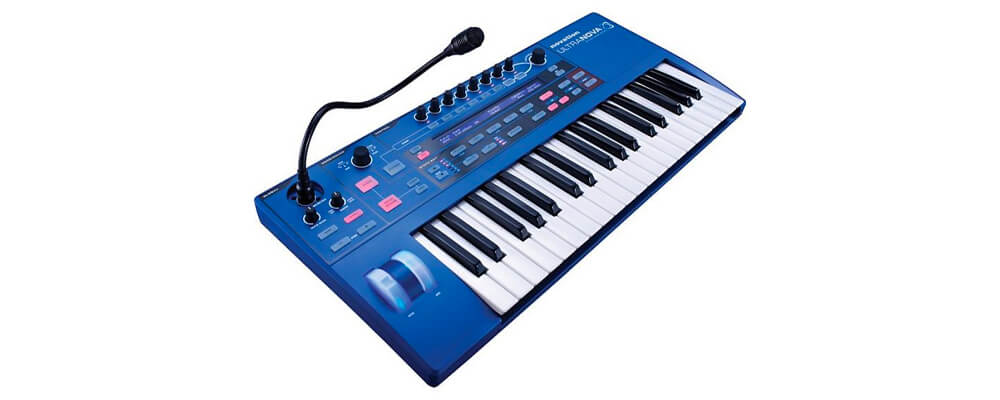 Aspiring vocalists, don't feel left out. Put on a one-man show with the gig-worthy Ultranova. Compact and easy to operate, it's part of the cult Nova line, probably best remembered for streamlining MIDI setups with their inventive Automap capability. Novation still keeps clarity at the forefront, allocating each part of the synth to 8 touch-sensitive encoders for no-fuss control. Its simplicity only adds to the analogue-like appeal, but it's far from primitive. Thank the "Touch" performance system for that. Push any of the circles to cue any of 6 envelopes, 14 filters, 3 LFOs, wavetable synths, as well as a host of other effects. We haven't even mentioned the onboard mic and vocoder function yet. Ok, now we have. So go forth and create!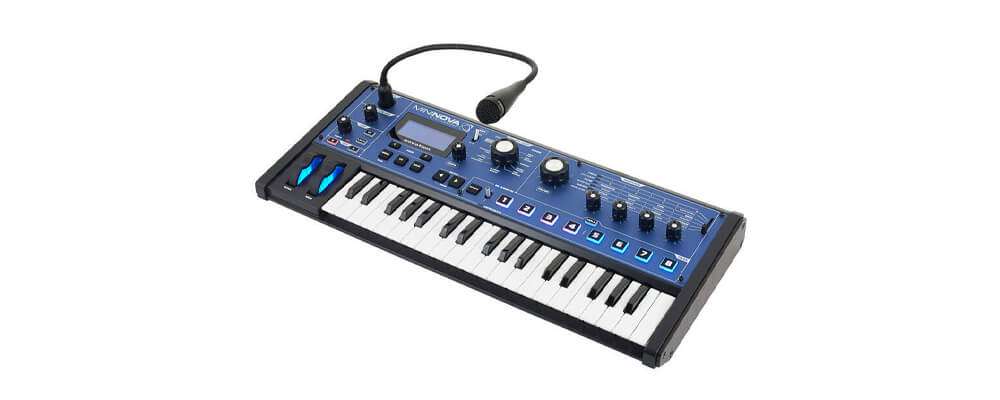 Good things come in small packages, or so they say. Hard to disagree when the MiniNova exists. Tiny but crammed with potential, its 37-strong keyboard hides an astonishingly robust synth engine identical to that of the UltraNova. Seriously. 14 waveforms, 36 wavetables, and 20 additional digital waveforms, and that's not even counting a trio of oscillators (per voice!) and all the effects you could possibly want, including Novation's proprietary Gator. Feeling enterprising? You should, cause the MiniNova isn't done with you yet. It's got 256 sound patches for you to shape and warp via 8 animation buttons. Believe it or not, you're even covered in the singing department, where pitchiness and off-key warbles get polished up by the voice-tune function.
---
Lost your heart to one of these lovelies? We can't blame you, but you'll have to dash over to the collection page if you wanna beat the holiday rush. While you're there, why not see what else we've got on offer? It'd be a waste not to, considering that our 75th Anniversary deals apply to both in-store and online purchases.
Shop our 75th Anniversary Digital Pianos and Keyboards Collection
We're almost at the end of our 75th Anniversary celebration, so you won't want to miss out on upcoming events! All the fun stuff can be found on our 75th Anniversary Page, like specially curated music gear bundles, discounts codes, giveaways and weekly discounts on gear collections.
The year's drawing to a close, but anticipate a few more surprises from us before then. Put on your detective cap and figure out this hint for next week. It's the things we all need to keep our instruments at peak condition! Think you've cracked it? Check back soon to see if you're right, or save yourself the trouble by signing up for our mailing list.
Read more: Celebrating 75 Years of Swee Lee