Bring out the cake and candles because we here at Swee Lee are smack bang in week 5 of our 75th Anniversary Celebrations!
This week features something relevant to a lot of musicians out there – studio and recording gear! We've seen more musicians and creators than ever begin their home recording and music production in the past couple of years and we couldn't be more stoked about it. In light of supporting all artistic audio makers around, we here at Swee Lee want to make sure that all our fellow musicians have the gear to continue making your content and your music!
For one week only, we'll be featuring some extraordinary pieces of studio and recording gear: audio interfaces, microphones, and the like – they're all here. On top of that, prices are at an all-time low, so you won't want to miss this opportunity to grab a few devices.
Save 5% on selected Studio and Recording Equipment
There's something for everyone in the mix. Want to start your own talk show? Nab a microphone! Want your upcoming album to sound polished with a capital P? You're gonna need a top-notch DAW and a great interface. All you need is to take a chance on the offers in-store.
Win a Focusrite Scarlett 2i2 Studio Pack
P.S. You guessed it, here's another big giveaway! Fresh out of the box, we've got a limited edition item just waiting for a new owner – a Focusrite Scarlett 2i2 Studio Pack! Can't wait to enter? Click on the button above and you'll be one step closer to winning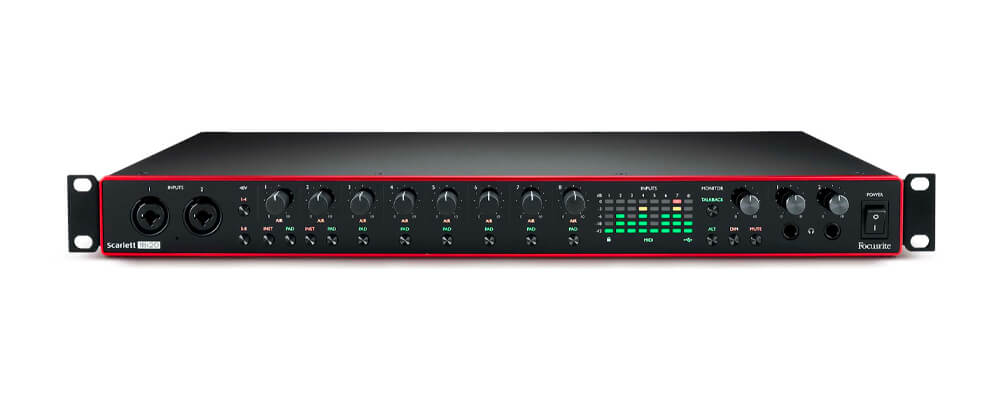 When you're descended from a long line of champions, you'd better hope you live up to the family legacy. Lo and behold – the Focusrite Scarlett 18i20 delivers! Its third-gen iteration starts off strong with eight upgraded mic preamps, sample rates of up to 192kHz, and the lowest of latencies for instantaneous monitoring via native plug-in effects or Direct Monitor. Equally note-worthy is the addition of Focusrite's exclusive Air feature. With a single push, the all-analogue circuit emulates the classic ISA 110 preamp, making vocals shinier, adding shimmer to drum overheads, and turning regular guitar riffs into a veritable fireworks display. And with up to 18-in/20-out instrument inputs/outputs, you'll be ready to record any showstopper event.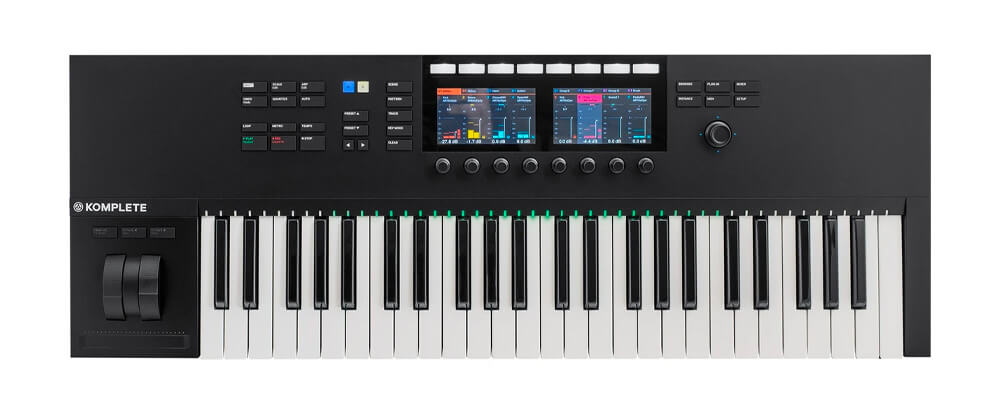 You know what you're getting into with the Kontrol. The name says it all. Complete dominance over precision editing, mixing, and navigation via its two high-resolution full-colour displays. Touch-sensitive with fast recovery, the 49-strong Fatar keybed isn't just a joy to play on a standalone basis. It also integrates seamlessly with Komplete's Select software. One hand controls the chords, the other hand messes with the ergonomic pitch and modulation wheels or the flexible touch-strip control. Summon any NI instrument of your choice or opt for individual presets, then modify them on the go to get an end result that tallies with that masterpiece in your head.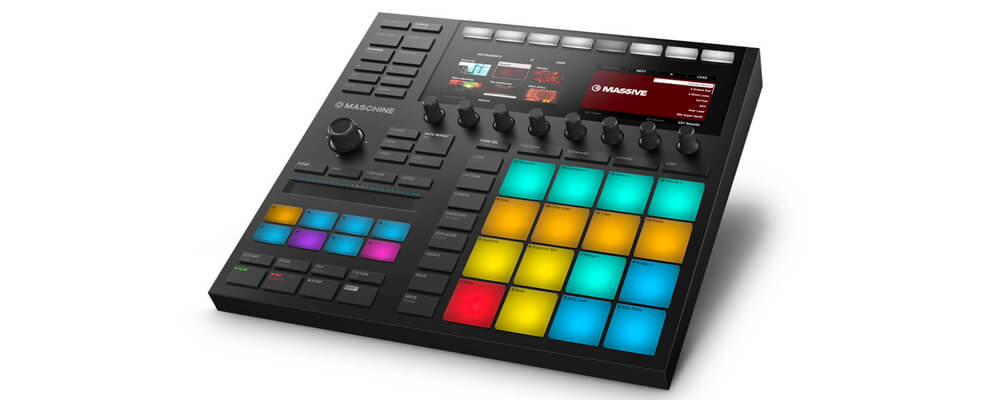 Not one to rest on their laurels, Native Instruments are consistently adding improvements to their Maschine lineage. The Plus is their attempt at a standalone production system that can handle anything you throw at it – and we think it's a runaway success. Operating on a quad-core processor, 4GB dual-channel RAM, and a built-in 24-bit/96Jz interface with integrated WiFi capabilities, you won't even have to go near a computer. It's got massive pressure-attuned pads that respond instinctively, touch-reactive knobs, and a Smart Strip ribbon controller that adds all the effects you could ever want. And with over 8GB of production-ready tones and patterns, along with 14 of NI's curated instruments, that's no humble brag. Seriously, what can't it do?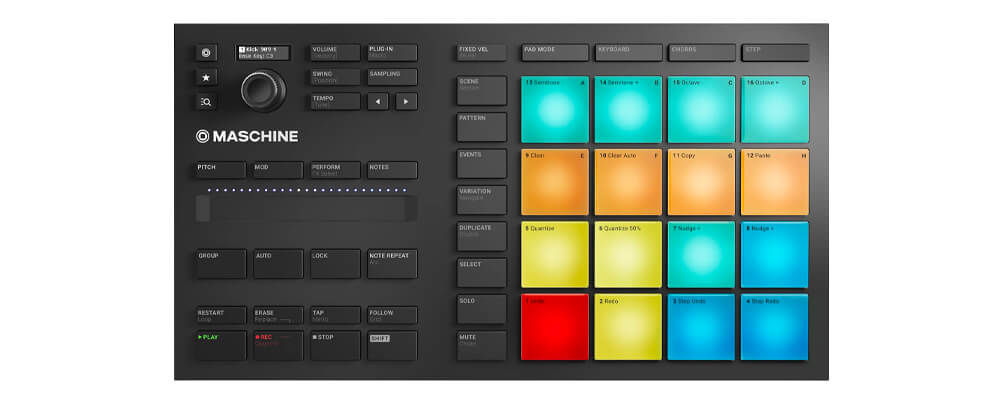 If you'd ever wanted to get the original Maschine but found it a little pricey, you're in luck with the Mikro! Shrunken down it may be, but the Mikro MK2 preserves all the wonderful features we've come to love, albeit at a lower price point. There are lots to choose from, courtesy of the 8GB soundbank containing a treasure trove of samples – from drum kits and multi-sampled instruments, to loops, patterns, and projects. Editing is a cakewalk, especially if you're big into sampling. Slice and dice entire tracks with 'scenes', then mix and match as needed. Another huge plus? The ability to colour code your 16 touch-sensitive pads for easier navigation!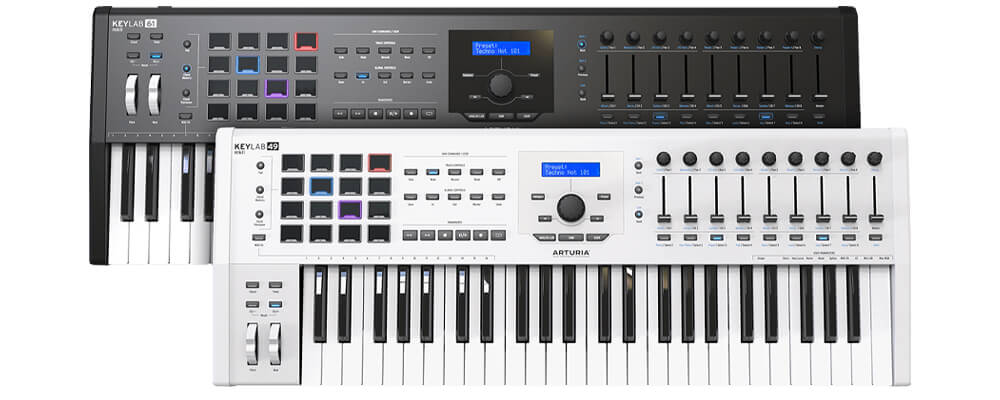 Serving double-duty as both a keyboard and a controller, the KeyLab MkII is truly one you can rely on in or out of the studio. Its channel aftertouch-equipped keybed responds effortlessly to the most intricate of trills and arpeggiations, paired with any of the onboard faders or rotary encoders or not. Neat freaks will love the streamlined process of setting up any MIDI-compatible instrument or DAW. But the icing on the cake? Definitely the Analog Lab. The software grants instant access to 6,500 synth and keyboard sounds from the award-winning V Collection vault. And the setup is completely battle-ready with a lightweight yet sturdy aluminium casing and wiggle-free knobs and faders.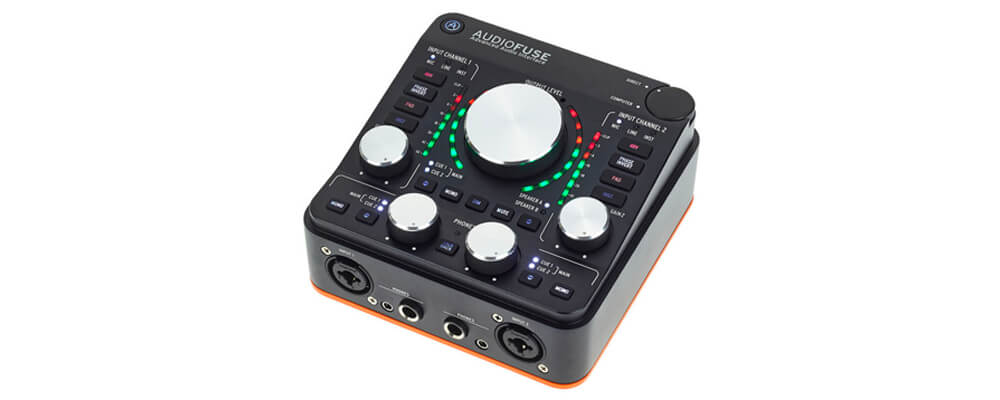 We're often told that symmetry is appealing in human features. The same applies to audio interfaces. Don't believe us? Look at the Rev2. Its symmetrical audio chain, stylishly embedded in an aluminium chassis with a leather-enveloped top, is truly a stunning sight. But is it up to scratch? Flip the unit over and judge for yourself. With four analogue outputs, two analogue inserts, and a handful of I/O lines making up just a few of the connection types on offer, you're spoilt for choice on setup options. Power it up via the 3-port USB hub, serving dual purpose as both data connection points and plug-ins for bus power. And when it comes to audio environment, the stellar DiscretePRO preamps speak for themselves.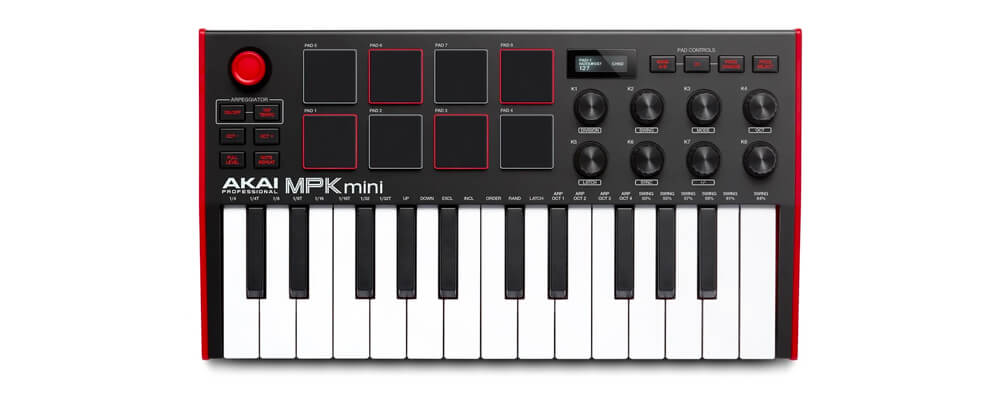 USB-powered, this tiny 25-key velocity-sensitive controller does everything from synthesizer control to beat production, and it does it well. Its innovative 4-way thumbstick adjusts pitch and modulation, while the build-in arpeggiator takes care of resolution, range, and modes. Throw some drums into the mix too, 'cause that's what the 8 backlit beat pads are raring to do with their Note Repeat and Full Level features. To top it all off, assign your favourite plug-ins to the octet of 360-degree knobs, then spin, tweak, and mix to your heart's content.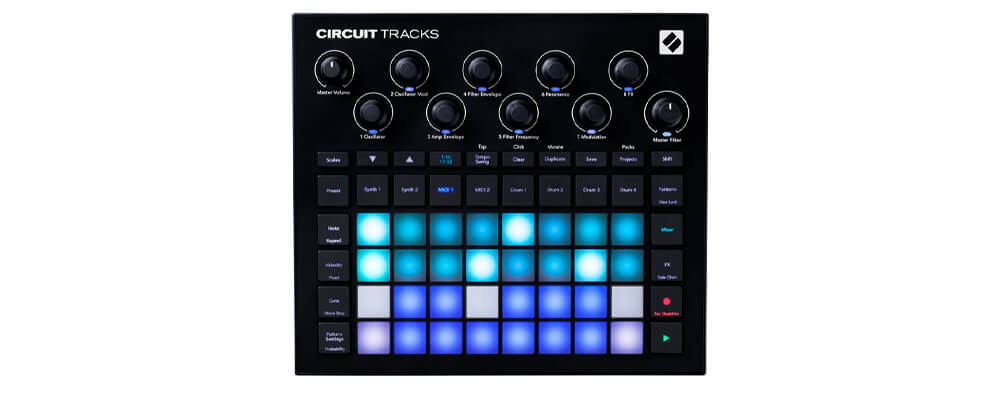 Grooveboxes are self-contained electronic production interfaces, and the Circuit Tracks is certainly all that and more. At its core lies two polyphonic synth engines and four sample-based drum voices, the sleek design even featuring full-size DIN sockets and a microSD card slot for storage expansion. The 8×4 bank of velocity-responsive pads are derived from Novation's acclaimed Launchpad line, with just the right amount of "give" to make touches and taps feel authentic. Sequencing capabilities are at an all-time high too. 32-step loops and the ability to record unlimited patterns in the here and now, for one. If you want to leave all the thinking to the groovebox, that's cool too. Simply implement probability for triggers, transform the steps, and presto! New patterns generated. Dual mono input sockets come in handy too, letting you route signals straight into external MIDI apparatus so no synth or drum layers are lost in the process.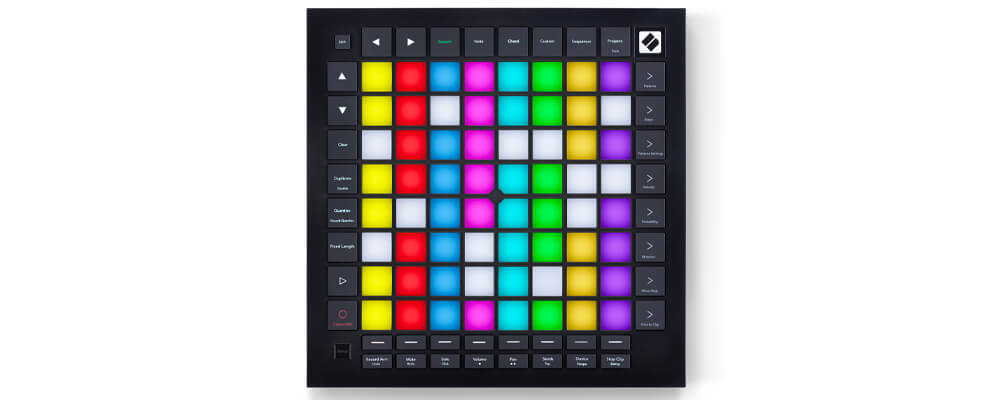 You can see the rainbow, and the Launchpad Pro experience will certainly make you hear it too. Its 8×8 matrix of vibrant RGB LED pads glow in sync with those in your Ableton Live view, instantly letting you know which clips you're playing.in real-time. Psychedelic! Use it however you're most comfortable – keyboard, drums, sound grid– with Standalone Mode, no matter which software is at hand. Switch to scale mode, and the velocity- and pressure-sensitive pads magically assign themselves to 32 keys and modes respectively. Don't even sweat the mixing process, just edit as you go along. Press the mixer function button, change things up, then release to return to whatever you were doing without missing a single beat.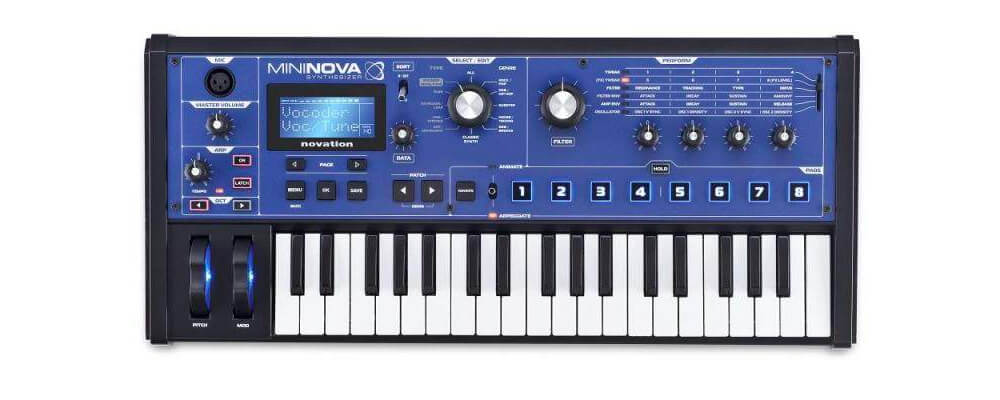 Adorable is a word you could use to describe the MiniNova – powerful would be another. While it may be known as the UltraNova's younger brother, the Novation MiniNova has a lot going for it. It's got 256 onboard sounds, 14 types of filters, and even a 20-slot modulation matrix where you'll be stringing together engine modules. What truly sets it apart are the Animate buttons. Like it says on the package, these buttons activate mods that warp and tweak your sound in real-time, perfect for sequencing, especially when used in combo with the 33-pattern arpeggiator. The five-voice effects work great for guitars, bass, or any other instrument you're up to experimenting with. Try layering Novation's proprietary Gator effect over vocals and see what happens.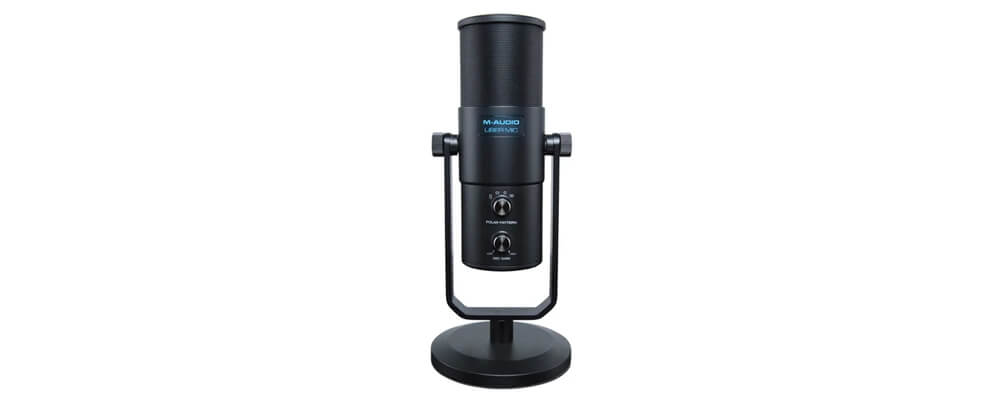 Embrace high-fidelity with this large-diaphragm 3-capsule condenser microphone. It's got four (count 'em) – four distinct polar patterns to suit whatever you're recording. By switching between cardioid, figure-8, omnidirectional, and stereo where necessary, you'll avoid the dreaded signal bleed and get the best out of your session. From emotional instrumentation and vocal arrangements, to interview rooms and podcasts – sound remains pristine and authentic thanks to the wide-range 30 – 20,000Hz frequency response. A 1/8" headphone jack with internal amplifier allows for on-site listening, perfect for pinpointing finer details, and mute control comes in handy when the sudden need for privacy arises.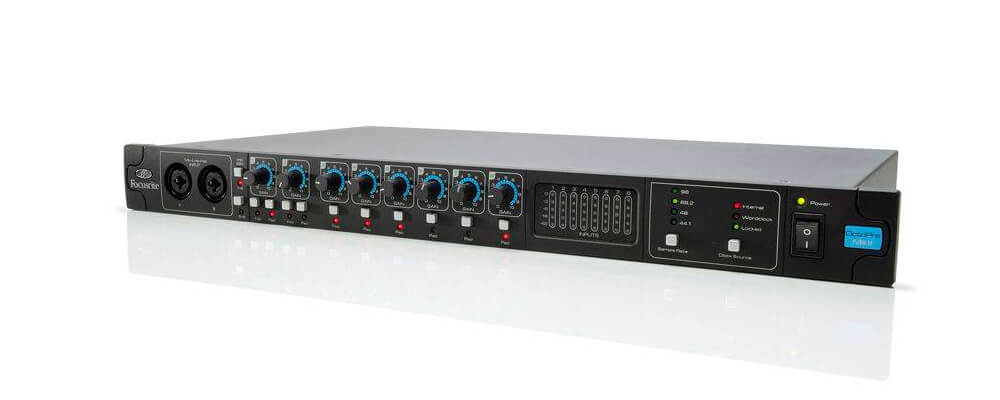 Eight's a lucky number. Equally fortunate are those who nab themselves this microphone preamp that plays well with almost any console or hard disk recorder. Prepare to be blown away by the ingenious simplicity of the More button right from the beginning. It's an on/off toggle that doubles each channel's single-knob compressor's purpose. Picture the fixed compression ratio going from 2:1 to 4:1, significantly upping the range of effects you can lay down on tracks. It doesn't stop there. The impressive Saffire PRO preamps are designed to capture sound precisely, and paired with the oft-unappreciated ADAT I/O, you get total control over digital feed recording and monitoring. Even with the sheer amount of inputs and outputs, it fits within a slim 1U casing, remaining user-friendly with intuitive controls that are easily adjusted across the front panel.
---
Now that's done, it's time for the fun part! Click over to our collection page and start adding those goodies to your basket, or browse through all the other great merch on offer. Remember, our 75th Anniversary deals are valid for both in-store and online purchases!
Save 5% on selected Studio and Recording Equipment
We're always adding more surprises to our 75th Anniversary celebrations, so pop onto our 75th Anniversary Page to keep track of all the fun happenings! There are specially curated music gear bundles, discount codes, giveaways, and weekly discounts on gear collections to be enjoyed.
Here's to hoping you're just as stoked as we are for the next weeks of festivity. Eager to know what we'll be featuring next week? Here's a clue: It's the big one everyone is waiting for! Think you've figured it out? Come back in a while to see if you're right, or just make sure you're on our mailing list.

Read more: Celebrating 75 Years of Swee Lee