As one of the biggest names in music today, John Mayer owes his success to a few factors. Soulful lyrics, catchy tunes, and of course, his guitar-playing skills. While that last one is sometimes unfairly overlooked, it's hard to deny Mayer's beautiful phrasing, exceptional feel, and impeccable musicianship. His playing is tasteful and not overly complex, always fitting within that elusive sweet spot many musicians struggle to find.
Shop Artist Signature Guitars
Complementing his acclaimed style is his equally scrutinised choice of guitar gear. Mayer's clean tone is characterised by a perfect blend of smoothness and clarity, with notes that shimmer and sparkle. Yet when he pushes it into overdrive, its rich velvety crunch with luscious overtones make the hairs on the back of your neck stand.
Fan status aside, any guitarist wanting to emulate these desirable tones is in luck! Since Mayer's gear has been well-documented since the start of his career, we know exactly what to look for. And there's no harm in snagging a few tricks from one of the most meticulously crafted signal chains out there. Get out your checklists, because we're bringing you all you need to get that Mayer-esque tone.
Read more: A Beginner's Guide to Guitar Amplifiers
The Guitar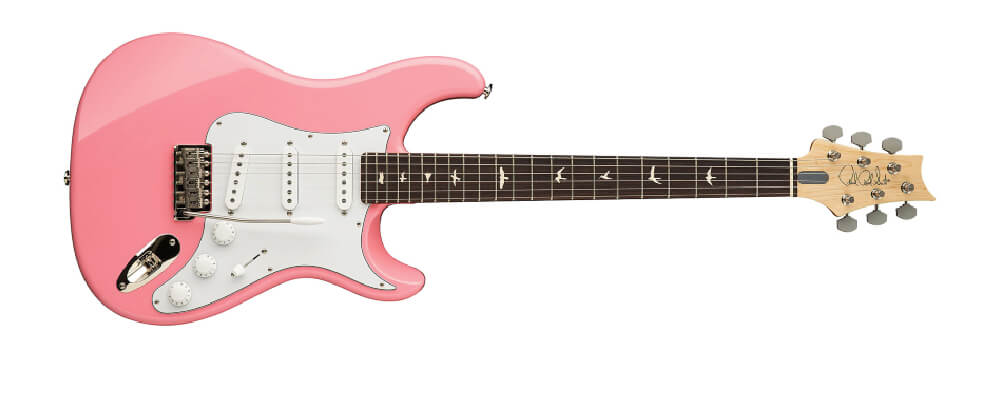 Wanna sound like John Mayer? Then you're gonna need a solid body bolt-on equipped with single-coils. In fact, why not use the exact model that Mayer uses both onstage and the studio?
One of the most talked-about guitars in recent memory, the PRS Silver Sky is the result of an extensive (and still ongoing) collaboration between Mayer and Paul Reed Smith. Taking Mayer's elements from vintage Strats between the years of 1963 and 1964, the Silver Sky is a tasteful reimagining of an instrument that has been around for over 60 years.
Lying at the heart of this guitar are the PRS 635JM single-coil pickups, combining the best elements of single coils from the nifty sixties. Think round and full tones with a mid-scooped profile that gives you glassy, musical highs which never become too ice-picky. Unlike their vintage counterparts, these single-coils exhibit a higher signal-to-noise for purer tone, and are hum-canceling in positions 2 & 4. On top of that, the Silver Sky's electronics are precision-valued, ensuring a high degree of consistency from pickup to pickup.
Even if you're flipping a coin on which version to get, you'll be in safe hands with PRS guitars. They're meticulously built instruments to high specifications, and the Silver Sky's pristine build is testament to the brand's craft.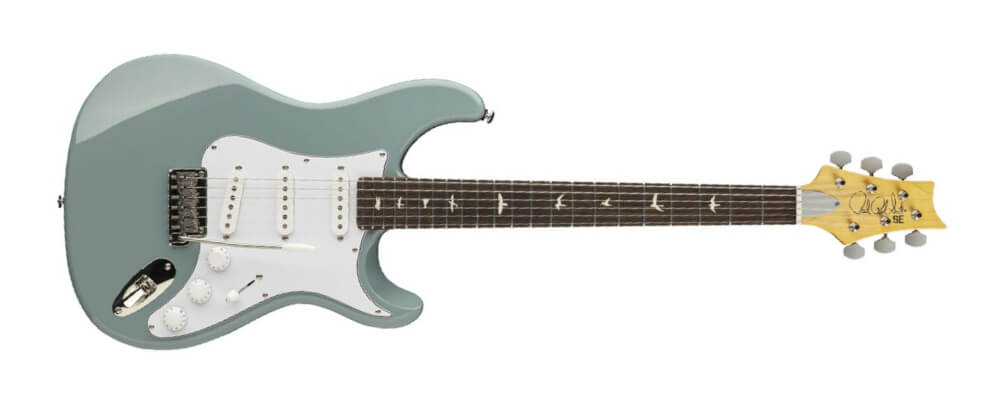 Of course, budgetary issues shouldn't prevent you from strapping on a Mayer-approved axe. Don't just take our word for it, the man thinks so too. While the Silver Sky SE retains all the elements required to reproduce Mayer's classic tones, the SE has done some serious price tag trimming. We dare say it's as good as the original.
Now sporting a lightweight poplar body, the SE further reinvents itself with a flatter neck radius of 8.5". It's a step towards modernity, as is the contouring on the lower "prong" of the cutaway feature, which meshes well with the rounded heel for upper register access. There's also the synthetic bone nut, beautifully rendered for precise bending and vibrato work.
This is still a Silver Sky at its core, and nothing emphasises the SE's origins more than the double-cutaway bolt-on design. Like we said earlier, it still fires out single-coil soundwaves from a trio of 635JM "S" pickups. Tuned into any of its five positions, it croons with fullness and warmth. The neck pickup is deliciously creamy, while the dedicated tone control reins in any glassiness from the bridge pickup.
At the end of the day, everything about the Silver Sky SE suggests that it belongs among higher-range guitars. Yet, it remains jaw-droppingly attainable. And that might just be the most John Mayer-like feature about it.
The Amp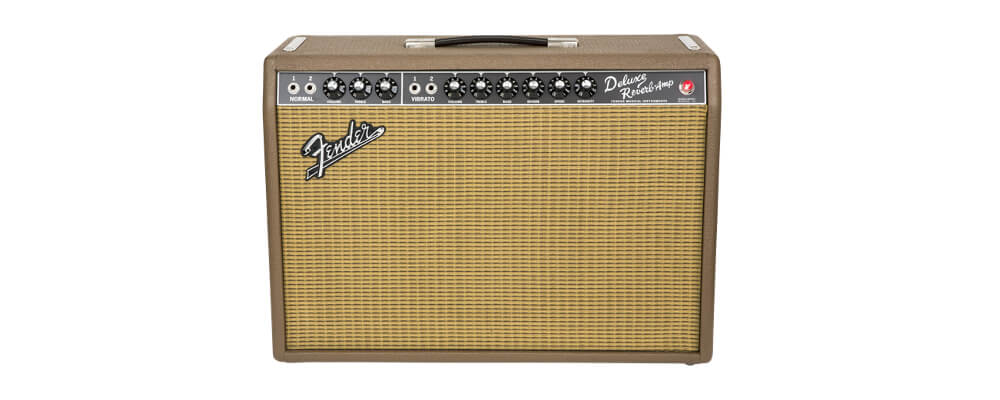 If you want to sound like Mayer then you'll need to invest in a great amp. Mayer has spoken of using his amplifier like a big clean microphone and leaving much of the tone-crafting to his pedalboard – so it is no surprise that the amps that he has used throughout the years are great pedal platforms with high amounts of headroom.
Though Mayer has deployed many amps within his arsenal, we're honing in on Fender's Deluxe Reverb amp. Perhaps you got a taste of it during his American Pie performance on David Letterman. J.M.'s own device was custom-built for him by Chris Fleming of Fender's Custom Shop and Howard Dumble of Dumble Amplifiers.
This Fender reissue of an erstwhile 1965 model still retains its high-and-low-gain inputs that feed volume, along with bass and treble controls. They've even tacked on a second effects-free channel to the same degree. While the front and rear panel layouts might be retro, but its insides are as contemporary as they come – emblematic of Mayer himself.
Plugged in, Jensen Alnico loudspeakers lead the charge, dripping with that honeyed "blackface" sound Fender is so famed for. Interestingly enough, the low-output wattage easily catapults guitars into overdrive marked with a hint of edge. Combined with the Deluxe's extra headroom and volume level, this will always be a Strat's perfect match.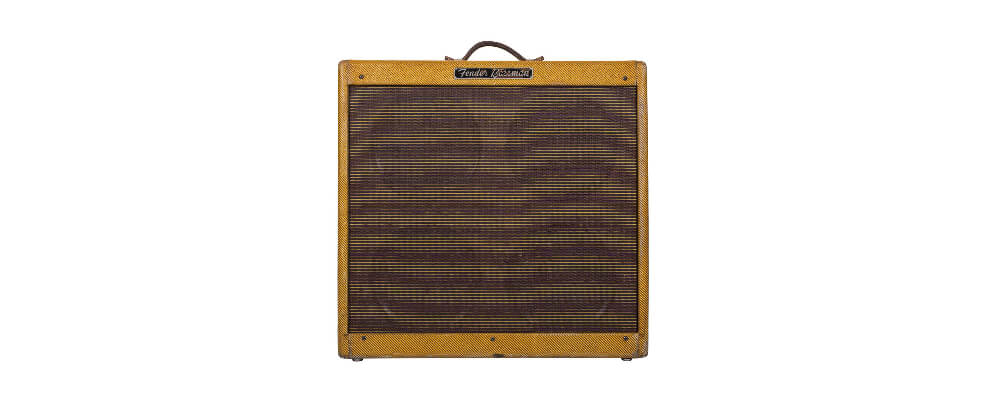 Speaking of Strat-worthy pairings, no one seems to hit the mark more often than Fender. To be fair, the Bassman was initially created to complement the Precision Bass, but it performed just as well with other guitar models. Its circuit design even inspired the first Marshall amplifiers. Mayer himself is a huge enthusiast of the Dumble sound. Funnily enough, there've been rumours that Dumble amps of yore were merely retooled Fender "blackface" amps. Ergo, this limited-edition re-release should scratch the itch if you've been searching for that distinctive Dumble sound.
As a reproduction, the Bassman is as close to vintage perfection as you can get. Just like the original, it's housed in a finger-jointed yellow pine cabinet draped in lacquered tweed. Behind the striped oxblood grille cloth covering, Fender's made a few improvements. Namely, a tube rectifier, a pair of Groove output tubes, and a quartet of 10-inch Jensen P10R Alnico speakers. There's still some familiarity in the four-input, dual-channel design with independent volume controls per channel.
What sends this amp right up Mayer's alley? The volume, for one. With a 50W rating, the Bassman certainly has a lot of juice, especially if you value crisp, clear tones. On top of that, its non-master style of volume manipulation lets the player choose their own point of organic distortion. Maestros of classic rock and blues typically enjoy this level of touch-sensitivity, as it allows them to set mood and tone accordingly. For someone like John Mayer who is very particular about his sound, this characteristic makes the Bassman and similar amps absolutely indispensable.
The Pedals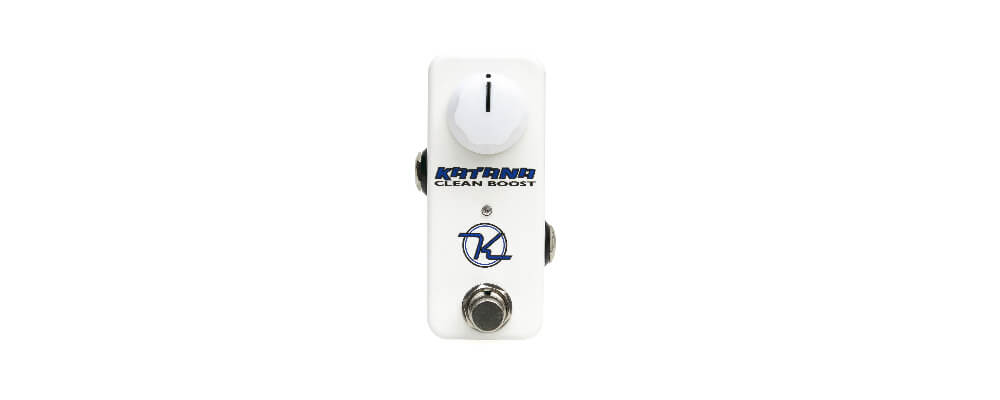 Usually the first pedal that John Mayer puts in his set-up, boost pedals are a great effect to have if you want to add a bit more juice to your signal for those beautiful pushed blues tones. Featuring dual FETs and power doubling for the most tube-like tones, the Katana Boost is Mayer's choice of boost for making his solos pop.

As an added bonus, the Katana Mini also comes with dual micro switches inside its enclosure for added tonal versatility. Need more drive? Just flip the micro Hi-Gain Switch. Want a warmer tone without ear-piercing trebles? The Hi-Cut Switch is there for you. Or just flip both switches on to achieve the ultimate thick and creamy boost.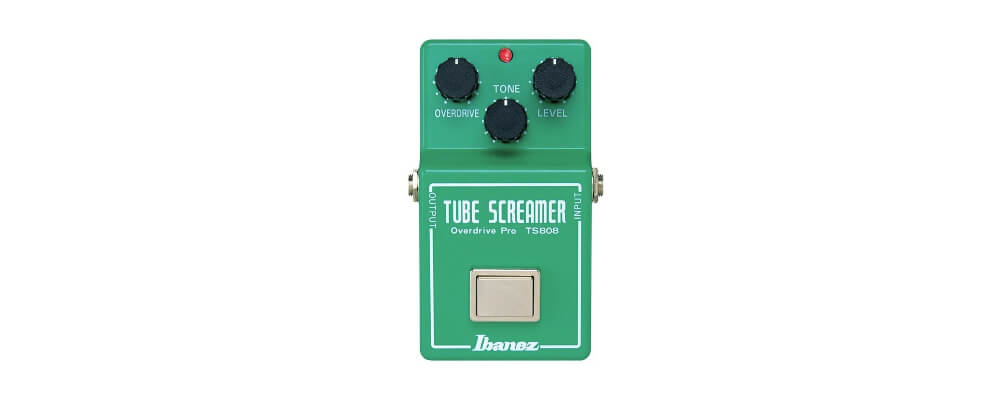 John Mayer was inspired to pick up this fabled pedal by his personal guitar hero, Stevie Ray Vaughan. As an overdrive, the Tube Screamer boosts the guitar's signal causing the amp to distort, but the Tube Screamer adds its own flavour by boosting the middle frequencies of the guitar signal disproportionately. Generally speaking, the clean tones that Mayer employs are usually lacking in middle frequenciesa and are characterised by their "scooped" nature – tight and well-defined bottom-end with sparkly, bright high frequencies.
The Tube Screamer puts those mids back into the mix and when you do it right, it creates a thick and warm-sounding purr that resonates to the bone. John Mayer has used a variety of different Tube Screamers during his career but the TS808 is as great a choice as they come.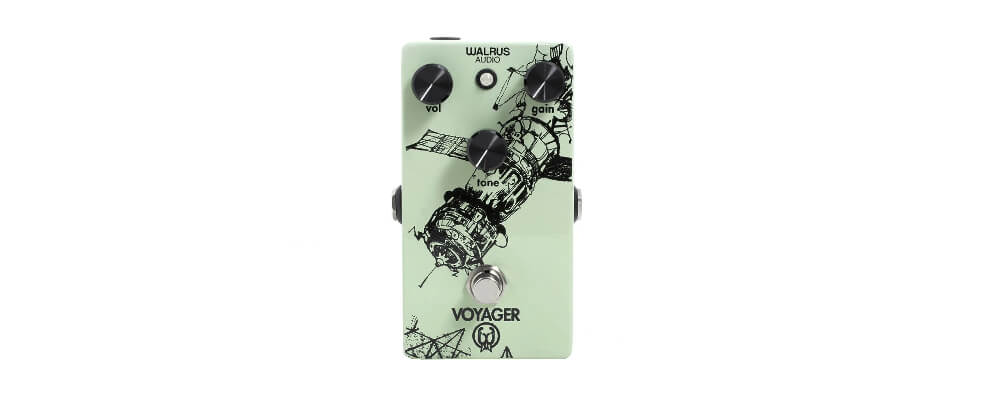 Another huge part of John Mayer's tone comes from the other overdrive pedals that he uses – a transparent overdrive. Like a clean boost, this overdrive doesn't colour the sound of your amp and guitar. It just pushes your amp harder and adds an additional layer of harmonic overtones that help your notes sing. Mayer's choice for this is a well-known "horsey" pedal that has now been discontinued – as such, we've selected the next best thing.
Walrus Audio's Voyager Preamp is all about transparency. At lower settings, the Voyager provides just enough dirt to add clarity to your notes. Even with the gain cranked, your chords and individual notes will remain coherent and articulate. To get Mayer's tone, push the volume up while using the gain sparingly. If done correctly, this will inject your solos with the edge they need to rise above a busy mix.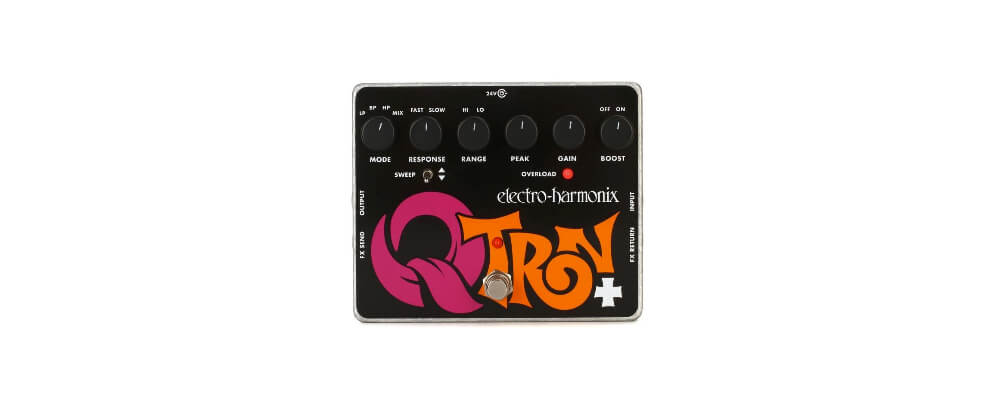 If there's one thing we can say about envelope filter pedals, it's that few effects are as integral to funk as these are. Commonly referred to as "auto-wah" pedals, they're sometimes confused for the pretty similar "wah-wahs". Make no mistake, envelopes are their own creatures. They've got a chunkier sound, bulked up by the dynamic filter on their stompbox unit. And none has more sway with Mayer than Electro-Harmonix's Q-Tron. It may come in 3 distinct formats, but each one is capable of producing his characteristic chunky funk tones.
Much like John Mayer adopts desirable traits from his idols, the Q-Tron also gives kudos to its forerunner "The Mu-Tron", a pedal famed for its Stevie Wonder association. We'll leave the degree of mimicry to your ears, but the Q-Tron deserves its own accolades. Ever had "I Don't Trust Myself", "Wildfire", or "Rosie" on the stereo? That's the Q-Tron's doing. It's a full-fat, ultra-quacky sound, just as a good funk pedal tone should be. Mayer's not the only one smitten, Joe Satriani and Flea are both known enthusiasts. But that's a story for another day.
Back to Mayer's Q-Tron. This overachiever doesn't just sound amazing, it feels great to use too. Its innovative system responds intuitively to your playing, analysing dynamics and adjusting as you go along. The Plus is particularly exceptional, stepping up as the industry's representative big-box filter pedal. Amongst its sextet of dials is a 4-mode spinner that twirls between Low, Band, High Pass, and Mix. There's also a Sweep Up/Down toggle thrown in for good measure. We recommend setting the filter to let in plenty of mid and high-end content while keeping everything else out so Mayer's pleading, almost nasally tone can come through.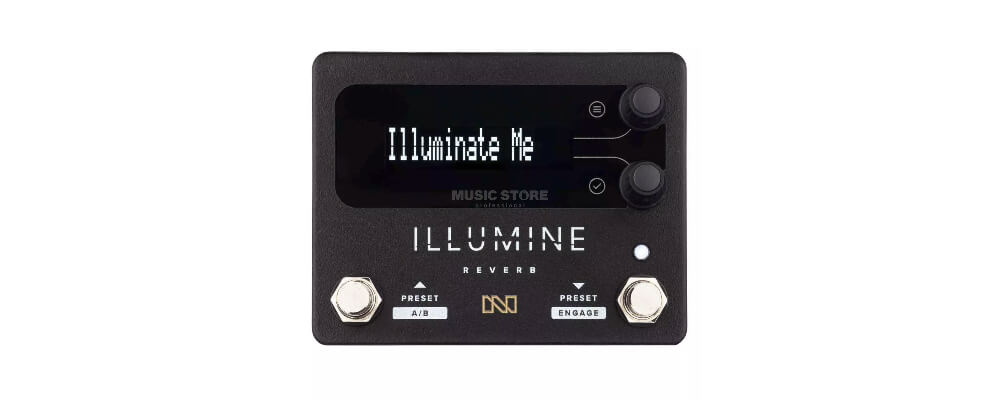 The penultimate effect covered in this basic setup is probably one of the most important – reverb. Best described as a "complex echo", reverb pedals stimulate sound reflections at varying times and amplitudes – creating a sense of resonance and shimmer that softens up your tone.
When it comes to reverb, Mayer usually uses standalone reverb units/tanks that go into the effects loop of his amps. However, to get his reverb sound in a pedal format, the best option would undoubtedly be the Neunaber Illumine Pedal. If it sounds familiar, that may be because you caught Mayer's Sob Rock tour where the Illumine's presence was heavily felt.
When Neunaber launched the Illumine, they billed it "the ultimate reverb machine". With 17 different studio-grade engines, this pedal definitely lives up to its expectations. Stereo effects inject notes with all things reverb from Shimmer and Spring, to Swell and Sustain. Take your pick!
Aliterative assistance aside, the Illumine's array of 50 factory presets means that you're never far away from a tantalising tone. Originality hasn't been forsaken either – it's equipped with an equal number of slots for saving your favourite settings. Coupled with the analogue dry signal, it promises minimal noise and zero latency throughout the process. So when you crank it up to a 100 via the stereo output, that massive Neunaber sound still rings pure and true.
Way Huge WHE701 Aqua-Puss Analog Delay Guitar Effects Pedal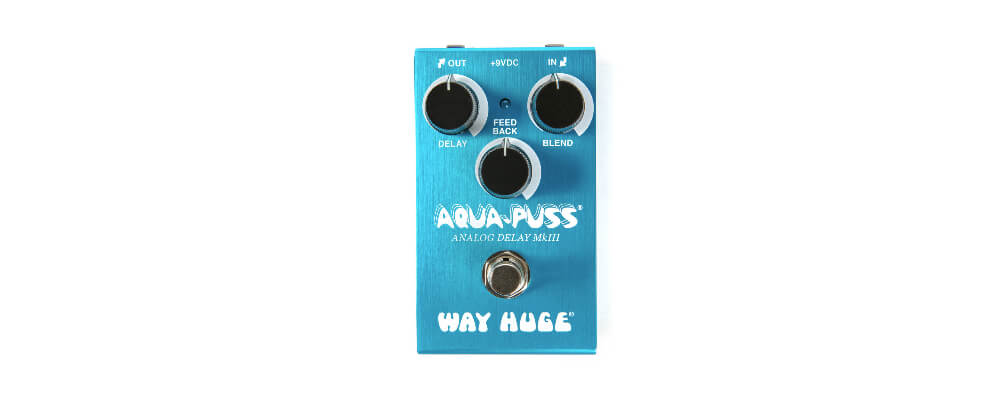 When considering the end of your signal chain, take a page from Mayer's book. A vintage-styled analog delay pedal will add an extra dimension to your riffs. Oftentimes overlooked by players as an effect made for heavier or more atmospheric genres, a slight amount of delay can actually help make your tone thicker and warmer. Rather than each note ending abruptly once it has been picked, adding delay makes notes tail off naturally with a smooth decay. While this effect does not enact the largest audible difference to your tone, the warm delays for the Aqua-Puss add a layer of depth that gets you just that bit closer to those John Mayer tones.
---
We hope this brief foray has given you some insight into the cogs that make up John Mayer's unique sound. Being able to take the components of the sounds you love and tweak them to your own unique style is one of the most enjoyable parts of being a guitarist, and we wish you all the best in your musical journey.
Shop Artist Signature Guitars
We're huge John Mayer fans over at Swee Lee, so there's always something from his collection floating around our online catalogue. Can't pick them out? No sweat, come down to our store and we'll show you what's what. Wanna know what we're bringing in next? Our newsletter form will take care of it, so send your details in pronto.
Read more: Your Guide to Hollowbody & Semi-Hollowbody Guitars