Like many who have binged the latest season of Netflix's "Stranger Things", Eddie Munson's rendition of Metallica's "Master of Puppets" has gotten us excited for the return of heavy metal into the mainstream. Thanks to Eddie, many are now plugged into the massive riffs, searing solos and heavy hits of the genre. If you want those big moves, put away your air guitars and head for these best heavy metal guitars and amps.
Shop the Best Heavy Metal Guitars & Amps
While some players like to play around with unique scale lengths, others stick to traditional standards, equipping their guitars with high output pickups. Regardless of preference, these guitars have one thing in common. They're loud and take huge amounts of gain with ease.
And so the hunt for your perfect setup starts. We've hand-picked a selection of gig-ready and reliable products that'll run the gamut of modern metal needs. So, kick back and peruse the best heavy metal guitars and amps 2022 has to offer.
Read more: A Beginner's Guide to Guitar Amplifiers
The Best Heavy Metal Guitars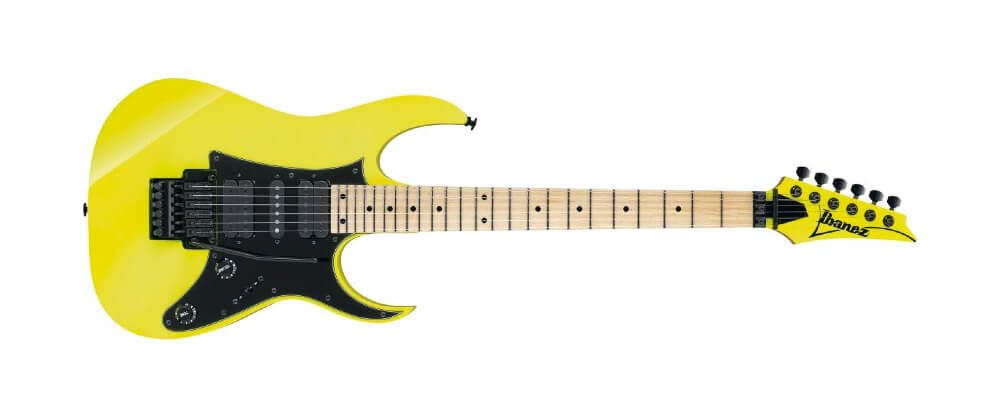 Die-hard rock and heavy metal fans were heartbroken when the first RG550 guitars were discontinued. Although its essence lived on in subsequent Prestige releases, it wasn't until 2017 that the RG550 made a comeback. This latest iteration features the same basswood body, tilt neck joint with an embossed metal plate, and maple fingerboard. The original's Edge double locking tremolo bridge also makes a triumphant return.
However, the issue does have a few modern tricks up its sleeve. It features a 5-piece laminated maple/walnut Super Wizard neck, kitted out with jumbo frets ideal for mega bending. The RG550's original HSH pickup config has been upgraded with contemporary V7 and V8 humbuckers in its neck and bridge. The V7's tight and crunchy sound works well with dynamic chords and rhythm, while the V8 sizzles with warmth and articulation. Even in high-gain settings, they never get too overwhelmingly bright. Prospective metalheads can always rely on the RG550's signature growly tone.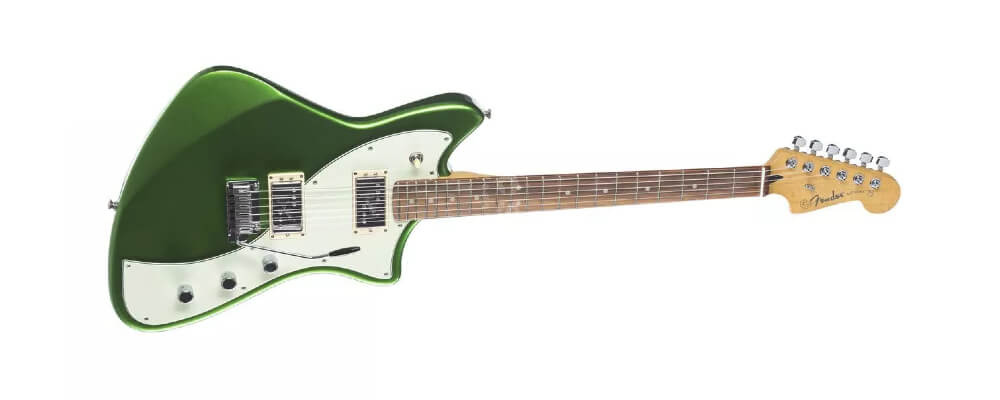 Who says you can't teach an old offset guitar new tricks? With its swishy double-cut edges, the Meteora HH is a refreshing take on the quirkily-shaped instrument. Not only is it visually enticing, but its curves are also incredibly ergonomic, providing excellent balance when powering through extra-speedy tunes. Its offset design makes the Meteora extra comfortable to play while seated. Although we think that its sleek, alder body shines best whilst being strutted about on stage.
The Meteora HH sounds great too. Aside from the resonant alder body, double Fireball pickups deliver sonic blasts with enough subtlety for individual string articulation. It owes most of its cool to the S-1 coil-split, which sings sweetly with Fender-style single-coil cleans. Locking tuners facilitate instant string changers, making the guitar a worthy partner for the 2-point trem that shifts effortlessly from muted warbles to earthy vibratos.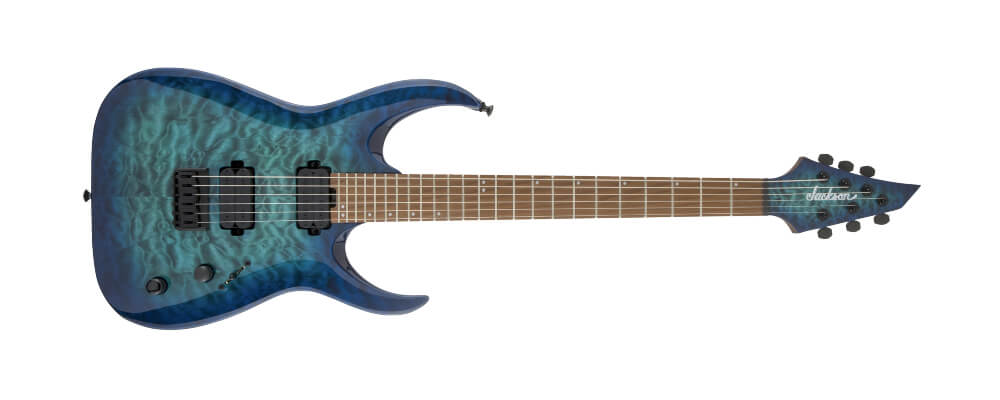 A legend in the heavy-metal community, Periphery's founder and prodigious guitarist, Misha Mansoor, is a djent forerunner. That might explain why his signature axe leans heavily into the chonky territory. Aptly named the Juggernaut, this 6-stringed beast maintains phenomenal sustain due to its string-through-body hardtail bridge. Scalloped horns loom in a menacing silhouette, working in tandem with a wraparound heel for unfettered fret access.
The axe is also a sight to behold with its lightweight, sonorous basswood body topped off with a quilted maple top in a rippled pool finish. But looks aren't the only unique detail – Mansoor's MM1 humbucking pickups are distinctive from the first chug. These custom-voiced pickups channel a taut, effortless response that only get more versatile with the 5-way pickup selector. As an added bonus, its bolt-on maple neck is graphite-reinforced – staying rock solid even through the most intense riffs.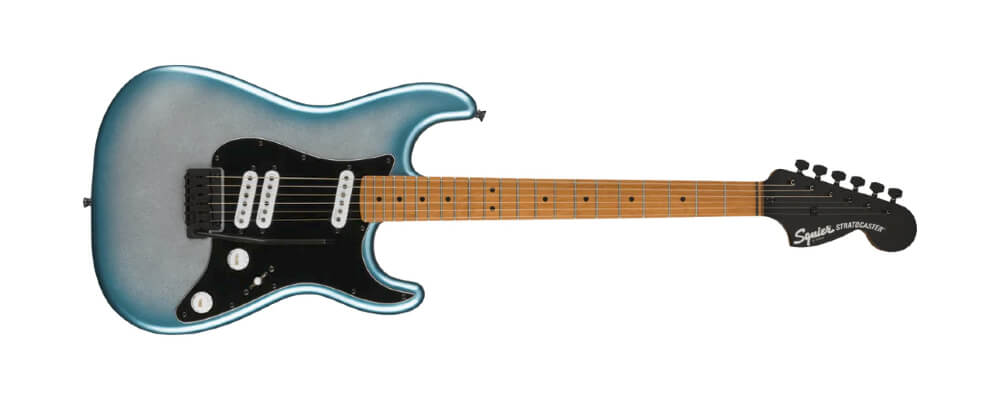 The Contemporary Series Stratocaster Special may be built with the same skeleton as an axe produced in the fifties, but a closer look reveals an assortment of avante-garde inclusions. This ultra-modern Strat features a multiscale fretboard which keeps its lower strings tight for downtuned riffage while maintaining enough slinkiness for solo runs.
The Strat's triple single-coil configuration comes with a trio of angled SQR alnico pickups with a twist. The middle pickup now squeezes closer to the bridge, opening up a soundscape of new and unique configurations. Topping off with a 5-position blade, Squier fully intends to push boundaries with this model. It's go hard or go home with this Strat.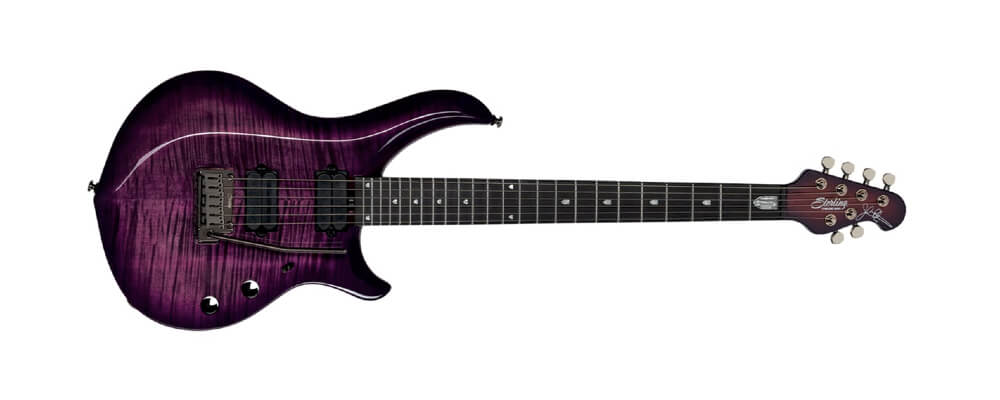 Ever the showman, it makes sense that John Petrucci's Ernie Ball-inspired collab was built with the stage in mind. Past its full-bodied mahogany body and flamed maple top lies a set neck built for maximum fret access, giving players full access for chime-laden cleans and bone-searing shreds. Double cutaways swoop pleasingly into body contours, bracing you for long, head-banging shows.
Of course, it wouldn't be a royal regalia without some heavy-duty pickups, and the Majesty builds upon dual humbucking DiMarzios. We're particularly impressed by the bridge's Crunch Lab, with its all-encompassing high-output tone featuring prominently on Dream Theater's "Black Clouds & Silver Linings" album. Finally, the neck's Liquifire is a blazing powerhouse, letting your solos croon with smooth highs and pristine lows.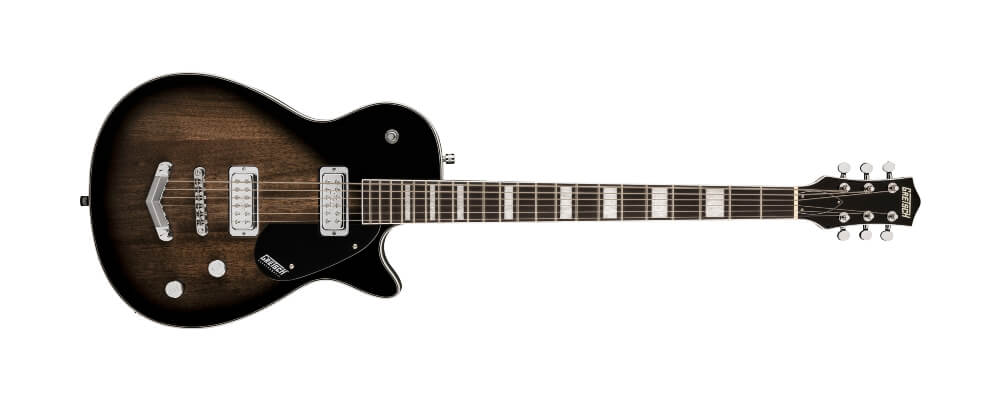 The Electromatic Jet Baritone hits all the right notes for metalheads. It's tuned B-to-B for a bass-like tone that rumbles beneath typical guitar frequencies, but still holds its place in a furore. Atop the setup lies an anchored Adjusto-Matic bridge with V-Stoptail, setting you up for long-lasting sustain and intonation. The fun doesn't stop there. Trace down its pearloid Neo-Classical inlaid laurel fingerboard to reach a pair of mini-humbuckers. Though small, they pack a sizeable amount of 50s-era snarling grit, but simmer down into pristine cleans when required.
Before you take to the stage, the model's thin "U" profile is shaped to sit snugly in your grip so you can rock out in comfort and style.
The Best Heavy Metal Amps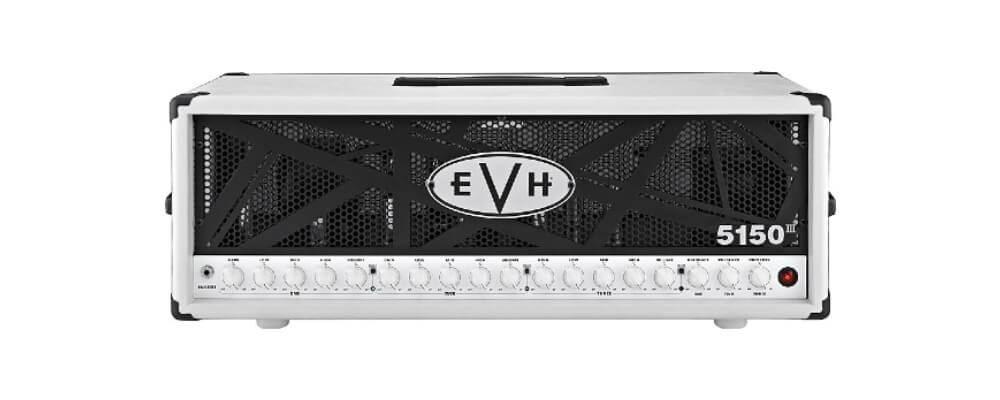 This EVH may be a smaller version of Eddie's 100W behemoth in the Upside Down, but this 50W amplifier is primed for major volume. Don't forget your earplugs because with 6L6 power tubes leading the charge, you'll get all the brute force and gain necessary to start a mosh pit.
Global Presence control gives it the right level of bite while resonance control funnels the amp to suit different cabs. Finally, the amp's three channels will provide you with the freedom to shape your tone. And while you're at it, experiment with its dual-concentric gain and volume controls for an arena-filled boost.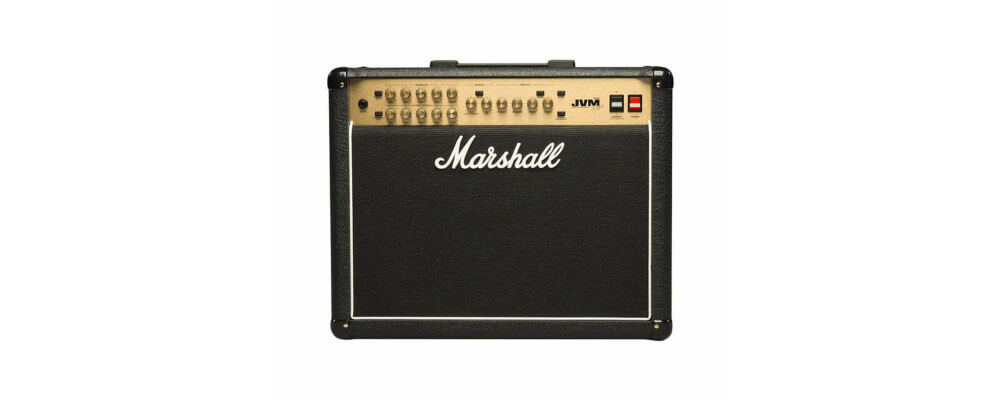 Marshall amps are famous for their metal pedigree and this all-tube combo keeps the lineage going. Its dual-channel setup is a gateway to six modes with three gain stages per channel. Move flexibly between glassy highs and liquid roars, to ultra-saturated harmonic sustains and distortions at the press of a footswitch. Once you're familiar with the technical aspects of this amp, you'll open up an endless array of programming possibilities via its reverb, effects, and master volume controls.
On the inside, careful valve consideration and a pared-down circuitry maintains tone integrity while committing to an unbelievably low noise floor. Even on standby, the speaker-emulated XLR output keeps going in total silence, perfect for those late-night studio sessions.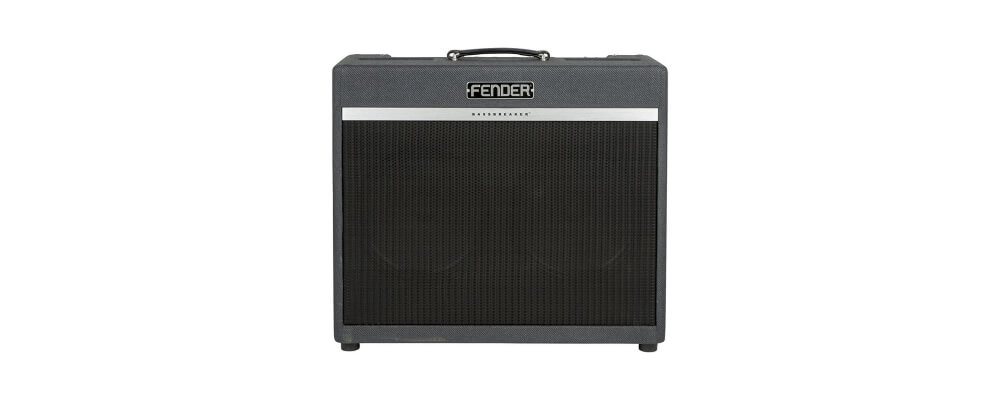 Hankering for tones that'll take you back to the good old days, without giving up on contemporary high-gain tones? Fender's Bassbreaker series is meant to do just that. Many of Fender's early models set the pace for iconic Brit amps, and the Bassbreaker 45 mimics a '50 Bassman to perfection. It cranks up to an authentic Class AB style with deliciously supple EL34 tones.
Even without pedals, 45 watts is plenty of headroom. But if you need more, the amp's variable wattage control cues in precise amounts of breakup to hit that sweet spot. The Bassbreaker 45 even features a "Both" input to either interweave normal and bright channels, or cleave them into identifiable tones. How's that for multi-faceted?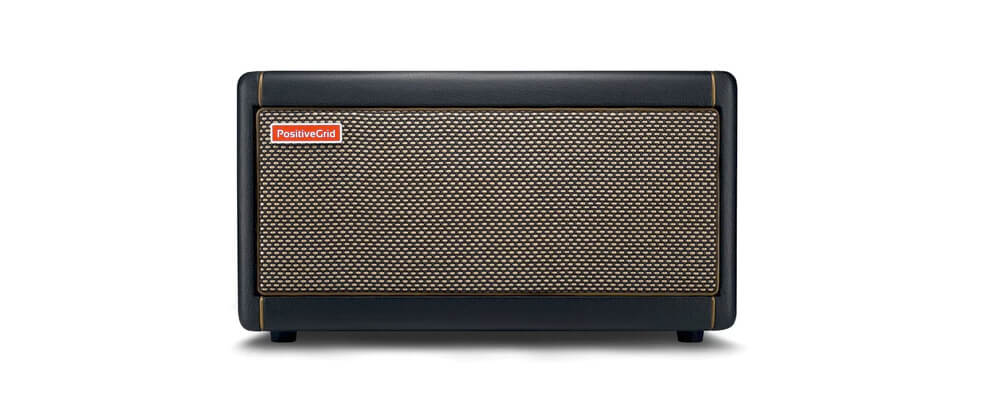 App-controlled amps are fast becoming the way of the future, and the Spark is at the forefront of this movement. From the comfort of your home studio, its twin 4-inch speakers sing with a rounded low-end and sparkling definition. With 10,000 loaded presets that dial into any tone you're craving, speak commands like "blues" and "metal" into your paired mobile device, and the Spark pulls up just about everything that tracks.
The Spark also features live backing beats. Bang out a chord progression and let the app automatically provide a bass and drum accompaniment – no key or tempo needed. Work your cool new riff into a full arrangement with the PreSonus Studio One Prime software and layer track upon track into the medley.
Even new learners can glean a thing or two from the Spark. The amp's recognition function lets you import songs from your music library into its automated scanning system before generating chords for your first playthrough. Likewise, if you're having trouble isolating and perfecting certain stanzas and riffs, the app allows you to slow down songs and work on them at your own pace. Perfect for nailing that "Master of Puppets" solo!
---
Found the right tools to recreate your own Metallica moment? Whatever your pick, we're confident you're ready to follow in Kirk Hammett's and James Hetfield's illustrious footsteps. Familiarise yourself with your music and equipment, only then can you truly embody the undying spirit of heavy metal.
Shop the Best Heavy Metal Guitars & Amps
Still unsure about what it takes to take on the heavy metal genre? We'll be glad to show you the steely ropes down at Swee Lee, so drop by for a chat! Of course, you could just get the lay of the land from all the cool stuff in our online store. Sign up for our newsletter too, because this isn't the last run of metal-friendly apparatus we'll be featuring.
Read more: 7 Best S-Style Guitars Under RM3,000