Harmony Guitars are back. And we couldn't be more proud to have a brand with such an illustrious history available at Swee Lee.
The world's most cherished musical instruments brand ushers in a new era with a brand new lineup, and you can now pre-order these Harmony Guitars at Swee Lee today.
A grand history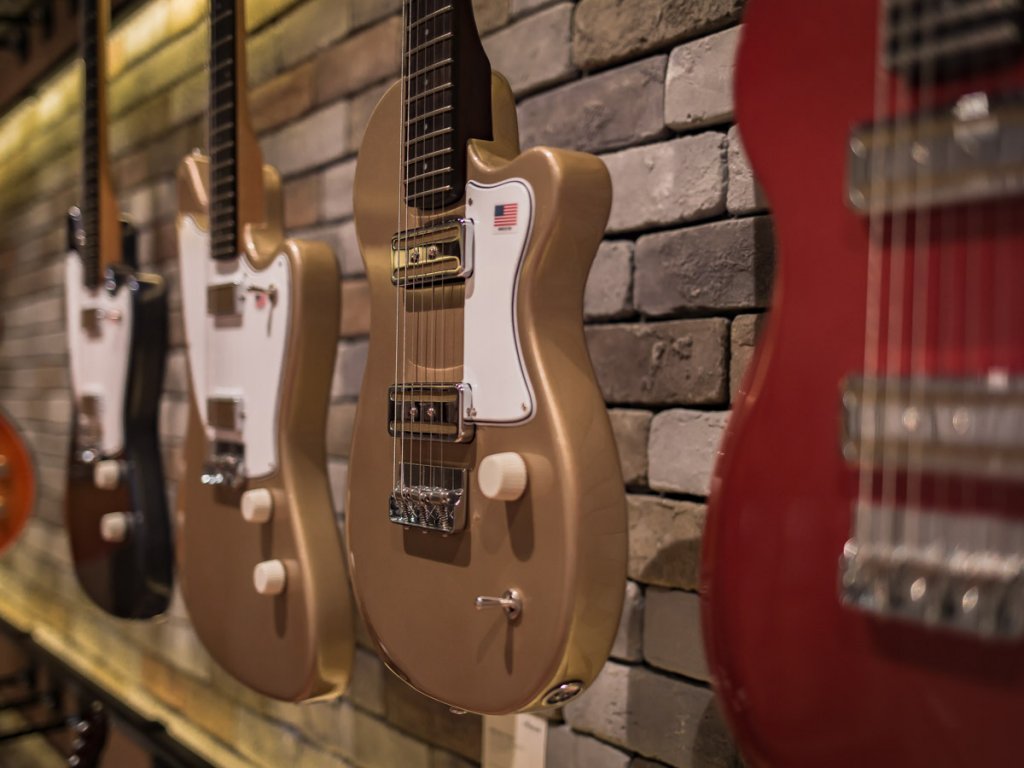 The Harmony brand goes way back. Established in 1892 with a focus on folk and stringed instruments, Harmony held the title for the highest production rate of any guitar builders right up till the mid-70s. Because of their accessibility (you could even find them at a departmental store!), Harmony guitars were widespread.
Today, these instruments hold a special place in the hearts of people who owned or still own a Harmony. For many, a Harmony was what they learned their first song on and ignited their lifelong journey into music, representing a potent blend of nostalgia and joy. From concert stages to music festivals and recording studios, Harmony has made its presence felt and shaped memories for generations of musicians and fans alike.
Played by legends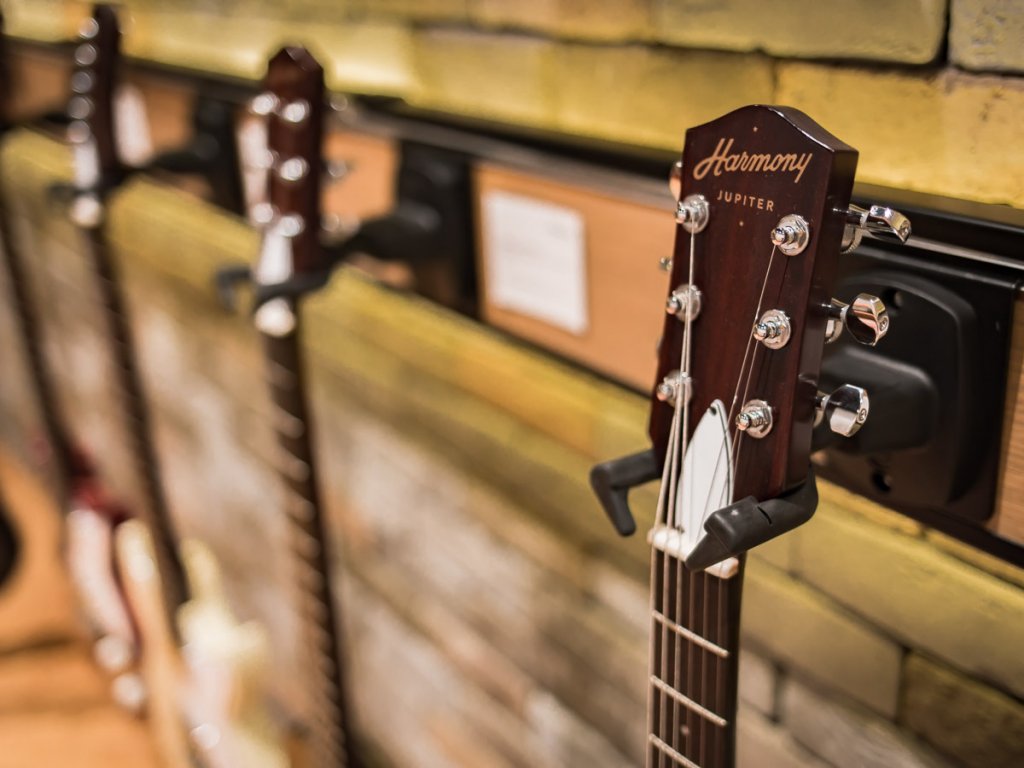 Many prominent artists today played Harmony guitars. Musicians such as Dan Auerbach of The Black Keys, St. Vincent, Beck, and even Jimmy Page of Led Zeppelin have even known to use these iconic instruments in the studio and on the stage – all being fans of the unique timbre and voice of those vintage specimens.
Today, Harmony has honoured their vaunted legacy with a refreshed lineup of guitars and instruments that are inspired by their illustrious past. So what's new exactly? Let's find out!
Did you know: The intro to Led Zeppelin's "Stairway to Heaven" was recorded on a Harmony Sovereign H1260.
Premium materials for premium tones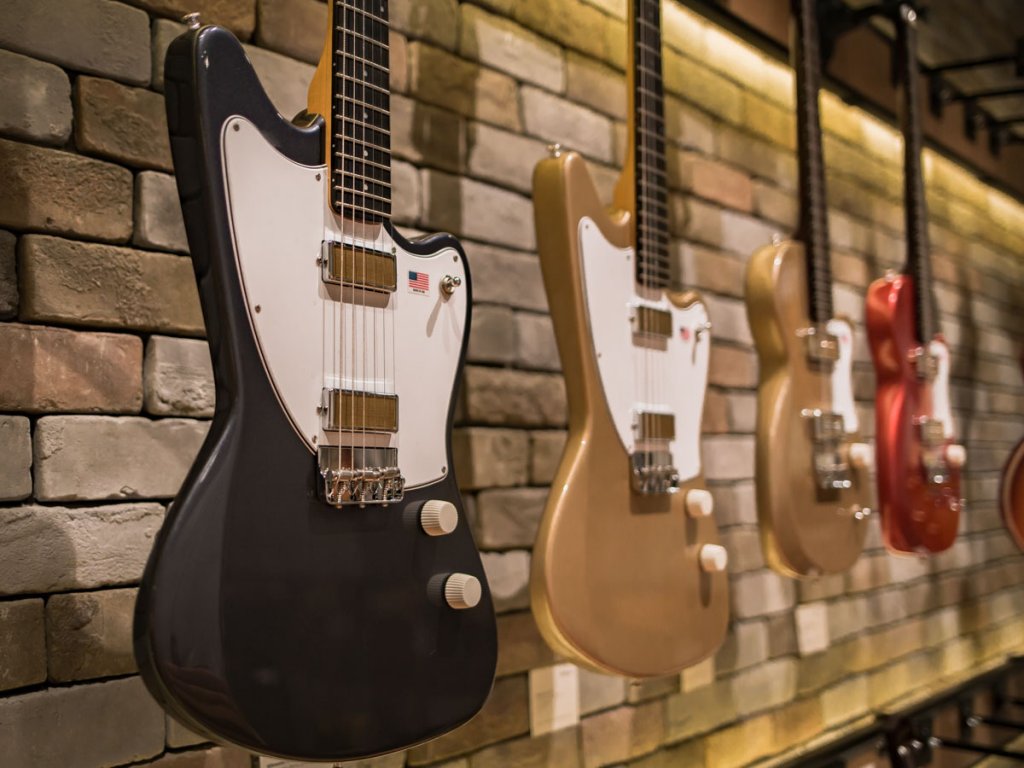 Alder, mahogany, ebony and maple have long been known as the creme de la creme of tonewoods in the guitar world. But what most people do not know is that the quality of the woods play a large part in the resonance and tone of the instrument.
All tonewoods at Harmony have been specifically sourced in order to create the best guitars possible. These specially selected materials serve as the basis for tonal perfection and structural stability for generations to come.
Vintage nitrocellulose lacquer finish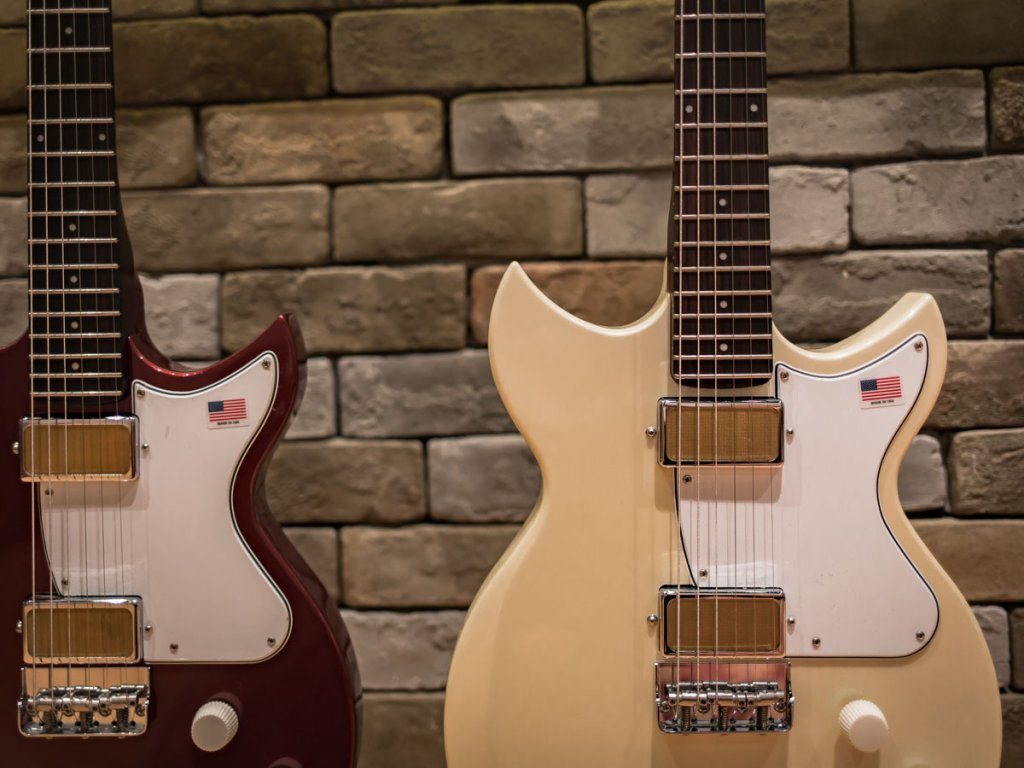 All Harmony guitars are finished with nitrocellulose lacquer just like how they were made back in the golden age. A finish coat that allows the wood to breathe and age as you play it, Harmony guitars will age gracefully with you and take on your playing characteristics – ensuring that no two instruments here will ever look the same.
Pickups, electronics & fittings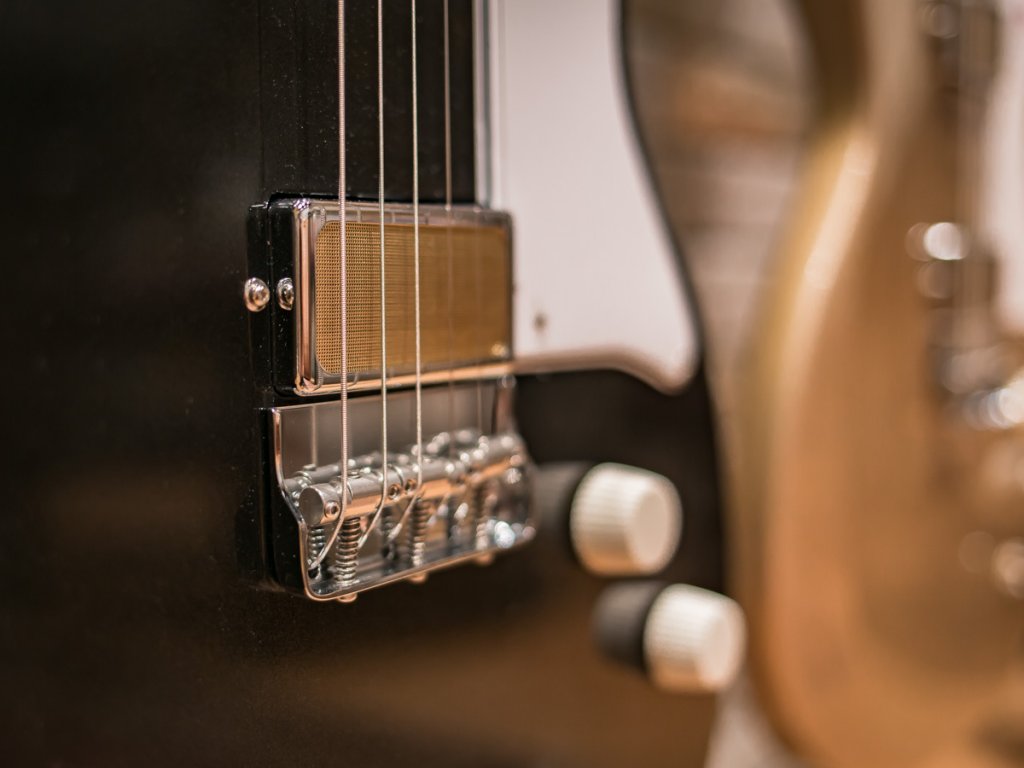 Gold foil pickups were all the rage back in the 50s and 60s, and with good reason! Characterised by its awesome touch response and vintage mojo that modern pickups cannot replicate, the craftsmen over at Harmony Guitars have great reasons for using these unique pickups as the base voice for all their guitars.
Tonally, gold foil pickups exude a multifarious character – with a hint of bite, chime, and twang that you're unlikely to find in other guitars. Simply put, if you're looking for great clean and overdriven tones, Harmony's custom hand-wound pickups are the ones for you, period.
The fittings of that Harmony has chosen to employ on these guitars just further illustrate the high quality and attention to detail of these instruments. Custom cupcake knobs, locking machine heads, tuneomatic bridge (or compensated saddles bridge) are just some of the many things that make this instrument such a value-packed investment!
The icing on the cake has to be the inclusion of a premium MONO case with every Harmony guitar. If you've been following us, you'd definitely have heard us wax lyrical about the immense quality of these hybrid guitar cases. MONO's gig bags offer world-leading protection and support for your precious guitar, all while being ultra-light and portable – a godsend for all gigging guitarists!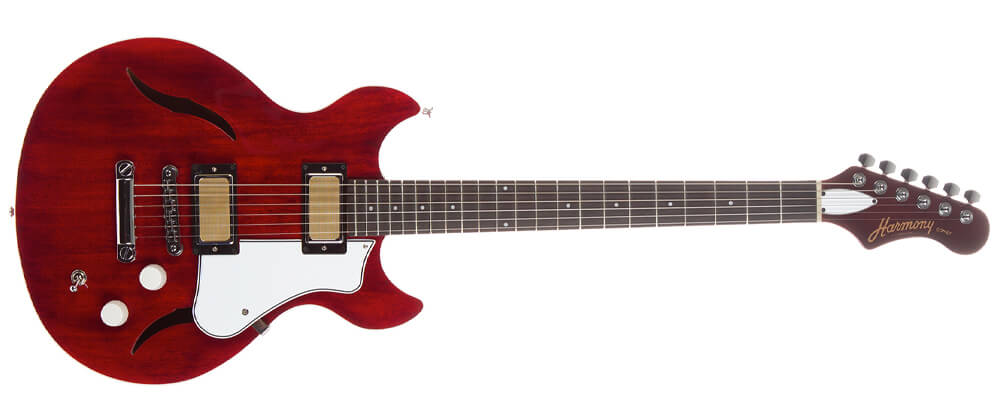 The Harmony Comet combines a unique look and feel of a classic semi-hollow body guitar with modern fittings. Drawing inspiration from the classic Harmony H-72 made during the late 60s, the Comet is made from a carved mahogany top with laminate mahogany back and sides – giving it a well-rounded and acoustic-like tone. Its neck is a set-in mahogany (a first for the new generation of Harmony instruments) that has been carved into a super comfortable "C" neck profile for ultimate playability.
While most semi-hollows suffer from feedback issues, Harmony has remedied this issue on the Comet – adding a centre block that minimises unwanted vibrations. Another notable build feature includes its long-tenon joint, a construction choice that increases sustain and resonance. Custom gold foil humbuckers provide musical fortitude to this instrument, while the inclusion of push/pull master volume pot extends the Comet's tonal possibilities by engaging out-of-phase sounds.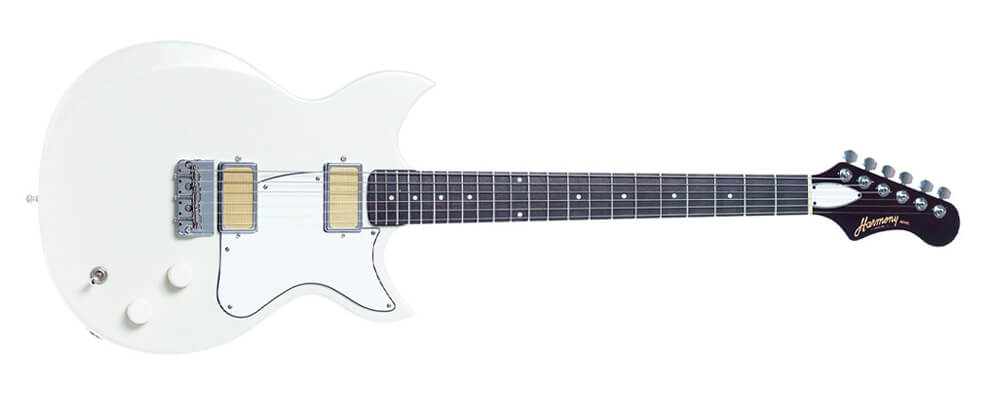 The Harmony Rebel is a gutsy solid body guitar with a double-cut shape of its own. Its body and neck are sculpted out of genuine mahogany for warmth while an ebony fretboard adds a touch of clarity and definition to its sound. The Rebel's gold foil humbuckers are voiced to complement the characteristics of its tonewood – with biting mids and a tight bottom-end. This results in a voice similar to a certain single cut guitar, with chimey cleans and raunchy overdriven tones.
With a tone and look like no other guitar, the Rebel is a great instrument for players who just wanna rock out and aren't afraid to stand out from the crowd.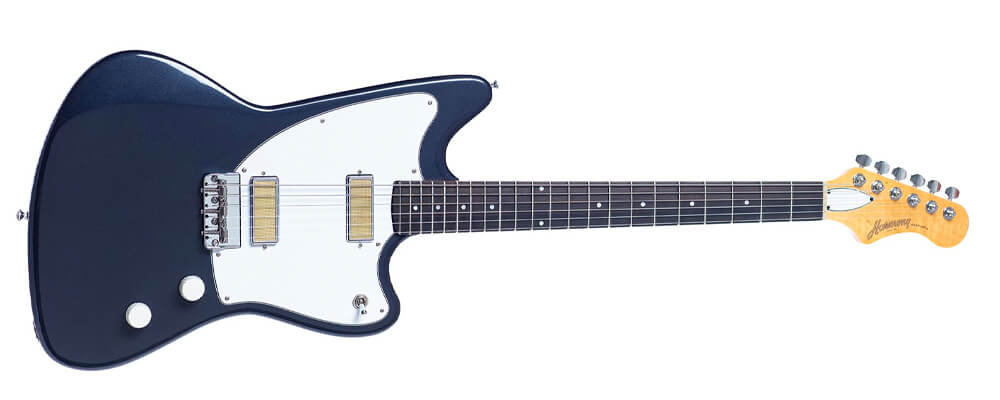 The sleekest instrument of the roster, the Harmony Silhouette is an offset guitar that is unique even amongst the other shapes in the alternative guitar market. Designed from the ground up to be the perfect blend between a humbucker and single-coil, the Silhouette's gold foil mini humbuckers are jangly when they need to be and are jaw-droppingly savage with the gain dimed. Crafted out of the holy trinity of alder, maple, and ebony, this suave instrument has the note definition and sonic fidelity that will make most hi-fi audio systems blush.
A guitar for the smoothest of players, the Silhouette isn't just a guitar. It's a statement.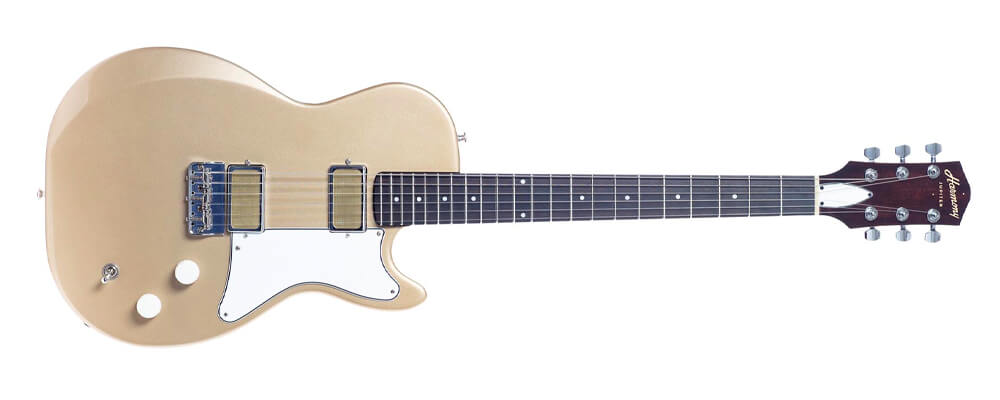 Know why they call this axe the Jupiter? Because it's out of this world!
An absolute rocket of a guitar, the Jupiter is another all-mahogany affair for tonal flair. While its single cut design points at more traditional tastes, this guitar's soft edges, thoughtful armrest and bevelled contours all lead to an extremely ergonomic and modern rock machine. More so, its comfy "C" shaped-neck profile with a slinky 25″ scale and 12″-radius ebony fretboard makes it mind-numbingly easy to play a variety of styles – making it a sessionist's dream. Equipped with the same humbuckers found in the Rebel for that great humbucking tone, the Jupiter is bar none a thoroughly inspiring guitar that we never want to put down.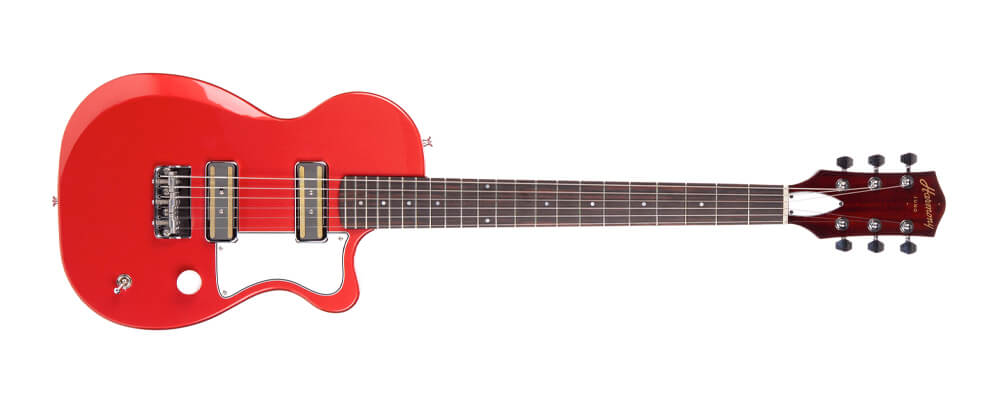 Small but mighty, the Harmony Juno is the embodiment of the "less is more" ethos. A petite guitar in both weight and size, the Juno is actually a full scale-length instrument that makes it easy to take your music with you wherever, whenever. Its genuine mahogany body is lightweight and perfectly balanced – making this the ideal instrument for younger guitarists just starting out or musicians performing at long hour gigs.
Equipped with specially voiced, hand-wound P90s, the Juno exudes warm and rich harmonics that soar into a raging inferno once you kick it to overdrive. This exquisite pickup set is complemented by its push/pull master volume wiring – granting you the ability to add more tonal versatility to your arsenal. Best of all, this petite instrument comes with a custom MONO Vertigo bag designed specifically for the dimensions of the Juno – talk about a bespoke fit!
Sophisticated, small, and simple, the Juno is everything we'd wish we had when we started out on the guitar.
---
Buttery-smooth guitars with an unforgettable playing experience, Harmony's newest offerings are simply heirloom quality instruments made with modern precision. Get in touch with us over at our contact page to inquire about these immaculate guitars!
Read more: Welcome Victory Amps: British-made, All-tube Boutique Tone