For as long as they have been around, Fender has never been one to rest on their laurels. They have continued to revamp their guitars for the modern era while staying true to the roots of their illustrious history – but is that is precisely why we found the need to make this Fender Guitar Guide.
With so many series updates coming and going in Fender's already impressive selection of instruments, we are truly spoiled for choice. But just how are they different? Do they justify their different price tags? Well that's where we come in!
Join us as we compare all of Fender's current lineup of instruments. It'll definitely help give you an idea of which guitar suits your playing needs best.

Introduced back in 2018, the Fender Player Series are created to be the next generation of budget-friendly instruments with the timeless quality of the Fender brand. Made in the Enseda facility in Mexico, these instruments are the ideal starting point for someone wanting a bonafide Fender decal on their guitar. Encapsulating the same timeless designs and iconic sounds of Fender's legendary instruments, the Player Series goes beyond the call of duty by offering a whopping 21 different models that will suit almost any music style you'll want to get into.

You'll be able to pick from HSS, HSH, SSS, and Floyd Rose Stratocasters, HH and SS Telecaster, a Jaguar, Jazzmaster, Jaguar Bass and fretless and five-string Jazz Basses. Whether you're looking to upgrade your first guitar or find a road worthy gigging instrument, you'll definitely want to consider the Fender Player Series lineup.

*H: Humbucker
*S: Single-coil


What's the best way to get the vibes of a vintage Fender without spending a huge amount of dough? The Fender Vintera Series of course!
The replacement for Fender's Classic Player range, Fender's Vintera Series combines highly sought-after features of Pre-CBS instruments at accessible prices. Featuring 17 instruments, the Vintera series encompasses the Stratocaster, Telecaster, Jaguar, Mustang and Jazzmaster models within its extensive catalog.
Expect specs and features like period-correct neck shapes, new pickups with decade-specific tones, and vintage correct colours for the vintage aficionados out there. In addition, for almost every decade-correct model, there's also a counterpart "modded" version that offers modern tweaks that are sure to appease contemporary players.
Made in America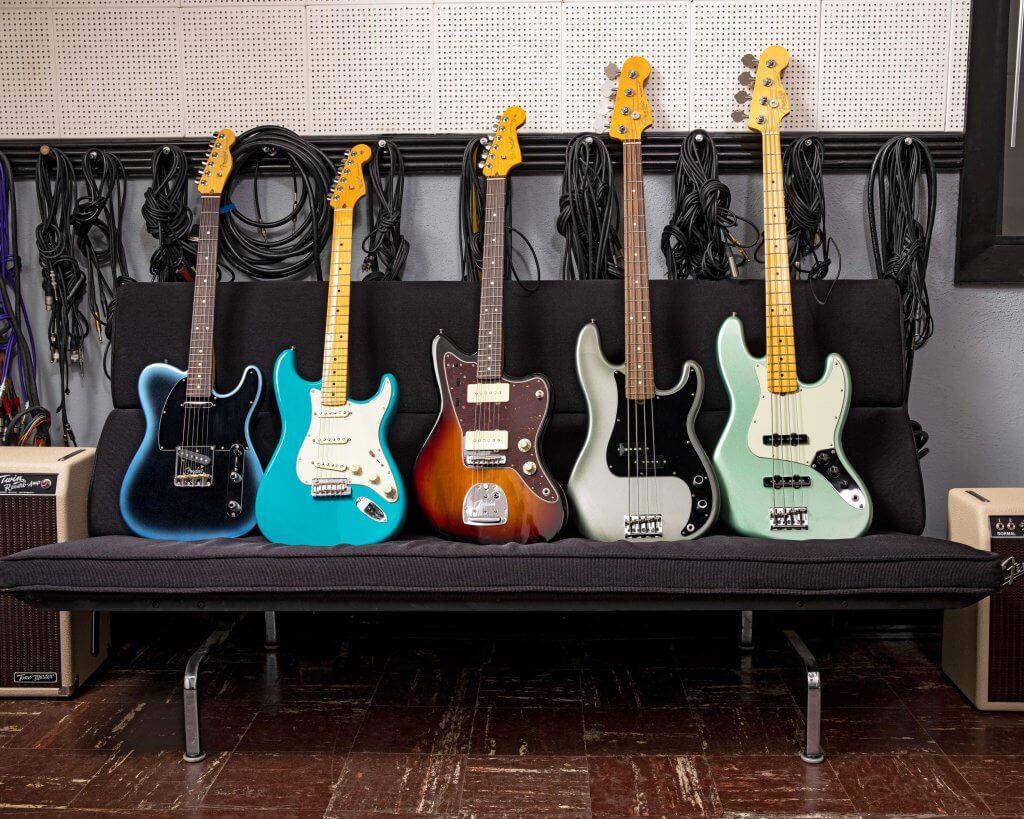 Built in Fender's Corona, California factory, Fender's USA models are the gold standard for quality, tone and playability. Made with premium tonewoods, high-end hardware, and elite craftsmanship, Fender's American guitars are sure to please even the most discerning players.

Fender American Performer Series


As the entry point to Fender's upper echelon, the Fender American Performer Series puts USA-made Fender quality in the hands of working musicians.
Built upon the foundations of its predecessor – the American Special – the Fender American Performer Series refines their models with some noteworthy upgrades that strike the perfect balance in between traditional design and modern practicality.
Featuring the all-new Yosemite pickups, Fender's acclaimed Greasebucket tone circuit, some seriously potent hardware upgrades, and some eye-catching colours – these guitars and basses play extremely well and dare we say, give higher-end instruments a serious run for their money.

Designed for musicians seeking exceptional playability, versatility and performance – the Fender American Professional II are solid workhorses for hobbyists and touring pros alike.

Built upon the foundations of its first iteration, Fender utilised player feedback and collaborated with various artists to improve its guitars for an encore performance. Developing an instrument that strikes the perfect balance between traditional design and modern practicality.
Maintaining much that made the original American Professional lineup so popular, the American Professional II range sees upgrades in the neck carve (Deep "C" with rolled fingerboard edges), materials (Roasted Pine is now an option for bodies), pickups (V-Mod II pickups), and so many other aspects – making it some of the best guitars we've seen in this price point.

The American Original Series captures that vintage mojo by constructing guitars and basses in the same manner that the fabled instruments were made in the fifties, the sixties and the seventies. Utilising the same materials, construction methods and quirks from each decade, the American Original instruments only differ in two aspects: a flatter 9.5 inch fretboard radius for better playability and changes in pickup switching for more tonal variations.

If you come from the school of guitarists believing that the first iterations of the electric guitars made in the golden age are the end all be all, then we have a feeling that you'd get along swimmingly with these instruments.


The highest specced models from Fender's production line, the Fender American Ultra is Fender's most advanced series of electric guitars and basses. These instruments are heavily-engineered guitars that cover lots of sonic territory and while providing unmatched performance.
Sporting forward-thinking electronics and hardware appointments like the Ultra Noiseless Pickups, S-1 Switching and Deluxe Locking Tuners on their guitars and Active/Passive Electronics, a 3-Band EQ and HiMass Bridges their basses – these instruments represent the ultimate Fender instrument in terms of versatility and playability
In addition to ergonomic construction tweaks and welcome playability modifications, the Fender American Ultra Series is undoubtedly the one for you if you demand ultimate precision and uncompromising tone from your instruments.
What if I want even more?
This is where the Fender Custom Shop comes in. The crème de la crème of the Fender Guitar Guide, the Fender Custom Shop is where you should be if you plan to get a truly special instrument.

Read more: Why You Should Buy a Custom Shop Guitar
Here is where you'll find eye-watering, one-of-a-kind instruments crafted by Fender's prestigious Master Builders, to the exquisite team built recreations of sought after models from the early 60s. Fender Custom Shop instruments can be found off the walls of Swee Lee, and can also be fitted out in your dream specifications the way you'd commission a bespoke suit.

Series
Guitar Options
Bass Options
Price
Notables Features
Player Series
Duo Sonic,
Lead, Stratocaster, Telecaster,
Jaguar,
Jazzmaster, and
Mustang
Jazz, Precision, Jaguar, and Mustang
From RM2,785.00 to RM4,020.00
Satin finished necks,
revamped & improved pickups,
new finishes,
two-point tremolos (Stratocasters) and
22-Frets (Guitars)
Vintera
Stratocaster, Telecaster,
Jaguar,
Jazzmaster, and
Mustang
Jazz, Precision, and Mustang
From RM4,340.00 to RM5,635.00
Recreated vintage pickups sets, period-correct neck profiles, vintage colours, and modern electronics or modifications (Modified Versions)
American Performer
Stratocaster, Telecaster,
Jazzmaster, and
Mustang
Jazz, Precision, and Mustang
From RM5,225.00 to RM5,955.00
Most affordable American-made Fenders, new Yosemite single-coil pickups, enhanced electronics, and vintage-style hardware
American Professional II
Stratocaster, Telecaster,
and
Jazzmaster
Jazz and Precision
From RM6,905.00 to RM7,790.00
All-new V-Mod II pickups, treble-bleed circuit, rolled fingerboard edges, and a new sculpted heel
American Ultra
Stratocaster, Telecaster,
and
Jazzmaster
Jazz and Precision
From RM8,710.00 to RM10,135.00
Super-sculpted neck heel, Ultra-Noiseless pickups, treble-bleed circuit, redesigned preamp with active/passive switching (bass), and HiMass bridge (bass)
American Original
Stratocaster, Telecaster, Jaguar,
and
Jazzmaster
Jazz and Precision
From RM9,060.00 to RM10,450.00
Historic neck profiles, vintage tall frets with modern radiuses, period-correct pickups and hardware, and gorgeous lacquer finishes
The ultimate Fender Guitar Guide table of comparison
Thanks for taking the time to look at our Fender Guitar Guide – we do hope that it has made your guitar buying decision a lot more clearer. If you'd like to take your time and browse through our catalog of Fender instruments, you can do so at our website!
Stay tuned to our website and the Swee Lee Blog for product highlights from the new shipment of Fender products that will be coming in soon.