For those just starting out on the keys, or looking to buy a starter piano for someone special – we fully understand that the process of choosing your first instrument can be a daunting task. With a massive assortment of features, types, and sizes on the marketplace, it can definitely be a doozy picking out the right keyboard that fits your needs. Well, you're not the only one on the same boat! In order to help remedy this selection conundrum, we've asked our product experts to provide some insights to the best beginner keyboards and pianos you can find within our catalog.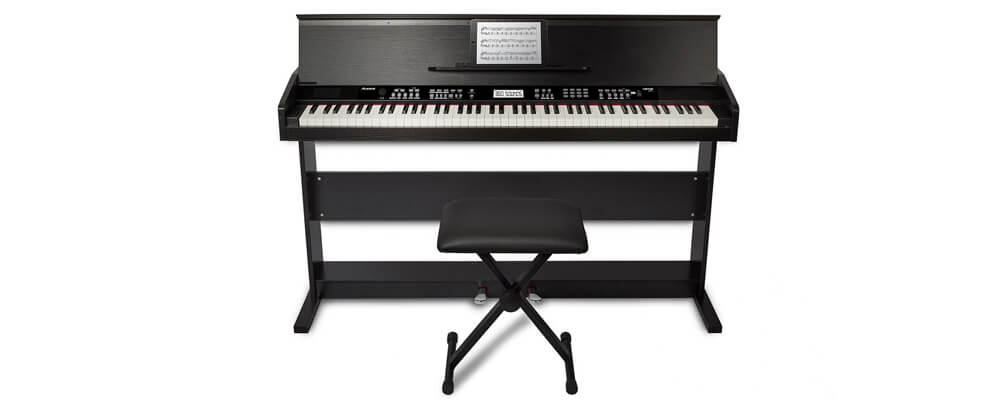 Let's start with the most comprehensive piano set-up we've got. In fact, we'd go as far as to say that the Alesis Virtue is the most hassle-free package that gives beginners everything they need to get started on the keys.
A full sized 88-key digital piano, the Virtue features 360 premium sounds, 3 pedals, an in-built speaker system, a matching wooden stand, and an adjustable piano bench – an all inclusive set at an amazing value. In fact, Alesis also ups the ante on the education front – providing you with three months of free Skoove Premium piano lessons and a backlit LCD screen that displays chord names and notation. If you're a beginner, you'll definitely love the great value of the Virtue's sounds and hardware inclusions.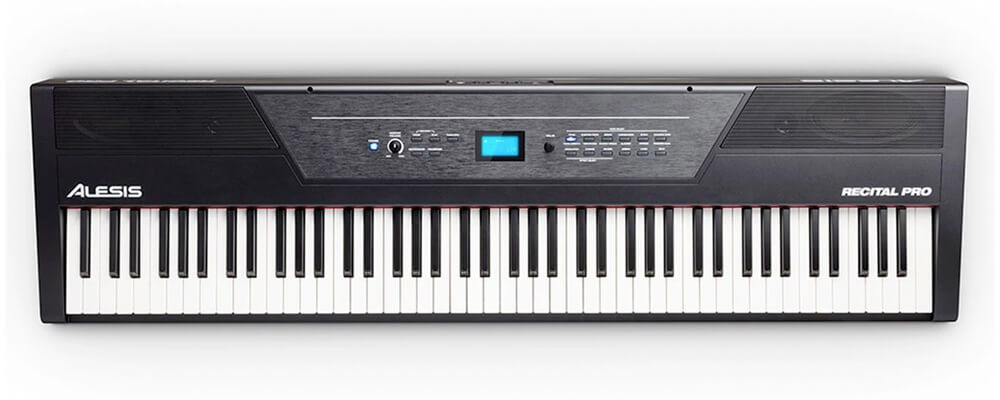 It's time to get hammered and no, it's not what you are thinking. The Alesis Recital Pro is a 88-key digital piano with premium hammer-action and adjustable touch response. So what's the big deal about hammer-action? Well for one, it replicates the feels of an acoustic instrument – giving you a more authentic piano experience. Also, weighted keyboards help in building finger strength thus helping you enhance your playing technique in addition to encouraging good playing habits.
The Recital Pro has 12 onboard voices that can be split or layered to taste and amplified through its integrated 20-watt speakers. This digital piano also has a feature that bodes well for learning with a teacher – with its keyboard being able to be divided into two zones with the same pitch and voice. Other learning tools include a built-in metronome and a "Record Mode" – enabling you to record and play back your performance. You also get onboard effects, a sustain pedal input, and a headphone output for private practice.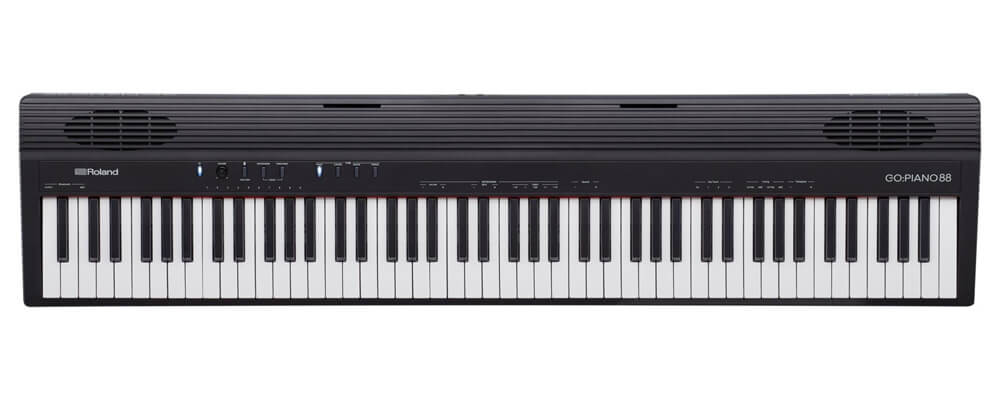 Wanna jam along with your favourite songs as you learn? If so, the Roland GO:Piano88 might be the keyboard for you. A full-sized keybed with authentic touch response, this Roland keyboard has built-in Bluetooth connectivity for audio and MIDI control – allowing you to select a song from your music library, stream it to the GO:Piano88, and play along.
Tonally, the Piano88 comes inbuilt with Roland's acclaimed sounds – providing you with an assortment of stunningly realistic instruments at your disposal. And with its portability, battery-operationality and light weight, the GO:Piano88 is the ideal keyboard to bring around for lessons and out-of-home practice sessions.
Speaking of practice, the GO:Piano88 doesn't skimp out on functions to make you a better player. With features like a built-in metronome, recording features and many others, the Roland GO:Piano88 is a great instrument for beginners to sharpen their skills.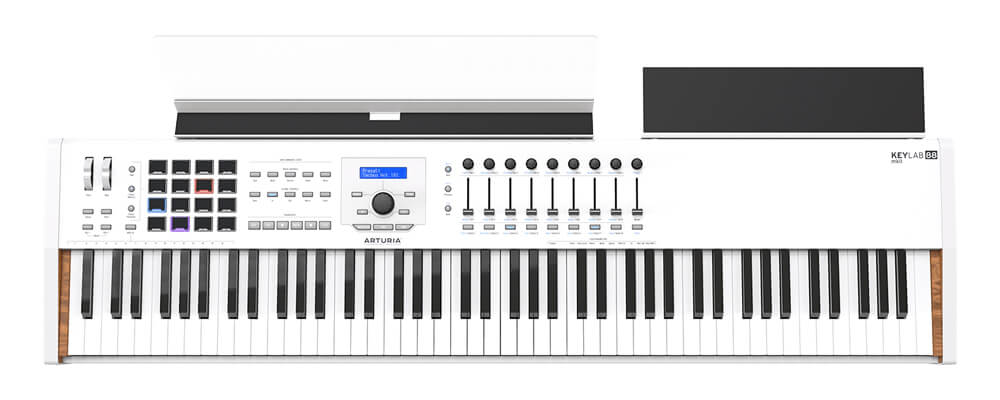 A selection for beginner pianists also looking to dabble in the world of audio production, the Arturia KeyLab 88 MKII is a performance-oriented MIDI keyboard controller with a grand piano feel. With enhanced software integration via its DAW Command Center and its onboard CV/Gate connectivity, you'll be able to seamlessly control both your digital audio workstation and analog synths with ease.
While the Keylab 88 MkII does not have any built-in sound, its status as a MIDI controller gives you immediate access to countless high-quality instrument plug-ins via its bundled software and various. Boasting rock-solid build quality, extensive controls
, and the playing response of a premium Fatar TP100LR 88-note 
hammer-action keybed – we think the Keylab 88 MkII is the best of both the piano and MIDI controller world. Just hook it up to your computer, turn on your speakers, load up your plug-in and play away.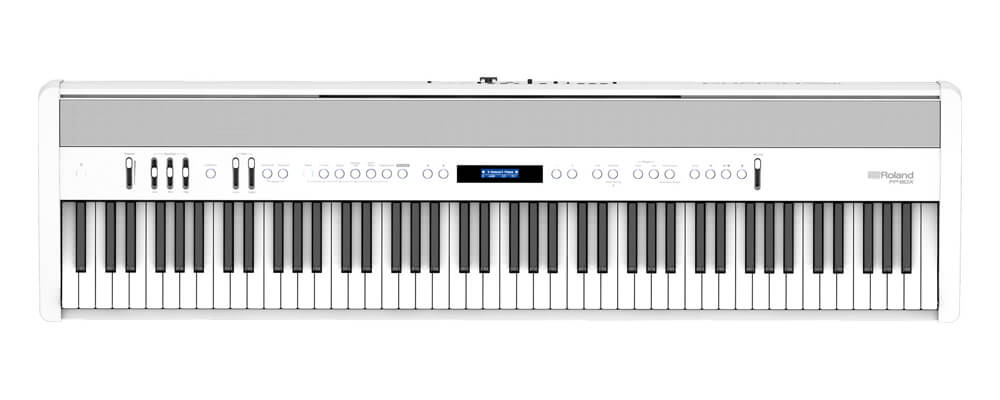 We're heading into a higher price range, but hear us out first! A better instrument at the initial stage is a worthwhile investment if you're committed to learning the keyboard. Why? Because you'll be saving time and cost not having to constantly upgrade as you move up in skill level.
The Roland FP-60X is an example of a higher tier instrument that would go a long way for a serious piano starter. Representing the latest generation of Roland's highly acclaimed FP series, the FP-60x utilises cutting-edge technological development to bring you one of the most gratifying piano playing experiences you'll have in a compact digital enclosure.
Utilising their acclaimed SuperNATURAL Piano sound engine and 256-voice polyphony, this immaculate digital piano delivers great sounds that even seasoned pianists can appreciate. The SuperNATURAL engine facilitates total customisation – with each note being able to be shaped to respond to your touch and dynamics with the tone you desire. Complemented by its Progressive Hammer Action and onboard speaker system, the FP-60X has the feel of great grand and the sonic fortitude to fill the room with a rich sound that's ideal for home playing and intimate performances.
More so, the FP-60X features a plethora of connectivity with Bluetooth and USB – allowing for wireless streaming to and from your smart device and direct integration with your DAW setup. With the appearance, build-quality, and functionality of Roland's flagship pianos, the FP-60X keyboard gives you an exceptionally playing experience that you're sure to appreciate.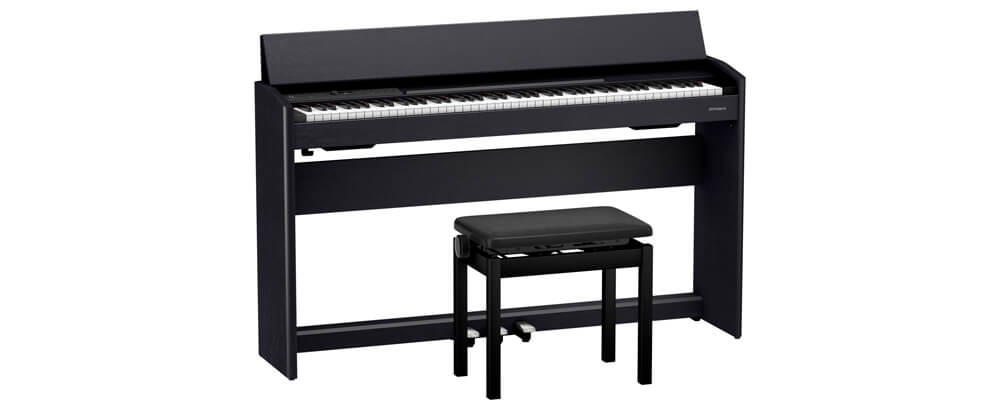 Similar to the FP-60X featured above, the F701 also makes use of Roland's cutting-edge SuperNATURAL piano sound engine. The only difference is that the F701 is made with contemporary aesthetics in mind – offering a stylish build and compact size that fits easily into cosier spaces.
As with their higher-end models, Roland's engineers have painstakingly analyzed the complex characteristics of grand pianos and have infused all those nuances into the F701. While this classy keyboard has in-built speakers, the F701 digital piano really shines with headphones on – utilising Roland's Headphones 3D Ambience to give you total immersion during practice sessions. With the F701's integrated Bluetooth audio and MIDI, you're free to explore everything from online video lessons and dedicated music apps to aid your learning experience.
A thoroughly modern digital piano that looks and feels as good as it sounds, the Roland F701 is a great instrument for any player with an eye for design.
Nord Piano 4 – 88-key Stage/Studio Digital Piano/Synth with Virtual Hammer Action Weighted Keybed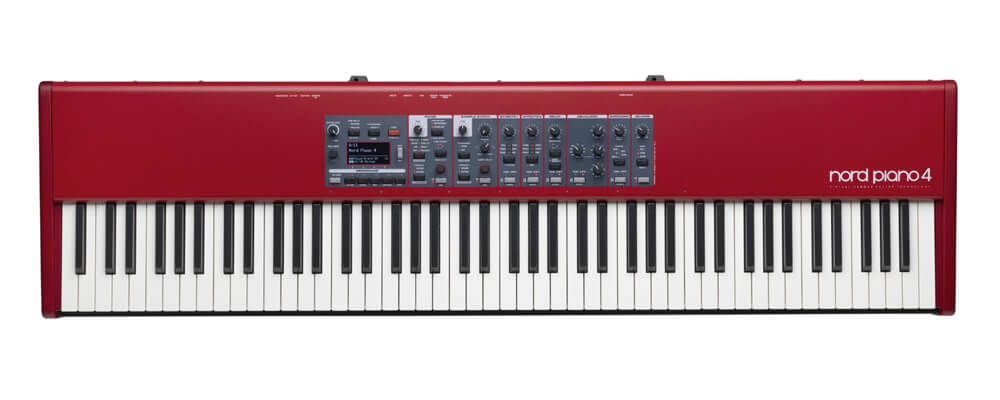 We're hitting top dollar here but if you've been with us so far, stick with us!
Nord's iconic red keyboards have long graced stages and studios worldwide and for great reason – the Swedish company's keyboards have always been known as one of the gold standards in the music industry.

With the fourth iteration of its revered Piano series, the Nord Piano 4 has even more exciting new features including an expanded 120-note polyphony and Nord's acclaimed Virtual Hammer Action technology for an oh-so buttery playing feel. Software-wise, the Nord Piano 4 also comes equipped with a unique interface that lets you quickly select, split, play, and layer the latest grands, uprights, and electric pianos from the Nord Piano Library with sounds from the Nord Sample Library – Nord's proprietary library with over 1,000 high-quality sample-based instruments.
If durability is a concern, you'd be glad to know that Nord keyboards are designed and built to the highest standards. In fact, Nords have been known to have lasted many years of tough touring and been able to perform without a hitch. If you've ever been curious why Nord users have been fiercely loyal to their keyboards, we'd strongly suggest that you get your hands on the Piano 4 to find out why!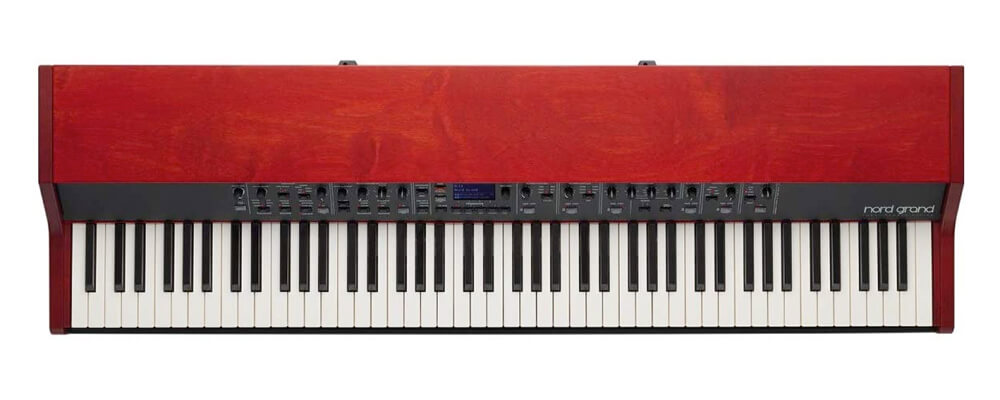 So let's cut to the chase: Why are we recommending a pro level keyboard for beginners just starting out on the keys? Well the answer depends on what kind of beginner you are.
As we mentioned before, upgrading your instrument takes up time and money and if you know for certain that you are going to be pursuing your piano passion in the long run – getting one great instrument will make practicing a lot more enjoyable from the onset and allow you to focus solely on getting better.
With that out of the way, let's introduce you to the flagship piano of the Nord family: The Nord Grand. Firstly, the Nord Grand utilises Kawai's premium Responsive Hammer keybed and triple sensors that capture hammer movements with extraordinary precision. The result? How about the flawless feel and sound of a true acoustic instrument. The realism is also further amplified by the Nord Grand's Advanced String Resonance – a feature that reproduces the intricate interaction of piano strings resonating at their fundamental and harmonic frequencies when other notes are played.
In between the Grand's Advanced Split Points, Dynamic Pedal Noise, Factory Bank and many other impeccable features, we could go on for days about the merits of this rouge engineering marvel. Long story short, with its advanced features, great feel, studio-grade sounds and sturdy chassis – we'd definitely consider the Nord Grand a formidable contender for top dog in the piano world.
---
We hope this list has helped you out toward making your choice for your new keyboard and piano. As you can see, with the amount of features and tech – there has never been a better time to get a keyboard or digital piano.
Be sure to check out the full collection of piano & keyboards here.
As always, keep up with the Swee Lee Blog for new studio gear, products, and features that will be coming in real soon.
Read more: Introducing koda: Quality Essentials that don't Break the Bank