Innovation. Mention the word to any guitarist and Ibanez immediately springs to mind. Even as the brand started out in the 70s, they were already setting trends for years to come. Saber (S), RG, JEM – names just as big as the superstars wielding them. When Steve Vai, Tom Morello and Joe Satriani think you're doing something right, you're doing something right. Their high-quality makes are unbeatable in playability and value.
Shop Our New Ibanez Arrivals
Yes, Ibanez isn't afraid to push boundaries. At the same time, there's an emphasis on staying true to their origins. Their offerings maintain a fine balance between long-beloved models and techy advancements. In recent years, all eyes have been on the company's definitive superstrats and teles. Among these jet-fuelled electrics, a few series stand tall above the crowd – the AZ, AZS, and AZES. Remember these names. because after this introduction? You'll probably want one of your own. Fair warning.
Read more: 8 Reasons It's Time to Upgrade to a Better Electric Guitar
AZ Series
As Ibanez's first original design in years, the AZ caused a stir during its 2018 NAMM show roll-out. It was worth the wait. Classical S-type lines and the brand's retro "Roadstar" headstock remind everyone of its rock roots. Comfort meets style is the AZ's motto. Cue the comfy oval C-neck profile that fits snugly into grips and manoeuvrable asymmetrical body. Its Super All Access joint is another fresh feature, improving on the fret access with an additional body cutaway.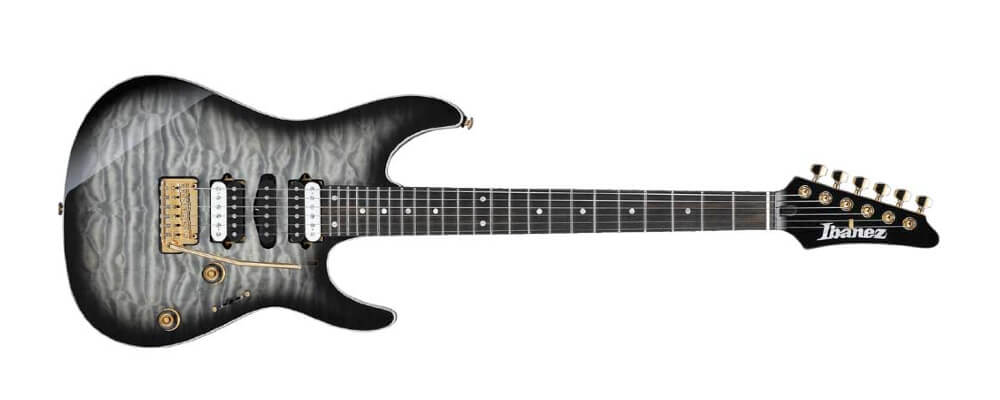 On the electronics front, these axes (except for the AZ47P1QM) come fully loaded with touch-sensitive Seymour Duncan Hyperion or Fortuna pickups. Specially designed for the AZ series, the medium-output pickups are balanced yet nuanced. Talk about self-expression. Paired with Gotoh hardware and synched tremolo units without locking nuts, you're getting accuracy and versatility in one snazzy package.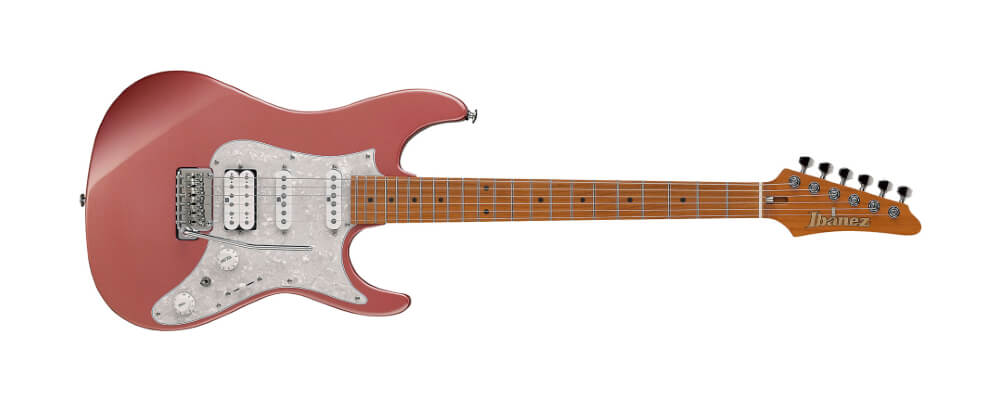 AZs are split into two categories. There's the Made-In-Japan Prestige, which proclaims "precision, performance, and playability". Alder bodied with S-tech treated necks that resist humidity damage while being incredibly resonant. Premium is the one to go for if you're after exotic tonewoods and hardware for a super-value price. Their lightweight American basswood bodies meld perfectly with the tonal frequencies of humbucking pickups.
Who is this for:
Everyone! From toasty blues or foot-tapping rockabilly to maximum metal shreddage. The AZ is versatility at its finest. It's the most varied range of the lot so far. Without a doubt, you'll be able to find an aesthetic and sound choice to suit your liking.
AZS Series
Stratocasters aren't everyone's cuppa, so drink in the AZS's T-style charm for something different. Its mixed parentage is obvious if you're familiar with Ibanez's catalogue. With its single-cutaway, rounded upper prong and pointed lower prong, it's endearingly reminiscent of the FR series models. However, it also has the AZ's 12" oval C-shaped roasted maple neck and Super All Access neck joint. While it may look intimidating, rest assured that the AZS is keen on ergonomics. Slab tops are out. In comes a forearm contour and scooped cuts on the back to hug your body close.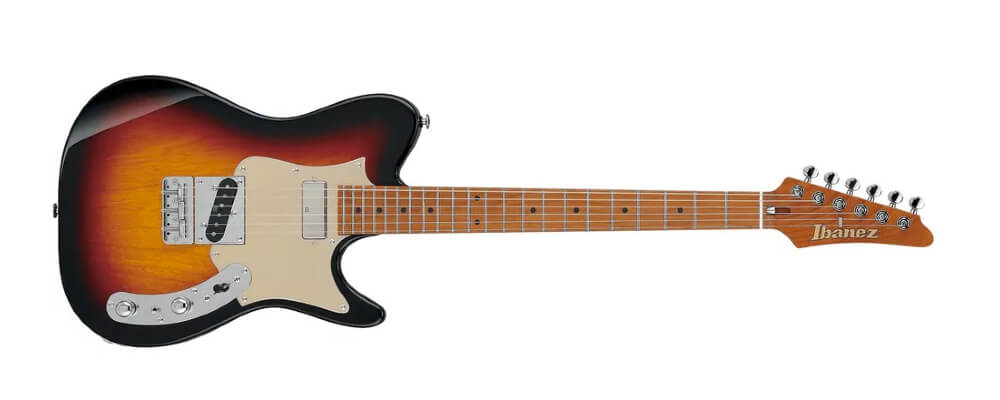 Another atypicality in most AZS models (bar the LB1) is the single-coil bridge pickup. Most T-styles integrate it with the bridge. However, a large portion of the AZS models are equipped with Gotoh tremolo bridges. To ward off any issues, a separate pickup mounting plate splits both functions. AZS guitars also go big on the Seymour Duncans. As mentioned above, the bridge's single-coil is a passive Alnico II Pro, while the Magic Touch-mini humbucker is the neck's pickup of choice. Twang central!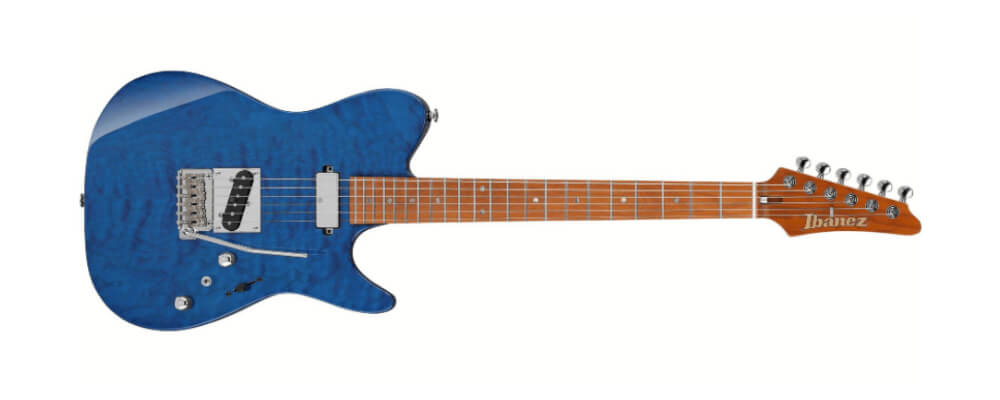 2021 saw Ibanez launch two AZS options, the AZS2209H and the AZS2200. While largely similar, they deviate in controls. The AZS2209H's curved control plate (similar to Josh Smith's FLATV1) is an exercise in creativity, allowing easier access to the extra-ridged control knobs. 5 core sounds are at your disposal, courtesy of the Dyna-MIX5 switching system with Alter Switch. Controls on the AZS2200 cater more to traditionalists, being directly mounted onto the body.
Who is this for:
Anyone with Tele-vision who wants the option of a tremolo (though there are hardtail options too). This fresh take on the '50s bombshell is flexible enough to accommodate different playing styles. Add in the 3-way selector and souped-up switching system, and your genre options are sky-high.
AZES Series (AZ Essentials)
Here's the baby of the group! The AZES series was only introduced in 2021 but promises to be every bit as remarkable as its older siblings. Befitting its ingenue status, the Essentials lineup caters to beginners and intermediate players who want Ibanez quality at a steal of a price. Lest you think they're just coasting on the AZ's coattails, these guitars have series-specific features of their own. A mono-unit output jack, comfort round string saddles, and a 250mm fingerboard radius. Totally learner-friendly. Still, we're willing to bet more experienced guitarists wouldn't turn down these guitars.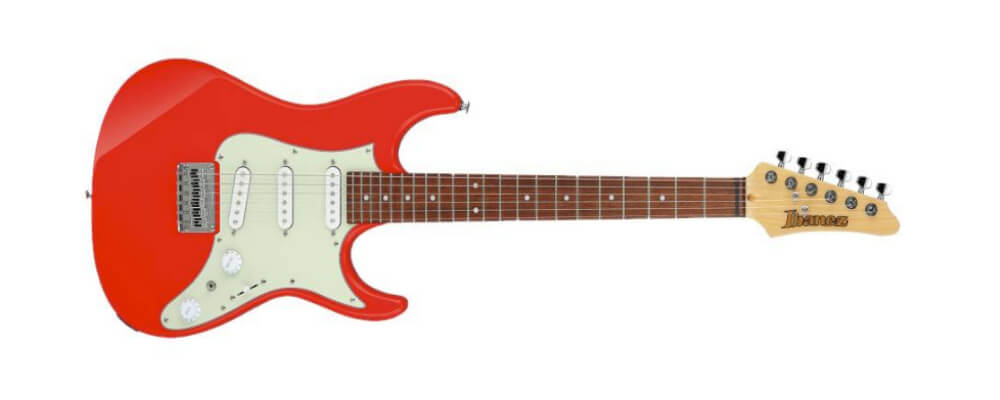 With two models in the AZES' cast of characters, selection making should be simple. Let's get the similarities out of the way. Fundamentally, both share a similar build, body and neck shape. Ditto general construction. Material is pretty consistent as well– poplar body, jatoba fretboard, maple neck. As a result, you'll be hearing warmth and richness in the midrange with crispy high ends. Hardware-wise, the AZES31 sticks with three Essentials single-coils, while the AZES40 swaps out the bridge pickup for an Accord humbucker.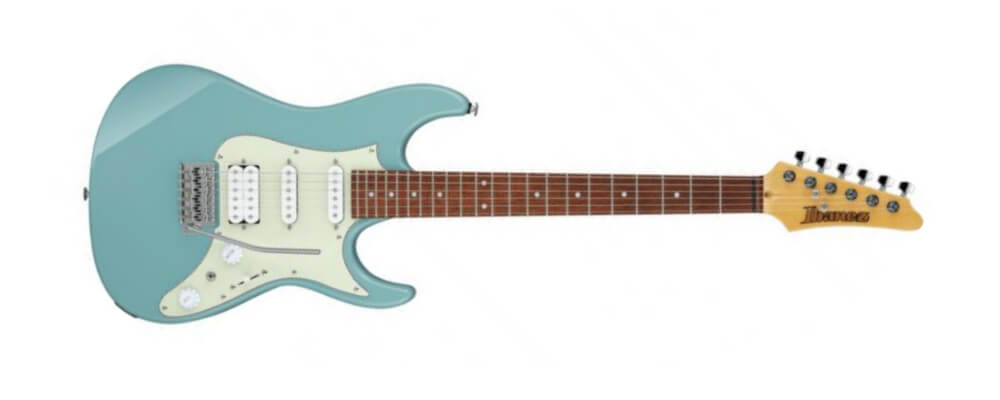 Not impressed by the AZS's Dyna-MIX5? Well, the AZES31's Dyna-MIX8 switching system with Alter Switch should knock your socks off. It's 8 sound variations at your fingertips, along with a 5-way pickup selector. Flick the mini switch and humbucker mode turns to single-coil. Still not enough? The AZES40 does all the above, but with one more tonal option via the Dyna-MIX9. Who says less is more?
Who is this for:
Novice and experienced guitarists alike. Especially if you're gunning for an axe that costs next to nothing but does everything. After all, an AZES doesn't just cover the basics. It takes playability, build quality, and sound variation to the next level. And it does that without breaking the budget.
---
So, did we guess right? Are you excited to start kicking it with an AZ, AZS, or AZES of your own? We can't blame you, because Ibanez has really hit it out of the park with these three. Each one is multi-faceted enough to serve as your main guitar. Moreover, they're unique enough that you'll probably want to collect them all.
Shop Our New Ibanez Arrivals
Speaking of collections, check out the fantastic stuff we've got on display at Swee Lee. From guitars to gear – you're spoiled for choice. However, our online selection is nothing to scoff at either. Still can't find what you need? It might be around the corner, so give us your details. We'll keep you updated when new items roll in.
Read more: 5 High-End Delay Pedals Compared