Can you believe we're 75 this year? Time sure flies when you're having fun! However, we don't want to be the only ones enjoying ourselves – so we're sharing the love with a few of our favourite instruments from our 75th Anniversary Collection. This week's highlight? Acoustic guitars.
That's right, we're celebrating our 75th Anniversary in style, but it isn't a party without our acoustic guitars. Handpicked just for you, this collection is only sticking around for a short while, and we're taking 5% off these guitar choices too, so you've gotta see what's on offer!
Save 5% on selected Acoustic Guitars
If you're a fledgling guitarist who's been saving up for your first big purchase, or a long-time virtuoso looking to add another instrument to your entourage, you're in luck. Feel free to peruse many of the well-known brands we've brought to the table. Who knows, your next gift to yourself might be just around the corner. Stumped for ideas? Take a look at 10 of our favourites from this hearty collection!
P.S. Speaking of acoustic guitars, our Week 3 Giveaway has one HUGE prize up for grabs! Our great friends over at Taylor Guitars have graciously sent us a Taylor Baby Taylor for one of you to win! Hit the button above to learn how you can stand a chance to win.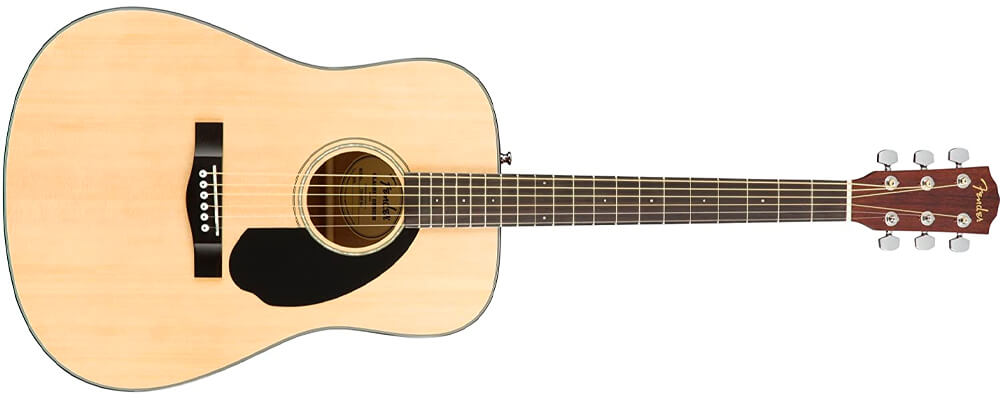 Starting from scratch? This guitar will take you all the way to the big leagues (provided you put in enough practice, of course). It's got everything a beginner could need. Simple yet appealing design? Check. A large body built for comfort, courtesy of the smooth walnut fingerboard with rolled edges? Check. Bold, loud sound and great tonal support? You bet! Built in the classic Fender dreadnought style with a spruce top and mahogany back and sides, you'll find it adapts well to almost any playing style and genre you throw at it.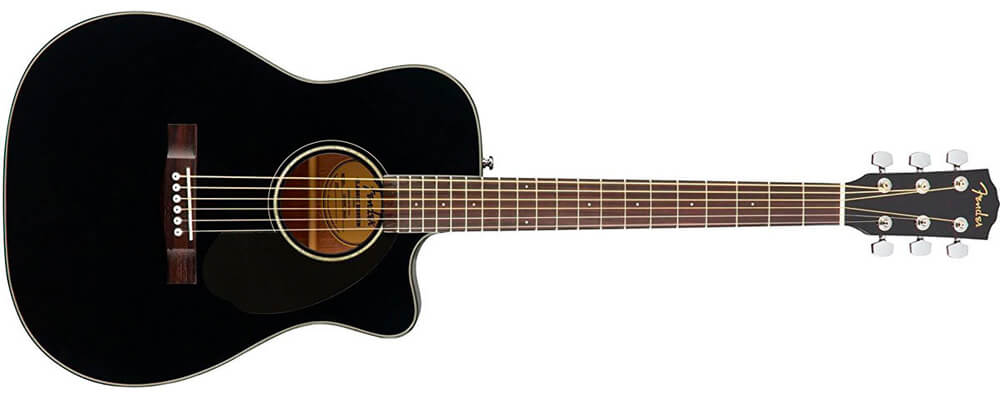 Concert-sized guitars are indispensable. They're the complete package, but just a little smaller. Young kids and petite players will find them much easier to wield in all positions, whether they're novices or playing at an advanced level. All spruced up – figuratively and literally speaking – its scalloped X-top bracing adds both stability and resonance to the mix. The result is a pleasant, balanced tone that lends itself well to one-on-one performances and other intimate settings.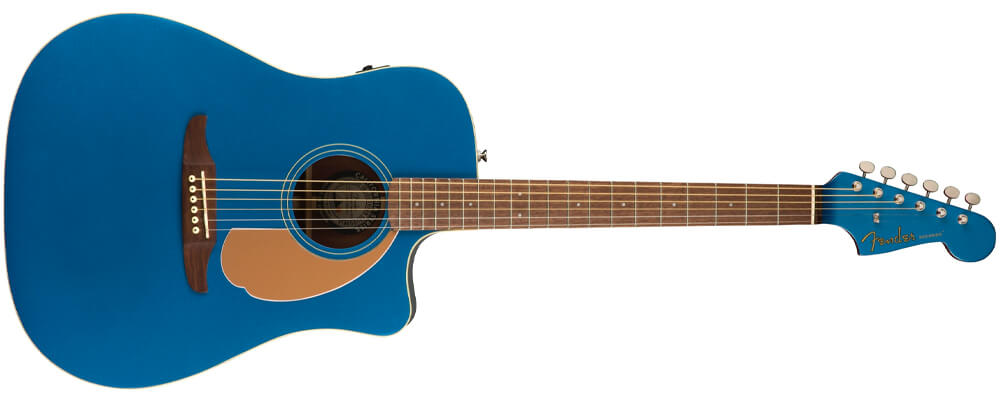 With its glossy + vibrant façade, the Redondo is a fun callback to the colourful acoustics of the nifty 60s. Looks aren't the only thing this guitar has going for it, although you'd be forgiven for being dazzled by its shiny gold pickguard. Beneath the Sitka-topped hood is Fender's Scalloped "X" bracing – cutting down on mass that yields more of that sweet, sweet resonance. Add in a Graph Tech Nubone nut and saddle for maximum sustain, and you'll find yourself reaching for its tapered C-shaped mahogany neck in no time.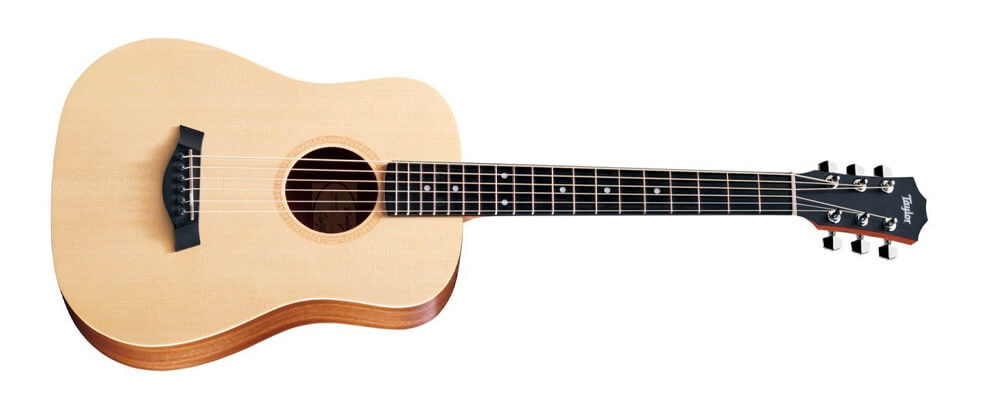 Here's a riddle. What's small and big, delicate yet powerful? The Baby Taylor of course! A petite powerhouse from the acoustic magicians at Taylor, this diminutive acoustic is the largest non-full size instrument from the Baby series. If you're someone who wants the perks of a dreadnought without the heft, look no further than this diminutive model. Whether it's fingerpicking or strumming, each note is clearly defined and articulated. You can chalk that down to its responsive spruce top and the warm resonance of its layered walnut back + sides.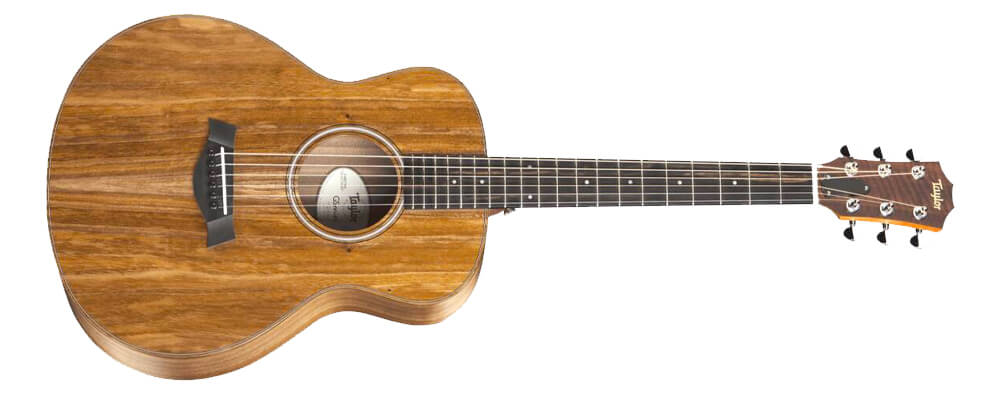 Music is escapism, and nowhere is that more apparent than with the Mini. Not content with being an award-winning scaled-down version of the original Grand Symphony body, this little wonder now also boasts all the charm of a Polynesian island. Hawaiian koa tonewood offers a rich, multi-layered sound that conjures up beachy vibes, but with the onboard Expression System-B pickup, what wouldn't sound amazing? And there's no pickguard here, 'cause Taylor really wants you to show off the lustrous grain. Talk about attention to detail!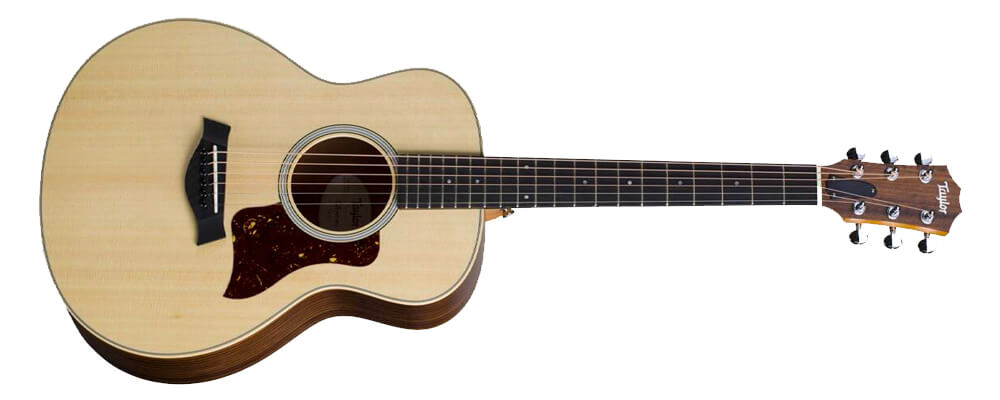 Lugging around a full-sized guitar can really take a toll on the body when you're a gigging musician. Fortunately, the GS Mini proves that you don't always have to go big or go home. Though falling just shy of a 37" length, this baby is L-O-U-D. Just pop it over your shoulder as you're heading out the door, and when you're at your destination, wow everyone with how full and rich it sounds. It's durable too, thanks to the sitka spruce top and laminate Indian rosewood back and sides.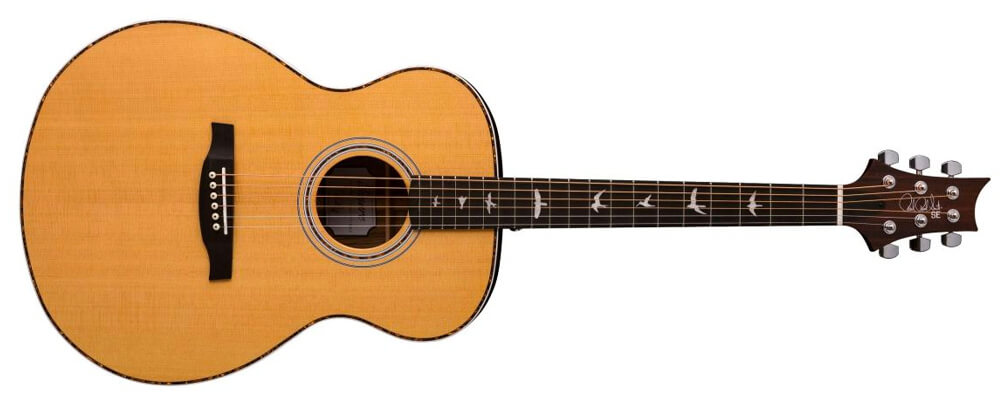 PRS is known for quality, so expect nothing but the best from the T40E. It's a total performance-ready setup, starting from the solid Sitka top and ovangkol back and sides. Each note pulses with clarity and richness, especially when amplified by the grand concert body style. But when you need a little push, it's a relief to fall back on the Fishman GT1 under-saddle pickup, with its feedback rejection capabilities. It's all carefully hidden under the saddle, so you'll be able to focus on how stunning the subtle tiger acrylic purfling looks instead.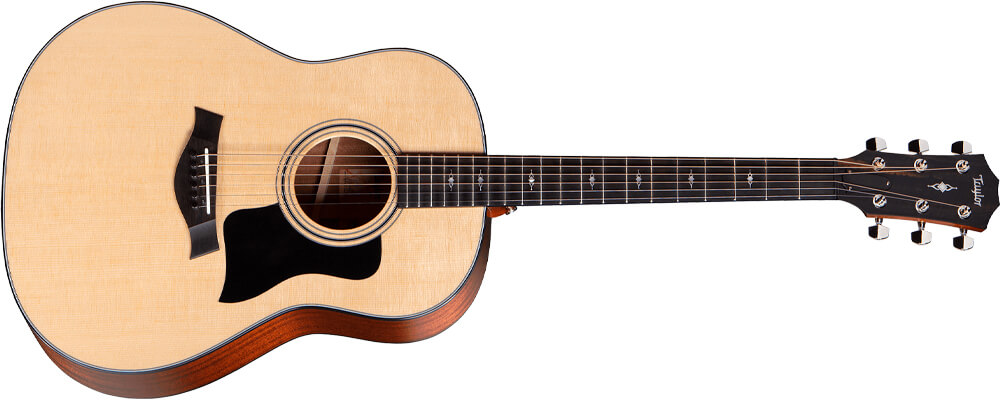 If you crave the familiarity of a dreadnought but desire a little extra, there's the Grand Pacific! Built on the groundbreaking architecture that is the V-Class bracing – the Grand Pacific is a round-shoulder dreadnought that represents a new era of acoustic innovation. Featuring solid sapele back + sides and a solid Sitka spruce top, this alluring acoustic guitar delivers a seductively bold and versatile tonal profile. You'll be able to detect a warm, seasoned sound with a powerful low-end presence with each strum. With unparalleled volume and sustain complemented by flawless playability — the Grand Pacific promises to satisfy players across many genres and musical styles.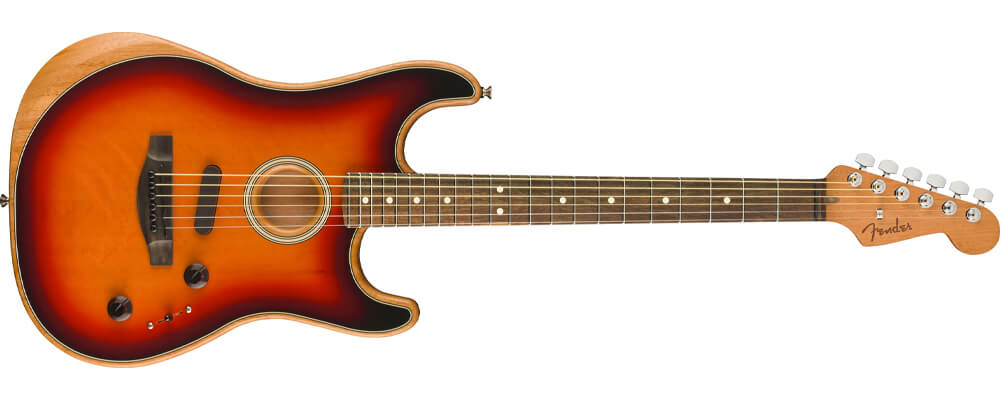 Some people say you can't have everything. With all due respect, they're wrong. How else would you explain the Acoustasonic Stratocaster? Flip a switch, and this instrument turns into a rock-ready electric axe. Choose between clean/crunch and short-scale/dreadnought, or blend everything into one effortless tone via the Mod knob. And it's crystal clear too. The N4 Noiseless magnetic bridge pickup filters out unwanted hums so highs are crisp and low ends stay tight. Forget the sky, the stratosphere's the limit!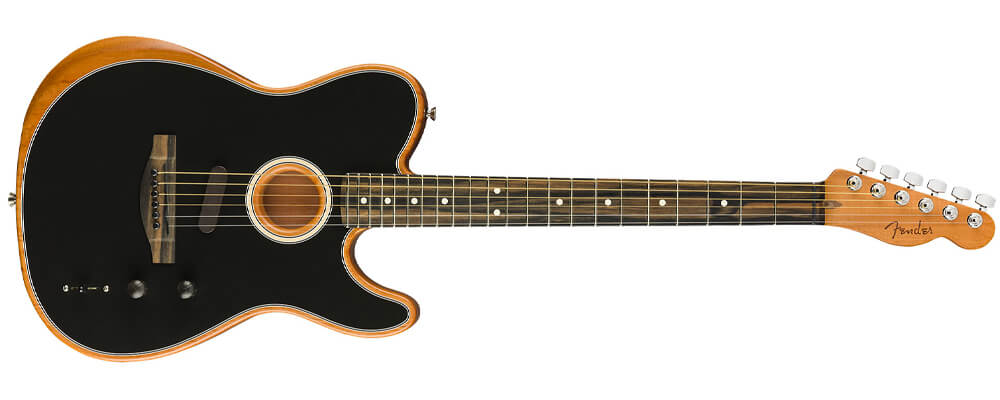 Another acoustic-electric hybrid from Fender, but with a Tele twist. Once flipped to the bridge position, the Acoustasonic Telecaster's piezo and magnetic pickups turn smooth strums into bluesy jangles that wouldn't sound out of place in any folk song. Switch it back, and the resonant SIRS body mimics the tones of an acoustic guitar precisely, helped along by the Fishman Matrix's sweet tones. Once you've gotten the hang of the 10 onboard voices, get ready for a 20-hour jam sesh, because that's how long the integrated battery promises to last.
---
That's a wrap! Still undecided? Head on over to our collection page for a closer look at more fantastic offers because there are lots more items to choose from. But remember, it's for a limited time only, so be quick about it!
Save 5% on selected Acoustic Guitars
We hope you're just as excited as us for the next eight weeks of celebrations! Remember to watch this space or make sure you've signed up for our mailing list!
Read more: Celebrating 75 Years of Swee Lee