We're diving into Week 6 of Swee Lee's 75th Anniversary Celebrations. Over the past month or so, we've shown a selection of our music wares – but this month is the one a lot of us are excited for! Say it with us. Electric guitars & basses!

From the biggest brands like Fender, Jackson, Gretsch and many more – we've always prided ourselves in supplying guitarists with the best axes in the music biz throughout our storied history. Whether it's novice-friendly instruments, to designs fit for stage royalty, we've got all that and more.

This collection-round, we're serving up the finest axes in circulation – all on your virtual doorstep. And while our excitement levels may be up, the prices are going low. It's for one week only, so don't kick yourself later if you miss out on the best electric guitars on the market.
Shop our 75th Anniversary Electric Guitar Collection
Just like its wielder, every guitar has its own charm and personality, and we're pretty sure there's something in store that's a perfect gift for the holiday season for yourself or someone special in your life. Without further ado, let's dive into our picks for Swee Lee's 75th Anniversary Electric Guitar Collection!
Enter Our Electric Guitar Giveaway
P.S. This week's giveaway is our biggest one ever, 'cause we've got a Fender American Ultra Stratocaster and more up for grabs. Can't wait for your chance to nab one of these? Smash the button above to find out more!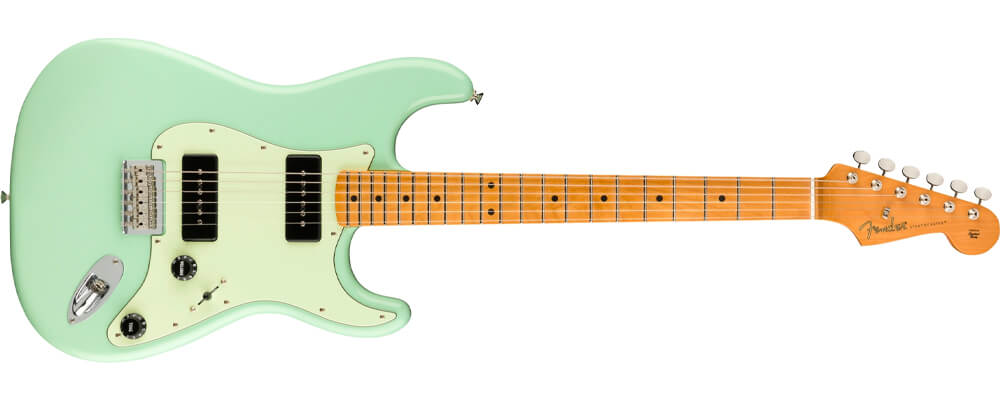 Old is gold, and no one knows it better than the Noventa. Its retro charms harken back to the Fender's first classic Strat, from the vintage tuners down to the thru-body hard-tail bridge. Alder wood lends elevated sustain to an already full-bodied tone, and paired with the brightness of the maple neck, you'll find it at home in any tune – even contemporary ones! Thank the dual fender MP-90 pickups for that. Not only does it sing with the quintessential clarity of a single-coil pickup, but it pumps up the aggression wherever you need it. Give the audience a taste of the chunky mids and soaring highs, shaping sound where necessary via the volume and tone knobs, along with the 3-way blade.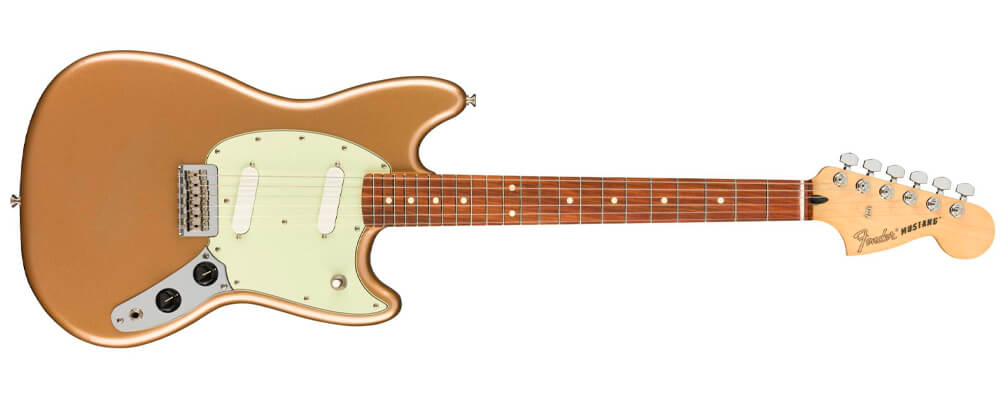 Fender certainly wasn't horsing around when they revisited this blast from the past. Even hardened maestros will wanna give the Mustang 90 a test ride. Puns aside, this offset beauty is certainly one to keep around. The 24" scale length adds manoeuvrability – especially for younger or smaller-sized musicians – and also maintains string tension at a minimum. Another big draw? 22 medium-jumbo frets on a 9.5" pau ferro board for unhampered plucking and bending. So when you're showing off the capabilities of the built-in single-coil pickups, you'll be able to do it in comfort.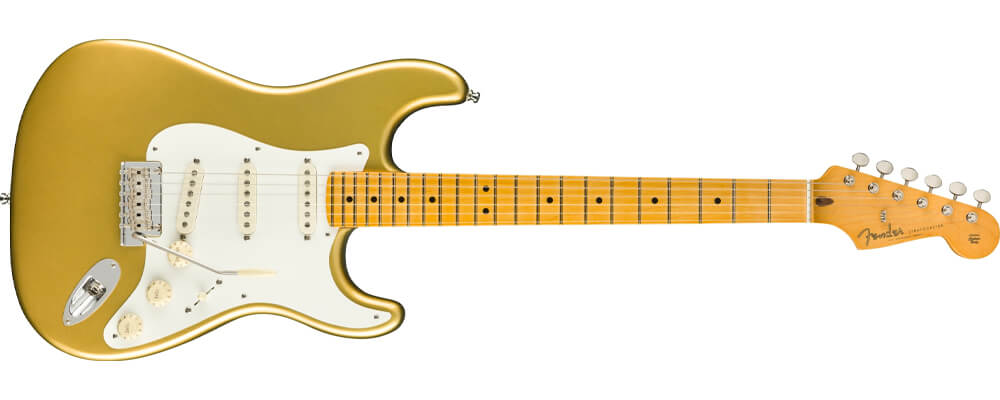 It's not a sin to improve on a masterpiece, or so Lincoln Brewster believes. His nips and tweaks to the classic Stratocaster are proof of that. Though the non-locking tremolo construct of the 50s perseveres, it gets an update in a 2-point synchronised design that bolsters stability and eases action adjustments. You've gotta love the pop-in arm action as well, which prevents too much play on the tremolo while letting you adjust its tension on the fly too. As cleanliness is next to godliness, all unwanted hum gets filtered out by the DiMarzio pickups – Area 61 in the bridge, and Area 58 in the neck and middle. The onboard treble bleed circuit is truly a blessing, keeping everything pristine and clear even when the volume is low.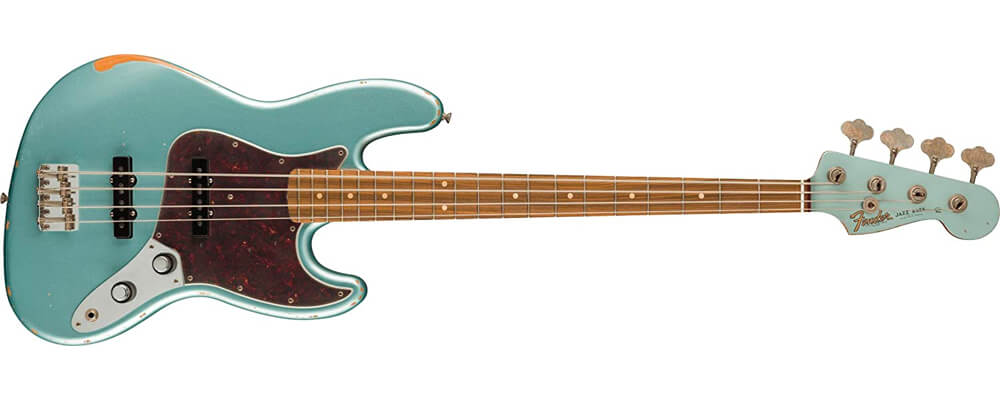 Are you a beginner guitarist who can't wait to become a seasoned professional? Get the jumpstart you need with this limited-edition instrument that pays tribute to 60 years of J Bass ingenuity. Fender's legendary line is the go-to for hotshots like John Paul Jones and Flea for a reason. All the comforts of the original are here, including the offset-waisted alder body and slender C-shaped maple neck. It sounds just as good too, delivering on punch and resonance due to two specially-wound Vintage-style pickups. And since the stunning nitrocellulose lacquer finish already looks like it's seen its fair share of gigs, no one has to know that you're just starting out. It'll be our secret.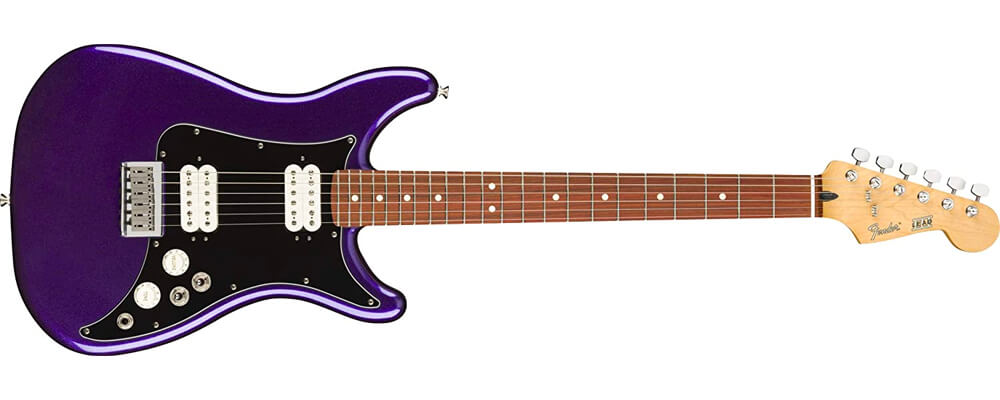 Leads are often touted as excellent alternatives if you can't get hold of a Stratocaster, but we reckon they're icons in their own right. Why else would they be championed by greats like Mission of Burma's Roger Miller? Versatility is the name of the Lead's game, and it's all down to dual high-output alnico humbuckers that churn out a meaty yet dynamic response. Crunch central! Got a particular sound in mind? Make full use of the intuitive 3-way toggle and knobs for tone and volume, or take control of the coil-split switch. Just flip it to positions 1 or 3 for that definitive single-coil vibe, ideal for both studio and stage settings.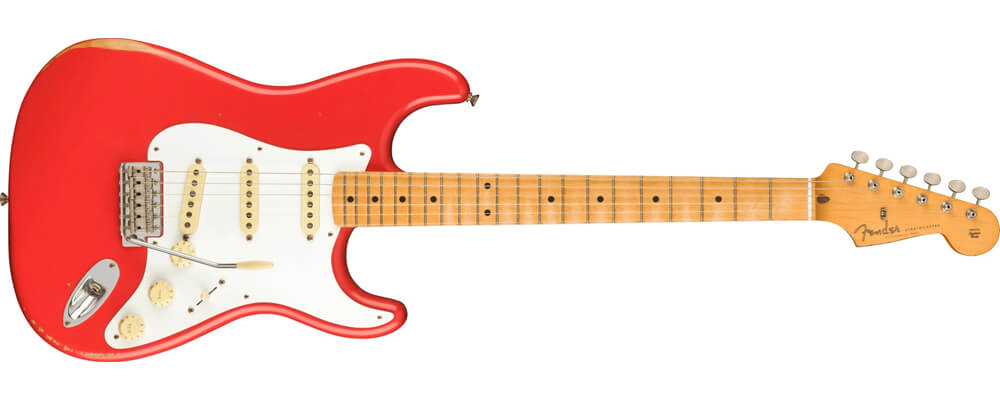 There's no substitute for experience, so it's no surprise that the Vintera stays faithful to the tried-and-true Strat blueprint. Or at least, it comes pretty close. Sure, aesthetic-wise, it's got that rockabilly solidbody thing going, along with the heritage 6-point tremolo and tuning setup. And the hot-wound pickups look just like those from the 1950s. But peer a little harder, and you'll see the enamel-coated wires and flat-top Alnico V magnet refurbishments. What results is a crystal-clear sound that cuts through the din with style. And forget about the 3-way switch of yesteryears too. You'll get all the tone options you need (and more!) from the upgraded 5-way switch.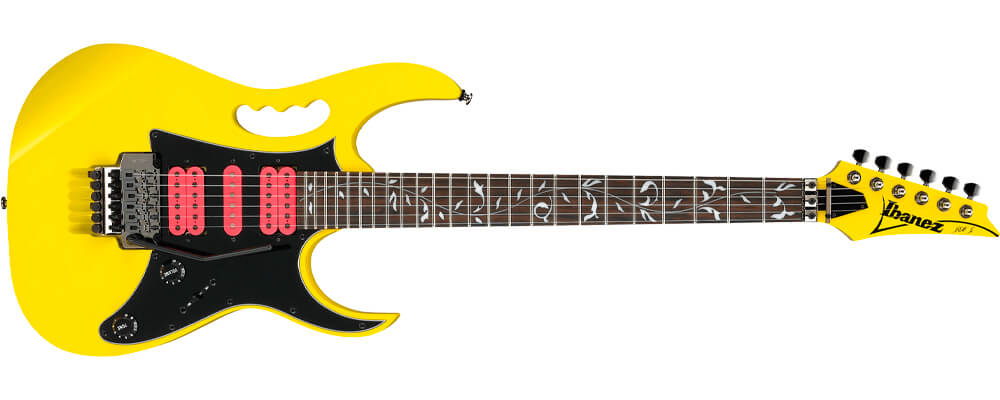 Many a fledgling guitarist worships at the altar of Steve Vai. Equally divine? His signature axe. But first, you've gotta know how to spot one in the wild. Here's a hint – look for the "monkey grip" cutout and beautiful Tree of Life inlay. Impressive appearance aside, there's a reason this instrument is constantly in demand. Slim and snug to the grip, its Wizard III neck is fast with a capital F, so ready up your best speedy runs and complicated arpeggiations. Whammy away without worrying about going out of tune, because the double-locking bridge has you covered. The cherry on top? Its HSH config, featuring triple Infinity pickups loaded and ready to rock. The ceramic humbucker in the neck position drips with warmth and richness, while the Alnico V bridge humbucker covers midrange oomph. Add to that the glassy tones of a high-output single-coil, and the Vai's the limit.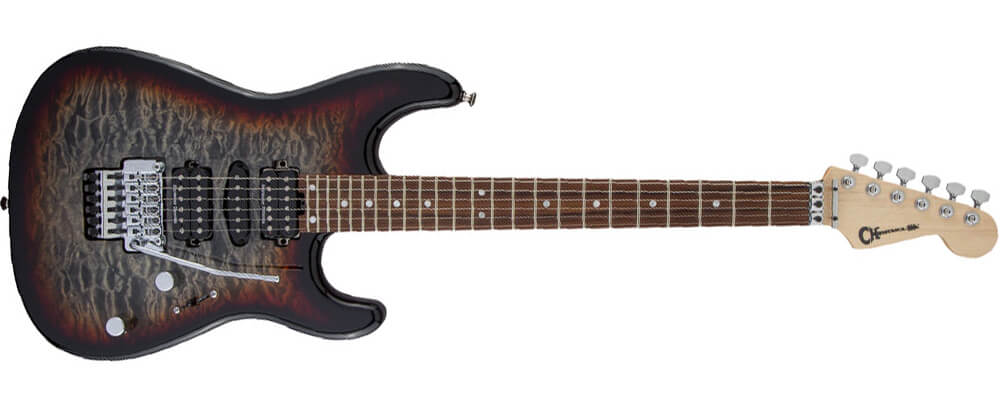 Charvel's San Dimas line gets its name from a mountain-hemmed city in California, but its tonal aspirations are even loftier. Chalk it up to the high-out and high-gain Seymour Duncan humbuckers, assisted capably by a 3-way pickup selector and push-pull tone knob. You're in line for 6 distinct sounds, with full humbucking and single-coil possibilities. A Floyd Rose tremolo tucked into the mix leaves no room for tuning instability, allowing for solid action and response even as you shred through the toughest riffs. Of course, it wouldn't be a San Dimas without its rolled-edge fretboard that plateaus from a 12" to 16" with fret elevation, so comfortable that it feels as if it's already been broken in for years.
Gretsch G6131-sg Malcolm Young Signature Jet Electric Guitar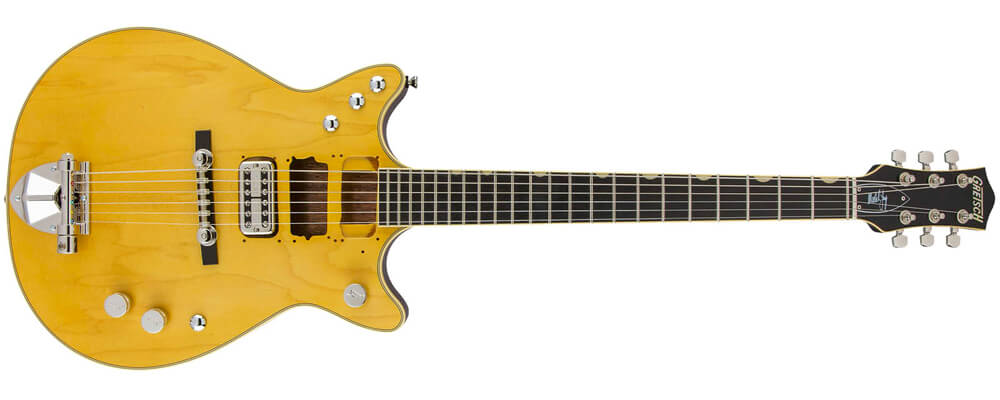 Leave it to AC/DC's Malcolm Young to inspire a guitar that really delivers on speed, sound, and style. The G6131-sg is a perfect replica of his battle-worn 63' Gretsch' Jet Firebird, aptly called 'The Beast'. Think 'G' arrow knobs, a Jet Vibrato tailpiece, and pickup routes with mock screw holes. It's even got the "aged" patina to prove it. But more than that, it's also heavy on the harmonics. Fuelled by the dominating TV Jones Power'Tron pickup, you'll coax anything from smooth and silky legatos to thunderous, moody strums out of the chambered mahogany body. Plug it into an amp and savour extra chunk on the low-end overdrive. The trick is in the bobbin aperture and custom-spaced pole screws – the former adds vibrancy to basslines while the latter enforces clear-cut note distinction on each string.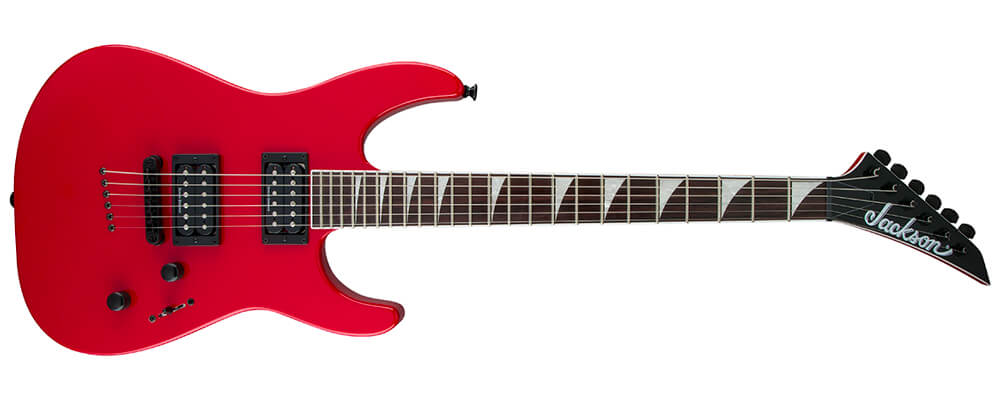 Who says shred-worthy electric guitars have to cost a fortune? The Soloist SLXT puts affordability and adaptability on the same playing field. No matter the genre, its thru-body setup with TonePros adjustable bridge keeps your sound crisp and vibrant. With an EMG HZ H4-AN pickup in the neck and a bridge-bound HZ H4-B humbucker, you can expect huge tonal scale from this streamlined instrument. And you'll need that range to carry off your best technical work on the compound radius fretboard. It's rounded at the nut but tapers off higher up the neck, giving your fingers ample room for detailed chord work and low-action bending.
---
Got a few items on your holiday wishlist by now? Hurry on over to our collection page to get them under your proverbial tree in time, or just check out all the other amazing stuff on offer. And lucky you, our 75th Anniversary deals are valid for both in-store and online buys.
Shop our 75th Anniversary Electric Guitar Collection
Eager to keep track of our 75th Anniversary celebration? Our always up-to-date 75th Anniversary Page will show you exactly what's in store. Literally! We're talking about specially curated music gear bundles, discounts codes, giveaways and weekly discounts on gear collections.
Only three more weeks of festivities to go, and we hope you're still looking forward to those too. Here's a tantalizing taste of what's to come – something along the lines of tickling the ebony and ivory! Remember to either keep your eyes glued to this spot, or let our mailing list do the job for you.
Read more: Celebrating 75 Years of Swee Lee