Good news Jackson fans! Here's a sneak peek at the goods we're bringing in soon. Among all the great guitar releases this year, the pre-eminent arrival of the MJ Series from Jackson has got us really stoked.
Harking back to the early '90s when all their import guitars were manufactured in Japan, Jackson seeks to reintroduce successors to those highly acclaimed axes to their lineup by way of the MJ series. Combining Jackson's pedigree of high-performance instruments with premium materials and Japanese craftsmanship – we've got no doubt that these instruments will be utterly mindblowing. Join us as we check out some of the models that are coming over to Swee Lee.
Shop Jackson 2021 Arrivals & Restocks
P.S. There are more models coming soon too! Make an inquiry or a pre-order by reaching out to us.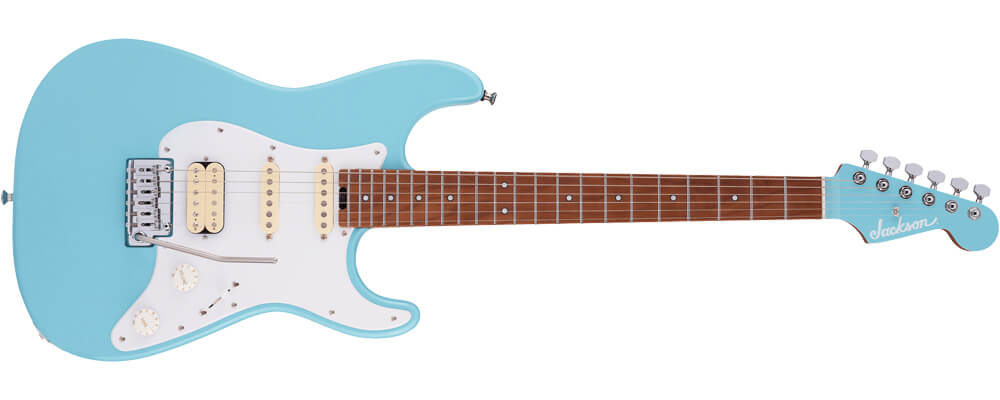 Classic looks with modern tones and playability, the MJ Misha Mansoor So-Cal 2PT takes the retro Strat and takes it to 11. While its looks may be traditional, a closer inspection of this guitar will reveal an assortment of progressive metal touches – a trio of super tight Bare Knuckle pickups, a Graph Tech TUSQ XL nut, a Gotoh Custom 510 2-point tremolo system, a 20-inch radius fretboard and jumbo frets, and a caramelized maple neck with graphite rod reinforcement.
If you're in the market for technical and fast-playing guitar with vintage aesthetics and aggressive tones (with the ability to get those sultry single-coil twangs too) – look no further than this Daphne Blue beauty!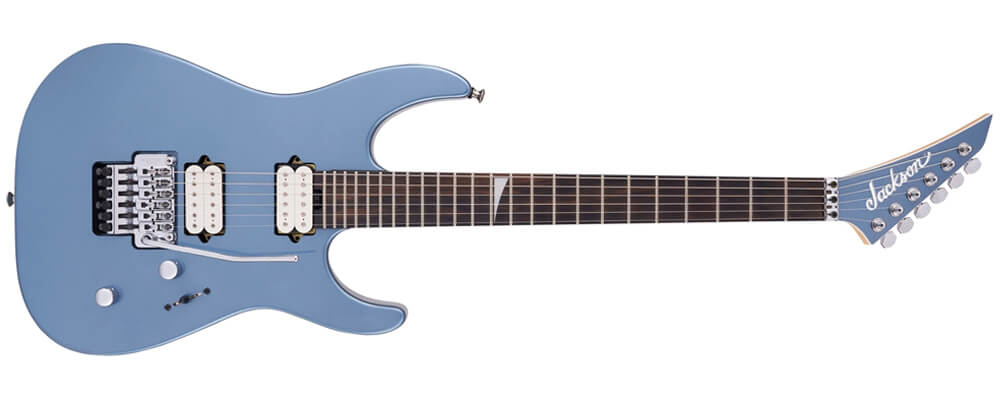 The Dinky is a staple shape in the Jackson lineup and their Japanese models from the nineties have achieved cult favourite status. How better to celebrate both than by bringing the two aspects together back in the Jackson MJ Series Dinky DKR. Engineered for virtuosic playing, this impeccable axe melds an ergonomically contoured alder body with an ultra-sleek 5-piece maple/walnut neck.
Speedsters will love this guitar's rolled fret edges and 12"-16" compound radius ebony fingerboard – features that are highly valued for comfort all over the neck. Gigging musicians will also love their graphite-reinforced necks for unparalleled stability. Luminlay® glow-in-the-dark dots also shine the way for clear fret visibility on the darkest of stages.
Jackson has opted to fit the Dinky DKR with DiMarzio pickups, with a Super Distortion and a PAF Pro combo. Expect high-output leads and sonorous cleans that will hold their own even in the most chaotic mix.
Read more: 5 Guitar Myths Debunked
Another Dinky? How is this one different from the one above? While this guitar has the same basic formula that makes the MJ Dinkies great, there are a few choice amendments that give it a different sonic palette.
While the same graphite-enforced five-piece maple/walnut necks adorn this guitar (as all MJ Dinkies have), take a closer look and you'll start seeing the distinctions. Instead of alder, the DKRA has a contoured mahogany body with a matte ash top. If you didn't already know, ash has a brighter, airy tonality that bodes well for cutting distortion. Mahogany on the other hand balances the highs by introducing its characteristic warmth – giving the DKRA a multifaceted tone.
In order to showcase the complex sound profile of this axe, Jackson has gone the Seymour Duncan route. The classic JB & Jazz pickups are found in this baby – giving you as much versatility and sonic horsepower you can find on this side of a five-way switch.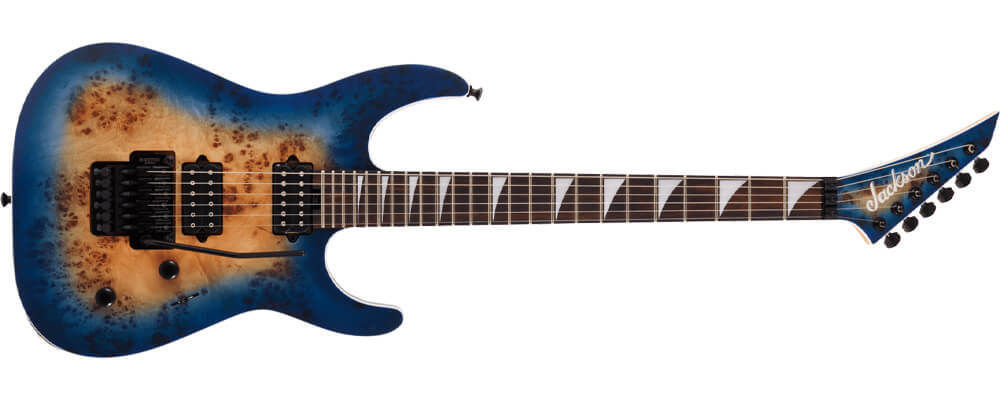 Here's something fresh! Guitar aesthetics has evolved immensely from the nineties and the MJ Dinky DKRP is a prime example. Back then, exotic tops were not a common feature but in the current, it's hard not to find them in any respectable guitar lineup.
This DKRP has the same features as its other Dinky brethren, it sports a unique top. This time a mahogany body is paired with a jaw-dropping poplar burl top – however, it isn't only there for looks. Burls are very light woods with tonal characteristics close to basswood. Consequently, burls tend to have a well balanced sonic profile with a slight inclination toward the bottom mids. Pair it with the warmth of mahogany and you'll certainly have a guitar with a really interesting sound.
From a hardware setting, the DKRP utilises a Gotoh GE1996T double-locking tremolo, Gotoh tuners, and Dunlop® dual-locking strap buttons (as do all the other Dinky models in this feature). Just like Dinky DKR, Dimarzio Super Distortion and PAF Pro humbuckers are the pickups of choice for this axe!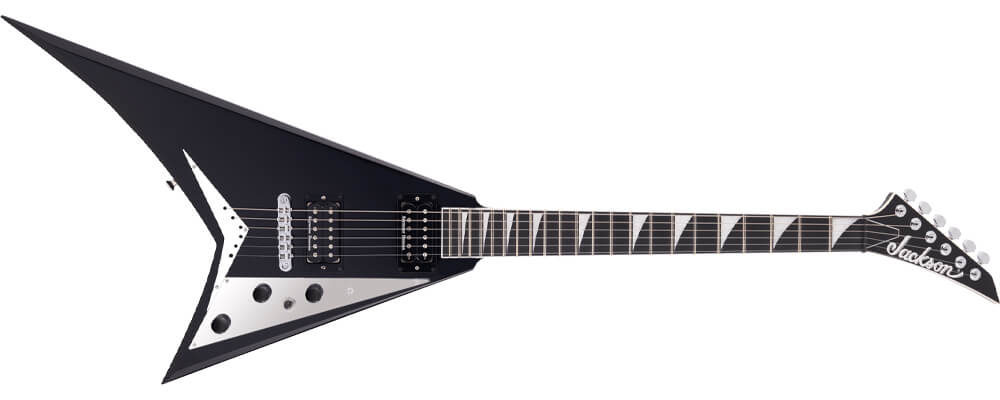 Building upon the vaunted legacy of the Jackson Rhoads, the MJ Series Rhoads RRT is a premium shredder that's made for unrestrained pyrotechnics. The Queen's jewel in this build is the 3-piece maple graphite-reinforced neck-through flanked by alder wings. Playability is also further increased by its 22 jumbo frets and 12"-16" compound radius ebony fingerboard – specs that make accessing the higher registers an absolute breeze.
If you're looking for a guitar that can absolutely sing with the best of them, this Rhoads RRT is definitely the one. The already substantial sustain of the RRT's neck-through construction is further accentuated by the TOM-style adjustable bridge and anchored tailpiece. This unparalleled resonance is amplified by Seymour Duncan pickups to give this guitar a hot-rodded snarl with tons of attitude!
What else can you find on this prickly axe? How bout rock-solid Gotoh sealed die-cast locking tuners, convenient Luminlay side dots, and aggressive-looking pearloid sharkfin fingerboard inlays. If you'd like a guitar with a whole lot of rock pedigree, look no further!
---
That's just about all you have to know to get up to date with the latest from Jackson-ville. You don't have to take it from us – come on down and give them a spin for yourself when they arrive. As always, Swee Lee stocks a huge selection of Jackson's guitars and basses for all levels of players – so check them out!
If you'd like to shop our full range of guitars head over to our online store. If you're looking for any guitar-related advice, drop us a message. We'll be happy to help you out!
Read more: Why You Should Buy a Custom Shop Guitar