Big-name guitar players are no stranger to collaborations with equally big-name guitar brands. They give these players the chance to bring a dream instrument to life, and it gives us normal folk the opportunity to own an instrument designed by our favourite artists. One such global superstar that's been an unlikely guitar hero to millions of budding musicians in the past decade is Ed Sheeran. Better known for his chart-topping hits than his one-man-band prowess, the pop sensation has been one of the reasons why smaller-bodied acoustic guitars are some of the best-selling models right now.
Shop Sheeran by Lowden Guitars
Speaking of small-bodied acoustic guitars and collaborations, we're extremely excited to welcome Sheeran by Lowden Guitars at Swee Lee. This exclusive range of acoustic guitars is a result of a friendship between Ed Sheeran and famed Irish luthier George Lowden of Lowden Guitars. 
The not-so-wee beginnings
Having forged a stellar reputation from his boutique company by putting out some of the nicest acoustic and electric guitars money can buy, George Lowden first built a one-off guitar for Ed Sheeran – a smaller-bodied one that wasn't available out of Lowden's offerings. Dubbed the Wee Lowden, this custom-made acoustic guitar was extensively used in Ed's 2014 album "X" and it would go on to become the basis of the two new body shapes and eight individual models that make up Sheeran by Lowden guitars.
The low-den on Sheeran by Lowden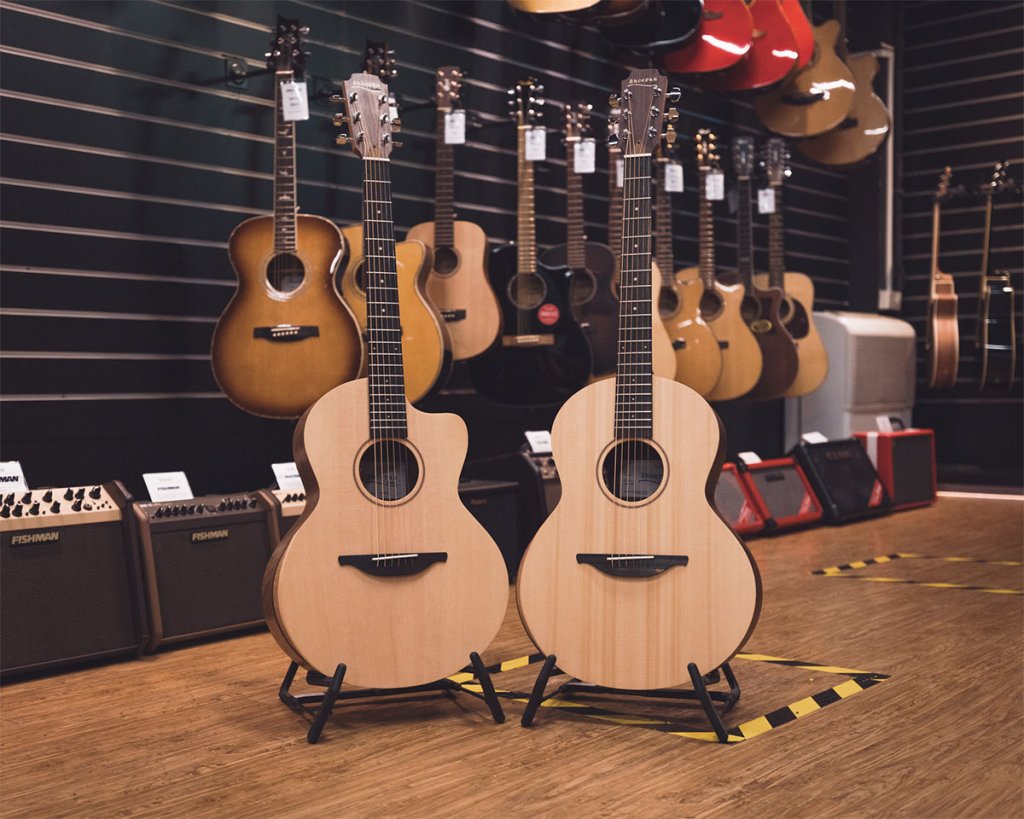 Having been a fan of Lowden's guitars, Ed Sheeran discussed the possibility of creating a range of guitars that can be made available to players everywhere. These guitars had to be accessible, affordable and made with the same Lowden guitar building ethos. What we have today are two brand new ranges, all with solid wood top construction, crafted in Northern Ireland in a new factory just down the road from the main Lowden Factory. We're also pleased to know that Lowden sources their woods from trees that have naturally fallen or reclaimed in some way.
Let's take a look at the two body shapes – the Wee and S – that make up the Sheeran by Lowden lineup.
The W Series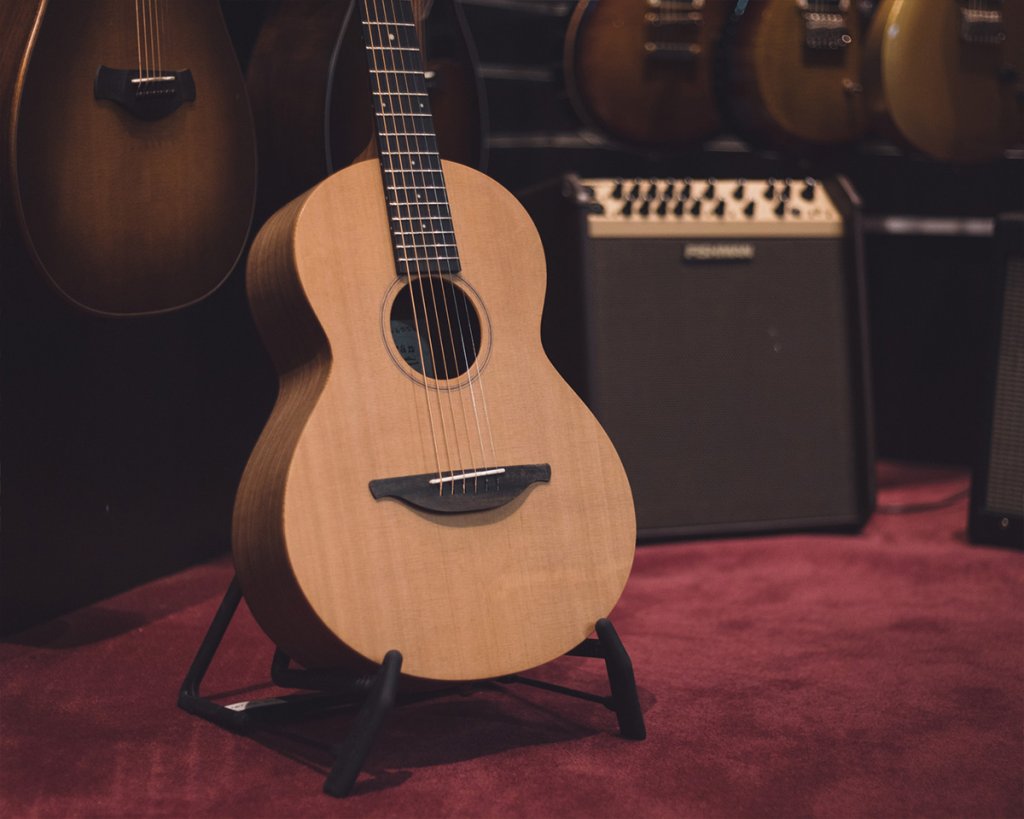 This it the guitar based on the first Wee Lowden that was made for Ed Sheeran. It's a parlor-sized acoustic guitar that's easy to travel with, and doesn't compromise on tone despite its smaller size.
Consisting of four different variations in the range, you can choose between different wood combinations – solid sitka spruce or cedar tops, five-piece santos (also known as pau ferro)/rosewood or figured walnut back and sides. All come with ebony fretboards and the LR Baggs Element VTC pickup on all but one of the W models.
The compact acoustic guitar offers up a bright and snappy tone – it may be small but it certainly packs a punch. Strummers and fingerpickers will be at home here, and singer-songwriters will appreciate how well its sound sits with their vocals. Where it really shines is just how comfortable you'll be playing one of these guitars. The shorter 24" scale length and comfortable neck profile makes it a dream for beginners or players with smaller hands.
The S Series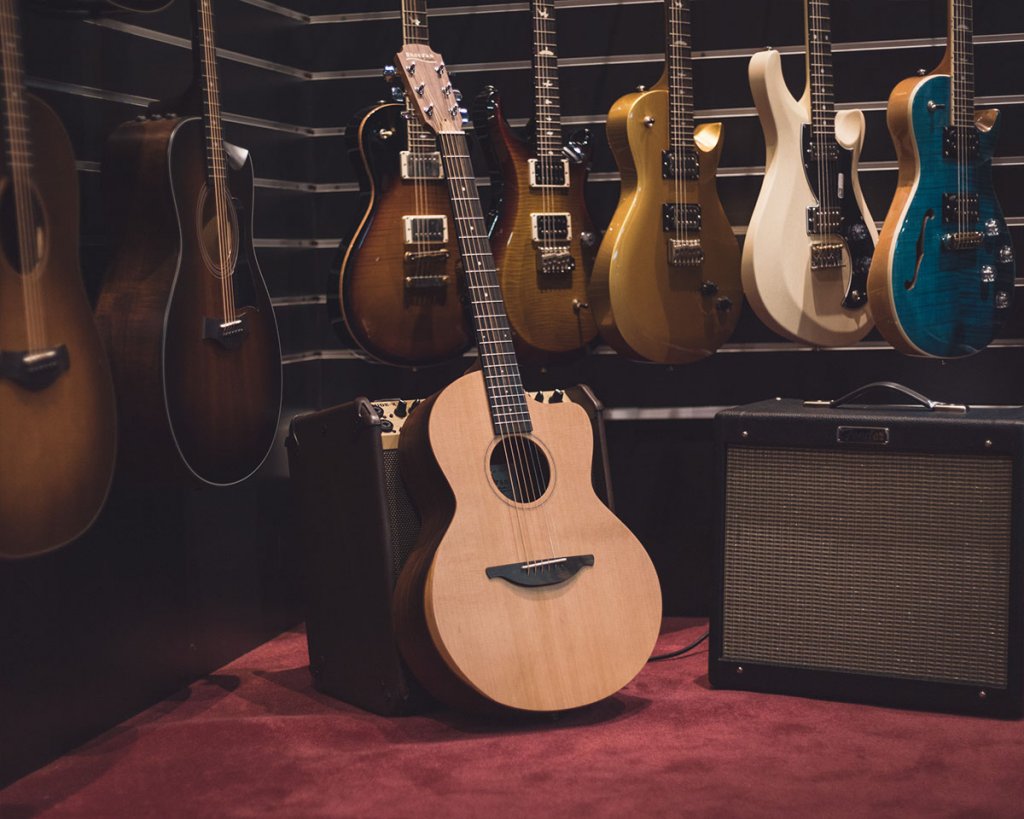 Based on the Lowden S body – the 'S' stands for small – is actually slightly larger than the W shape. Consider it a mid-range sized acoustic that's wildly versatile and addictive to play, the S series boasts a host of luxurious features and sublime build quality.
The four models in the series, like the W models, come with either solid sitka spruce or cedar tops and five-piece santos/rosewood or figured walnut back and sides. On the S series, cutaways are an option on the S03 and S04.
Incredibly resonant and balanced, the S series possess a deep voice akin to larger-bodied acoustic guitars. reat projection, distinct note separation and a balanced serving of treble and bass. Like the W series, these guitars are incredibly playable too. The 24 4/5" scale ebony fretboard will feel more familiar to those used to playing more common acoustic guitar shapes and paired with its slim neck profile, chords are a joy to play. On three of the models, you get the same LR Baggs Element VTC pickup that's on the W series. The S series will make for the perfect workhorse guitar that'll hold its own on the stage, in the studio or on your couch.
Swee Lee is proud to have Sheeran by Lowden Guitars available in our stores. These guitars are built to incredible standards considering their prices, and we have to agree with Ed Sheeran – they're the perfect instruments that'll inspire you to play even more, to learn and progress in your music-making journey.
Shop Sheeran by Lowden Guitars
Check out our selection of Sheeran by Lowden guitars available at Swee Lee. If your favourite model is unavailable, you can always drop us an email and we'll see how we can help!
Read more: Guitarology 101: Acoustic Guitar Body Shapes