Years before there were the likes of Ed Sheeran and The Weeknd making their names on YouTube, there was Boyce Avenue. The American trio of brothers Alejandro, Fabian, and Daniel Manzano were already making waves on the video-sharing platform with their flawless cover videos of artists from Coldplay to Rihanna. They were, at one point, the most subscribed-to artist on YouTube and today have amassed a fanbase of nearly 15 million subscribers. Talk about being early music pioneers of the video sharing platform!
Acoustic music has always been a cornerstone of the band's success. And it's not surprising they have trusted Taylor Guitars throughout their career to deliver those showstopping performances. They have played an array of Taylors acoustics in their videos, on stage and in the studio, from the all-koa K26ce Grand Symphony to the workhorse 614ce Grand Auditorium and no surprises here – the uber-popular GS-Mini.
Meet Boyce Avenue virtually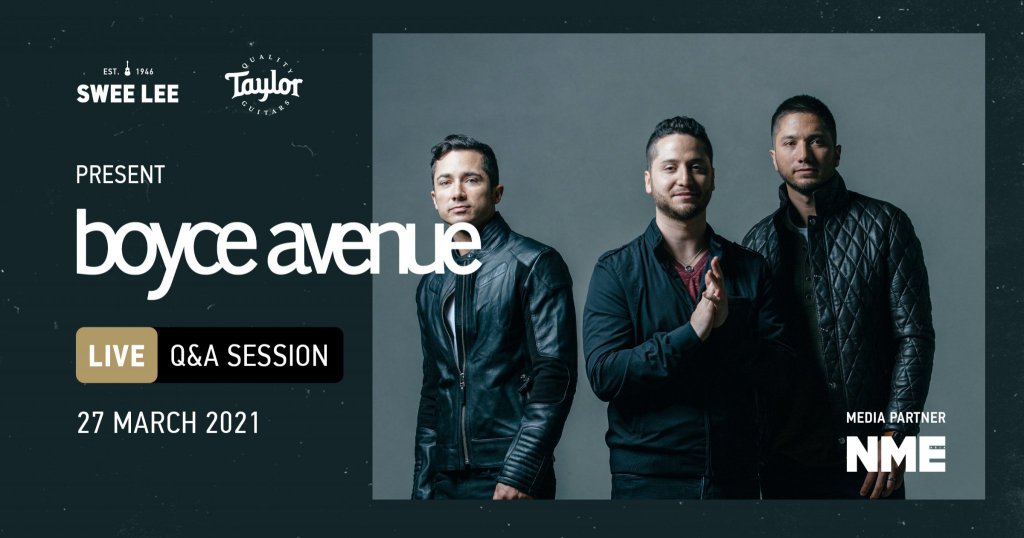 Swee Lee is proud to partner with the band's guitar brand of choice, Taylor Guitars, to bring you an exclusive and intimate live Q&A session with Boyce Avenue on the 27 March 2021.
During this virtual session hosted on Zoom, Alejandro, Fabian, and Daniel Manzano of Boyce Avenue will answer your burning questions from topics about their music, songwriting, their future plans, and of course, their Taylor acoustic guitars.
Win a slot for this exclusive event
Slots to enter this live Q&A session are very limited, with participants from Singapore, Malaysia and Indonesia attending. Find out how you can stand a chance to be one of the lucky few fans to be part of this once-in-a-lifetime experience by heading to our Instagram post.
Singapore: Enter the contest here
Malaysia: Enter the contest here
Indonesia: Enter the contest here
Read more: New Gear Day: Taylor American Dream & Grand Theater Acoustics