With so many names fighting for the limelight, how does a brand stand out? Maybe establish themselves in the rock 'n' roll industry? Or push boundaries with landmark instruments and amps? Having titans like Led Zeppelin and The Rolling Stones as loyal customers wouldn't hurt either. If all these traits sound familiar, you might have already heard the good news. We're bracing for a Supro invasion!
Oh yes, Supro is a force to be reckoned with. They've been around since the heyday of music, standing toe to toe with other giants of the industry. Before their revival (we'll elaborate more later), their one-of-a-kind guitars were bandied about. Now it's their selection of vintage-esque tube amps and analogue pedals that have the whole world paying attention.
If you love a good comeback story, it's hard to do better than Supro's. Spoiler alert: It involves humble beginnings, a meteoric rise, and a triumphant rebirth. Alternatively, stick around for a glimpse of the brand's amazing catalogue of amps, cabs, and pedals. Whatever the case, there's plenty to anticipate with this arrival. So without further ado, here's our introduction to Supro!
Read more: A Beginner's Guide to Guitar Amplifiers
Supro human efforts
Making the first move
Before arriving at their current incarnation, the brand known as Supro had to shed many skins. They began life as a budget offshoot of American Guitar Company, National Dobro in the mid-1930s, and was initially used to push affordable resonators. Their catalogue would grow to include Spanish electric archtop guitars, wood-bodied lap steel models, and a select ensemble of amplifiers. More than any other manufacturers, the company was especially adept at cobbling together guitars from unusual parts. In fact, many of these unconventional instruments are still hot commodities in vintage circles.
This innovative streak might have been what caught the attention of business partners Victor Smith, Al Frost, and Louis Dopreya. They purchased the enterprise in 1942 and rechristened it Valco.
Ups and downs
As World War II descended, metal rationing meant that production shifted away from resonators and towards their guitars and amps. Valco continued to engineer products under the Supro name. They enjoyed bucking expectations, choosing to interpret "of the day" trends in their own unique style.
Supro amps from this time are widely considered to be amongst the company's best. With art deco good looks inspired by 1950s Chicago, these all-tube circuits boasted a distinctive sound, leaving the likes of Led Zeppelin, The Rolling Stones, Jimmy Page, and David Bowie besotted by their chunky reverb tones.
That isn't to say that Supro's guitars weren't as noteworthy. Quite the opposite, in fact! Many of their solid-body electrics were marketed towards the country music scene. You might even have heard that Hendrix's first axe was the famed 1962 Supro Ozark. We're led to believe he paired it with his beloved 6L6-based S6420 Thunderbolt amp from around this time.
Safe to say, Valco (and Supro) creations were hugely lucrative. Unfortunately, they often flew under the general public's radar, with few of their products bearing the Valco name. Instead, they allowed bigger brands to buy up their merchandise for rebranding purposes. This would prove costly. Despite attempting a last-ditch merge with Kay in the 1960s, Valco was forced to close their doors.
Back to the future
Supro lay dormant for some years. Archer's Music briefly bought the rights in the early 1980s, trotting out some guitars made from their "new" old parts. However, nothing substantial came of this effort.
Then along came Bruce Zinky. The Zinky Electronics' founder purchased the brand in 2004 and gradually began reviving their amps by reissuing old favourites. He also drew on his previous experience with Fender for his own signature Supro designs. Finally, the right people started to take notice.
By people, we mean Absara Audio, then parent company of Pigtronix. Absara quickly negotiated a deal with Zinky, keeping him onboard as a design engineer. They then opened a new production facility in New York to accommodate their latest acquisition. Now based out of their swanky Port Jefferson location, Supro began scouting for opportunities. Jam Industries expressed interest in marketing Supro throughout North America. With this new partnership, the enterprise began to expand at a rapid pace.
First came a line of vintage-inspired tube amps. Next, solid-bodied guitars that reimagined highly-regarded erstwhile models like the Ozarks and Islands. It was as if the company had never left. One difference? Now the public was made well and truly aware of the Supro name. Further triumphs such as the Black Magick series only served to cement their existence.
In 2020, Bond Audio – the conglomerate behind D' Angelico Guitars – snapped up Absara Audio, promising to usher Supro into a new era. Looking at recent offerings, we think they've done exactly that!
Amping up production
Here's a fun trick. Mention the word Supro to any guitar aficionado and see which product comes to mind. We're willing to bet it's their range of amps. That's probably why Supro has decided to focus on their high-quality combos and cabinets. Rather than remakes, these contemporary designs could be considered homages to the company's heritage models. Here are some of the best on offer.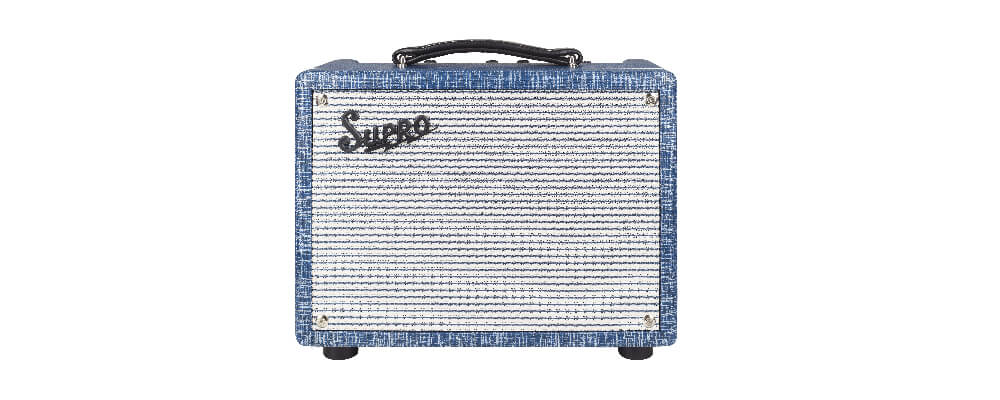 Right off the bat, the '64 Reverb's 60s influence comes through its blue rhino hide tolex and shimmery silver grill cloth. Its looks aren't the only familiar thing about it. Within the toaster-sized cabinet sits the Eminence-crafted S8 loudspeaker. This 8" wonder was painstakingly recreated from a true-blue Jensen article – thank Iowa State's laser-scanning devices for that feature. You can really hear that distinctive midrange from a mile away.
The '64 Reverb's compact loudspeaker actually works in its favour, compressing the frequency range into the perfect bandwidth for the electric guitar. There's minimal EQ manipulation and hum from the single-ended (6V6) output stage. Any scruffiness in the reverb signal only adds to the blues and rockabilly-appropriate tone.
Its high-fidelity layout pairs well with the elegant, single-channel design. Three line-outs sit on the rear panel – two fixed levels for dry and reverb, the other with a variable mix output. This ingenious quirk gives it plenty of flexibility, allowing the amp to function as both a small combo or as a standalone valve reverb.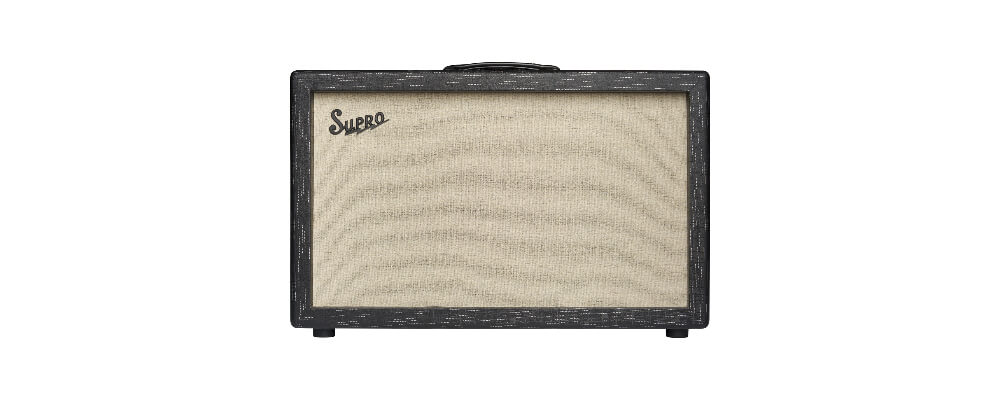 As one of Supro's freshest devices, the Royale has left long-time fans curious as to what it brings to the table. In the company's own words, the build is directed at "genre-bending" players, and is the "first loud clean amp" in their squad. It's notable for being Supro's concession towards the concept of pedal platforms. If you're a player who likes working with stompboxes, this is the amp for you.
On first glance, the Royale's poplar-ply cabinetry with flecked Black Scandia tolex vinyl breathes retro authenticity. Behind the hemp grill cloth, however, lies pure modernity. The tube-driven Eminence-built ceramic BD12 speaker can certainly hold its own against larger models. At the flick of a switch, it warbles between boost, reverb, and the effects loop. Another 3-way toggle takes the Royale from 50W class AB mode (grid/fixed) to a 35W class A (cathode).
There are oodles of personality to be felt in both classes. Class A is the classic Supro sound at its best, all chunky mids and articulate attack. Swapped over to AB, voicings are aggressive and snappy. Its output is bold, its front end is crystalline, and you'll have no problem making your presence known in a din. Especially when you're utilizing the adjustable boost gain to experiment with overdriven intensity.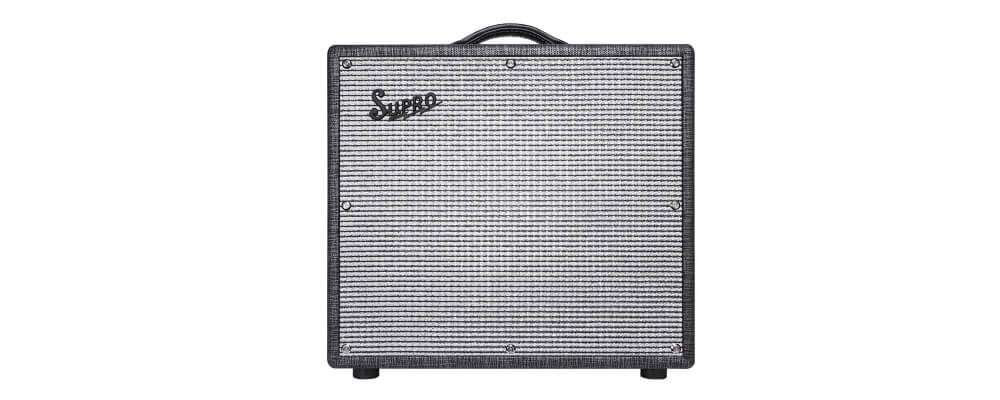 With a name like this, needless to say, Supro wants to put a spell on you. And we gotta say, it's tough not to be enchanted by this snazzy package. For one, it's based on Jimmy Page's 6973-loaded Supro from 1974. This version adds spring reverb, alongside individual bass and treble controls, just to be on the safe side. It's still the same high-powered 12-inch speaker with A-grade suspension and special British cone, though.
Matching 6973 valves guarantee robust lows and a meaty, meaty midrange. Depending on your definition of old school, the Black Magick could fit the bill. Overdrive is silky smooth but with an unexpected bite, lingering on single notes with bulldog-stubbornness. As the volume rises, it sings lighter and brighter. There's the option of balancing volume controls to thicken low mids and lifting upper mids as you go along.
The same bewitching, moody tone is fed into the reverb tank. It's slightly dark to begin with, so adding reverb to the mix only makes it lusher. Even the bias tremolo gives swampy goodness rather than stutter. Swirl together a heavy, slow trem with reverb at its highest, and pitch-bending harmonics begin to take shape. Dry signal, luckily, remains distinct as ever due to how precise the control settings are. Charmed yet?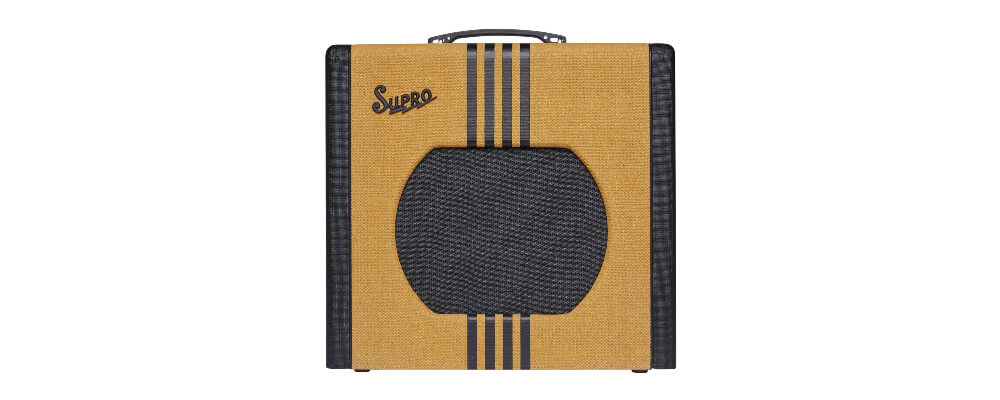 Think the previous entries were vintage-inspired? The Delta King takes the crown. It swipes major aesthetic cues from the Valco-helmed Supro Comet, with its TV-front cabinet and snazzy vertical racing stripes. Where it does wander off the beaten path, however, is the hardware front. Yes, it's still a single-ended tube amp. But where the Comet contended with 4 or so watts, the Delta King delivers with a sizeable 15W output tube.
For all-in-one appeal, Supro has thoughtfully injected solid-state attributes into the system. Volume, treble, bass, mids, reverb, and master controls line the top, alongside boost and drive toggles. Said boost is FET (Field Effect Transistor) led, and drive control takes a page from sister brand Pigtronix's FAT high-gain mode.
The same judicious thought process reveals itself in the Delta King's soundscape. Robust and roadworthy, kitted out with durable transformers, the amp seems like a normal touring musician's choice at first glance. But delve a little further, and you realise it's got huge audience appeal too. There's toothy single-end give and compressed attack like you'd expect. On its own, it's a crunchy, tight tone fit for all sorts of genres. Stacked with your own pedals, there's enough metallic heft and sustained leads to last for hours on end.
Putting the pedal to the metal
While Supro's bread-and-butter comes mainly from their super-powered amps, they've also got a stellar array of stompboxes. Just in time too, since some of their redesigned amps now come with pedal support. Here's kicking it with one of their standouts.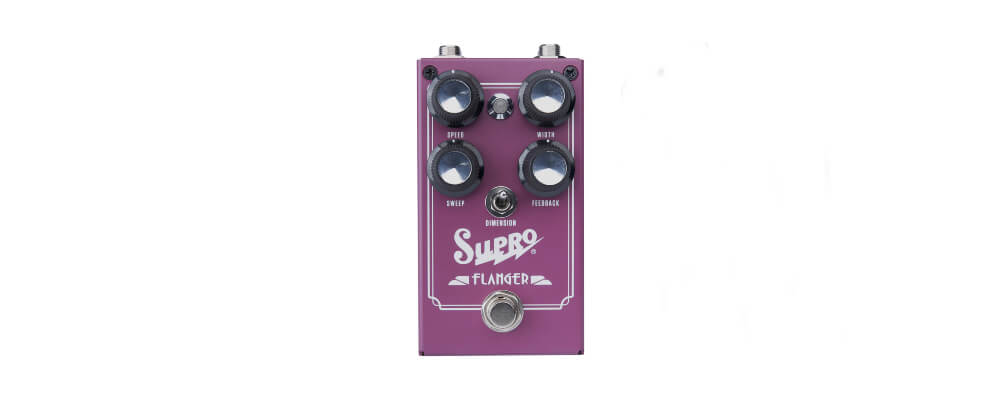 Laser focus pays off. Take Supro's goal of creating "the absolute richest flanger effect possible". Behold success! The heart of the entire setup is a quartet of MN3009 bucket brigade chips. Running on this much juice, there's no problem living up to its promise of exceptional headroom.
Notably, the Flanger distinguishes itself by being the first pedal on the market to harness the Dimension effect. In essence, this serves to crossfeed both of the pedal's channels with each other. Result? A layered, double-flanger effect that you can wield in both mono and stereo.
Having hashed out the main attraction, the Flanger still has plenty of supporting acts. A dedicated bi-directional feedback knob tweaks the amount of resonance in the circuit. One column over, sweep control dials adjust delay time. Rounding out the panel is a Width function, letting you determine just how much flanging intensity you're up for.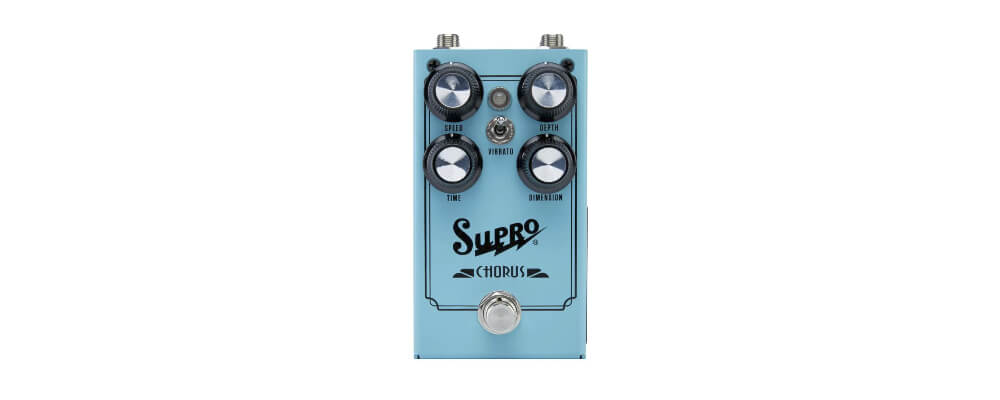 Duality is the Chorus' theme. Bold and sparkling, the vintage-laced tones of this bucket brigade-powered gizmo work beautifully as is. But pump said tones through the dual-chorus circuit and stereo options, and it becomes a sonic adventure.
While all dials yield pleasing combinations, Time's is a real standout, adding delay to one channel while decreasing the other's. It's intuitive adapting done right, and makes for some interesting asymmetries. Dimension control takes a more cohesive approach. You can go heavy on either channel or just let them coalesce in tandem.
Set to its slowest speeds, the Chorus settles into a languid, rotary flow with a pleasing mix of trem and vibrato. Spin it the other way and your tones get a caffeine hit! Twitchy, jittery sounds that could feature on any Tame Impala banger. Psychedelic is an understatement.
---
It's true what they say – you don't know what you've got till it's gone. That's why Supro's resurgence has been such a big deal to musicians. Chances are, once you've had a taste of what they're offering, you'll feel the same way too. Not to put a damper on this momentous occasion, but Supro merchandise rarely stays on the shelves for long. So if anything on this list catches your eye, make haste and grab 'em while you can!
Don't think these products are all Supro has to offer. We've got other fantastic gear from them, as you'll see on our website. Alternatively, let's chat at one of our brick-and-mortar locations where we can show you the works. Full disclosure, this isn't the only exciting name on our upcoming partnership list. Do we have your attention? Good, now leave your particulars with our newsletter form.
Read more: Delay Pedals: A Brief History of the Time Based Effect