Just starting out with music production? Your journey will see you explore a whole range of gear on your way to a fully functional studio space. You've got your Digital Audio Workstation (DAW) and studio monitors. Still, there might not be anything as indispensable as a MIDI controller – so you might as well get the best MIDI Controller you can afford!
MIDI may sound like a term straight out of your favourite sci-fi movie. Laugh, but it's something you've got to know if you're serious about making music.
What is MIDI?
Jargon aside, MIDI stands for Musical Instrument Digital Interface. Think of it as a language your controller uses to speak with your computer and DAW. This connection allows you to play notes, make beats, and tweak sounds. Consider it everything you'd possibly need to create your music. With such power and responsibility, it's no wonder when producers put such a heavy emphasis on the controllers they use.
No two composers are alike. That goes for budgets too. Don't let cash flow dynamics get the better of your studio time. Since companies are always incorporating the latest tech advances into their updates, you won't be left behind. To put you on the right track, we're showing you the best MIDI controllers for under $300.
Read more: Our Studio & DJ Picks for Swee Lee's 75th Anniversary Collection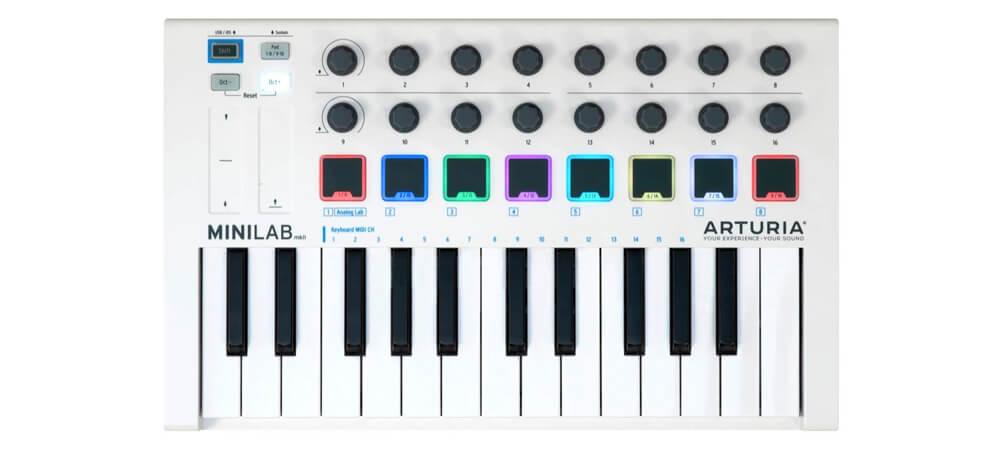 If value is chief amongst your priorities, the Arturia MiniLab MkII 25 should be at the forefront of your list. In addition to its 25 highly functional mini keys, the Minilab MkII has 16 encoders, 8 pads (with RGB lighting) and 2 touch strips (for modulation and pitch) for all your compositional needs. It also comes bundled with multiple tools on the software front. Analog Lab Lite suite (with 500 high-quality sound presets), UVI Model D Piano, and a DAW, Ableton Live Lite.
This mini marvel also saves up to 8 user presets for quick access – perfect for live performance sessions. Arturia has somehow managed to sneak in a sustain pedal jack for added versatility. Perhaps best of all, the MiniLab is a breeze to run. No drivers are required, and it's compatible with both Macs and PCs.

If you're just starting out and only have room for a small keyboard or need something portable? Take a long look at the Arturia MiniLab MkII 25.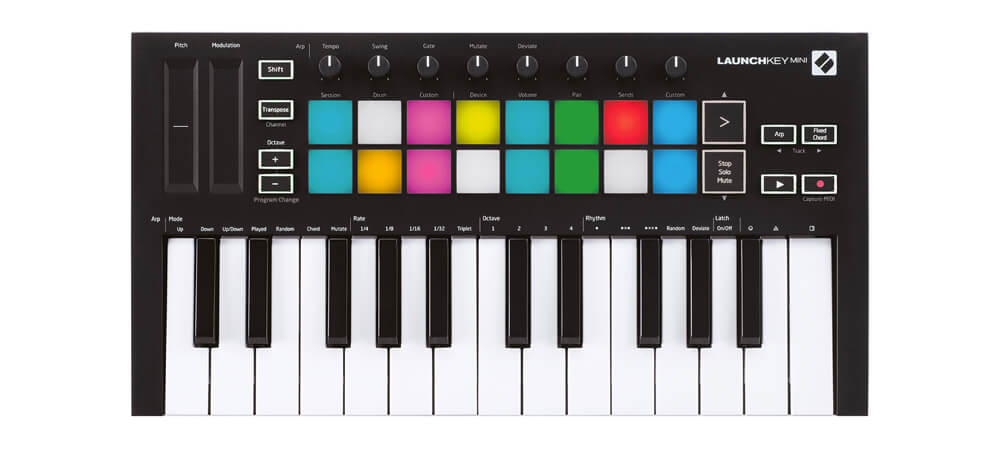 If you've already set your sights on an Ableton primary DAW, the Novation Launchkey Mini MK3 is a worthy companion. The Mini MK3 also meets you halfway there as it already comes with Ableton Live Lite.

Curious as to why Novation is regarded as the go-to interface for Ableton? How bout the deep and intuitive controls for Ableton Live – including device macro-control, track selection, recording, MIDI capture, clip and scene launch, stop/mute/solo, volume, and many other mapped actions.
You'd also be chuffed to know that Novation hardware owners also get exclusive access to Sound Collective – a free content subscription from Novations's plug-in partners. Hardware-wise, the Launchkey boasts 25 synth-action mini keys and 16 velocity-sensitive pads. It's time for effortless sonic manoeuvres in your quest to create neat beats.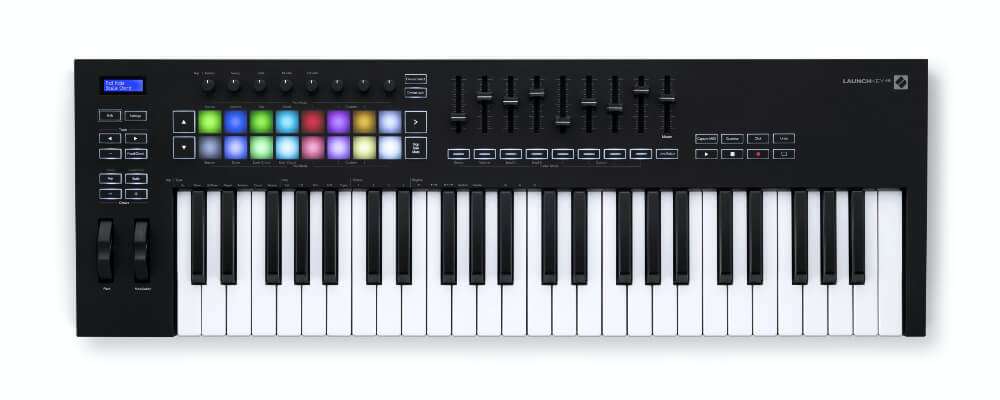 The Novation to end all Novations. It's tightly attuned to Ableton Live, with instant control access at your fingertips. That immediacy extends to DAW integration, whichever you're choosing to use. With all that saved time, you're gonna have tons of energy to burn. How fortunate that the Launchkey MK3 has modes to spare.
Scale Modes first! With eight new onboard picks, expect to add some zest to your chordwork. Transpore keys into the scale of your flavour, no extra brainwork needed. Root note selected, dive into Mixolydian or Dorian scales. Still not complex enough for you. Harmonics time, then. Trigger the chord modes and arpeggiator for a bit of diversity. Then hit mutate, and watch your patterns reassemble into new arrangements.
Side note, the 49-key version is already gold. But for when you need less (or more) for your buck, we've got the solution. The MK3 exists in 3 other formats. Go big with 61 keys, or scale down into the 25 or 37 range.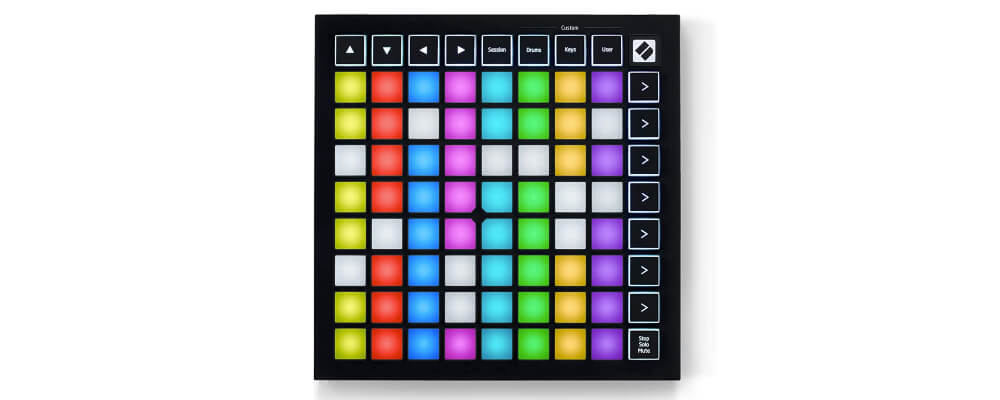 Speaking of small, this candy-sweet controller is cute as a button. Or 64 buttons, if you're being pedantic. Even longtime Launchpad enthusiasts will be impressed by the array of functions and modes this little device possesses.
Let's get one thing clear. The Launchpad Mini is not just a pretty face. Sure, the RGB pads are stunning. But they also colour-coordinate to Ableton Live's session view. It's a chromatic keyboard for notes and chords. Lickety-split, you're in tune with your mixer controls.
Concerned about software issues, especially if you're branching away from Ableton Live? Fret not, the controller integrates to most other major creation apps. It switches modes in a heartbeat, so workflow isn't disrupted. And for those of you who absolutely have to be in total control of all configurations, there's an option to customise MIDI mapping too.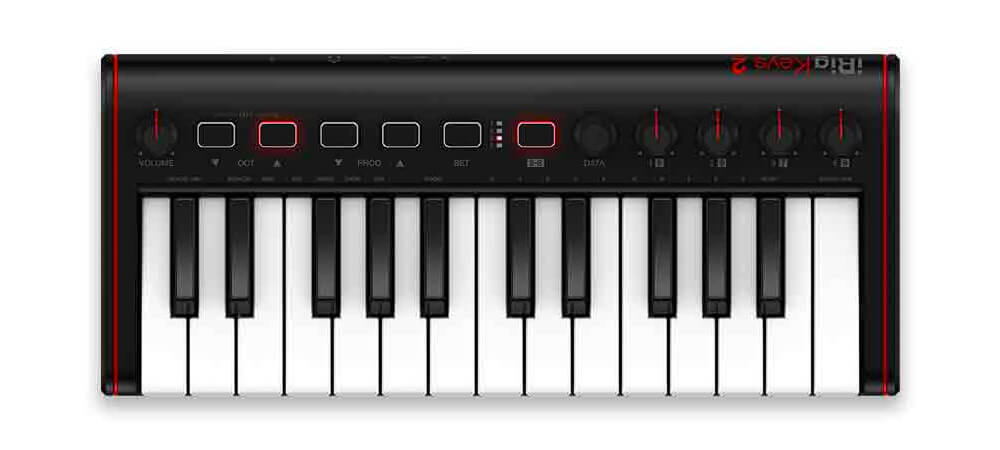 If you're always on the go and want a like-minded MIDI controller, lean into the IK Multimedia iRig Keys 2. Incredibly compact and wired to be compatible with multiple operating systems (iOS, Android, Mac and PC), the iRig Keys 2 Pro can connect to any USB-C device or utilise a "Stand-alone Mode" to control other gear, such as analogue synthesisers.

You'll find iRig Keys 2 to be chock-full of features in the hardware department as well. 37 velocity-sensitive & full-sized keys, pitch and modulation wheels. Even an integrated headphone jack. On the software front, the iRig Keys 2 include IK's SampleTank 4 SE – a collection of 2,000 world-class samples and sounds. Don't fret mobile users, your purchase of the iRig Keys 2 also unlocks free apps like SampleTank and iGrand Piano.
No matter where you draw your inspiration from, you'll rest easy knowing the iRig Keys 2 Pro will be there for you to get those ideas down.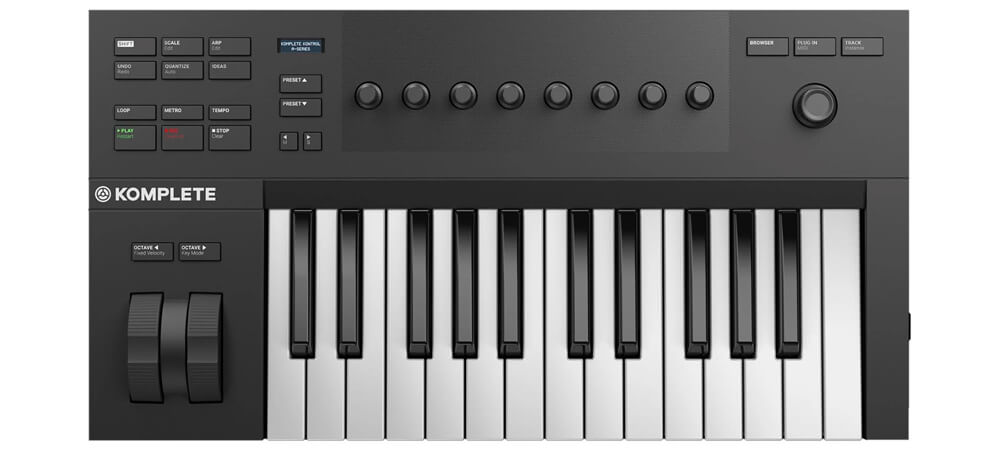 Nothing will make you feel more empowered than the Native Instruments Komplete Kontrol A25 – especially if you're looking to jive with Native's Instruments' NKS (Native Kontrol Standard) and MASCHINE. Don't sweat it if you're looking to start on another DAW though. The Komplete Kontrol A25 has full integration capabilities with all major DAW brands in the market.
The Komplete Kontrol A25 comes fitted with a sleek informative OLED display for intuitive, at-a-glance navigation. Our resident keyboardists were really blown away with its best-in-class, custom semi-weighted keybed. Rounding out the tactile side of things are eight touch-sensitive control knobs, and ergonomic pitch & mod wheels – giving you comprehensive control over all aspects of your performances.
We were also really impressed with the sheer amount of software the Komplete Kontrol A25 came bundled with. With more than 6,700 sounds and 13 GB of content included, Native Instrument is there every step of the way. From starting your track to dropping it to the masses.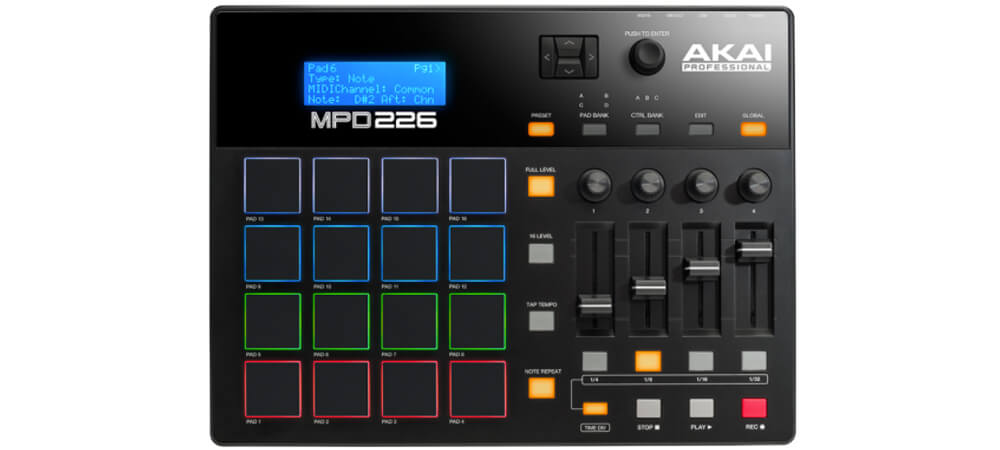 Part pad controller, part control surface and a whole serving of finger-drumming fun! Akai Professional's MPD226 is a retro throwback to the good ol' days of the MPC.
Whereas other MIDI controllers have keyboard layout, the MPD 226 Pad Controller employs RGB pads. Call it an attempt to inject some of that classic beat-making idiosyncrasies into digital music production. The Akai MPD 226 doesn't skimp out on controls though. You still have four knobs, four faders, and four buttons arranged in three banks. That's a grand total of 36 parameters you can tweak on the fly.
The 16 velocity-sensitive MPC has RGB backlighting. Colour coding your layout is a cakewalk, an especially handy feature when you're switching between preset banks for your shows. Akai has also got you covered on the software front. With programs like the Akai Pro MPC Essentials, Big Bang Drums, Big Bang Cinema, and Ableton Live Lite, you'd hardly need anything more to get those creative juices flowing.
---
As you can plainly see, MIDI controllers can be as personal and diverse as the clothes you can find on a Paris Fashion Week runway. While the sheer amount of choices can be daunting, we'd urge you to go with your gut. Budget aside, just pick one that fits well with your personality and workflow.
For our full MIDI controller range, you can head on over to our website here. Additionally, if you'd like to have someone guide you through the process, head on over to our stores. Our friendly staff is raring to help you get the best gear for your needs.
As always, stay tuned to our newsletter to keep up to date with our latest gear releases and features.

Read more: Build Your Home Recording Studio under $1k, $2.5k & $5k