There's no easier, neater way to organise your pedals and effects than on a pedalboard. Having all your stompboxes assembled on one tidy platform allows you to play, transport and store them together. It also enables you to organise the sequence of your guitar pedals along your chosen effects signal chain.
What to Look For in a Pedalboard?
While there are several design elements and features that might pique your interest, it really mainly comes down to these two:
Dimensions and capacity: The smaller the pedalboard, the fewer effects it will carry. If you have a huge arsenal of pedals or are hoping to use a lot of them in one go, a pedalboard with a larger capacity is your best bet.
Portability: Remember that a bigger pedalboard is also heavier. If you're touring or travelling frequently, you probably want to consider a lightweight, compact model.
How to Set Up a Pedalboard?
Setting up a pedalboard can take time, but it's well worth the effort. Depending on the make and model of your setup, this usually entails a bit of DIY. You can either bind your devices to the pedalboard with cable ties or with hook and loop tape. Then simply plug the pedals into a power supply, connect them with patch cables, and you're ready to roll.
Now that you know some of the basics, it's time to meet this year's top pedalboard contenders: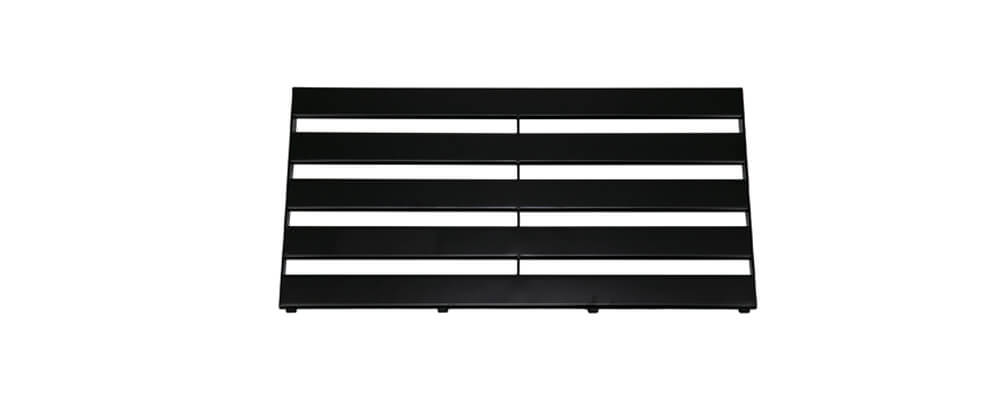 Available in three sizes, Small, Medium, and Large, MONO's brand-new Pedalboard Rail has a few tricks up its sleeve for maximum functionality.
Ultra-light and durable: An aluminium pedalboard that features a weight-saving open rail design, the Pedalboard Rail is built to withstand the rigours of performance. Laser-welded joints, a powder-coated matte black finish and protective hard rubber feet are features that will make sure the Pedalboard Rail will keep rocking day in, day out.
Organisation: The sleek open rail designs on this MONO aren't just eye-catching, but they serve two purposes. Route cables between the rails and bind them on the underside to for an ultra-clean board. The layout allows you to arrange your pedals anywhere on the board, in your preferred order.
Thoughtful design: Every inch of this pedalboard is meant to optimise your playing experience. Designed with a comfortable angle of elevation, the Pedalboard rail offers easy access to your pedals and plenty of room to fit power supplies and patch bays on the underside. Best of all, the Pedalboard Rail comes complete with a custom-designed, reinforced Stealth Accessory Case with enough room for a fully loaded board.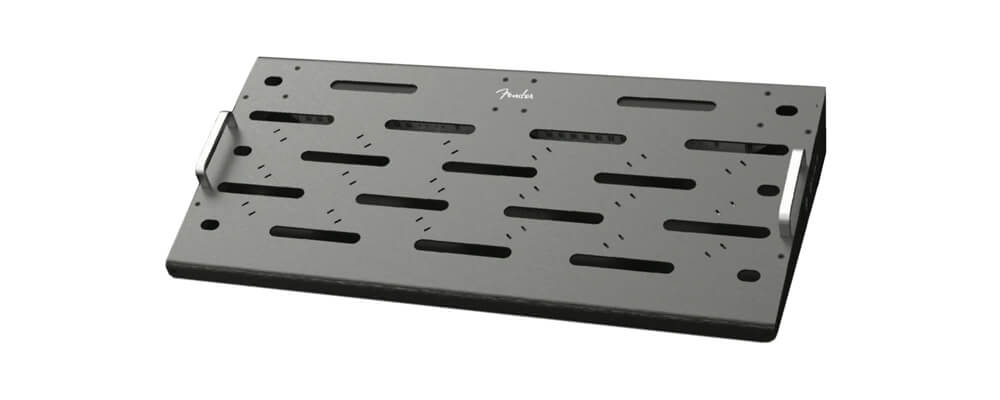 If you're hoping to take your pedalboard on the road, look no further than the versatile Fender Professional Pedalboard.
Built to last: Precision machining takes most of the credit here, creating an ergonomic pedalboard out of lightweight anodised aluminium. As a result, the chassis' structural integrity is never compromised. It'll hold up under the most brutal circumstances, and look amazing doing so.
Intuitive pedal management: Working out how to manage your stomp system is a no-brainer, what with the straightforward layout. Rear-facing metal loops are attached to the undercarriage, effectively holding loose cables in place.
Power Supply Adaptability: Whatever power supply you use, the Fender Professional Pedalboard can adjust. It's all down to the universal mounting bracket. It even works with other accessories, like patch bays, wireless units, and more.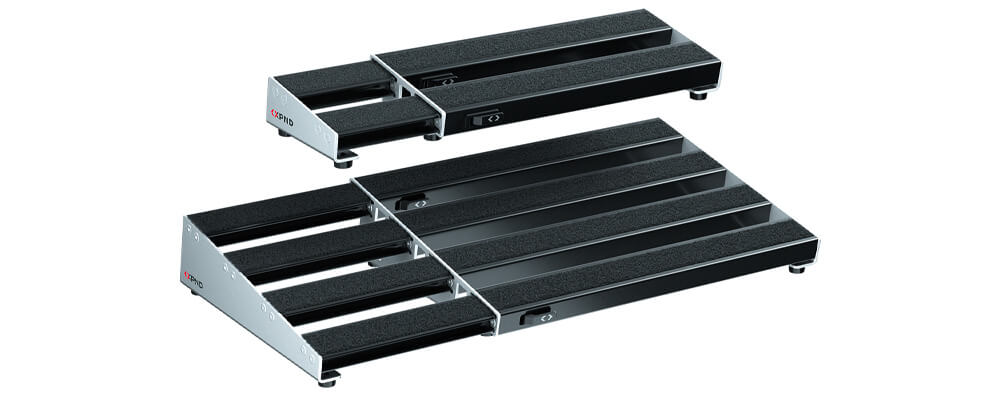 D'Addario is a premier name in the guitar world so expect their pedalboards to be something special. Due to XPND's telescopic ability, we're recommending this one to players who love having lots of effects pedals on hand.
Expandable, not expendable: Making on-the-fly edits to your pedal chain is a breeze thanks to the patented telescoping tech which allows you to expand or retract this board accordingly. It's also a handy feature to have when you're looking to change the size of your effects setup frequently.
Room service: Due to the pedalboard's telescopic ability, you'll be able to fit more pedals onto its usable surface – which in turn adds more cables to the mix. Fortunately, D'Addario has implemented a cable management system to prevent wire and cable mayhem, along with enough extra fasteners to span the fully extended rail length.
Featherlight: Don't worry about straining your muscles while transporting the D'Addario XPND. Its aluminium frame weighs just 1.49kg so it's both durable and portable.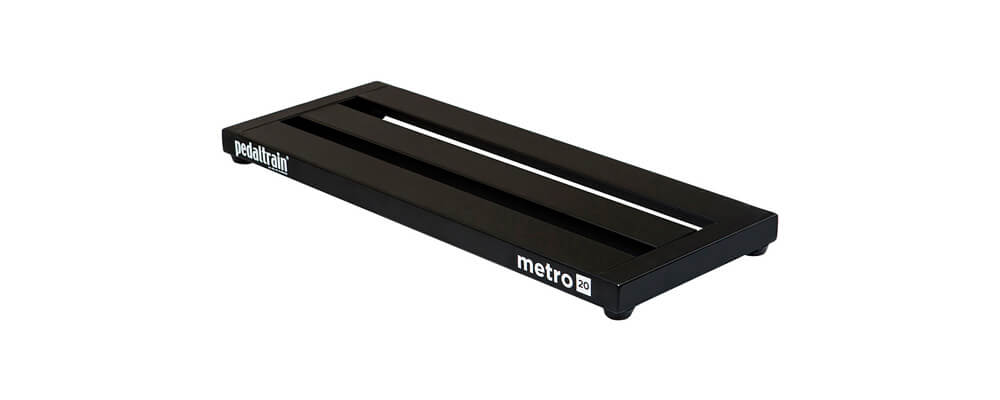 Pedaltrain is a well-established pedalboard manufacturer and the Metro line is one of their best.
Size matters: That's why the Metro comes in a variety of lengths. There's the 16 for pared-down configurations, followed by a 20 and a 24. For extensive stomp libraries, go with the Max. It clocks in at a whopping 28 inches! Whatever your preference, there's a Metro with the proportions to match.
Hassle-free harbour: Working with this pedalboard is a joy. The elevated, open-frame design offers instant pedal reach. Surface slots are aplenty, so connect cables through, over, and under them as you see fit. A supply of Pedaltrain's proprietary hook-and-loop tape is included – a great way to lock your pedals in place.
Made to last: See the powder-coat finish? That's what the Metro is gonna look like for years to come. Its sleek coating is hard-wearing and durable, much like the sturdy aluminium alloy beneath.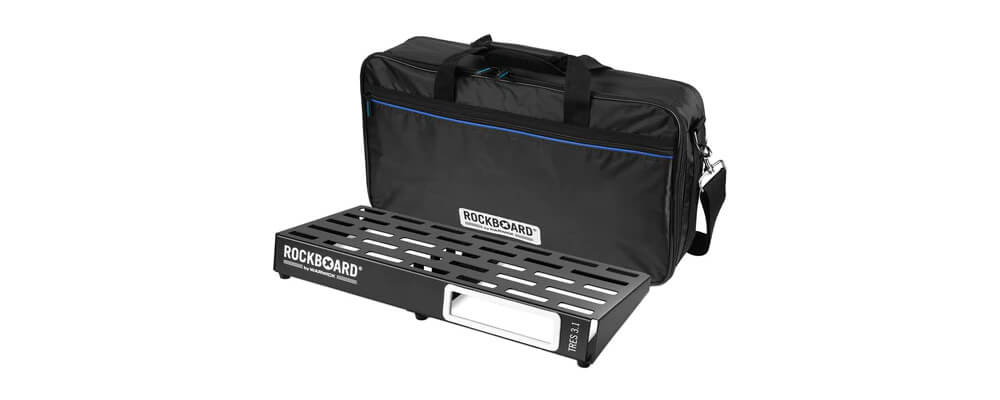 Just like the name says, the Warwick is a rock-solid option for housing your stomps. There are so many options in the RockBoard range that we're confident you'll find one that works for you.
Slots for days: Instead of the typical horizontal slot that runs the full length of most boards, the RockBoard utilises a number of smaller slots on its mounting surface. This adds flexibility, allowing players to construct their individual setups as many times as they need.
Keep it together: Despite being highly manoeuvrable, the pedalboard structure is rigid enough to outlast the elements. U-shaped support braces under the mounting surface provide strength, along with a central brace. The frame itself is made from cold-rolled aluminium. A single, folded sheet is shaped without any welded seams, so no there aren't any weak spots here.
Make it your own: We have to mention that Warwick makes a line of PatchBays specially for the RockBoards. These modular units serve as upgrades that can be mounted directly onto the board's apertures. With so many available add-ons, you can customise your RockBoard to fit your exact requirements.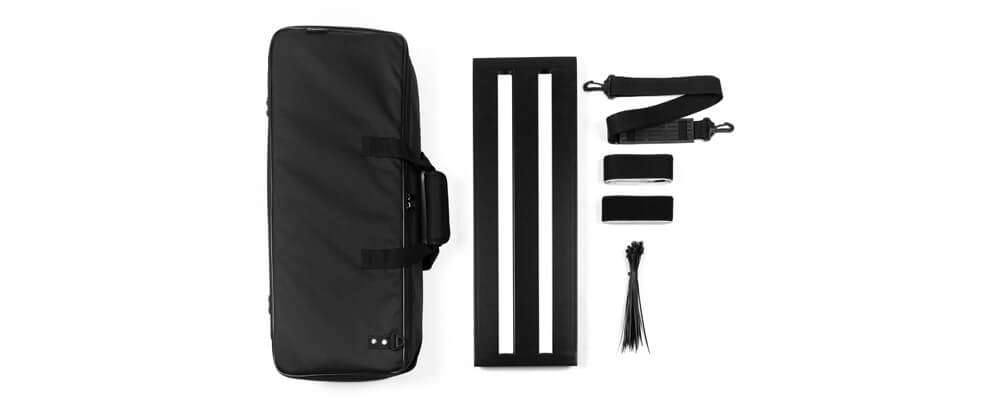 If you're a minimalist, the koda essential shares your vibe. This uncomplicated design is inspired by some of the best pedalboards on the market and is the most affordable on our list.
Fantastic Five: That's because the koda essential comes in five lengths. ONE is our pick for first-timers, being the most compact and portable of the bunch. FIVE stretches up to 24″, which we reckon is plenty of board room for a whole army of stomps.
Case-in-point: Stave off nicks, dents, and other injuries with the pedalboard's corresponding Soft Case. Its coated polyester exterior with heavy-duty stitching has a zip opening for quick access. Inside, a secret mesh compartment holds any other odds and ends you might need for your gig.
Simplicity at its best: This is a pedalboard that values simplicity. The aluminium chassis comfortably fits two rows of pedals, and the continuous horizontal slots tell you exactly where things need to go. It's hard to argue with how elegant and tidy your stomps will look when arranged in a straight line across the board.
Found a pedalboard that fits your playing style and situation? Do bear in mind that your layout doesn't have to be restricted to a single model. After all, music is about experimentation. There's no harm in mixing and matching a few smaller options. Rotate between them or have them out all at once — it's your choice.

Read more: Best Mini Guitar Amps of 2023