Time sure flies when you're having fun! It's not even been a year since we put the first PRS Guitars on our shelves but so much has happened since.
One of the most exalted brands in the guitar world, Paul Reed Smith barely needs an introduction – stemming from their far-reaching reputation for building quality amps and instruments. Often cited as the gold standard for guitar craftsmanship, their instruments are the modern equivalents of the fabled Stradivari and Guarneri violins of yore.

Recent times have seen the release of many interesting models that have further expanded their very comprehensive line-up. In light of this, we've decided to do a quick rundown of some of the newer PRS Guitars that you should definitely know about!
Shop PRS Guitars
P.S. We've just had a shipment of PRS Guitars reach us so if you're looking for the next guitar in your collection, you might want to check it out. Be quick though! They're selling out really fast.
Read more: Why You Should Buy a Custom Shop Guitar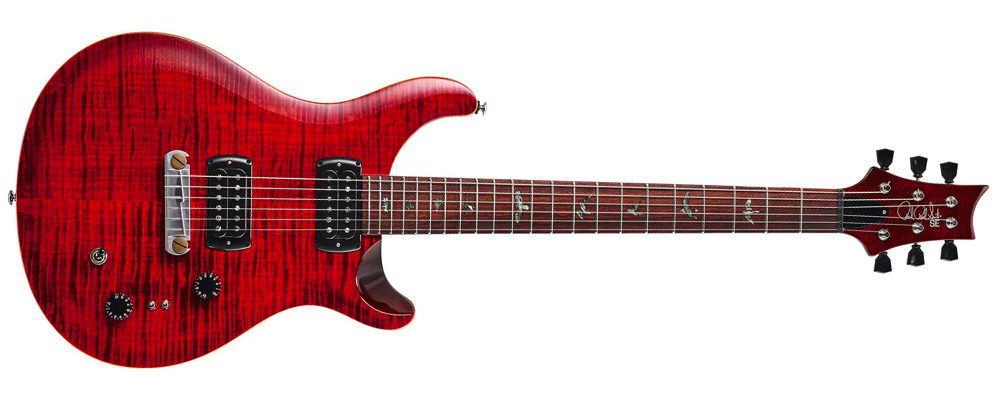 PRS TCI "S" Pickups | PRS Stoptail w/ Brass Inserts | Eight Pickup Combinations
What's more awesome than playing the signature guitar of the person who founded Paul Reed Smith? Taking all the visuals and cues from Paul Reed Smith's personal guitar, the PRS SE Paul takes all the best features from the Core + Private Stock models and condenses them into a guitar with an unbeatable price point.
It all starts with a thick maple cap placed upon a mahogany body – the formula for the famous sparkle and sustain that all PRS players swear by. PRS spared no expense when it came to the instrument's hardware and electronics. These patented PRS bridges are serious works of art, with precision-milled brass inserts enhancing sustain and resonance of this punctilious guitar.
Rounding off this SE is the custom-voiced TCI "S" Treble and Bass pickups and their two mini-toggle switches. This combination (like the PRS SE Custom 24-08) allows you to put either or both pickups in humbucking or true single-coil modes. The end result? 8 different unique tones that range from vintage perfection to modern clarity. If you have a sound stuck in your head, chances are you'll find it with these!
The PRS Paul's Guitar is also available in its original Core version too. Just drop us us message if you'd like to pre-order the Core version.
PRS Guitars SE Mark Holcomb SVN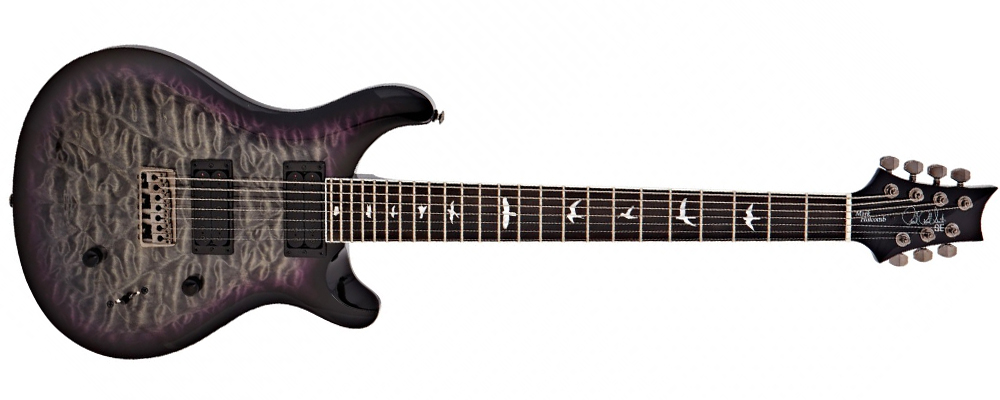 Seymour Duncan Alpha & Omega pickups | 7-String Solid Body | 20″ Fingerboard Radius | 26.5" Scale Length
If you're a fan of djent guitar, you've undoubtedly heard of Mark Holcomb from the progressive metal band, Periphery. Based on his very popular six-string model, the SE Mark Holcomb SVN is an extended range guitar that will help you nail highly technical riffs and solos.

While the Mark Holcomb SVN has much of the PRS DNA, there are a few marked differences that make it more "metal" than your normal Paul Reed Smith instrument. Instead of a tremolo, you'll find a proprietary fixed PRS bridge – giving you unparalleled stability for chugs while being ultra-comfortable for chunky palm mutes. Other modifications come in the form of a flatter 20" fingerboard radius and a longer 26.5" scale length. Both of these changes serve as a platform to aid playability in addition to giving extra clarity when playing in lower tunings.
Last but not least, the PRS SE Mark Holcomb SVN comes outfitted with a pair of Mark's very own signature Seymour Duncan pickups. These custom-voiced humbuckers are ideal for getting your notes to ring clear and true while even under the duress of high gain situations.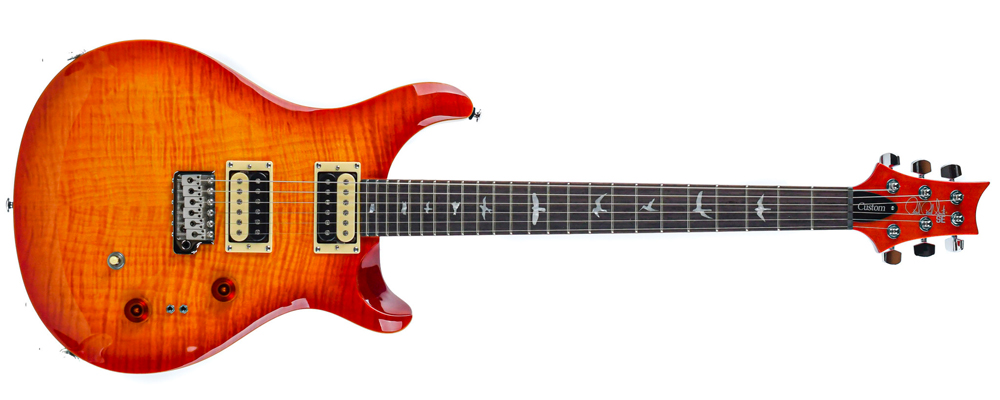 PRS TCI "S" Pickups | PRS Patented Tremolo | Eight Pickup Combinations
A refresh of the guitar that started it all for PRS, the SE Custom 24-08 is a modern update for a guitar that has been a classic since 1985. You've still got everything that made the original iteration so desirable. Think maple top, solid mahogany back and neck, 24 frets, a 25" scale length, and an ultra-smooth PRS tremolo.
The TCI "S" pickups also are here, humbuckers that have been tuned by PRS for superb tones. The end result is a very musical pickup that's true to its lineage, but with a balanced vintage profile and modern clarity. Also, its already impressive tones are further augmented with the introduction of two mini-toggle coil-tap switches – allowing you to independently tap its dual pickups for a grand total of 8 unique tones.

The PRS SE Custom 24-08 is also available in a Core version as well – so you'll also be able to experience the magic of coil-tapping from the Maryland-made version too. You can drop us us message if you'd like to pre-order the Core version.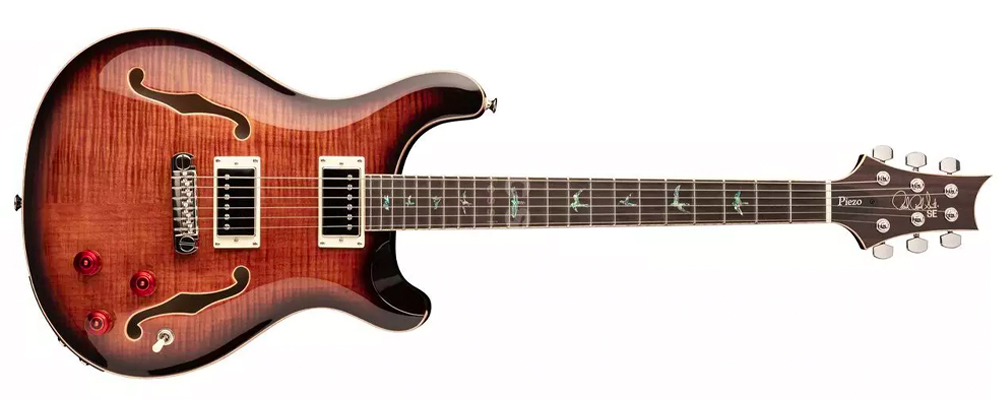 Full-Hollowbody Electric | PRS 58/15 S Humbuckers | Mahogany Neck with Ebony Fretboard
Ever wanted to explore the mellow tones of a hollow body but were scared away by their usually inaccessible prices? Well, with the SE Hollowbody II now you can indulge in a high-quality jazz box without the big-ticket price tag.

A workhorse electric guitar that's built to perform, the SE Hollowbody II has a fully hollow construction with only a small anchor block at the bridge. This, alongside its maple construction, gives this guitar extraordinary warmth, airiness, and resonance that just isn't unattainable otherwise. Other notable specs include a mahogany set neck, ebony fingerboard (with PRS bird inlays), dual f-holes, and two tone-filled 58/15 S humbucking pickups round out the feature set.

The SE Hollowbody II also comes in a piezo-equipped variant. If you have ever desired a pickup that "picks up" on the acoustic tones of your guitar, this addition is a great way to pick up on a feature that is usually reserved for more costly instruments.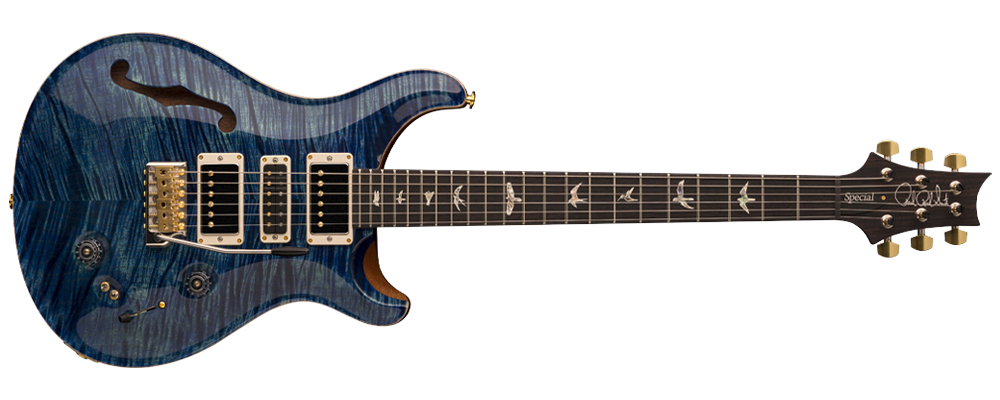 Semi-Hollow Electric | Hum-Narrowfield-Hum Pickup Configuration | 12 Distinct Pickup Combinations
A new Core model for the PRS roster, the PRS Special Semi-Hollow is the ultimate guitar for versatility. While a cursory glance may seem to show a conventional HSH (Humbucker- Single Coil- Humbucker), a closer inspection will reveal the inclusion of a Narrowfield middle pickup. This PRS exclusive pickup has the bite and jangle of a single coil but has the punch and clarity of a humbucker – all done with no hum!

The inclusion of a 5-way blade switch and two mini-toggles (that tap its two 58/15 LT humbuckers) are also chief reasons why the Special can churn out so many tones. We've counted 12 distinct pickup combinations in total – taking you from sultry cleans all the way to mind-crushing gain! Also, don't worry about amplitude drop-offs when toggling between single coils and humbucking modes too. The brains over at PRS have worked their magic to ensure that your volume stays consistent as you switch your pickup configurations around.
As per most of PRS's Core guitars, you'll find the special sporting a maple top, mahogany back, 22-fret, 25" scale length, mahogany neck, rosewood fretboard, Phase III tuners, and the PRS Gen III patented tremolo.
If you fancy taking the Special Semi-Hollow home, drop us a message for pre-orders.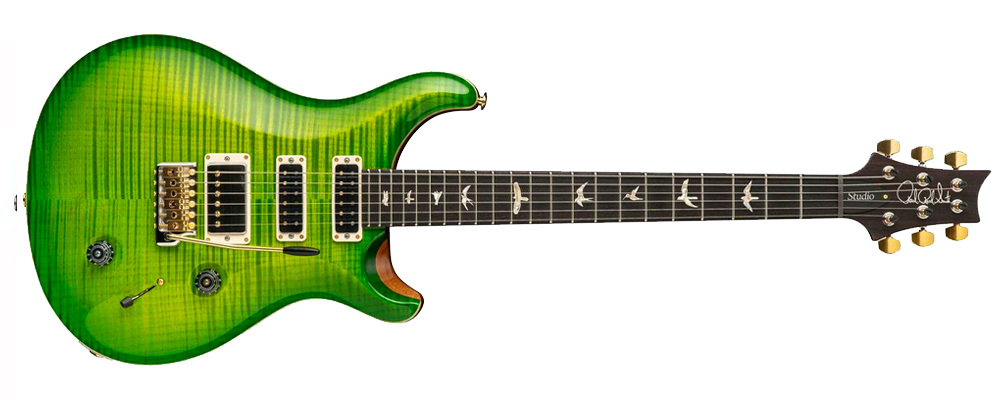 Solid-Body Electric | Narrowfield-Narrowfield-Hum Pickup Configuration | 5-way Selector with Coil Tap
PRS's take on the HSS-style guitar, the all-new Studio is all about tonal dexterity. Instead of single coils, you'll find two Narrowfield humbuckers positioned in the neck and the middle of this guitar. Just as explained with the Special above, the Narrowfield has single coil-like properties. This quality – especially in the neck position – has long been prized for its ability to maintain clarity in higher gain situations while not exuding hum.
You'll also find a 58/15 LT stationed at the bridge. Modelled after the iconic PAF-style pickup, this pickup delivers warm tones that vintage aficionados will love. The LT designation represents its low turn nature – meaning that compared to conventional 58/15 humbuckers – this pickup has a lower number of copper winds. While this does reduce overall output, you'll be rewarded with additional clarity, sweetness, and dynamics.
Additionally, the Studio is equipped with a push-pull tone control that splits its pickups for sparkly single-coil tones. This tonal diversity is further complemented with a 5-way pickup selector switch. The immense flexibility of the Studio is a powerful sonic weapon – giving you an instrument that can serve up any guitar sound you would ever need for the stage and the studio.
Once again, like most Core models, the PRS Studio has a mahogany body + neck, a flame maple top with violin carve, a 22-fret rosewood fingerboard, 25" length, and a PRS Gen III vibrato bridge.
If you fancy taking the Studio home, drop us a message for pre-orders.
---
If you want to get your hands on these instruments, you'd best be quick! We've just got our PRS restock and the guitars have been flying off the shelves. Don't fret though! If you're set on a certain model, you can reach out to us to get your custom order. We'll be able to set you up with your dream PRS Guitar real soon!
Shop PRS New Arrivals
You can also head over to our online store to check out our gear if you'd like to shop from the comfort of your own home. If you need any advice on choosing the perfect PRS for yourself, feel free to contact us online too.

Read more: 8 Reasons It's Time to Upgrade to a Better Electric Guitar