It's been a long time coming but we've got some more exciting news to share! Swee Lee is proud to announce that British-made Victory Amps will now be available in our stores.
Since launching back in 2013, the UK amp manufacturer has gone from strength to strength – with an unprecedented rise that has seen it become one of the most talked-about amp brands on both sides of the proverbial pond. So what is the lowdown on Victory Amplifications? Let's dive in and find out!
So what's the story morning glory?
Victory Amps are a UK company through and through – staffed by a dedicated team of builders who strive to create world-class amplifiers that inspire guitarists on to greater heights! While Victory takes much inspiration from the many iconic British valve amps of the past, their amps take it up a notch by incorporating modern mods that suit the needs of the contemporary player.
Though lead designer Martin Kidd infuses a boutique approach to design and specification to their amps, Victory Amps have always been emblematic of tremendous value for money products. While their entire range of amps utilises hand-wired tag boards and high-end components (including their custom-designed transformers), usage of printed circuit boards where it makes sense to and ultra-efficient supply chain has enabled Victory Amps to produce amazing amps at extremely competitive prices.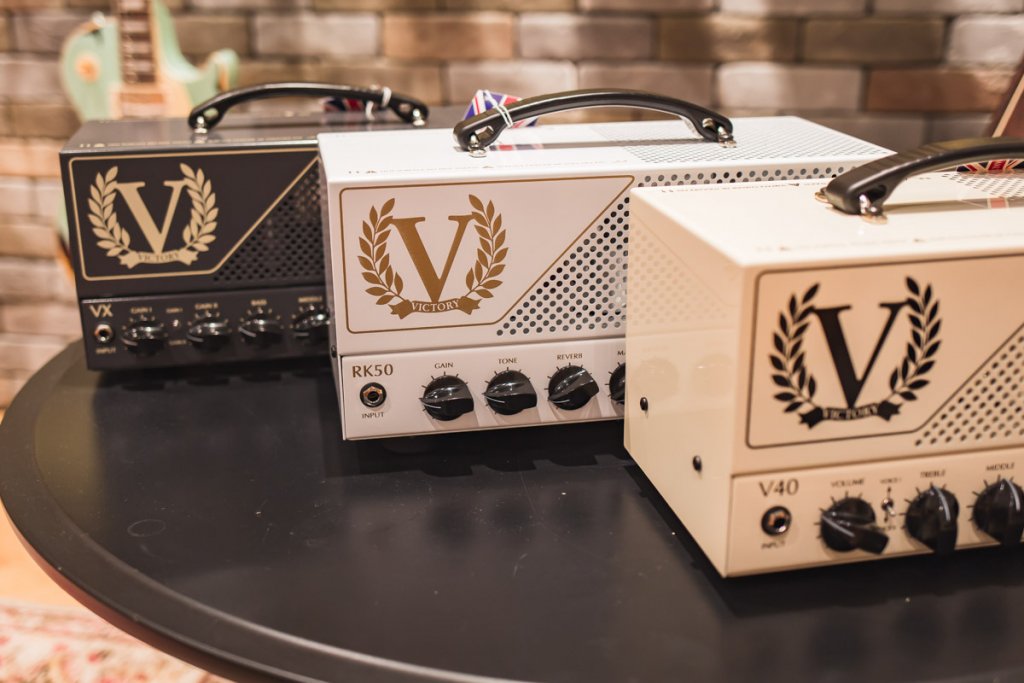 In this overview, we'll be covering the diverse line-up of Victory Amps to give you an idea of what their amps can do, and hopefully help you find the amp that suits your unique needs.
Victory comes in many forms
Before we begin, it might be useful to understand the three main categories of amps that Victory Amps have within their extensive catalogue:
The Compact
Minute amp heads that are more aptly described as lunchbox-style heads with metal chassis – Victory's Compact Amp styles are great choices for getting pure valve tones in a small form factor. Lightweight, well-ventilated, and easy to use, the Compact amps are a great gateway for getting into tube tone!
The Heritage
If classic stacks are the aesthetic and sound you're familiar with, the Heritage series is the one to go for. The Heritage series gives you the bite of a full-powered amp with increased controls, rugged pine enclosures and higher wattages. This classic selection includes full-size heads and combos ranging from 42W to 100W, offering high headroom and irrepressible tone.
The V4
Compact pedal-style versions of some of Victory's most popular amps, the V4 style amps & preamps are the perfect travel-friendly rig solution for the space-conscious gigging musician.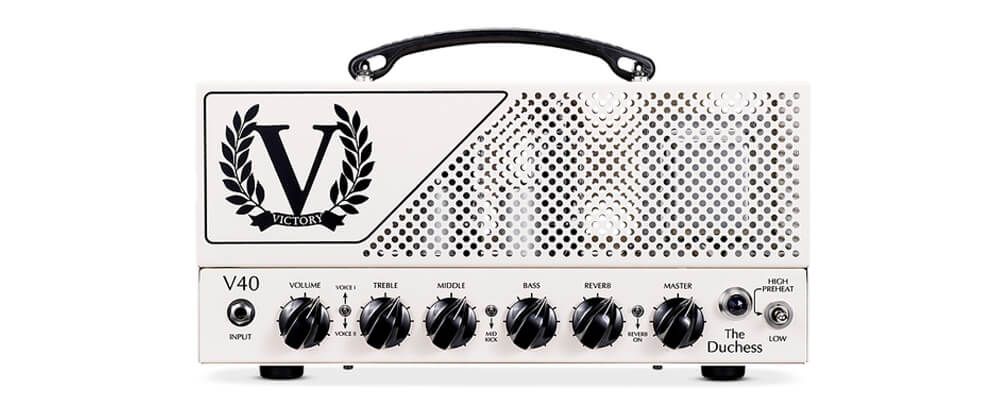 Boutique sounds with built-in reverb and tremolo, the Duchess range are the first amps you should reach for if shimmery cleans and chime are what you desire. Crafted for a defined bass response and a smooth top-end with rich harmonic complexity, the Duchess demonstrates sonic versatility not usually found in single-channel amp designs. In between it's high-headroom and transparent nature, the Duchess makes for a great pedal platform to craft your tone as you see fit.
The Duchess comes in several variations, from the V4 The Duchess Solid State Amp, the V40 Duchess Compact Head to the immense V140 Super Duchess Head (Heritage) with 100W of pure-valve power.
The compact versions feature a digital reverb built-in, while the Heritage amps have valve-driven reverb and tremolo effects. The Duchess V40 is great for clean to mid-gain styles of music in the vein of the blues, rock, indie, and the like.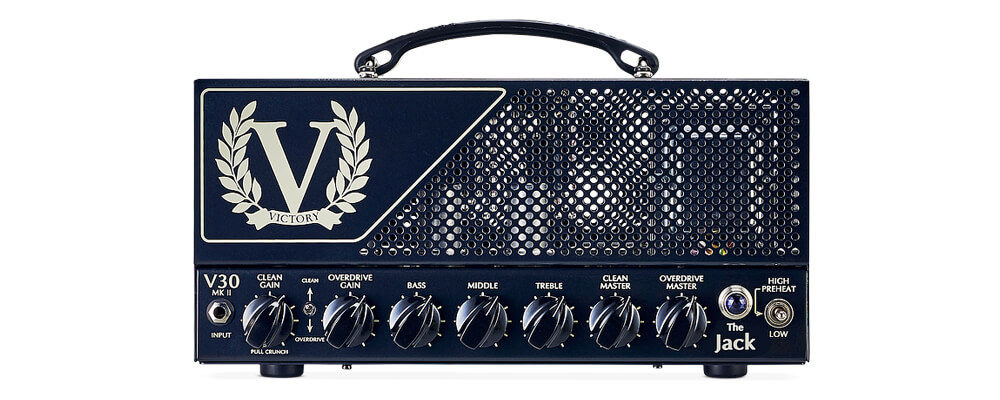 Formerly known as the Countess, Victory Amp's Jack Series is – like the name implies – a Jack of all trades. Originally designed in collaboration with the peerless guitar god Guthrie Govan, the Jack series of amps are made to cover a whole lot of sonic ground while retaining a distinctively British flavour.
Tonally, the Jack amps have two dedicated channels for the ultimate Jekyll and Hyde experience. The clean channel has a classic high headroom chime that doesn't get lost in a band setting or mix. The overdrive channel has a more modern voicing, with plenty of distortion for high octane guitar pyrotechnics à la Mister Govan himself. For the guitarist who wants his cake and to eat it too, these immaculate amps are great for almost any genre of music.
Once again, you've got a number of configurations on offer – from the V4 The Jack Preamp, V30 The Jack MKII Compact Head to the V130 The Super Jack Head (Heritage).
Victory VC35 The Copper Deluxe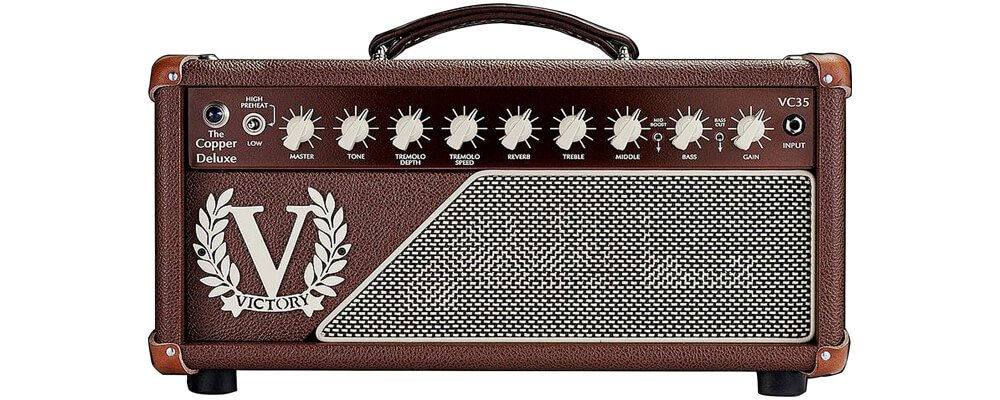 Love that iconic EL84, phase inverted sound from the late-fifties? Well in that case, you'll definitely love Victory's Copper amps!
Embodying the best characteristics of vintage AC-style amps, the Copper amp series has a deep and colourful clean tone that seamlessly translates into fat overdrive as you crank the volume up. While the single-channel configuration of these classic amps may present certain limitations, Victory has added "Bass Cut" and "Mid Boost'" switches for added tonal flexibility that is sure to appeal to modern players. An exemplary amp for rock, blues, rockabilly, jazz and various genres with low to mid-gain applications, the Victory Copper series are the ideal plug-and-play amp for great tones every time.
The Victory Copper range currently consists of four models: the V4 The Copper Amp, the VC35 The Copper Compact Head, VC35 The Copper Deluxe Combo (Heritage) and the VC35 The Copper Deluxe Head (Heritage).
The Compact and Deluxe Copper amps have a series effect loop while both versions of the VC35 Deluxe amps feature valve-driven reverb and tremolo effects for that lush vintage character.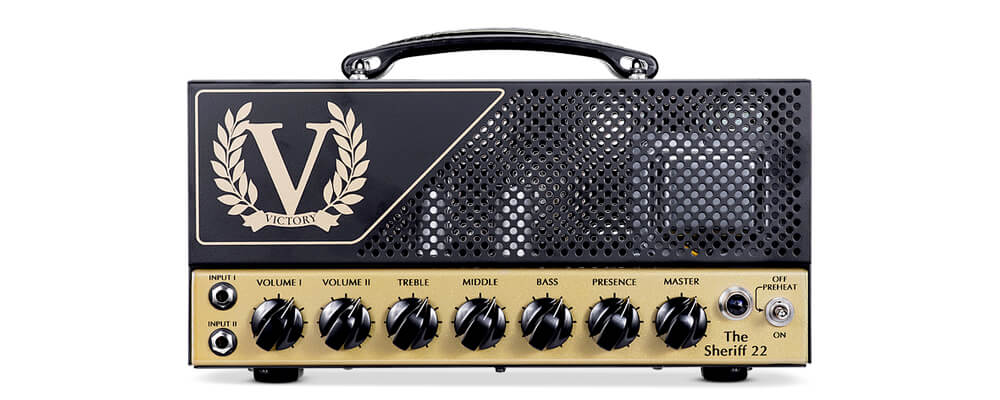 If the plexiglas aesthetic did not give it away, the sounds from this black-and-gold coloured series of amps will certainly clue you in to the tonal origins of this amp.
Based on the classic British amps that fuelled the rock revolution in the sixties, Victory's Sheriff series are amps that gives you all you need for classic tones. Midrange presence? Check. Great clarity? Absolutely! Crisp highs and sustain? In spades!
Just like the original amps, the Sheriff series has two separate Inputs and Volumes (I & II) that function similarly to different amp channels in addition to being independently operable via a dedicated footswitch. Input I has a cleaner profile with a more subtle and vintage-voiced midrange focus – with enough gain for singing sustain but being able to clean up to a sparkly jangle as you roll back on the guitar volume.
Input II, on the other hand, dials the gain up a couple of notches while adding a whole lot of sizzling mids and tighter bottom end. Victory has also included a bright switch mod to help you to taylor the top-end snarl to your musical needs.
For this year, the Sheriff comes in three different forms: the V4 Sheriff Preamp, the Sheriff 22 Compact Head and the Sheriff 44 Head (Heritage).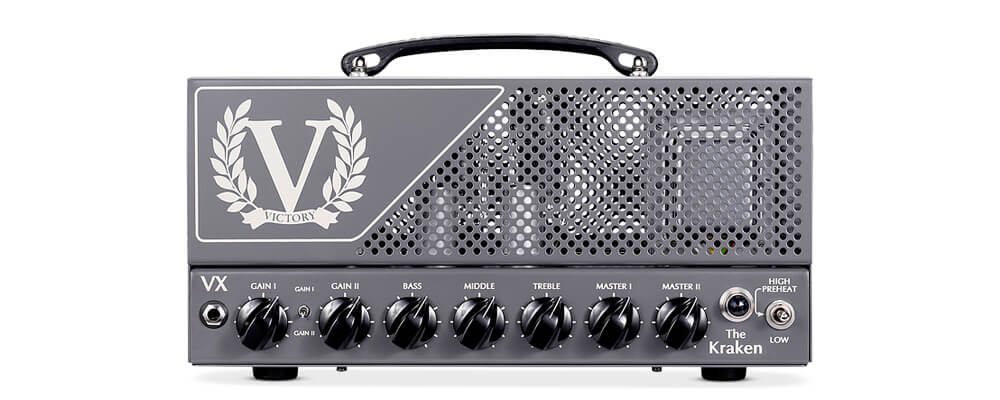 Tight, thick and full of body – Victory's Kraken series are the amps for you if modern rocks and metal tones are up your alley. With a ludicrous amount of gain on tap, the Kraken retains amazing clarity and focus even at its most distorted – ensuring that even extended range guitars retain that cutting edge while you chug on those 0000.
The Kraken is a two-channel beast. You have channel one serving as your clean channel and channel 2 functioning as a beacon for the Horsemen of the Apocalypse. In fact, all versions of the Kraken have two different gain modes on their distortion. There's a British-voiced crunch and a USA-inspired gain stage. If anything north of prog rock, djent, and metalcore are all within your playing plans, we'd definitely recommend these monsters of high gain to you in a heartbeat.
Like the Sheriff above, the Kraken is also only available in 3 formats: V4 The Kraken Preamp, VX The Kraken Compact Head, and VX100 The Super Kraken (Heritage).
---
Check out the Victory amp models we carry. Contact us to test these British-made tube amps out and hear what victory sounds like!
Read more: Welcome PRS Guitars: Pre-order Now