Ask anyone within guitar circles about the fastest way to level up your tone and you'll likely get the same answer – get a better amp! As the final frontier of the journey that begins with the plucking of your guitar strings, the amp takes electronic signals and translate them into sound waves.

As we mentioned in a blog post about guitar myths, skimping out on an amp and spending all your budget on an expensive guitar isn't such a great idea after all. Bad amps give you a fuzzy picture of your sound but the good ones – well the good ones can be an otherworldly experience. That's why so many guitarists rave about holy grail amps (you know the usual suspects!)
However, if you'd like to level up your amp game without parting with a pretty penny, read on! We've got a good selection of amps that'll more than do the job at a great value.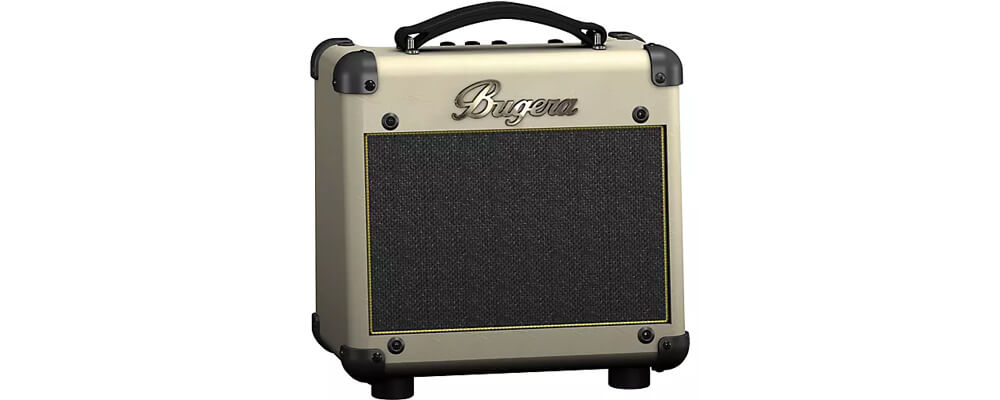 The first one on the list is a newcomer to the Swee Lee collection: the Bugera's BC15 15 Watt Amp.

First things first, the BC15 is a petite amplifier that is all dolled up in a retro way. So what's the deal with this amp? Well, it's on the list as it is the perfect gateway for people looking to get into tube amplifiers.
A closer look will reveal a simple one valve configuration – a 12AX7 in the preamp that will faithfully reproduce vintage tones through its 8" speaker. While it may be small, the BC15 still houses a two-channel preamp that allows you to control gain and fine-tune your frequency spectrum.
Bonus features include a CD input for making practising and songwriting a whole more enjoyable. Another plus is a headphone jack that allows you to practice in silence or run your sound directly into recording inputs or PA systems. Pretty nifty at such an affordable price!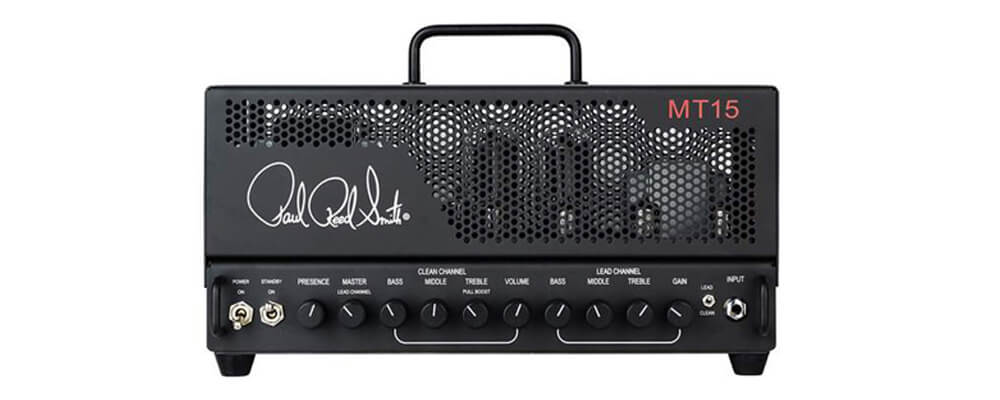 Here's an amp for the modern guitarist! The PRS MT15 is the signature amp of Mark Tremonti (of Alter Bridge and Creed fame). The portable, all-black head is a dual-channel monster that does high gain and crystal cleans amazingly well.
While this amp is clearly geared towards progressive styles, don't be fooled into thinking it is a niche item. With an overdrive pedal plus the integrated boost on the amp, you'll be able to access a whole bunch of tones that will easily take you through rock 'n' roll, blues, country, and more.
This compact package also has an additional boon for bedroom players too. The MT15 has a selectable power mode setting – being switchable between searing 15-watts and a more manageable 7-watts. Other great features include an effects loop that makes it is easy to expand the tonal landscape of your playing via time-based and modulation effects.

A whole lotta amp for not a lot of cash, you'd be hard-pressed to find a better value than this.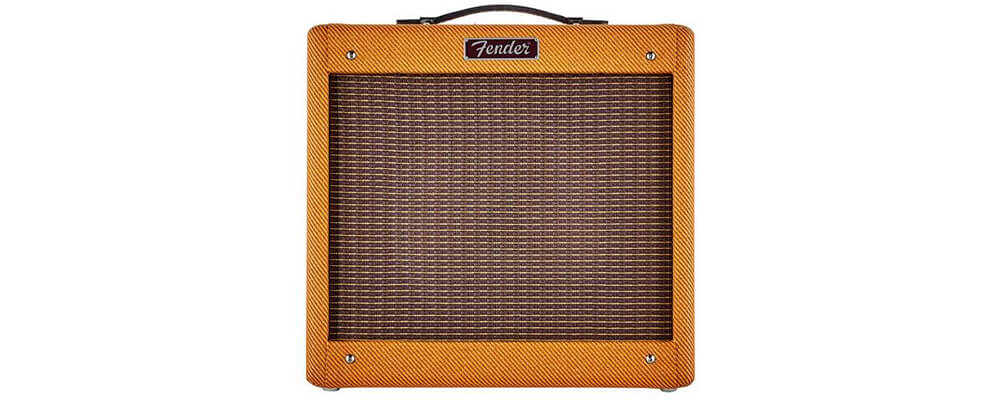 Did you think that we would make a list about amps and not include a Fender in it? Well, it's almost impossible to leave out one of their most popular amps, and there's good reason!
The fourth rendition of the Pro Junior sees a 15-watt amp fueled by two 12AX7 preamp tubes, two EL84 power tubes, and a single solid-state rectifier. This generation's model also sees modified volume and tone circuits that keep sparkle and dynamics in your playing no matter how much you drive it. All this great tone is funnelled through another classic component – a 10″ Jensen speaker.

Housed in a lacquered cabinet with 50s era grille cloth and stitched leather handle, this amp has all the visual hallmarks of Fender's most sought-after amps from the past century.
If you're looking for proper American cleans with enough muscle to go into raunchy rock and blues, we'd wager you'd be mighty pleased with this retro number!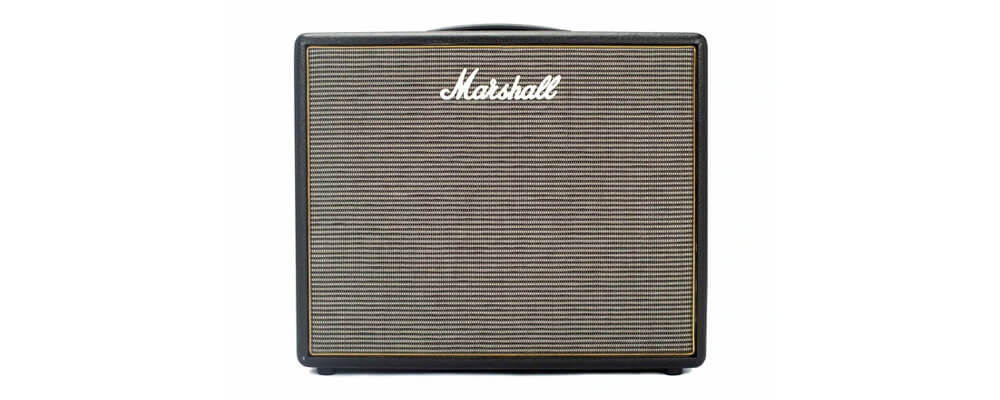 There's just no substitute for that classic Marshall tone and getting that sound has become a whole lot more affordable. Enter the Origin series! A no-frills gateway to great British valve tones.

The controls are exactly as you'd expect from vintage Marshalls but with two added twists – a "Tilt Control" and a separate gain knob (with an internal boost circuit). The "Tilt" knob blends bright and normal sounds just like your favourite Plexi style amps. The separate gain and volume knobs, on the other hand, allows you to get the right amount of crunch without blowing your eardrums out.
An internal look into this amp sees three ECC83 preamp tubes and two EL34 power tubes placed within its chassis. All that sonic horsepower is pumped through a 10″ Celestion V-type speaker for that quintessential English punch.

Great tones that will shake you to the bone, the Marshall Origin is where it is at!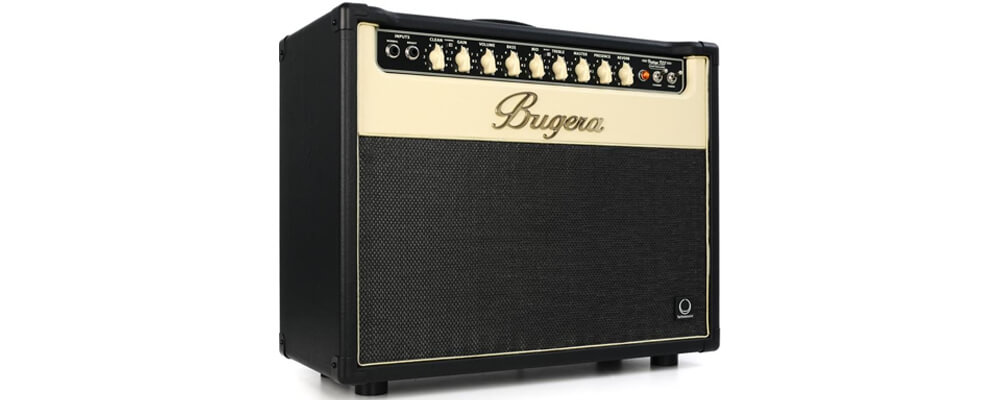 Another Bugera? Yes, but hear us out first! If you're in the market for an amp that exudes vintage character, the Bugera V55 Infinium is one you should consider.
Here are the basics, the V55 comes with two independent channels – clean and overdrive. Tonally, this 55-watter has a 60s era sound – giving you everything from sparkly cleans, crunchy blues, all the way to saturated leads.
Another cool feature is the inclusion of Bugera's INFINIUM Tube Life Multiplier Technology. This useful tech functions to extend the usable lifespan of the amp's power valves by up to 20 times – speak about being economical! Other great highlights from this amp include selectable reverb, a British-engineered Turbosound speaker, and a power attenuator for silent practice.
A boutique-style powerhouse that is a phenomenal stage or studio amp, you owe it to yourself to give the V55 a serious look.
---
Well, that's five amps that give you a heck of a bang for your buck and it's up to you to ponder about which amp suits you best. As always, Swee Lee stocks a huge selection of great guitar amps – so check them out!.
Swee Lee Music is proud to announce our Super Partner relationship with Music Tribe. Thanks to this tie-up, we're excited to welcome the full range of Bugera amps to Swee Lee. If you see a product from Bugera that we don't carry, you can always drop us a message and we'll be happy to help you out!
If you'd like to shop our full range of guitar gear, head over to our online store.
Read more: Amp Modellers: Strymon Iridium vs Walrus Audio Mako Series ACS1