Do you remember your first instrument? The one you learned your first chords and songs on and made countless memories. Many of us hold on to our first instruments, no matter how cheap or poorly made, just for those many sentimental moments.
But some of our first success stories in music can mean moving on from that first instrument. Not because they're unusable or broken, but because you feel you're ready for something better. You probably consider yourself good enough to deserve a higher-end, better made guitar, or you discover that you love a certain type of tone, or you need a wider palette of tonal options.
Most musicians have been there. It's satisfying, and best of all, the thrill and excitement of buying a new instrument is something we all love!
Today we're going to show you what you should be looking for in a bass guitar that you can trust to take with you on the road, serve you well in the studio, and be that constant source of inspiration.
Tone
Tone – the most subjective element of any instrument. At this point, you've most likely discovered your ideal tone – it could be your favourite bassist's tone, or you have an inclination towards a certain type of bass tone. Love the warm, punchy tones you hear on Motown records? Chances are they were recorded with James Jamerson's Precision bass.
Your preferred and desired tone should serve as a guide towards the category of basses you're considering. Trust your ears.
Feel
Feel is yet another subjective factor when looking at an instrument. Some bass players prefer a C-shaped neck while some prefer a wider, flatter neck profile. How comfortable you feel while you're playing your bass should be a big deciding factor when choosing a bass.
Since you'll be holding the bass guitar's neck almost all of the time, the neck profile and how comfortable you feel holding and fretting the strings usually contribute the most to a bass guitar's feel. Look out for how narrow the nut width is – Fender Jazz basses have a narrower nut width than Precision basses.
Other areas to look out for are contoured heels at the base of the neck. This makes higher fret access more comfortable and easier to reach.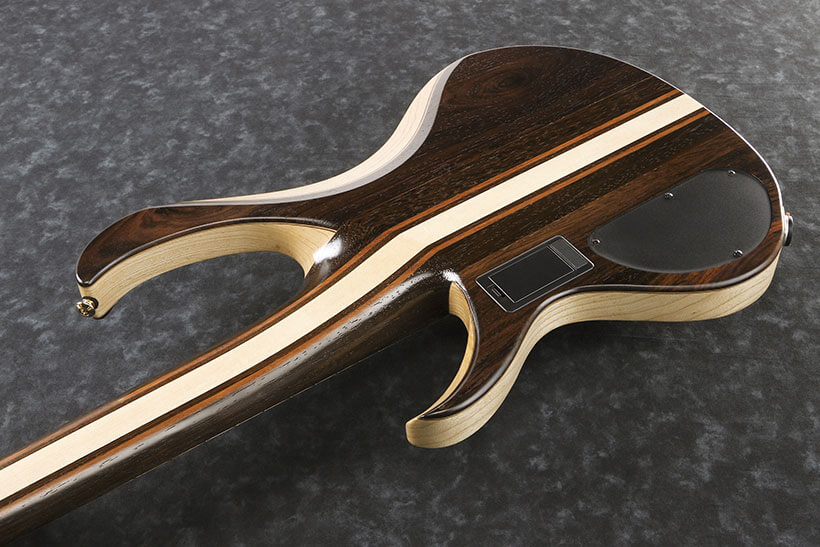 The string through neck with a contoured heel of an Ibanez BTB1805-NTL.

Build quality
As we mentioned before in our favourite bass guitars under S$1,000, you truly get what you pay for in the world of musical instruments. The rise of technological innovations, CNC machining, and higher quality control has seen quality more widely available at a lower price. But stretching your budget upwards gives you an even higher level of craftsmanship. Look out for exotic woods, string-through necks, high levels of finishing and quality pickups.
4, 5, 6 strings?
The number of strings on your bass is not for bragging rights. If you don't know why you need a 5 or 6-string bass, stick to 4. A 4-string bass by is tuned the same way as a standard guitar, and the narrower neck makes it easier and more comfortable to play. 5 and 6 string basses have an extra low B string. If you see yourself using a wider range of notes, these basses offer more room for creativity. The extra high C string on a 6 string makes them great for pulling off fancy bass solos and licks.

Ibanez SRMS806-BTT 6-String bass. Fanned frets? Check.

Active electronics and preamps
Active electronics give you much more control over your sound. You'll see basses with more knobs than usual, or stacked knobs and more switches. These controls allow you to cut or boost certain frequencies without having to touch your amplifier. Active preamps require a 9V battery to run, which require infrequent changing.

The Fender American Elite Precision Bass with a built-in 3-band active EQ
Finally, take your time, enjoy the hunt and try, try, try. Head down to the Swee Lee flagship store at The Star Vista to give the basses an audition. You just might find your perfect bass guitar.
[the_ad id="2793″][the_ad id="2796″]