There's no better time to be in the market for a guitar. Improvements in manufacturing, quality control and technology means high-end guitars no longer have to cost a fortune. Aspirational brands like Gibson and Gretsch and high-value guitars like American-made Fenders are now sold at a more accessible price, and it's not your usual cost-cutting, profiteering story. Value for money is the name of the game here.
Today, we're going to show you a few electric guitars that are punching way above their price tags – here's what $3,000 or less can buy you.
Gibson 2016 ES-339 Studio
$2,999

A Gibson Semi-hollow for under $3,000? There was a time when such prices were unimaginable. Semi-hollows were usually pricier than the already costly solid-body Les Paul, requiring more skill and labour to produce.
All of Gibson's Studio guitars are fantastic. They pack all the tone and character of their regular counterparts but keep the cost down by cutting back on the flashy bindings and other aesthetic appointments.
Fans of smaller bodied guitars will love the ES-339. It's the compact cousin of the legendary ES-335. Sporting a '57 Classic in the neck and a Super '57 in the bridge, this guitar is more than capable of lighting up the stage, despite being named for the studio.
Ibanez Prestige AZ2402-TFF
$2,699

Ibanez worked with professional artists all over the world to develop the next generation of Super Strats which made their debut at the start of the year. The name A to Z denotes the fact that the brand and artist explored the broadest possible range of different features and options – from A to Z!
The AZ2402-TFF is made in Japan, and has high-end features like stainless steel frets, a smooth oval neck grip. Its Super All Access neck join and Seymour Duncan Hyperion pickups give the guitar unrivalled playability. A true players' guitar…
Fender American Professional Series
$2,199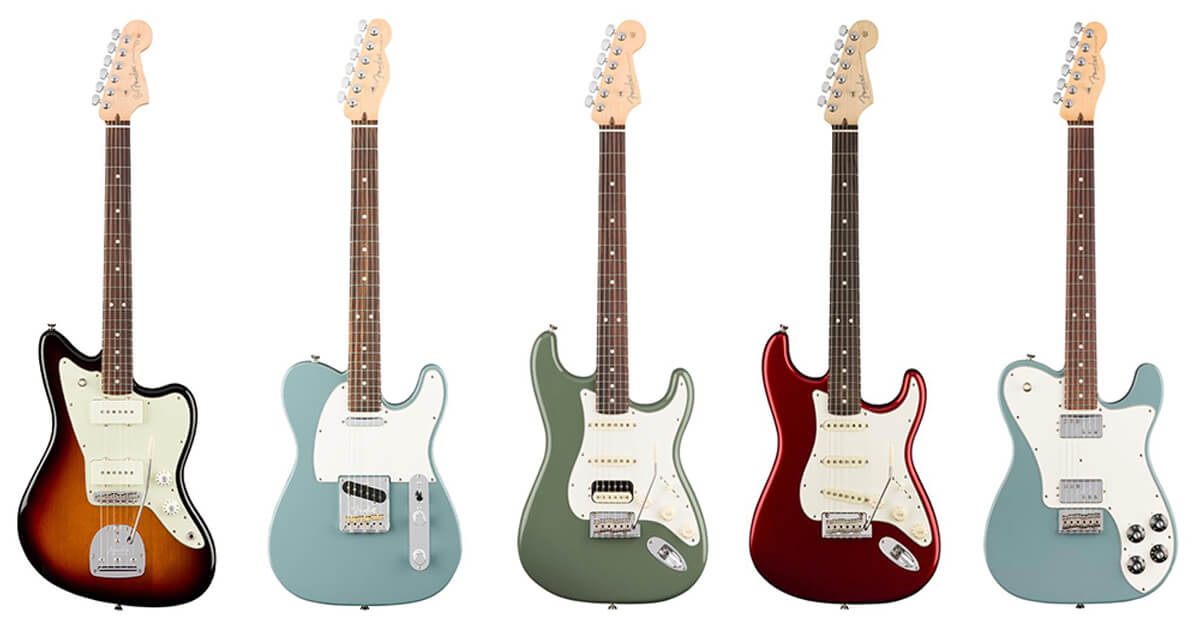 The Fender American Standard line has been a faithful, reliable workhorse guitar for many artists since its inception in 1987. Why fix something that isn't broken?
Because Fender aren't afraid of innovating. And that's just what they did with the American Professional Series.
The most significant difference is the new V-Mod and Shawbucker pickups powering the guitars. Both are  brainchild of Fender's own pickup guru, Tim Shaw.  The new V-Mod pickups feature a blend of alnico II, III and V magnets. Each pickup is voiced specifically for each position, creating high-output tone with while retaining that vintage warmth and crisp, clear sound.
Gibson 2016 Les Paul Studio T
$1,899

Unsurprisingly, another Studio from Gibson makes this list. The Les Paul Studio T is a solid, American-made Les Paul for under $2,000. Just like the ES-339 Studio, the Les Paul Studio T is a stripped down, no frills Gibson, made with the same care, passion and material as the regular models.
Powered by Gibson's popular 490R and 498T humbuckers, the Studio T includes a coil tap. With a push/pull volume knob which splits the humbucker's coils, you're able to unlock single-coil sounds, adding another dimension of tone to the guitar.
Gretsch G5622T Electromatic Center Block Double Cut w/Bigsby
$1,399

Owning a Gretsch has traditionally come with a level of prestige and a hefty price tag to boot, putting the "bona fide" American models out of reach for the budget conscious. In order to allow everyone to experience the "Great Gretsch sound",  the company developed the Electromatic line. Made in Korea, the Electromatic guitars retain the same iconic designs while remaining incredibly friendly on the wallet.
The Electromatic G5622T packs a punch, with two Super HiLo'Tron humbuckers making it more than just a rockabilly guitar. A solid spruce centre block keeps the nasty feedback away and gives the guitar a singing sustain.
Sterling by Music Man Luke LK100D
$1,299

When you get one of the most prolific session guitarists to design a guitar, you know it's going to be good. That's what Ernie Ball Music Man did, developing the Luke III line with legendary Toto guitarist Steve Lukather.
Sterling by Music Man's incarnation based on the Luke III is the LK100D – a mid-priced offering which stays true to the details of its bigger brother. Featuring a floating "Vintage Tremolo" bridge for those Jeff Beck-esque whammy tricks and a pair of DiMarzio Luke Signature "Transition" Humbuckers, the similarities are uncanny.
---
If your budget tops out at $3,000, you're still truly spoiled for choice. Finding the best electric guitar for you is a very personal choice, so head down to our flagship store at The Star Vista, play a couple of riffs and let your next electric guitar choose you.
[the_ad id="2995″][the_ad id="2999″]