Whether you're picking out your first guitar, or you're looking to upgrade starter kit, figuring out how much you should spend on an electric guitar can be tricky business. S$1,000 today will get you incredible value, as we've already shown with acoustic and bass guitars.
However you intend to use your new electric, the midrange price bracket will certainly get you an instrument you can be confident to take on the road, or let loose with in the studio. There are a number of different factors to consider when picking your electric guitar beyond shape and colour. Playability and tone become much more important factors the higher up the price bracket you go.
With that in mind, here are our picks for electric guitars under S$1,000…
$899
Let's start with arguably two of the most iconic guitars in the world – the timeless Stratocaster and Telecaster. Since their inception in 1954 and 1951 respectively, they've taken the world by storm, becoming mainstays with countless players ever since. The versatility of these guitars have seen guitarists from a wide variety of genres rely on them. Just to name a few…

Stratocaster:
Eric Clapton
John Frusciante
Jimi Hendrix
John Mayer
Yngwie Malmsteen

Telecaster:
Keith Richards
Jimmy Page
Richie Kotzen
Bruce Springsteen
Brad Paisley
Gretsch G2622T Streamliner
$859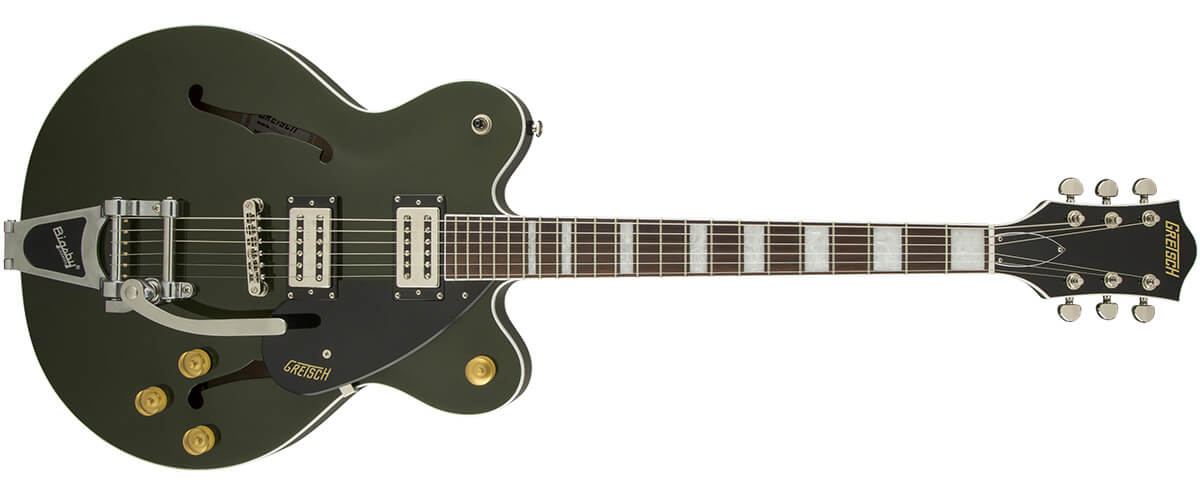 The Streamliner line of Gretschs began in 1955, as a range of affordable electrics in the Gretsch catalogue. More recently, the range has been revived, making the "Great Gretsch Sound" more accessible to guitarists all around. The mix of a spruce centre block semi hollow, Filtertron style pickups, and a Bigsby makes for more than the perfect rockability guitar, with its blendable Broad'tron pickups delivering sweet, chimey tones suitable for super-charged hard rock to Chet Atkin-esque fingerstyle.
Gibson 2016 SG Faded T
$999

A Gibson under S$1,000?! You heard that right. Like all Gibsons, this SG Faded T is made in the USA, in the same factory that churns out the Les Paul and other solid body electric guitars. Finished with a thin, nitrocellulose lacquer, they don't go through the arduous and time-intensive process the gloss finished guitars do, hence the lower cost. These stripped down guitars retain the same pickups and electronics as their costlier counterparts, and as you can expect, sound great. The SG Faded T offers tremendous bang for your buck.
$879

For three decades, The Ibanez RG line has been one of the first choices for players who favour speed and intensity. This guitar combines form and function – it is an aesthetic beauty, with an exotic, figured ziricote top and mahogany back, yet retains the features that make it a shredder's workhorse guitar. The DiMarzio Air Norton and The Tone Zone pickups are a popular configuration delivering a wide variety of tones, from spanking cleans to chunky high-gain tones.
[the_ad id="2306″][the_ad id="2307″]
Go ahead, take your pick. There are many, MANY more electric guitars under S$1,000 – there will surely be one that suits your budget, taste and playing style. Check them out online here, or head down to our flagship store at The Star Vista, play a couple of riffs and let your next electric guitar choose you.