You should be reading this at home. Probably after putting down your guitar. Musicians like you and us, we've got our instruments to keep us company. Why not go one step further and consider recording your music at home?
Even before this "Circuit Breaker" measures were put into place, many musicians were already producing music at home of quality once thought impossible outside a professional setting.
Homegrown singer-songwriter Charlie Lim is one of those who have hopped on the home studio bandwagon. He even takes it one step further by making sure he's able to take his equipment with him when he travels.
Fresh off the release of his latest new single, "Hummingbird", co-written with fellow local musician Linying, Charlie is back in Singapore and we managed to catch up with him to talk about recording at home.
He tells us the benefits of having a home studio, and gives us a quick glimpse into the gear he uses to record his music, plus reveals some of his plans for the rest of this year.
Why record at home? Everyone will have a different reason, but what are your main reasons for recording at home, even though a pro studio will have all the expertise and tools at their disposal?
Having an environment where you feel most comfortable working in is probably the biggest draw for recording at home. There's something about figuring things out on your own that I find quite liberating. It's nice to take the pressure off and not be worrying about the clock, and that helps when you're coming up with ideas and doing demos. It's the equivalent of singing in the shower, there's no judgement.
What made you decide that you were going to invest in home recording equipment?
I've always been inspired by people who own their own gear and know how to use it. I don't have a lot of hardware, I've just been slowly putting together bits and pieces along the way, upgrading as I go along. Everything's quite compact and easy to bring around, which is really important for me when I travel and need to set up a session quickly.
Briefly tell us what your recording process at home looks like?
These days I try to avoid messing around too much on the computer when I'm in writing mode. It's either just straight to voice notes or I record a demo without a click. I just put down whatever comes to mind first so I don't have to deal with grids and just try to live with really basic sound design in order to get the song out first.
I get carried away very quickly if I don't play something "right" or if I feel something could sound "better". But once that's out of the way, I flesh it out on Logic and lay down whatever tracks I can on my own.
When I'm in tracking mode it can get pretty intense, because recording at home is like a double-edged sword where you have unlimited time to do the same take over and over.
Any advice for musicians wanting to start recording at home?
You really don't need a lot these days. I'd suggest sticking to a few tools that you're comfortable with rather than buying too much gear and spending more time learning how to use them than actually using them to make music.
It's also fun to make use of your environment, especially since it's such an uncontrolled one when you're at home. Experiment with more unorthodox ways of recording and layering tracks, find happy accidents and work with what you have.
Dream piece of studio equipment?
A stereo pair of AKG C414s would be amazing to record piano and percussion at home. I think it'll be nice to have a proper weighted 88-key controller as well – the Arturia KeyLab mkII and Native Instrument Komplete Kontrol S88 MK2 ones feel great and they'll integrate well with my workflow as I already use their VSTs.
What DAW are you using?
I've been a Logic user since I started writing songs, though sometimes I mess around on Ableton.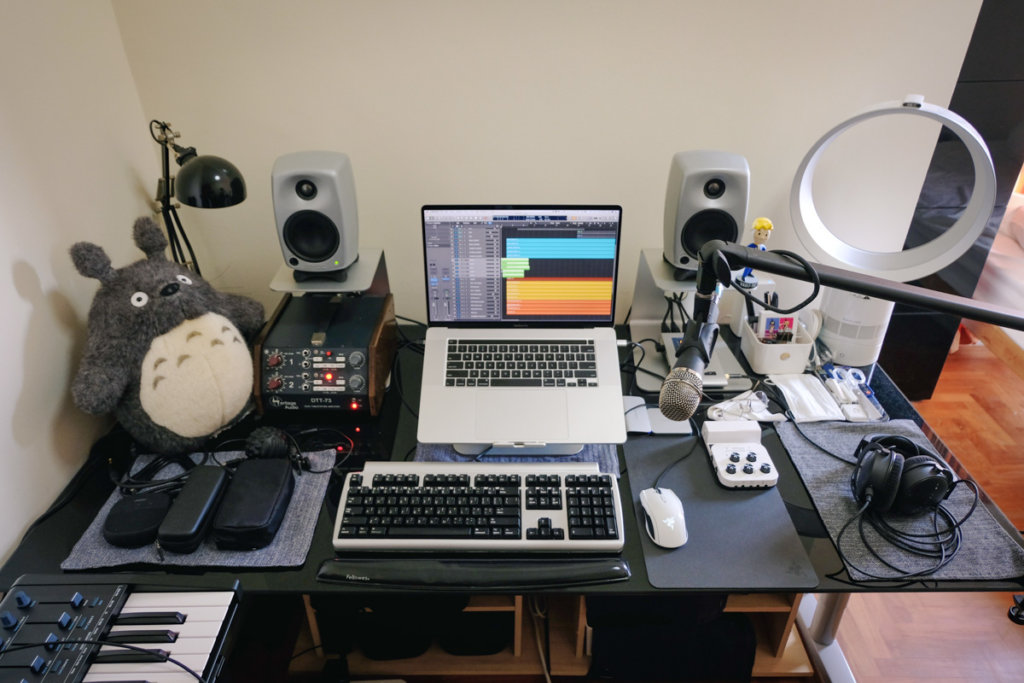 What's something cool you recently got hold of?
I'm currently loaning this new American Ultra Telecaster, it's one of the most playable Teles I've tried. It's got a really great neck along with the satin finish. I'm a big fan of compound radiuses as well, you can get the best of both worlds especially if you want that classic Fender feel when you're playing open chords. The Texas Tea finish is beautiful. I'm still getting used to the pickups as I've always had vintage wounded ones, but I've been having a lot of trouble with single coils when I record direct in these days, so this is probably the way forward.
I also just got these MONO Studio Monitor Stands, which might sound eponymously unremarkable, but they actually have been quite a game changer! I've got my monitors exactly where I need them to be, and also got some extra shelf space. It makes cable management so much easier. The aluminium finish matches the rest of my computer stuff, which is always the cherry on top when deciding to acquire new gear…
Show us some of the instruments you use, like your controllers and guitars.
I'm using the 61-key Arturia MKII KeyLab as my main controller, and the Arturia KeyStep if I'm on the road. I use mostly Arturia VSTs for synths, but I have a Dave Smith Prophet REV2 module which I love. I have an old Taylor 510 acoustic and a GS Mini, as well as a couple of Strats, a Tele, an ES339 and a Fender Jazz Bass.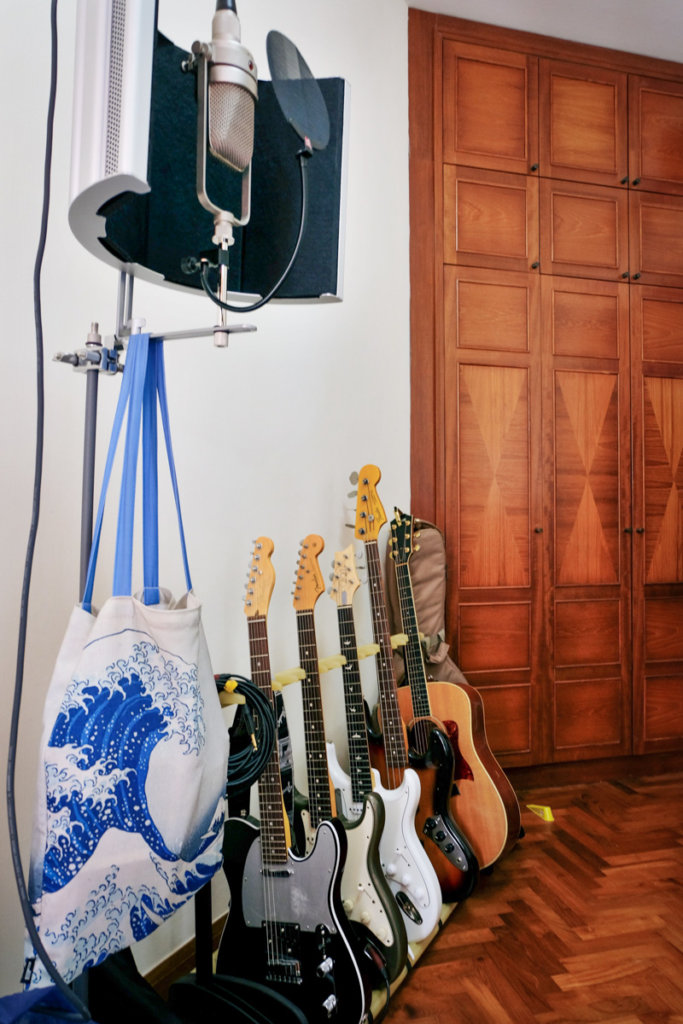 2020 has got off to a start no one could predict, what are your plans for the rest of the year? What can people expect from your next release?
Yeah it's been pretty whack, I was based in London for a while but had to cut my trip short until this blows over. Staying home has been forcing me to just solely focus on writing and producing, because there's no excuse to go out for meetings and whatnot. On my end, I've been working on more collaborations this year, with Hummingbird being the first and now Two Sides with Gentle Bones.
Were any parts of your collaboration with Gentle Bones recorded at home?
The new track was pretty much self-produced and arranged at home, with the exception of some of Joel's vocals which were recorded at a studio. Guitars were all DI-ed, and instruments were a combination of Arturia V Collection and Komplete stuff along with a bunch of plugins. I might do a Logic breakdown session for people if they're interested.
Musical performances are pretty much non-existent at this moment unfortunately, but many musicians are turning to live streaming their performances. If we want to get started with live streaming, where's the best place to start? What pieces of equipment would you look at?
I'm still very new to this world, but I suppose it's going to be the new norm. I'll be trying the Roland GO: Mixer Pro for my next livestream, I've heard good things about it so we'll see how it goes!