Father's Day is just around the corner, and it can sometimes be tough to buy the perfect gift for dad. Naturally, we'd tell you to give the gift of music! And we believe that a beautiful way to honour dads is to help them realise their musical dreams. Because it's never ever too late to pick up a new instrument or relive those glory days!
If you're looking for a great gift that will melt the heart of that special stoic man in your household, this guide will be a great starting point if he's an eternal music lover like us. Or, if you're a dad and have always harboured dreams of picking up a guitar to emulate your musical heroes, you've come to the right place.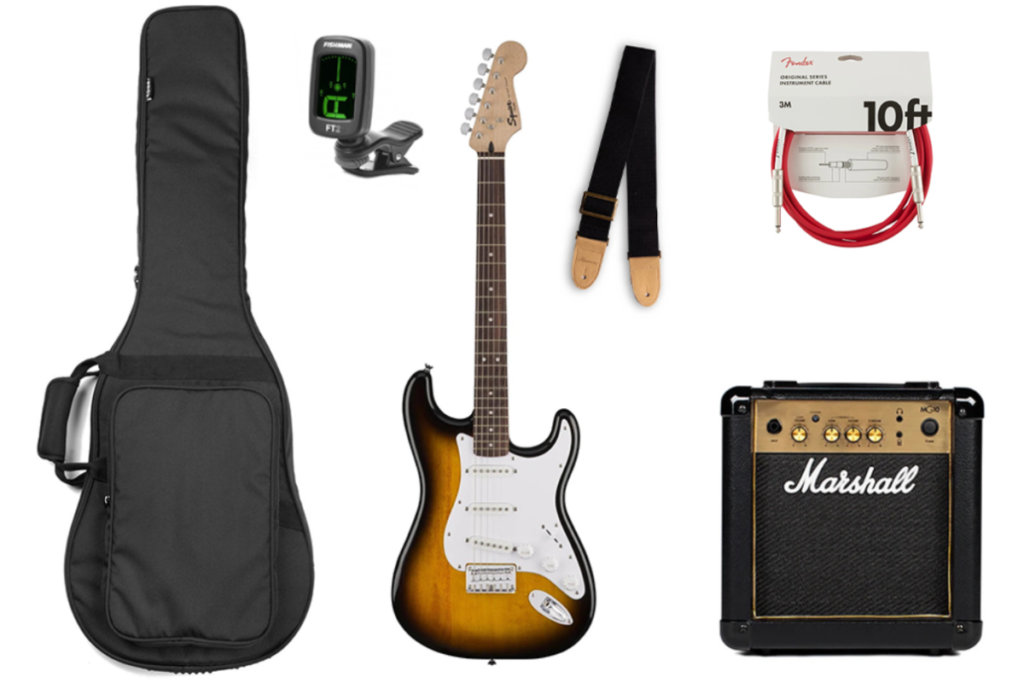 Throughout the years, countless music greats have gone onto the stage or into the studio with the iconic silhouette slung across their shoulders to play some of the most cherished music known to man today. From the original guitar heroes such as Buddy Holly, Hank Marvin, Jimi Hendrix, Dave Gilmour, Eric Clapton and many others, the Stratocaster has always been the default instruments of choice for expressing their musical ideas.
If you've ever desired tones from The Shadow's "Apache", Eric Clapton's "Layla" or Dire Strait's "Sultan of Swing" then you should look no further than this Strat pack. Featuring the classic combination of a single-coil equipped Fender and the classic brown sound from a Marshall amp, you can rest assured knowing that you've got a pedigree of two brands that have shaped rock 'n' roll music history throughout the ages.
The Squier Electric Guitar Starter Bundle includes the following music gear:
Squier Bullet Stratocaster Hardtail Electric Guitar, Laurel FB, Brown Sunburst
Marshall MG10G 10W Guitar Combo Amplifier
Harmony Cotton Guitar Strap, Black
Fender Original Series Instrument Cable, 10ft, Fiesta Red
koda plus Electric Guitar Case ONE
Fishman FT-2 FLIP-ON Clip-on Digital Tuner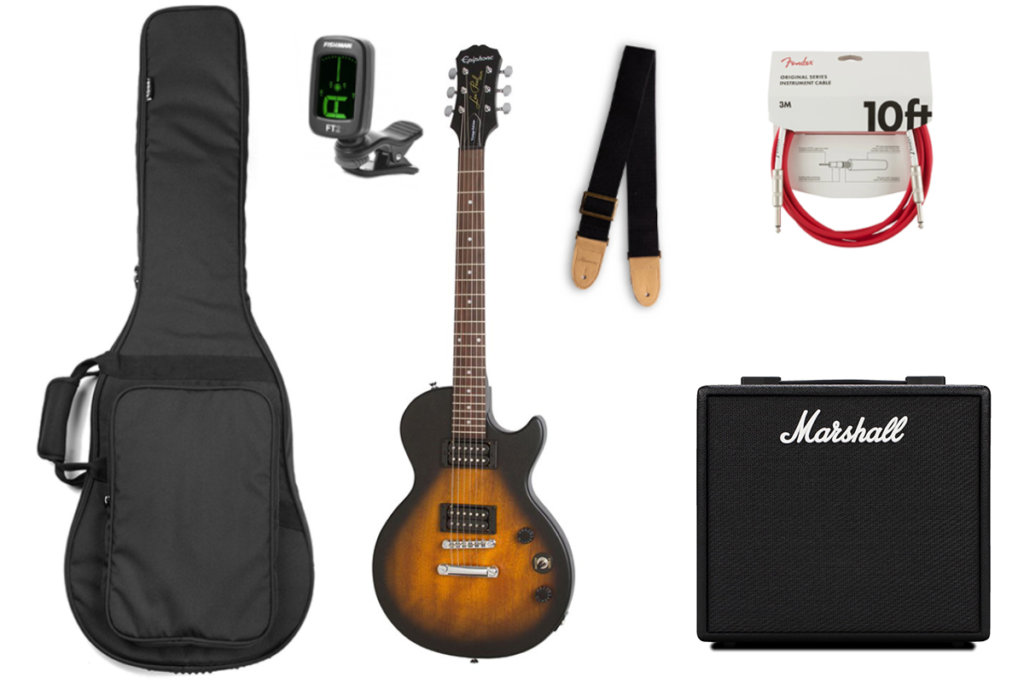 If you've seen old photos of dad with a mullet or dug up his old clothes and found leather tights – chances are dad was a serious rocker in his youth. And what do some of the biggest rockstars play on stage? A Les Paul.
Don't get us wrong, this isn't a blast to the past or a nostalgia trip, the Les Paul is still one of the most popular guitars today, for good reason! This iconic guitar has been slung by legends – think Jimmy Page's snarling tone on Led Zep records, Slash's thick, unmistakeable guitar riffs, Gary Moores soaring sustain and gloriously warm sound.
A fitting approximation to the gear used by many revered Les Paul players, the Epiphone Pack consists of everything you need to get started on his musical journey. A Les Paul and Marshall pairing gives you a tried and tested combination for a smorgasbord of classic tones that will take you from clean chimes to distorted growls with extreme ease. Rounding off the pack are various high-quality accessories that will make your playing experience as seamless as it can possibly be.
The Epiphone Electric Guitar Starter Bundle includes the following music gear:
Epiphone Les Paul Special VE Electric Guitar, Vintage Worn Vintage Sunburst
Marshall CODE25 Guitar Combo Amplifier
koda plus Electric Guitar Case ONE
Fishman FT-2 FLIP-ON Clip-on Digital Tuner
Harmony Cotton Guitar Strap, Black
Fender Original Series Instrument Cable, 10ft, Fiesta Red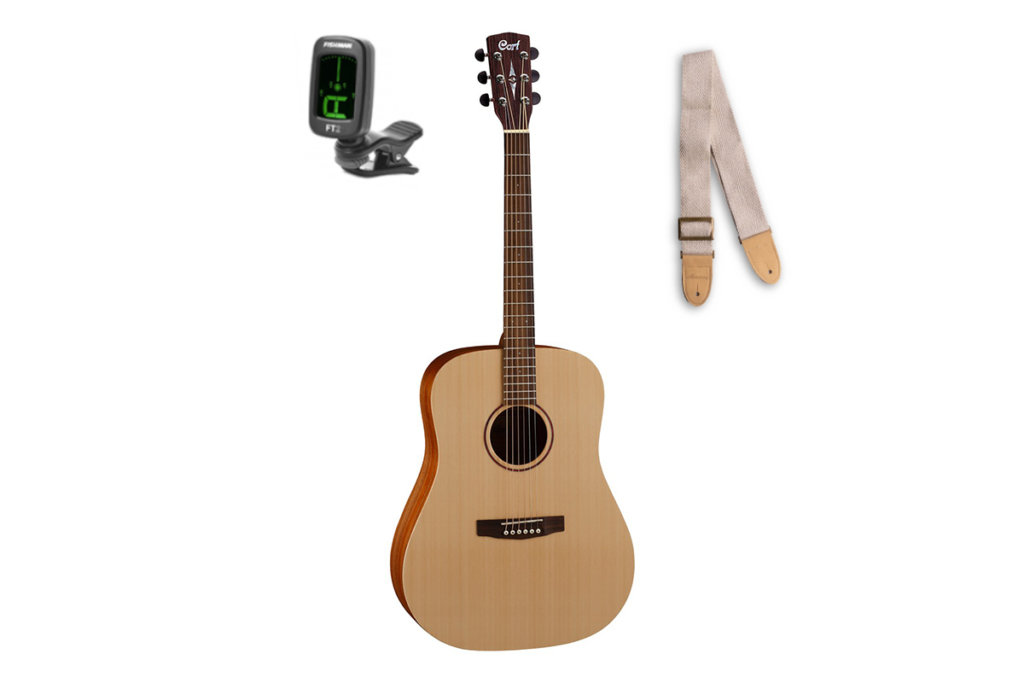 Music makes people come together. It's never more evident than an acoustic guitar, and a group of friends, singing and dancing and having the best time of their lives. That spirit lives on today, in all walks of life.
The acoustic guitar is a great instrument that brings people together. Some of the most powerful anthems from eras past and present consist of an individual armed solely with a voice and guitar to express themselves. Legendary artists such as Simon & Garfunkel, The Beatles, Neil Young, Bob Dylan and many more have utilised the sonorous tones of the acoustic guitar in their songs to phenomenal effect.
An uncomplicated and cathartic experience, getting an acoustic guitar for yourself will fill you with many hours of joy and provide you with an avenue to escape the doldrums of life every now and again. Other than the social, health, and mental benefits of learning a music instrument, dad will perhaps, be able to reminisce the kampong spirit in one of the best ways possible – through art and song.
The Cort Acoustic Guitar Starter Bundle includes the following music gear:
Cort Earth-Grand-OP Acoustic Guitar w/Bag, RW Neck, Open Pore
Fishman FT-2 FLIP-ON Clip-on Digital Tuner
Harmony Cotton Guitar Strap, Cream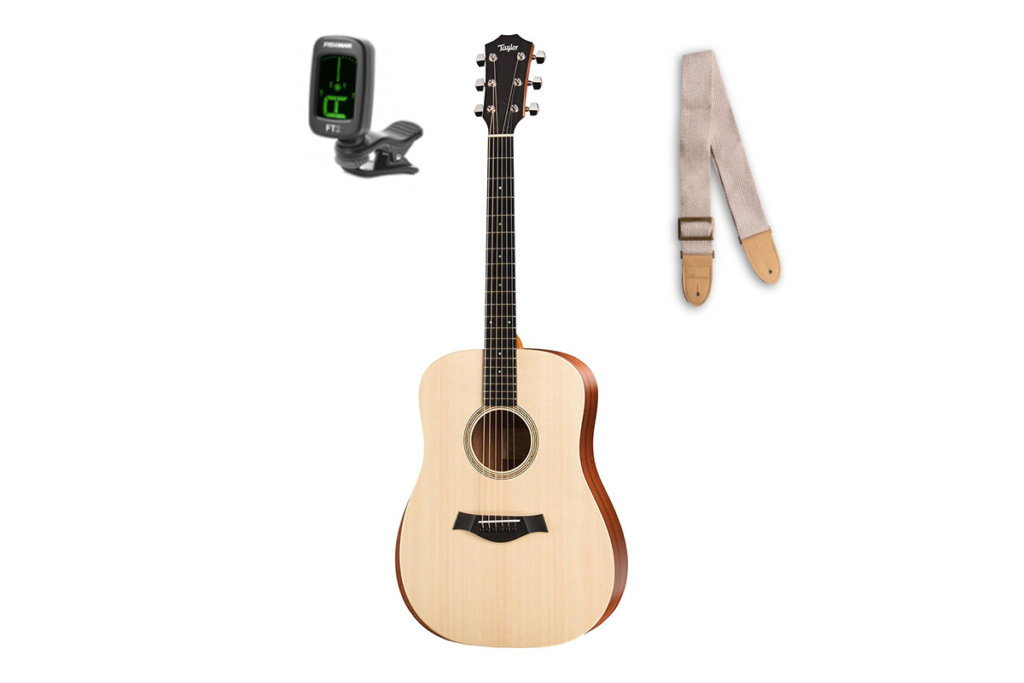 If ease of play, comfort and sound is high on the priority list, the Taylor Academy 10 will tick all the boxes. Designed with all the grievances of the beginner guitarist in mind, the aptly named Academy series is the acoustic guitar you'll want to start learning on. It's an easy player – easy on the hands and putting comfort and ergonomics first. There's nothing more discouraging than a difficult to play instrument, but the Taylor Academy 10 is not that – instead it inspires you to play more.
It's very difficult to go wrong with a Taylor. Hang around enough guitarists and you'll hear the name Taylor thrown around as being one of the greatest acoustic guitar builders on the planet.
With this sonic sparkle behind you, dad will be playing his favourite unplugged pieces from his heroes in no time
The Taylor Acoustic Guitar Starter Bundle includes the following music gear:
Taylor Academy 10 Dreadnought Acoustic Guitar w/Gigbag
Fishman FT-2 FLIP-ON Clip-on Digital Tuner
Harmony Cotton Guitar Strap, Cream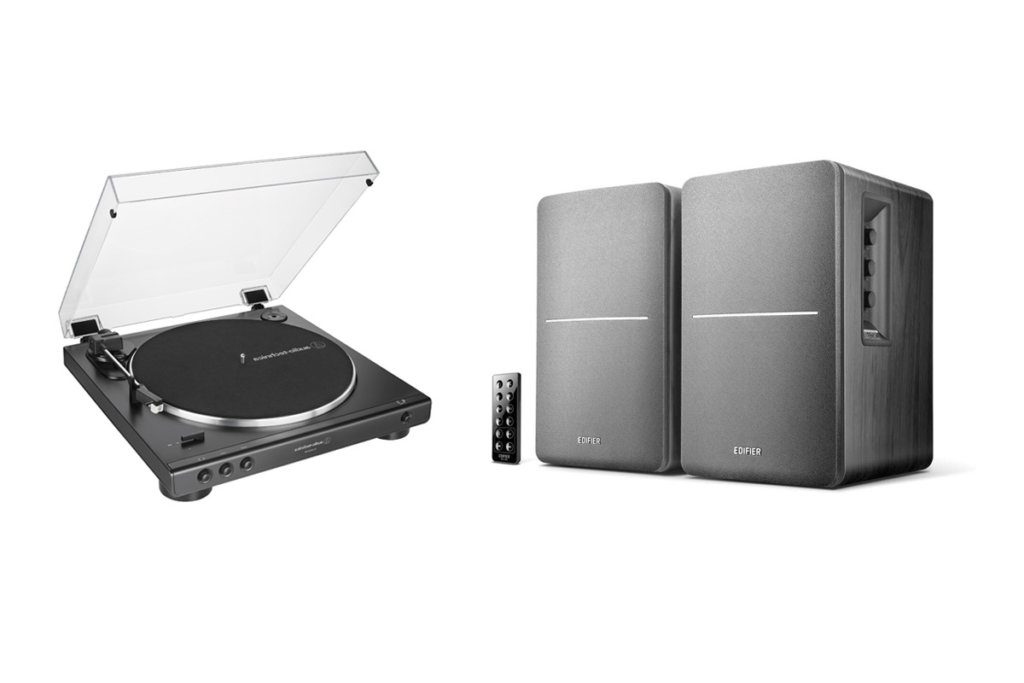 You may not have been old enough to remember the days of analog music, but remember this: our parents were the OG vinyl generation.
Unlike the streaming formats of today, vinyl does not suffer from tone loss and compression that lossy digital music files do. Often characterised as warm, and organic, vinyl tends to give a better representation of a live performance, with rich dynamics and a fuller frequency range that truly captures the vision of the recording artist.
The Audio-Technica LP60XUSB turntable's belt drive system is big on tone and gentler on your vinyl platters. By reducing harsh vibrations that can plague lesser turntables, it delivers a cleaner and higher quality sound for your father's listening pleasure. The Edifier R1280DBs round off this combo due to their great quality and multiple connectivity features, a perfect speaker for those who want to have their cake and eat it too.
A great consideration for the father who doesn't just love listening to his tunes, but listening to them in the best possible way – the exact way they were made to be listened!
The Audio-Technica Turntable Starter Bundle includes the following music gear:
Audio Technica Fully Automatic Belt-Drive Turntable, Black (USB & Analog)
Edifier R1280DB Bookshelf Bluetooth Speaker, 42W, Black (Pair)

Dads can be a discerning bunch. And appreciation of good sound isn't something that's exclusive to the younger, more tech-savvy crowd. How many of us can say we know the ins and outs of a hi-fi setup! If your dad is a connoisseur of epic sound quality, or perhaps exploring the world of music recording, a pair of studio monitors will easily become his best friend!
Studio monitors aren't necessarily bound to studios, despite their name. They're designed specifically to reveal all intricacies of any music you play through them, making them the best candidate for professional producers and recording artists. But those very traits also make them excellent for enjoying music.
The ADAM Audio T5Vs are professional-grade studio monitors that take lessons from years of industry use in world-class music studios around the globe. And to make them perform even better, we've bundled them together with the highly acclaimed MONO Studio Monitor Stands. They don't just look like works of art, but they elevate the monitors to your ear level and separates the speaker from the desk, improving the sound quality massively as you're not losing bass frequencies in the form of vibrations.
The ADAM Audio Studio Monitor Bundle with MONO Stands includes the following music gear:
MONO Studio Monitor Stands, Silver (Pair)
ADAM Audio T5V, 5 Inch Nearfield Monitor – UK Plug (Pair)
---
We'd like to wish all fathers a very happy Father's Day!
You can view all our Father's Day collections here.