Derrick Siow is probably one of Malaysia's best drumming secret! He's played for the biggest names in the Malaysian scene, like Siti Nurhaliza, Jaclyn Victor, Kris Dayanti, NJWA and more. Derrick is one of those rare drummers who has honed his craft over multiple genres. If you've ever had the privilege of seeing him live, you'd marvel at how he always manages to play in the pocket, always adding a subtle groove to the beat without ever overplaying or overpowering the song.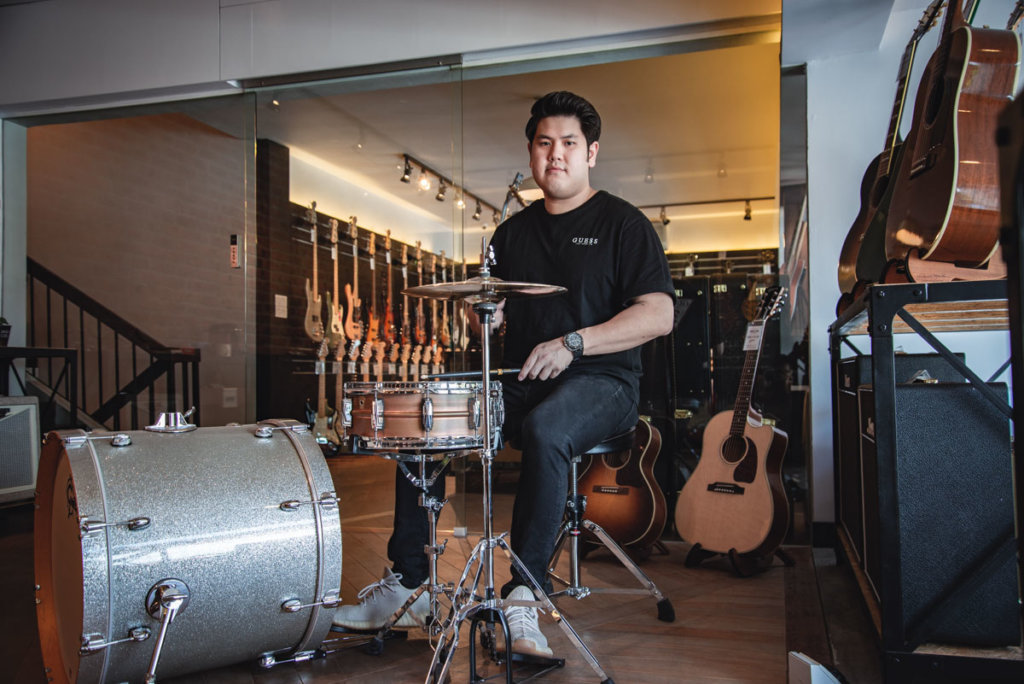 With commanding confidence, he performs complex and odd meters with dazzling precision leaving our jaws on the floor with amazement. It got us wondering, what makes him tick and is there any way the rest of us can do what he does? Fast forward to last week, we managed to catch Derrick in spite of his busy holiday schedule to talk about life as a professional drummer, his music roots and of course, drum gear.
Tell us about your drumming roots.
Well, I started drum lessons at the young age of 8 years old under Maximo Ruiz Soliano. Starting off with the Rockschool syllabus Grade 1 and eventually finishing Grade 8 at 13.
When did you know that music was something you wanted to do?
At about the same time when I completed my Grade 8 examinations for drums that I decided that I wanted to pursue music as my career.
At 17, I got accepted to the prestigious Berklee College Of Music in Boston. I went on and furthered my music studies in America. I finished my bachelors degree in contemporary writing and production back in 2014 and have been a session drummer ever since I got back to Malaysia in 2015.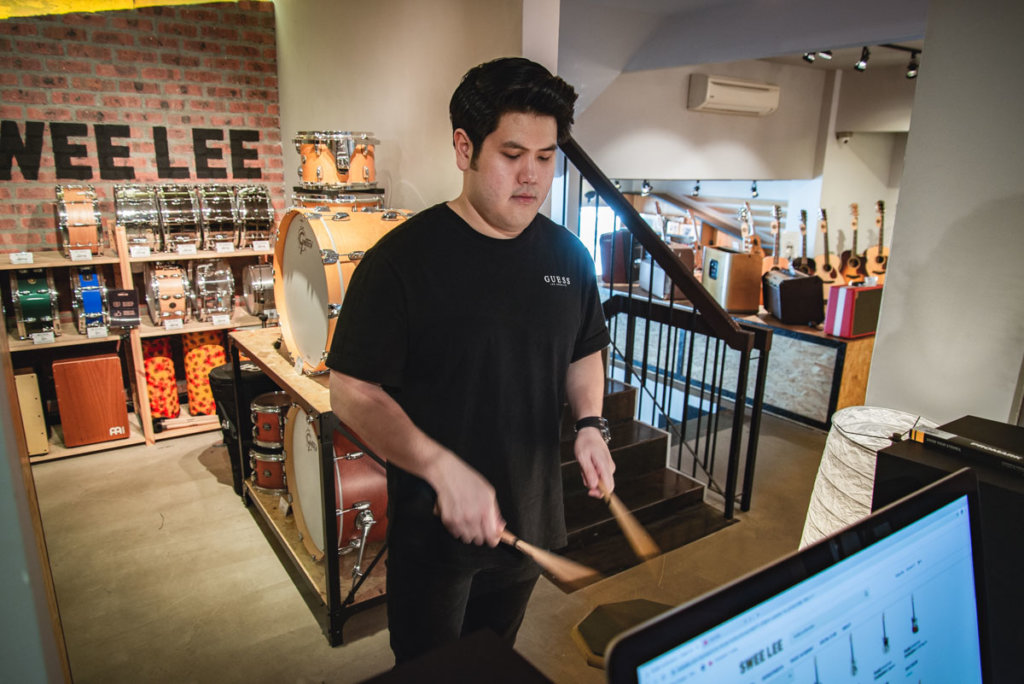 During your music journey you must have picked up some nuggets of wisdom. Any words of advice to the fledgling drummers out there?
There were loads of people along my career that helped me along the way paving my journey as a session drummer in town. But before anybody can help you out, you gotta help yourself! This is putting the work and hours in to get better in your craft. Especially with YouTube nowadays, there's so much content on the web for you to learn and expand your knowledge!
From there, if you are trying to break into the scene, go for jam sessions, meet musicians who are already in the scene – most of them are nice and will give advice to you. If you have an idea to put something out there, go ahead and do it because you'll never know who's in the crowd. That's how I got my first big break in the music scene.
I put a mini concert together and in the audience was a renowned music director named Aubrey Suwito. After that show, I got a call from him to play for Siti Nurhaliza's concert a couple months later.
You've been in the scene long enough. What would you say is a trait or skill that is a must for session musicians?
Having a good attitude! Nothing beats that. Be easy to work with, be on time, be teachable, BE HUMBLE! Many times people would rather call someone with a good attitude compared to someone who's "more skilful", but harder to work with because of their attitude.
Also, use your calendar! Put down all your dates that people have booked you. I've made that mistake of double booking gigs and it's not fun to clean that mess up. At the end of the day, you want to be the most reliable you can be.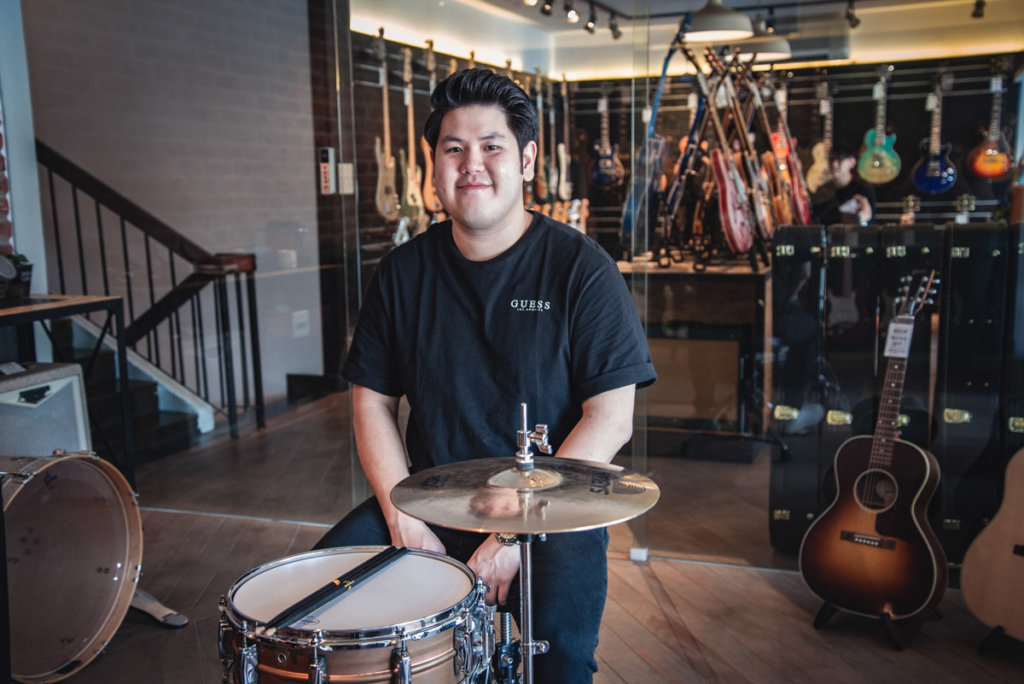 Let's talk gear now! You perform a wide range of genres. What gear would you recommend an aspiring drummer out there to get if they want to cover a large range of sounds?
Here are some of the drums gear that I would use.
I like the sound of this ride, because there's definition when I'm playing it but I can also choose to "crash" it if I want to. Overall, a really versatile and warm sounding ride that's suitable for various styles of music.
I love the crisp sound of this hi hat. That's all I look for in a pair of good sounding hi hats. I also like the fact that it has a bit of that "washiness" when you're playing it open.
I use the 17" as my main crash and the 18" as my other crash. I'm so used to having that size in my set up and like the other cymbals I've picked, I love the sound of these crashes! It has a nice warm tone to it that's not piercing to the ears even when you're playing it slightly louder.
I play at functions that requires me to bring my own drum set sometimes. The Ludwig Breakbeat by Questlove is my favourite for that! Small, compact, easy to carry, affordable and it sounds awesome! The kick has a lot of punch for a 16" and the toms just sings. The snare is snappy when you tune it higher up in pitch and I love it!
Other than this snare looking like an absolute beauty, I love the "snap" and "pop" I'm able to get out of this snare drum. It really helps cuts through in the front of house mix. I like the fact that it has die cast hoops on it, they are always my preferred hoops when it comes to playing side stick on my snare drum.
Another accessory I need are these Cool Rods by Promark. There are situations that using conventional drum sticks might be too loud or you're just looking for another sound out of your drum set. This is a must have! I find that I use these quite often.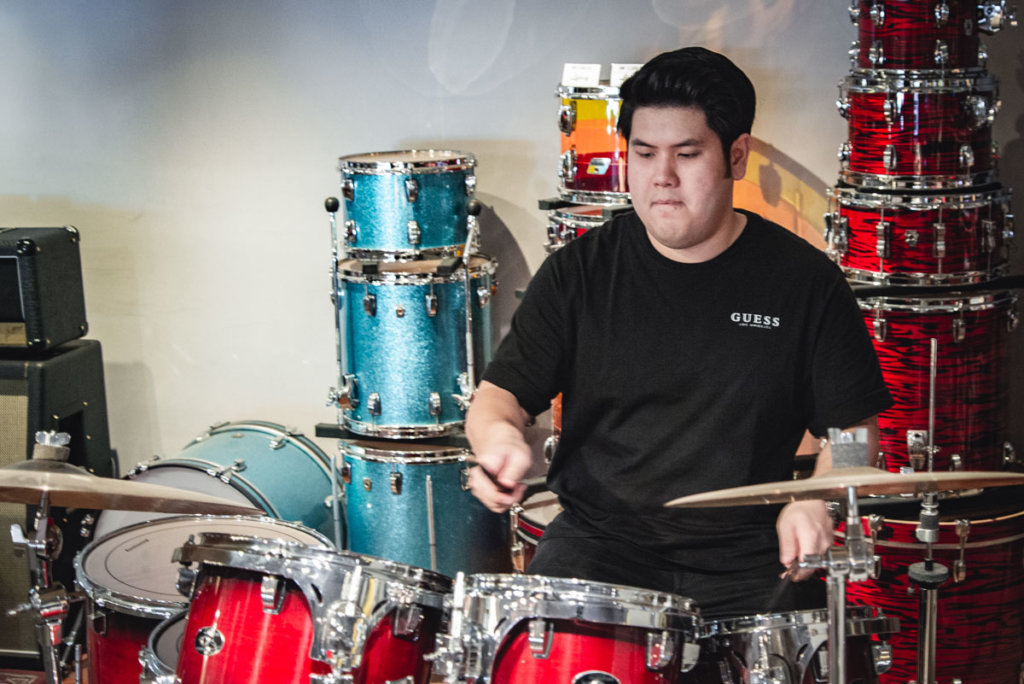 If you are interested in keeping up to date with Derrick's music ventures, you can follow him on Instagram @derricksiow93. You can also catch Derrick providing the beat at these shows:
Jan 11- Derrick Siow & Friends ft. Tasha Aleia @Suzie Wong
Feb 9 – Anugerah Juara Lagu 2020 @Axiata Arena, Bukit Jalil
Feb 15 – Derrick Siow & Friends ft. Tasha Aleia @Suzie Wong
Feb 21 – NJWA @Ahimsa Wellness, Publika

Conversely, if you are inspired by Derrick's feature and are looking to start on your own drumming adventure, Swee Lee has an assortment of percussion instruments and accessories to help you get on your way. Check them out here to grab while they last!