They never tire of the same four-bar loop. They never go out of time. They never throw hissy fits over musical difference. They were cast out by many because of their "inhuman perfection"… but they have formed the flawless rhythm and beat section of countless productions since the 80s. The robotic four-four rhythm altered the music landscape and the sound still continues to be a staple for the best producers and musicians to this day. These precise, obedient beasts… are of course drum machines.
Top producers the world over are addicted to their sleek, futuristic beats – from Run D.M.C, The Beastie Boys and Kanye West in Hip Hop, to Derrick May, A Guy Called Gerald and Richie Hawtin in Electronic Music. Adding a drum machine to your arsenal isn't just going to help you stay in time, you're going to have a whole lot of fun jamming with them too.
Here are some of our favourite drum machines and some music that wouldn't be here without them…
---
Planet Rock – Afrika Bambaataa
Drum Machine: Roland TR-808
Marketed as the affordable drum machine, the Roland TR-808 was seen as a failure when it first launched in 1980. Despite a poor start, it would go on to become one of the most recognisable and enduring sounds in the world. With its artificial signature kick, snare, clap and tom sounds, the TR-808 was in the right place at the right time. It was central to the rise of Dance, Electronica and Hip-Hop music.
The first commercial song to feature the TR-808 was Marvin Gaye's Sexual Healing. It was later adopted by Hip-Hop and highly influential in Trap, Rave and many other genres. It's still relevant today, appearing in every track in Kanye West's 2008 album 808's & Heartbreak.   
The Roland TR-8S is coming to Swee Lee in May. It features detailed circuit-models of the 808, 606, 909, 707, 727, and even several modified versions as standard and you can now add your own samples too! Exciting stuff…
---
Building Steam with a Grain of Salt – DJ Shadow
Drum Machine: Akai MPC60
The Akai MPC60 was produced by the Japanese brand in 1988. The product was a collaboration between them and a man considered by many as a godfather of drum machines, Roger Linn. The result was a classic drum machine sampler and MIDI sequencer with 16 touch-sensitive drum pads, which could today be easily confused with an old fax machine, or printer.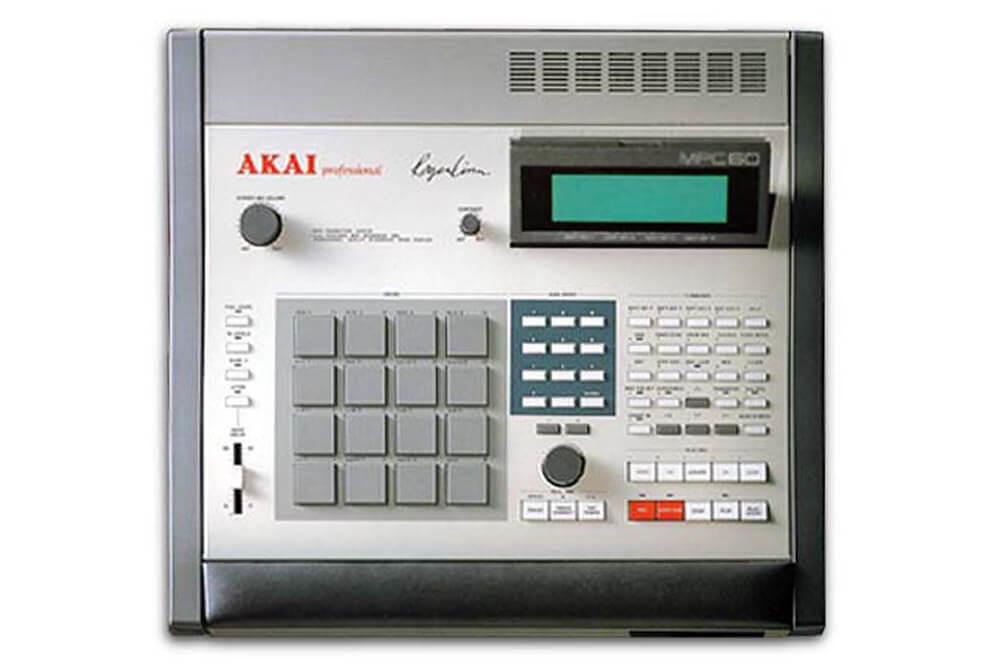 DJ Shadow was for many considered the most distinguished user of the MPC60. In 1996 he scoured his vinyl collection for samples and the crate-digging mastermind recorded his first solo album Entroducing, using only the MPC60.
If you're looking to record a full album for yourself with an Akai product, then look no further than the Akai Rhythm Wolfe. The unit combines a drum machine, bass synthesizer and step sequencer all into one simple, easy to use package. But don't take our word for it, check it out for yourselves…
---
Fortune Teller – Maroon 5
Drum Machine: Native Instruments Maschine
Native Instruments is leading the hybrid drum machine market and it's quite clear that inspiration for Maschine came from the original drum machines of the 80s. Maschine has revolutionised hardware and software integration – with hundreds of drum sounds and samples available at a user's fingertips, it's now your computer that does all of the processing. Maroon 5 tell us all about how they integrated Maschine into their production workflow for the making of Fortune Teller here…
Swee Lee is an official distributor of the Native Instruments Maschine and many more workstations and sequencers. If you're raring to get your beat-making career off the ground, head down to Swee Lee's flagship store at The Star Vista and get into your 808 state.