Everyone knows the electric guitars made by Epiphone – the Les Paul, the SG, the Casino, the Sheraton, etc. – the list just goes on and on. While the electric division of the Nashville-based company has been churning out great quality products for as long as we can remember, we'd love to highlight an often underlooked segment of the great guitar company – their acoustic guitars!
Made with tried and tested tonewoods in conjunction with modern manufacturing methods, the Epiphone line of acoustic guitars are instruments that punch way above their weight-class. Always the democratiser of good tone, what Epiphone has done here is to create a road- and studio-worthy instrument at accessible price points. 
2020 has been a year of progression for Epiphone, with their factories shifting up their production quality to take their guitars up a level. Let's take a peek into some of the Epiphone guitar models that have caught our fancy.
Epiphone Masterbilt Excellente Acoustic Guitar, Antique Natural Aged Gloss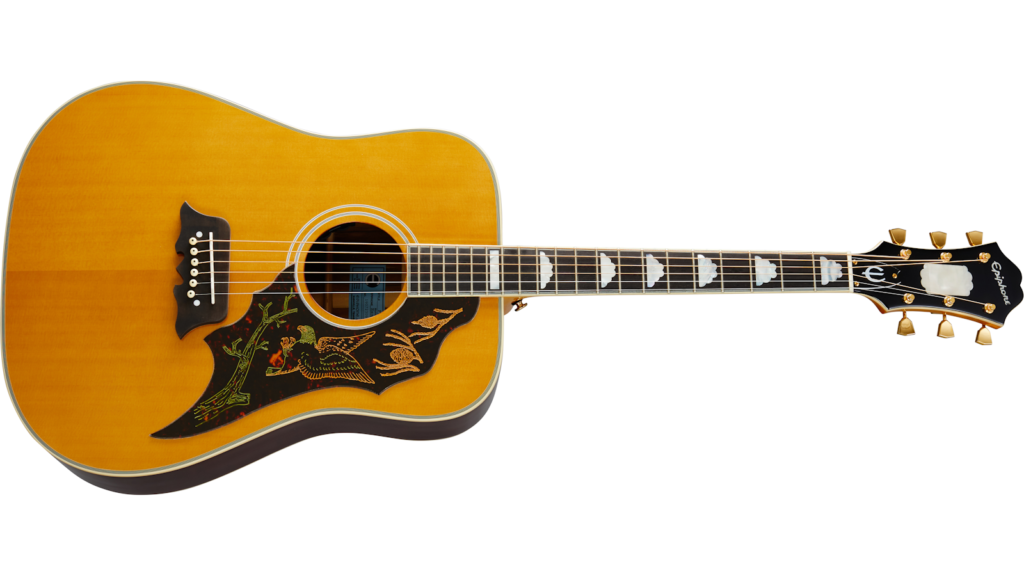 An extremely ornate and well-playing acoustic, the Masterbilt Excellente is based on one of the rarest Epiphone models ever made. The original run of Excellente spanned seven years with a grand total of 141 units being built across 1963 through to 1970 and this classy reissue faithfully follows the specs and vibe of those ultra-limited models.
Crafted from a solid sitka spruce top with solid ovangkol back and sides, the Excellente delivers a full and punchy tone with plenty of vibrant harmonic overtones that complement the incredible looks of this guitar. The aesthetic of this acoustic is completed with the stunning recreation of the original Excellente pickguard – an elegant depiction of an eagle in the wild. The opulence doesn't end there with the Excellente's ultra-stable 7-piece maple and walnut neck -– a fine piece of woodwork that is hand-set with a tapered dovetail joint at the 14th fret. Other noteworthy features include its ebony fingerboard with historic pearloid Block Cloud inlays, a bone nut and saddle, gold Kluson Waffleback tuners and onboard Fishman Sonitone electronics.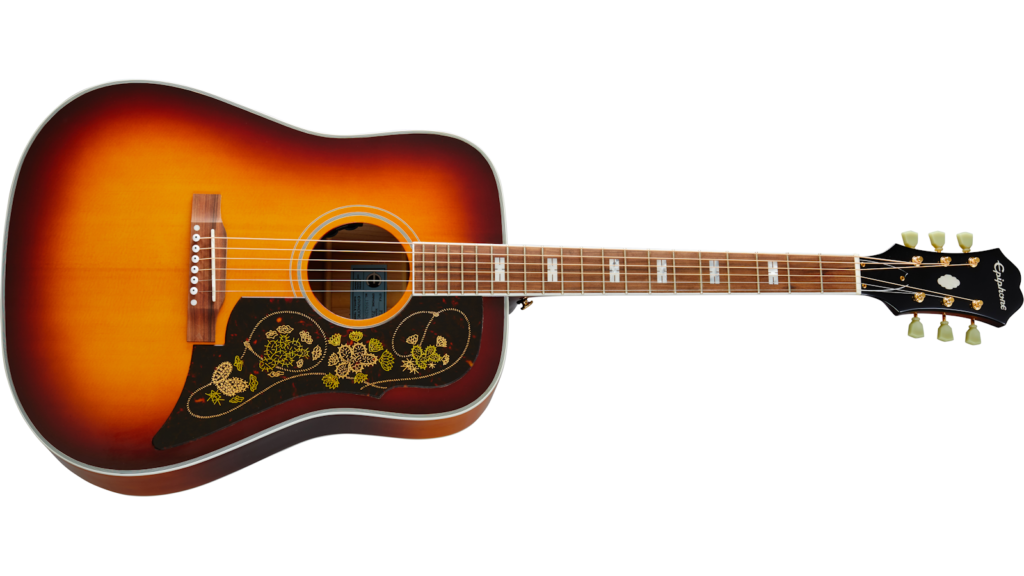 Just like the Excellente above, the Epiphone Masterbilt Frontier is another recreation of a storied and rare guitar from the 1960s. Featuring a square-shouldered dreadnought body, the modern Frontier guitar has a solid sitka spruce top with solid maple back and sides for a robust and boisterous tone – a great guitar if you're a singer-songwriter that wants to be heard!
The dedication to authenticity and detail can be seen with the sloped dovewing headstock design and a script Epiphone logo in mother of pearl – prominent motifs found on their acoustics throughout the 1960s. The eye-catching and intricate "Rope and Cactus" pickguard graphic is a tasteful nod to the "frontier spirit" this guitar embodies. Like the Excellent, the Frontier also comes stock with a bone nut and saddle, custom pearloid inlays, and the Fishman® Sonitone™ preamp system to faithfully amplify your acoustic tone. Available in Ice Tea Aged Gloss finish, this great acoustic is both a looker and an immense player!

The Masterbilt Epiphone DR-500MCE acoustic-electric guitar is built with one thing in mind – the quest to create an attainable guitar that exudes vintage mojo and tone but also packaged with modern reliability, playability and at a reasonable price point. For one, the DR-500MCE features an all solid wood construction – solid sitka spruce top and mahogany body – an absolute rarity at this price-point. There's also a glued-in, dove-tailed neck joint for good added measure. The end result? A brand new instrument with rich robust lows, balanced, lucid mids, and bell-like, shimmering highs.
Each Epiphone instrument has the assurance that every feasible step has been taken to ensure a lifetime performance and pleasure – a promise that is backed up by their Limited Lifetime Warranty.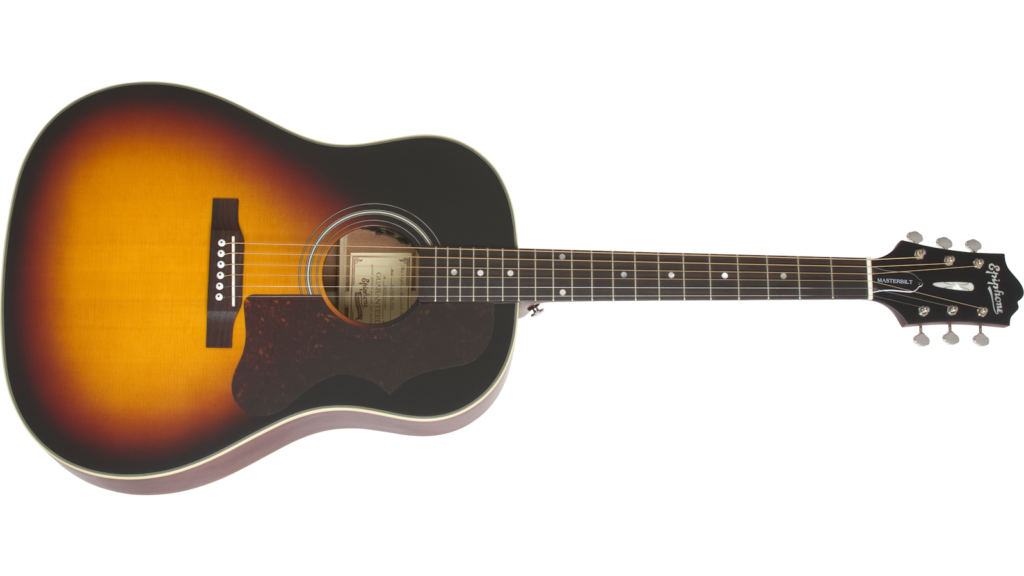 A jumbo not for the meek and weak-hearted, the Epiphone Masterbilt AJ-45ME just might be one of the loudest acoustic guitars out there. Built from mahogany and topped with solid sitka spruce, the AJ-45ME sports an "Advanced Jumbo" body – a shape inspired by the original 1930s model of which 300 units were only ever produced. An absolute goliath of a guitar, the AJ-45ME turns into a gauss cannon of sound when you dig in and play hard. In the hands of a true blue guitar slinger, this large guitar provides meaty and vibrant tones that produce an amazing complement of harmonic sizzle. Topping off the premium materials and build is the built-in Fishman Sonitone preamp – a transparent translator/transducer of acoustic tones for the stage and studio. A phenomenal guitar in more ways than one, you'd simply have to get one in your hands to understand what the hype is all about.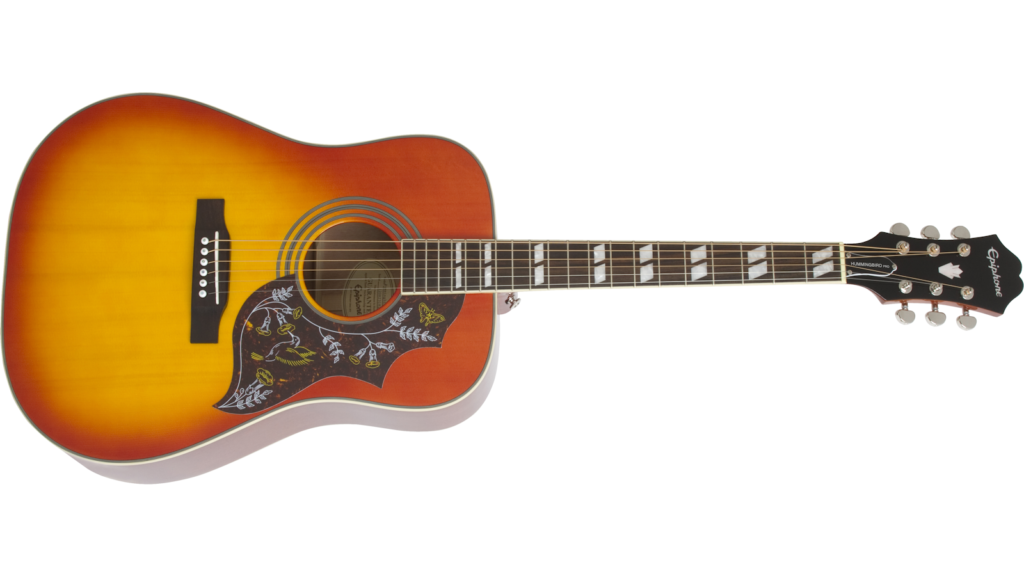 A classic take on the iconic Gibson Hummingbird, the Epiphone Hummingbird Pro is a fitting tribute to one of the world's most famous guitar designs. With its instantly recognizable looks and sounds, the Epiphone Hummingbird Pro is the ideal choice for strummers and singers to play on. This fine acoustic has a solid spruce top, a mahogany body and a mahogany neck for a warm and pure tone that often define fine vintage instruments. Even the look of this guitar – with its Faded Cherry Sunburst finish, decorative hummingbird pickguard and split parallelogram inlays – exudes an air of class and prestige not found at this price bracket. A great guitar that ticks all the boxes, you'd be hard pressed to find a better deal on this side of the planet!
Epiphone Dove Pro Acoustic/Electric Guitar, RW Neck, Violinburst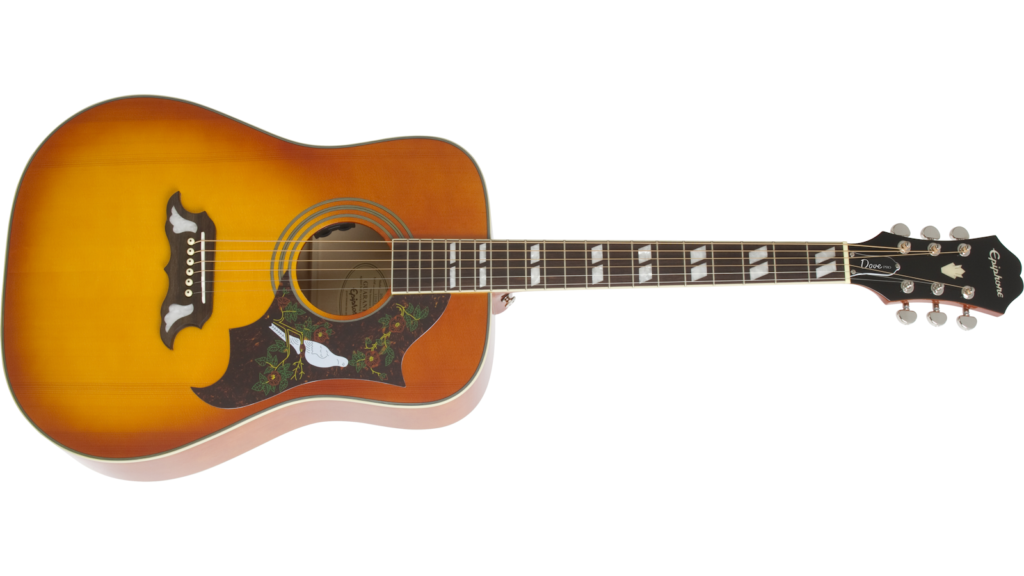 The spiritual cousin to the Hummingbird above, the Dove Pro is also part of the great value instruments that grace the Epiphone catalogue for 2020. Once again, Epiphone shows affordable guitars can be great instruments as well. The Dove Pro is everything that its Gibson counterpart is with its elegant looks, effortless playability, and great tone. A solid spruce top supplies this guitar with the rich, articulate voice while the highly acclaimed Fishman® Sonitone™ takes that great tone and faithfully translates it through speakers. A hard maple neck with an ultra-comfortable SlimTaper D profile completes this guitar – giving it unparalleled stability and a boost in the higher frequency bands for a snappier tone. The craftsmanship here is also astounding at this price level, with the same hand-inlaid "Dove' motifs on its faux turtle-shell pickguard and rosewood bridge.
Check out the full range of our Epiphone models here!