Since we last featured Strymon in our full rundown of their delay pedals, a lot has happened in the guitar world. Digital technology has gone onto greater heights and nobody even bats an eye when you talk about things like digital processors in guitar gear these days.

Strymon has been an important catalyst in changing the "analog only" mindset amongst guitarists. Bursting onto the scene back in 2008, Strymon was one of the first companies to pioneer the use of DSP chips to create some of the best guitar pedals that have continued to define the industry to this day.
Recently, Strymon wowed the whole guitar-verse with their latest release: the NightSky Reverb Pedal. The NightSky brings the current lineup up to four pedals, with each model bringing something unique and fun for players of different styles. Strymon reverb pedals are not your average reverbs though – they are filled to the brim with an assortment of tech and even rival high-grade studio rack gear.
If you're looking to join the Strymon reverb owners club and are trying to figure out which pedal(s) will help scratch that itch, come join us as we take a look at all four of Strymon's reverb pedals.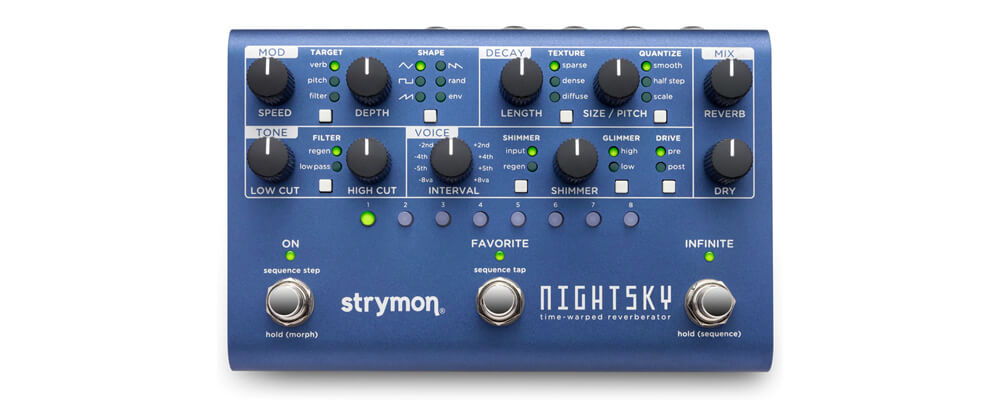 We love: The limitless creativity options this pedal can give you. The NightSky is quite simply "Explosions in the Sky" in a box.
Buy if: You're obsessed with ambient music. You love reverbs but you want even more control to craft your sound to fit the ethereal tone you have in your head.
Strymon's newest addition to their critically acclaimed reverb lineup, the NightSky is a reverberation synthesis workstation with real-time continuous control of reverb pitch/processing rate/core size, harmonics, and resonant filter with multiple modulation waveshapes, in addition to a step sequencer with variable glide. That sure is a mouthful!
The NightSky is new sonic territory for reverb pedals – offering unprecedented levels of adjustability and a multitude of heavenly undulations that will go swimmingly with ambient music. To achieve its mind bending modulation effect, the NightSky employs a Variable Process Rate (VPR) in its reverb core. This addition allows you to modify both the intensity and pitch of the reverb – from smooth fluctuations all the way to jarring scale intervals. Best of all, these pitch changes can be sequenced to your heart's content via the nifty built-in sequencer.
The NightSky gives you three distinct Reverb textures to choose from: Sparse, Dense, and Diffuse. The "Sparse" reverb creates echoes that are spaced apart to be sonically distinct from one another. The "Dense" reverb, on the other hand, is an immediate reverb with a buttery-smooth soundscape with characteristics similar to a plate reverb. The "Diffuse" texture is a slow-building, atmospheric swell that borders otherworldly sounds – deconstructing and spreading transients over time to achieve a bloom-like effect.
Since the NightSky is such an expansive effect, we could literally go on for ages in order to cover the spectrum of sounds you can get. However for brevity's sake we'll briefly cover the five different tonal sections to give you a brief idea of what they do:
The Mix Section:
The mix section allows you to adjust the input of the dry and wet reverb signals via the "Dry" and "Reverb" knobs to get the best blend for your musical needs.

The Decay Section:
The decay section lets you select three different reverb textures (Sparse, Dense, and Diffuse) that we've covered above and control the decay length and size of the reverb.

The Mod Section:
The mod section is where you can go to adjust the modulation voice of the reverb. This section allows you to choose between three tonal parameters (verb, pitch and filter) and six waveform shapes (triangle, square, ramp, saw, random, and envelope) to create your very own ethereal reverb sound. This section also gives you the ability to control the speed and depth of the modulation.

The Tone Section:
The tone section, much like any EQ allows you to determine the high and low frequencies that pass through the reverb signal through the "Low Cut" and "High Cut" knobs in conjunction with the filter settings.

The Voice Section:
The most interesting section on the Nightsky (in our opinion) has to be the voice section. If you've ever wanted to control harmonics of your reverb to an exacting degree, this is the section for you. There are three effects here: Shimmer, Glimmer and Drive.

The "Shimmer" effect allows you to add pitch shifting to your reverb – with octaves up or down being controllable with the "Interval" knob. Alternatively, the "Glimmer" effect harmonically enhances certain sound spectrums from your reverb output – allowing you to enhance either your low or high frequency harmonics. Lastly, the "Drive" effects gives you the capability to add overdriven harmonics before or after your reverb signal.
All in all, the NightSky is a deep and powerful sound manipulation device that moves past the dogma of traditional verbs. A new standard in experimental reverb sound design, the NightSky is definitely something to get excited for – especially if you deem yourself to be a sound tinkerer.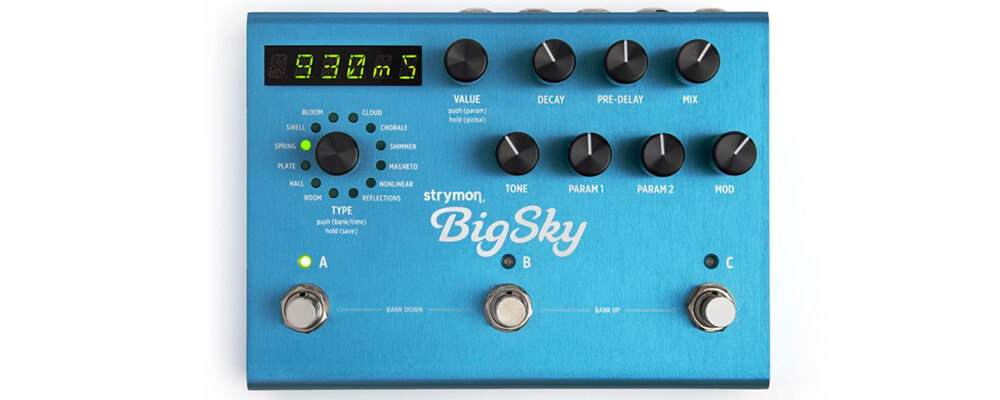 We love: Great reverbs and the selection headache. There's a reverb for every conceivable gigging or studio situation you might find yourself in.
Buy if: You're a reverb aficionado. You find yourself falling in love with a different reverb everytime you wake up.
The de facto big daddy of Reverb pedals – the Strymon BigSky is the one of the most coveted reverb units out there. This studio quality reverb boasts an extensively modelled sound library resulting in 12 world-class reverb machines: Hall, Plate, Spring, Swell, Bloom, Cloud, Chorale, Shimmer, Magneto, Nonlinear, Reflections, and Room.
With so much going on, most would find it a little intimidating to even start tweaking the parameters on the BigSky. Fret not though, the team at Strymon has gone to extraordinary lengths to simplify the user experience so only the most essential reverb controls remain – empowering your creativity without getting lost in a purgatory of endless fiddling.
What happens if you find a bunch of additional parameters you'd like to tweak though? The BigSky has you covered on that front too! This sky-blue box also has the ability to assign custom parameters to the two "Param" knobs on the front panel – all saveable to your presets. This allows you to have a very quick way to tweak your sound on the fly in addition to being able to control any assignable knob via an external foot controller/expression pedal too. Speaking of presets, the BigSky also gives you the option to instantly create and recall up to 300 user presets with names of your choosing. You can even select these presets quickly via an external MIDI controller.
Another cool feature comes in the form of the "Infinite Sustain" or "Freeze" functions. Simply press-and-hold your active preset footswitch to activate either function. "Infinite Sustain" allows your reverbs to continue infinitely, with each new note you play adding to the reverb signal. Conversely, "Freeze" also delivers infinite sustain, but allows you to play new notes on top of the sustain without adding to the reverb.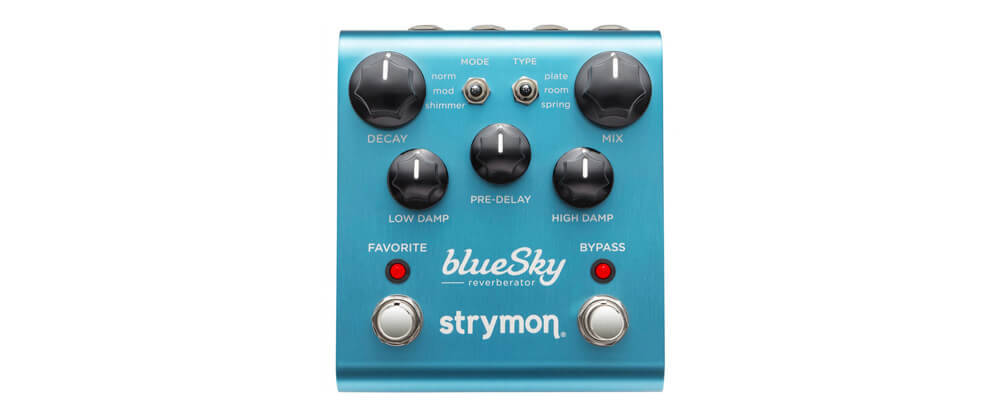 We love: The great Reverb sounds in a small form-factor.
Buy if: You want a versatile reverb but prefer a simpler layout than the BigSky.
One of the pioneers of the initial Strymon release, the BlueSky has made an indelible mark in guitar pedal history. The philosophy behind the creation of BlueSky Reverberator was simple – utilising an extremely potent SHARC DSP chip in order to create the most lush, majestic and stunning reverbs ever found in a stompbox. And boy did they succeed in squeezing every last drop of processing power available.
Whether you're a classic spring reverb fan or a modern shimmer scion, the blueSky has the ability to cater to all and it does so in spades. This compact reverb unit comes with three different reverb types (Plate, Room and Spring), with three independent modes (Normal, Mod and Shimmer), for a total of nine completely unique reverb experiences.
The "Plate" reverb is modelled after high quality vintage studio plate reverbs. The "Room" is a versatile space-based reverb that allows you to change the room size (ranging in size from a small bedroom to a massive arena) depending on where you have your Decay, Mix and Pre-Delay set. Lastly, the "Spring" reverb is an immaculate recreation of the best spring reverb units that Strymon have managed to lay their hands on.
The modes of the BlueSky are also pretty explanatory. "Normal" mode provides an unmodified version of your selected reverb type; "Mod" adds some modulation to your reverb; and "Shimmer" mode adds regenerative pitch shifting reverb trail that rises into the stratosphere.

If complex controls and a forest of knobs are your Kryptonite, you'll be happy to know that the BlueSky offers an extremely simple user experience. With only five knobs (Decay, Mix, Pre-Delay, Low Damp and High Damp) the BlueSky makes it extremely simple to dial in the reverb tones that you desire.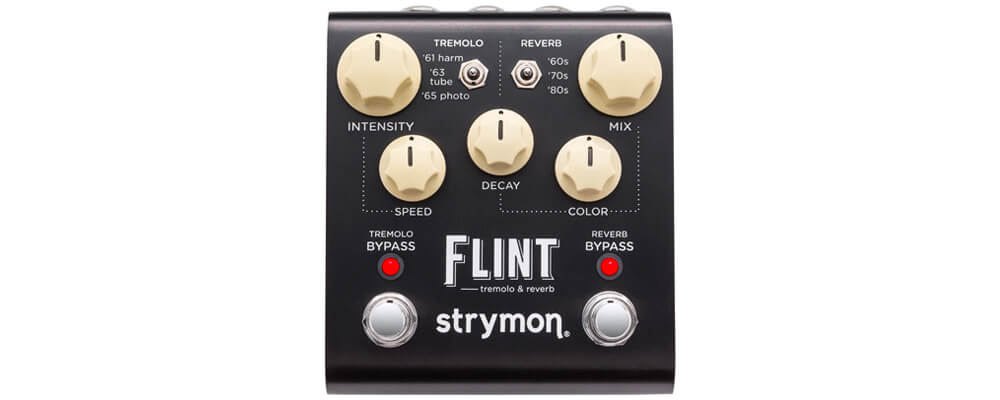 We love: The period authentic reverb (and tremolo sounds).
Buy if: You believe that reverb and tremolo go together like PB&J. Also if you want the exclusive reverb sounds not found anywhere else on the Strymon catalog.
Inspired by the magical combination of tremolo and reverb found in historic amplifiers of the 1960s, the Flint is a celebration of the classic duo that has come to represent so many epochal musical moments – think surf music, spaghetti westerns, film noir soundtracks, etc.
Since this is a review of the reverb capabilities of Strymon's, we won't be highlighting the tremolo side of the Flint. But take our word for it – the tremolo section is as immaculate as they come.
The Flint has three classic reverb modes: the 60's Spring Tank Reverb, the 70's Electronic Plate Reverb, and the 80's Hall Rack Reverb.
The 60's Spring Tank Reverb is a faithful recreation of the full-size two-spring tank found in vintage amps – a reverb defined by its complex organic sound. The 70's Electronic Plate Reverb, on the other hand, pays homage to one of the earliest digital reverbs ever created. Characteristically, the electronic plate reverb produces a rich, smooth reverb with very quick reverb build-up – a great effect to fatten up riffs and licks.
Lastly, the 80's Hall Rack Reverb is Strymon's interpretation of the digital rack reverbs from the 1980s. The 80's reverb is characterised by early reflections followed with the slowly-building density of late reverberation – think U2 on steroids!

The reverb controls on the Flint are the simplest yet with only three knobs (Color, Mix and Decay). The "Color" parameter darkens or brightens the EQ of your reverb. "Mix" controls the wet reverb levels while "decay" varies the reverb time. Pretty simple stuff!
The multi-function input on the Flint can be configured for use with an expression pedal or a "Favorite" switch. This allows you to configure an expression pedal to an assignable expression control over any front-panel knob parameter or set up a "Favorite" switch to save and recall a favourite preset.
---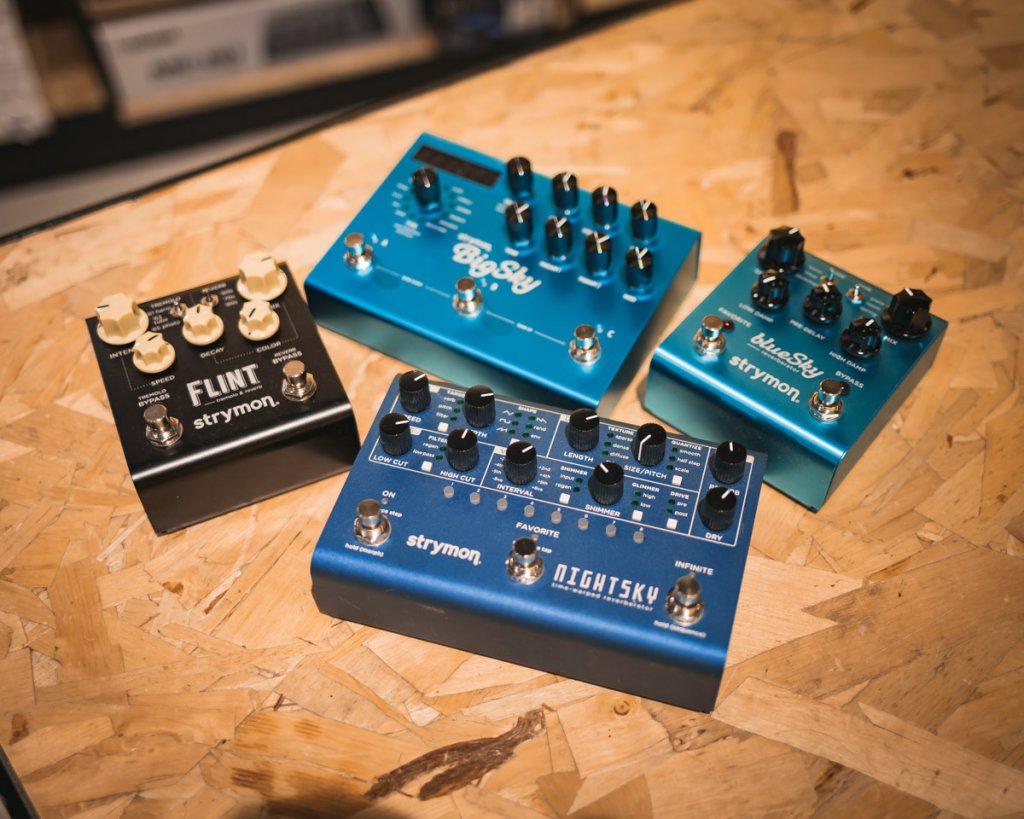 These Strymon reverb pedals are hands-down, some of the best you will find out there. In order to fully appreciate these pedals you really have to try them out in person. You can find a list of our store locations here. You can also order Strymon pedals at our online store here.
| | | | | | |
| --- | --- | --- | --- | --- | --- |
| Model | Type/Emulation | Reverb Sounds | In & Outs | Power Draw* | Price |
| NightSky | Time-Warped, Filter & Modulated Reverb | 3 Textures and 3 Voices | Stereo inputs, stereo outputs | 300mA | $579 |
| BigSky | Multidimensional Reverb | 12 Types | Stereo inputs, stereo outputs | 300mA | $649 |
| BlueSky | Reverberator | 3 Modes & 3 Types | Stereo input, stereo outputs | 250mA | $429 |
| Flint | Tremolo & Reverb | 3 Types | Mono input, stereo outputs | 250mA | $429 |
*All Strymon pedals here use 9V DC power supply with a 2.1mm centre-negative barrel. You can find Strymon's power supplies and accessories here.
As always, stay tuned to our blog to keep up to date with our latest gear releases and features.