With multiple accolades and an illustrious history attributed to their name, Ibanez Guitars have long since established themselves as a leading name in the guitar world. A paragon for innovation, Ibanez's 2021 offerings continue to build upon their vaunted legacy with a comprehensive range of solid, semi-hollow, and bass guitars, complete with superb tonewoods and hardware choices amongst them.
Check out some of their latest models that have caught our eye.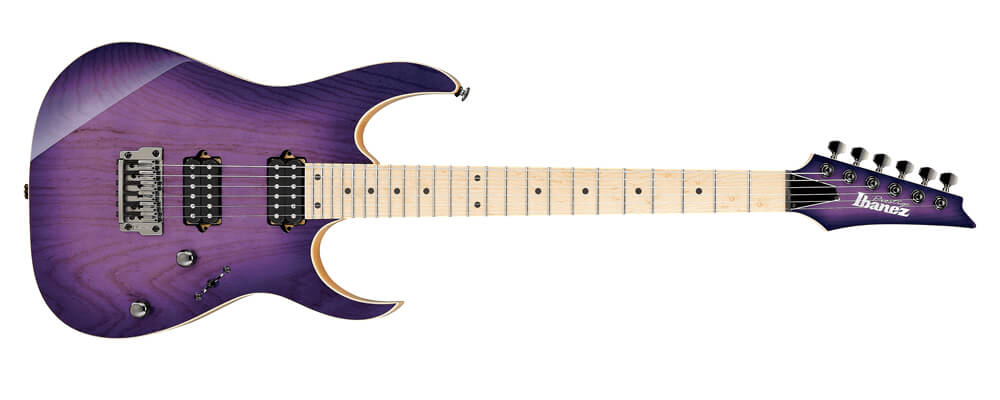 Another gem from Japan, the RG652AHMFX has all the classic fittings that harken back to Ibanez's metal pedigree. Its Super Wizard 5pc neck offers speed and precision – complete with their iconic Prestige fret-edge treatment for unparalleled playability.
Instead of the usual floating tremolo, the RG652AHMFX is outfitted with the Gibraltar Standard II fixed bridge for the ultimate in both comfort and stability. Paired with dual DiMarzio Air Norton and Tone Zone pickups to accentuate the tonality of its ash body, this immaculate axe gives you chimey cleans and and heavy overdriven tones that stay on the forefront of any mix.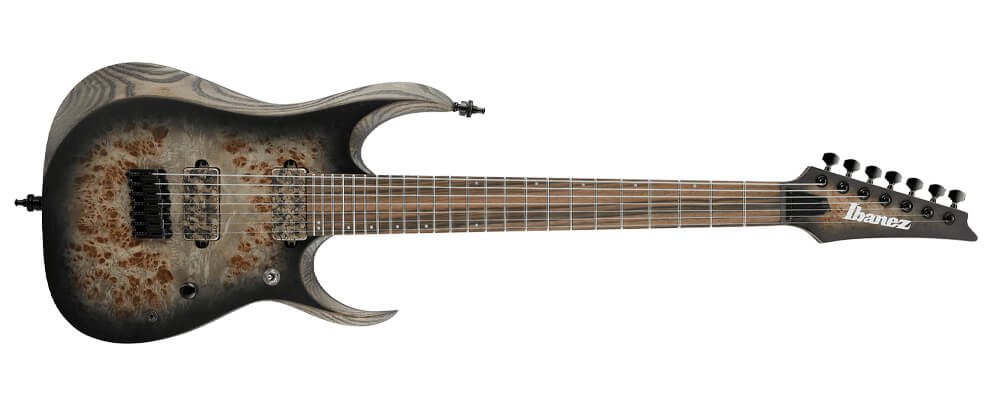 Sleek and stylish, the RGD71ALPA-CKF 7-string is a guitar that builds on the bleeding-edge ethos of the Axion Label with a striking black and natural-hued poplar burl top, alongside its nyatoh and layered ash back and sides. Speedsters will find the ultra-slim bolt-on Nitro Wizard 5-piece panga-panga/walnut neck ideal for intricate riffs and quicks runs.
This RGD also utilises its proprietary Mono-rail bridge for stellar articulation and note definition. This novel bridge design allows for equalised tension across all strings while isolating each string so that it vibrates optimally without impacting the others.
Rounding out the experience are the boutique Bare Knuckle Aftermath-7 humbucking pickups. Hand-wound all the way in the United Kingdom, these pickups have an accelerated bass response and clarity in the presence of heavy gain – a godsend for genres like progressive metal and djent.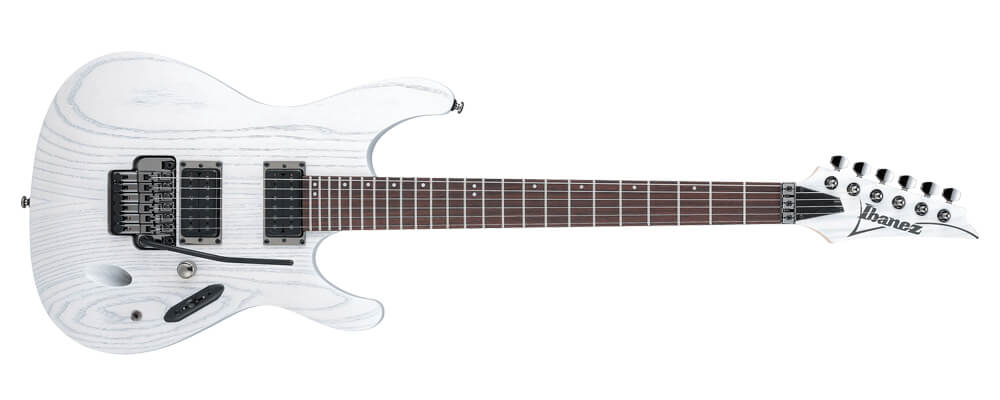 Drawing on his experience as lead guitar for the prog-metal band, Between the Buried and Me – Paul Waggoner's solidbody signature electric captures his unique tones, courtesy of his signature Mojotone PW Hornet humbuckers. Versatility is key here! These custom-wound high-output pickups provide an expansive tonal range, allowing you the flexibility to transition through dirty lead riffs or crystal-clear chord work seamlessly.
A slender 3-piece maple/bubinga Wizard III neck and an ash body only adds to its well-roundedness, providing technical players with an axe ready for any jam session. If you happen to be a Between the Buried and Me fan, this is one guitar you should not miss.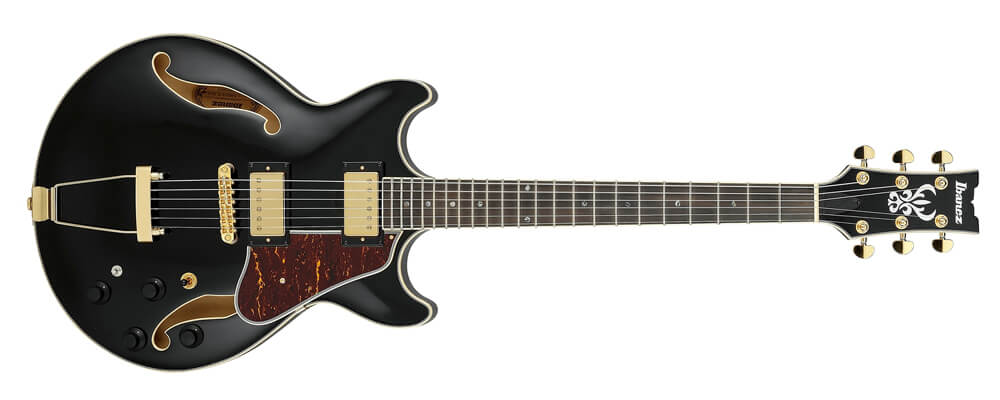 A welcome addition for jazz and blues enthusiasts, the Ibanez AMH90 is a classy guitar that is great value for the money. Built from a linden body – a deliberate attempt by Ibanez to replicate the tonal characteristics of maple and spruce – the AMH90 exhibits a classic warmth and complexity that is typical of the best hollowbodies.

Super 58 pickups provide that undeniably jazzy sound while its Tri-sound switch permits series, parallel, and single-coil operation for players to rotate between three distinct voices when performing. Bottom line is, if you're looking to get in the cool jazz scene, you should definitely consider one of these.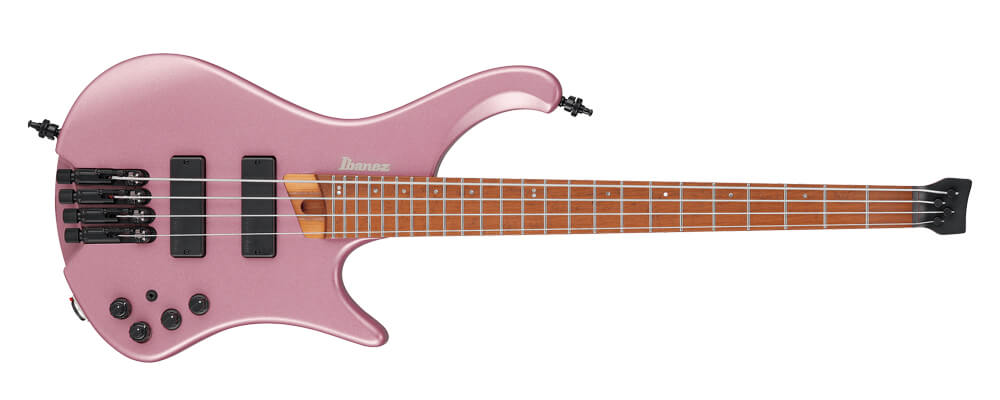 A modern bass that has definitely tickled us pink, the Ibanez Bass Workshop EHB1000S-PMM is an extremely ergonomic and performance-centric instrument. If you're searching for an easy-playing electric bass guitar with a well-balanced sound, then this headless bass has all the goodies you need.

The EHB1000S features an intricately carved American basswood body, an ultra-smooth graphite-reinforced 5-piece roasted maple/walnut neck, and a roasted bird's-eye maple fingerboard. This tried-and-tested combination is complemented with the highly acclaimed Bartolini BH2 pickups – a set renowned for their hum-free single-coil-style character and complexity.

Ibanez has pulled out all the stops with the EHB1000S – creating the perfect entryway into the world of contemporary and portable bass guitars!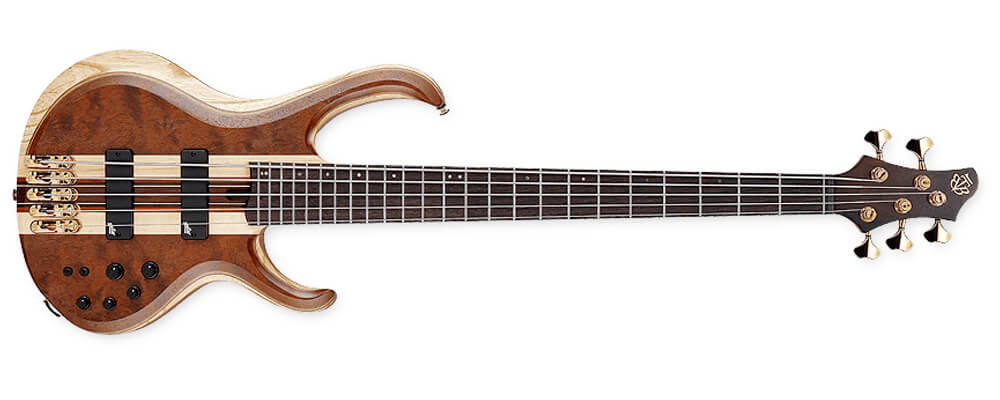 Built to be part of Ibanez's Premium series – the Ibanez BTB1835-NDL is built upon a highly established pedigree that prides itself on top-of-the line woods and high-performance hardware.

True to form, this beastly bass boasts a 9-piece maple/bubinga/panga-panga neck and a bubinga/ash body. A premium pair of Aguilar DCB pickups utilising a dual-ceramic bar configuration supplies this bass with detailed tones that don't skimp on character. Meanwhile, Gotoh machine heads and a Mono-rail V bridge complete the hardware selection for amazing note articulation, sustain, and tuning stability.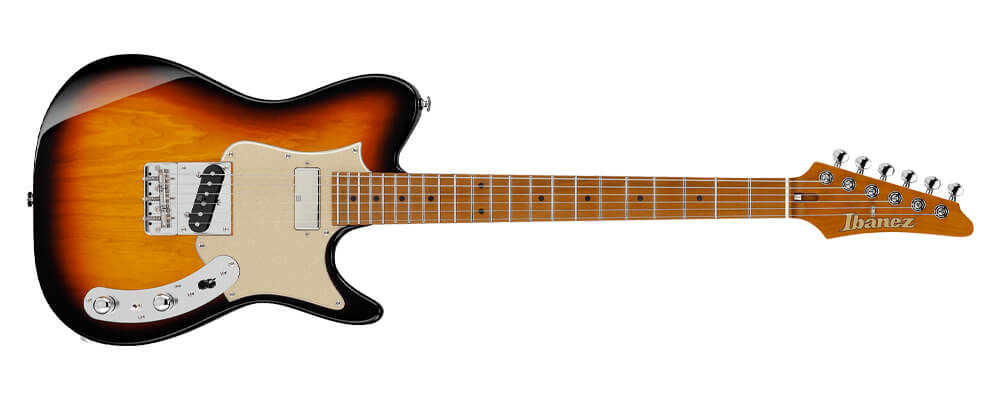 Part of the all new AZS series, the AZS2209H is a vintage-inspired T-shaped model with a modern spin. Built for versatility and playability, the Seymour Duncan Magic Touch Mini-humbucker and Alnico II Pro single-coil pickups (with Ibanez's dyna-MIX5 switching system) lend themselves well to full-bodied and crisp tones of its ash body and roasted maple neck.
The AZS2209H employs the use of GOTOH's F1803 bridge to solve the intonation issues of saddle style bridges. Made exclusively for the AZS series, these compensated titanium saddles provide rock solid articulation and tone without losing out on that iconic twang.

The AZS series of guitars will be arriving a little later down the year, so be on the look out for news when we've gotten them in stock!
You can find more of the 2021 lineup of Ibanez guitars, basses and pedals at Swee Lee. Head down to your nearest Swee Lee outlet to give them a try or check out what's new with Ibanez with the button above.
Read more: Why You Should Buy a Custom Shop Guitar