Like many of you, we're no stranger to local singer-songwriter Marian Carmel and her ethereal voice and infectious personality, having had the pleasure of listening to her live (yes, pre-covid things) performances at The Star Vista a couple of times. To find out more about the music that inspires her, we got to hang out and chill for a bit over at our Star Vista Flagship store and did some crate digging to check out some of the vinyl and albums that have left a lasting impression on her.
Marian's vinyl picks
MOJO by Evann McIntosh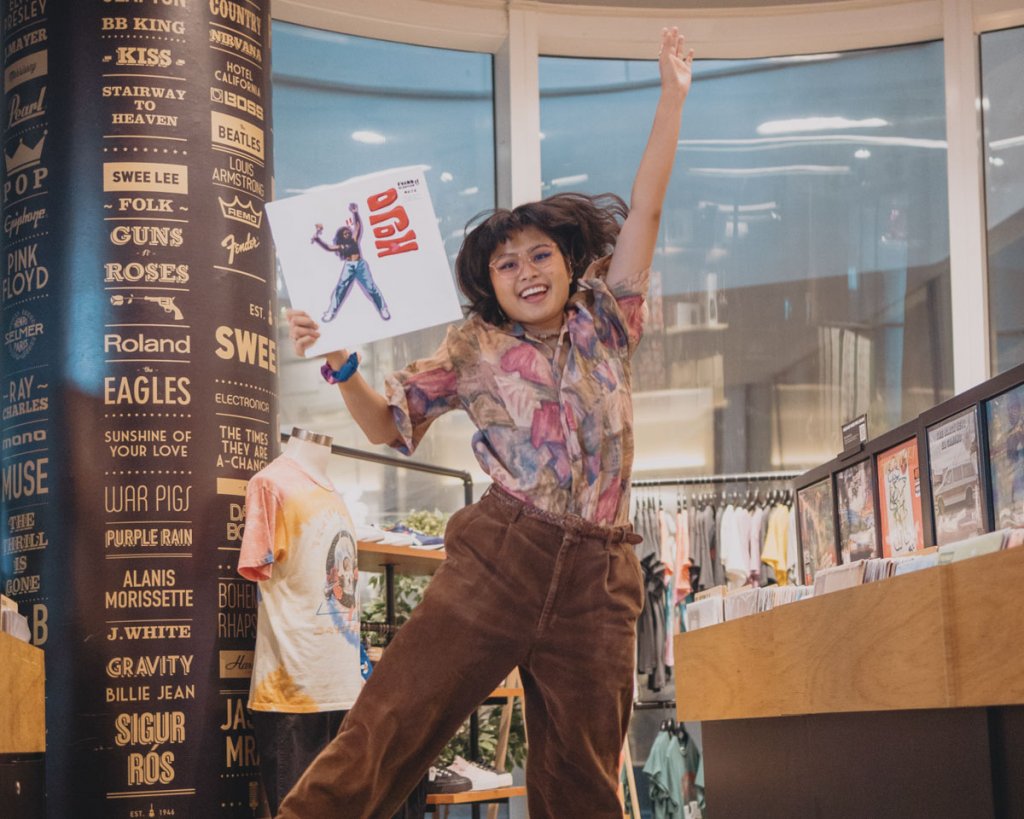 I listened to MOJO by Evann McIntosh on repeat during my final year of University. I remember looping their album while working on my thesis in the national library. That era of my life was also when I was recording "to you, to me", so I took a lot of inspiration from this album. I was discovering a lot about myself during that time, and MOJO kinda became the soundtrack of my August-October 2020.
Fave tracks: "What Dreams Are Made Of" & "TMDWIAWW"
Dancing with the Devil… the Art of Starting Over – Demi Lovato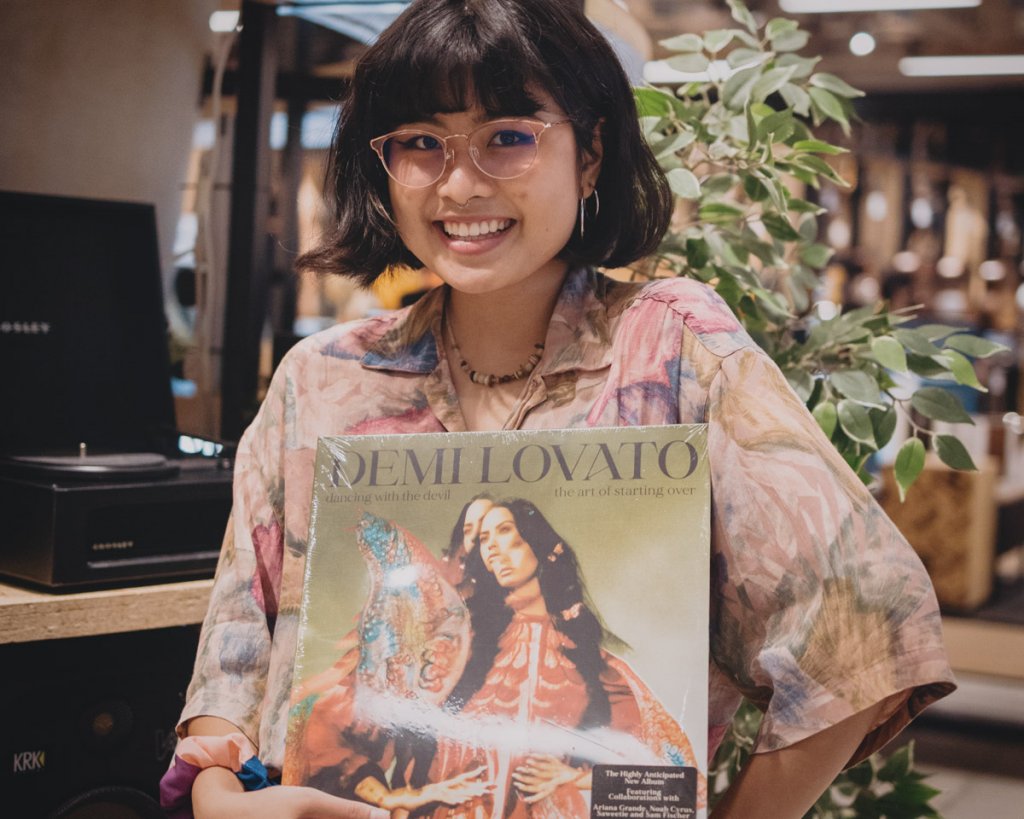 I grew up seeing Demi Lovato on TV, specifically on Camp Rock. They have been a huge inspiration, and the moment I saw their character Mitchie explore songwriting with her little book ("Mitchie's Songs"), I was inspired to do the same – made my own songwriting notebook with "Marian's Songs" on the cover. Camp Rock was basically my origin story.
It's been amazing to see Demi settle into their queerness and start loving themselves for who they are. There's a lot to learn from their journey, and the songs that they've written have helped me through my own journey too!
I also absolutely love the overly-tuned speech towards the end of "The Kind Of Lover I Am", it's so playful and I think it's a good reminder not to take things too seriously.
Fave tracks: "The Kind Of Lover I Am" & "The Art Of Starting Over"
Born This Way – Lady Gaga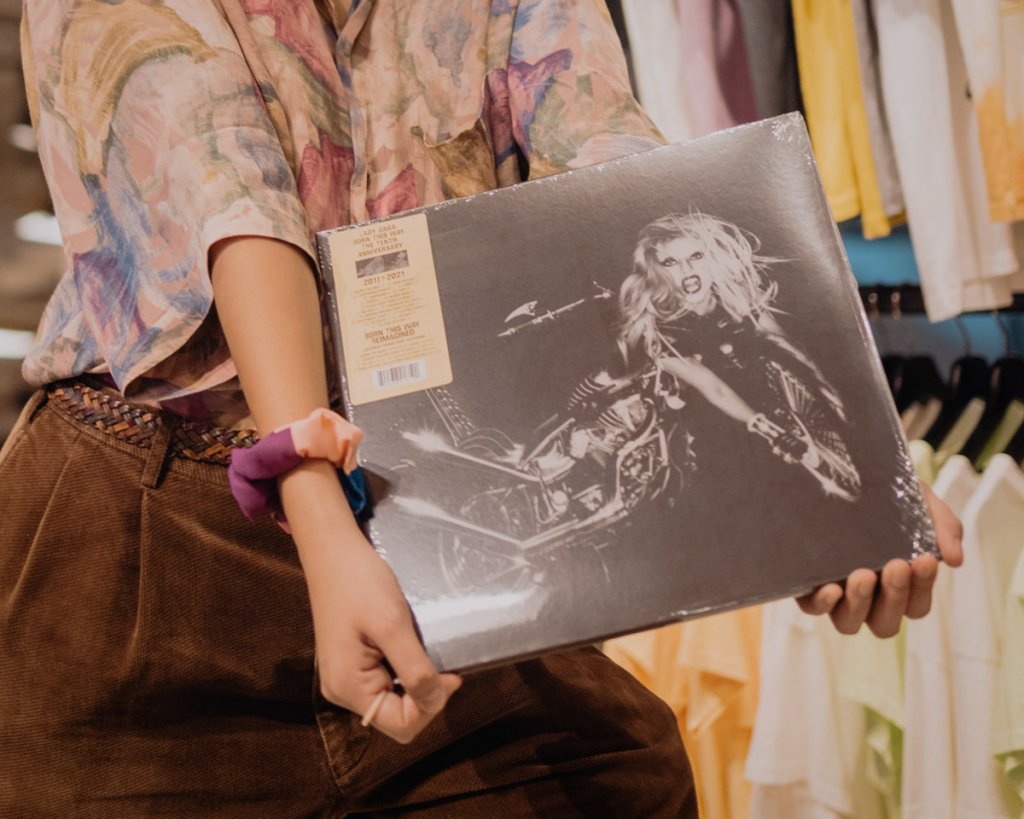 Back in secondary school, I would power-walk in the morning to 'Born This Way' by Lady Gaga. It seems so silly in hindsight, to imagine a younger version of myself getting hyped to this song, but I think it's exactly what I needed at the time. I still feel the same energy and confidence boost whenever I listen to this song. I've always been enamoured by Lady Gaga and her artistry – one of my first few performances was at my secondary school talent show, singing "Bad Romance" and "Yoü And I".
Fave tracks: "Born This Way" & "Yoü & I"
La vita nuova – Christine and the Queens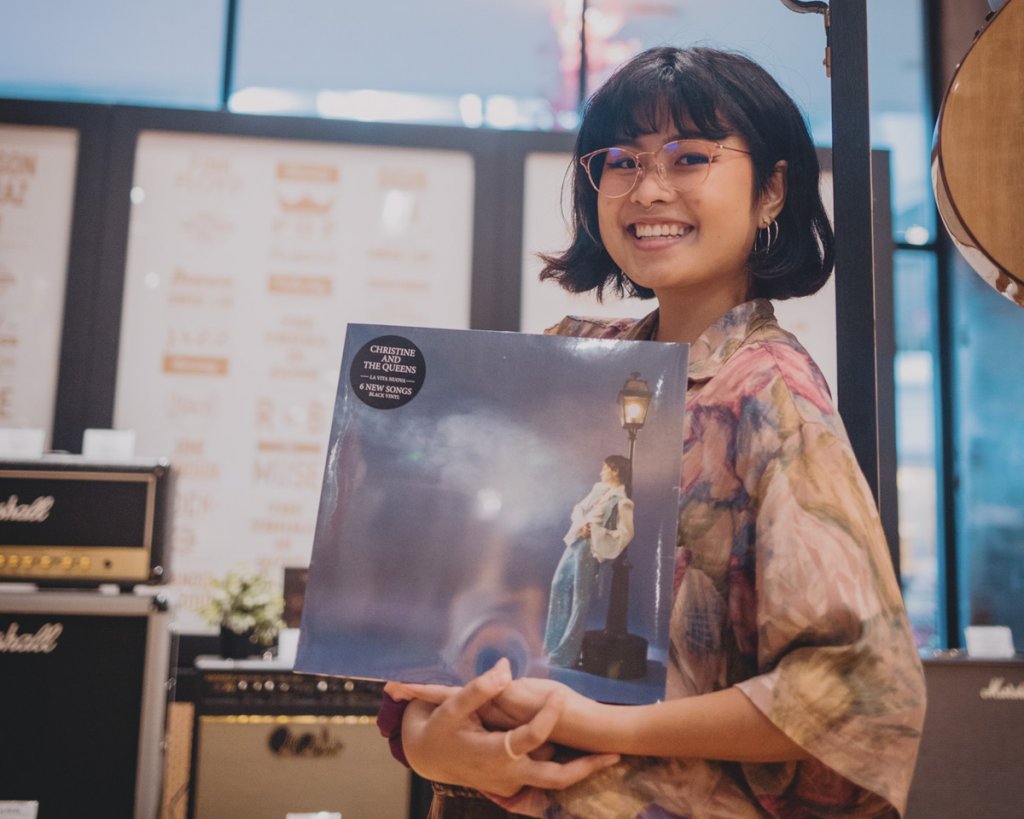 I first heard of Christine and the Queens through Charli XCX and their collaboration, "Gone". It was easy to fall in love with their voice and songwriting, and I love the way that they are so unapologetically and openly queer, even in their music and artistry. As a queer artist, it means a lot to me to see my elders having successful careers in music. It gives me hope that there is space for the queer community! Through Chris' music, I also discovered wonderful artists like Caroline Polachek, who joins them on the track "La Vita Nuova".
Fave tracks: "La Vita Nuova" & "Mountains (we met)"
Ow – Pom Pom Squad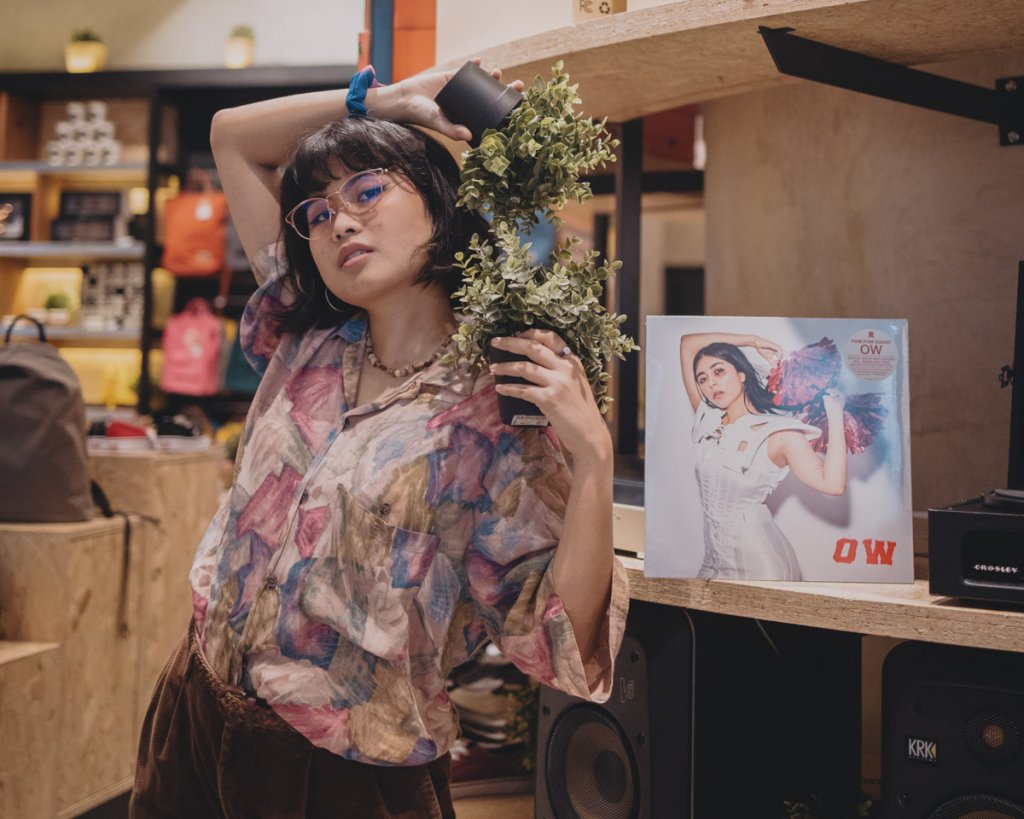 I heard about Mia/ Pom Pom Squad's music on the 'Created by Women' Spotify Playlist. Mia is also a kickass guitarist and a brutally honest songwriter (who writes about her queer relationships – yay!). Sometimes, there are days when you just want to listen to distorted guitars and scream at the top of your lungs, all while keeping a done-up, hyper-feminine and upbeat exterior. Pom Pom Squad is the perfect companion for that.
Fave tracks: "Heavy Heavy" & "Cut My Hair"
The Prettiest Curse – Hinds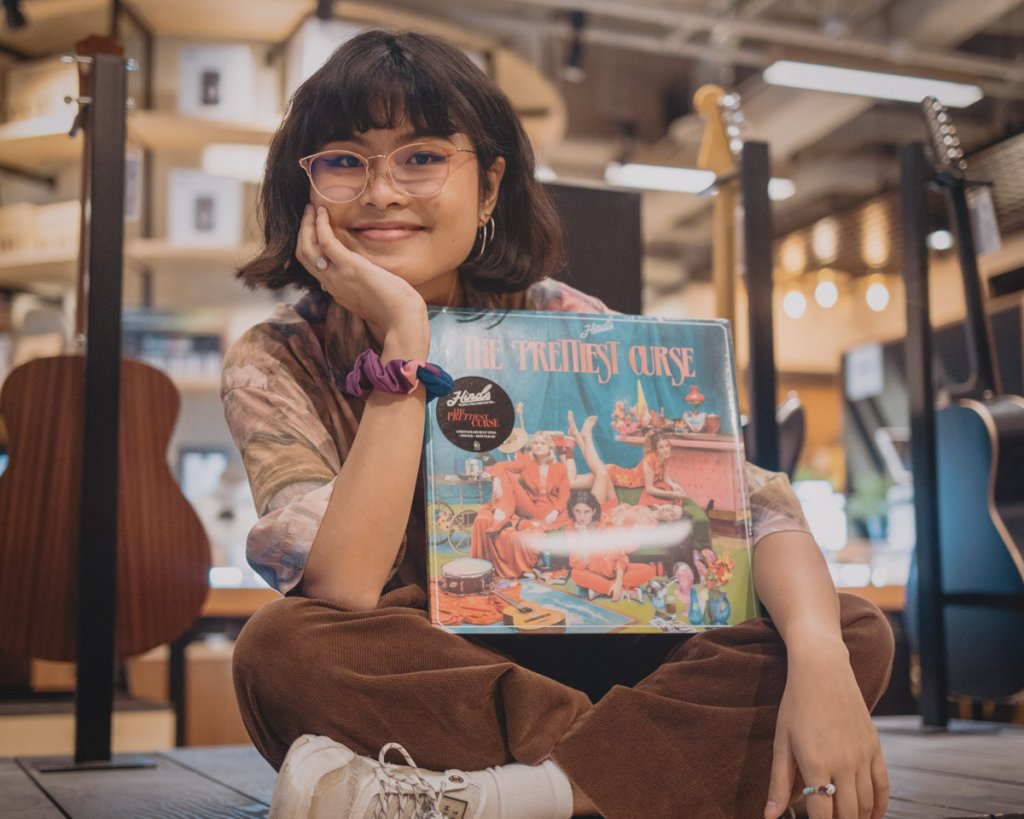 To be honest, I've never heard of them, I just saw the cover art on the vinyl and thought they looked really badass. The colours, the set design, and an all-female band! I knew I had to check them out. So I went back and listened to the album, and loved it! I'm a sucker for washy indie-rock bands and I'm really glad I found out about them.
The melody choices in "Come Back And Love Me <3" are so interesting, and there's a treat in every listen.
Fave tracks: "Good Bad Times" & "Riding Solo"
to you, to me – on cassette!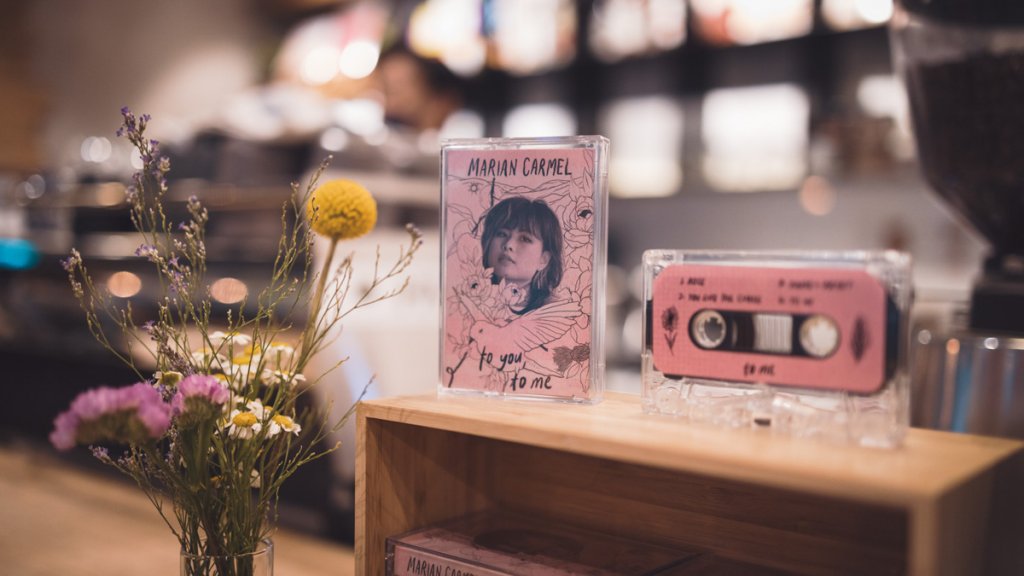 Marian Carmel also released her debut concept album, "to you, to me" late last year. The 8-track album is released through the Singapore-based independent music label, Where Are the Fruits, and we're super excited to have "to you, to me" available for sale at Swee Lee – in cassette!
P.S. Need a cassette player? We've got some here!
Exclusive, custom-made, rosey
The good vibes don't just end here! Swee Lee Social Club has put together an exclusive beverage inspired by the album "to you, to me" and this is what we've got!
Tinted Rose Latte – $7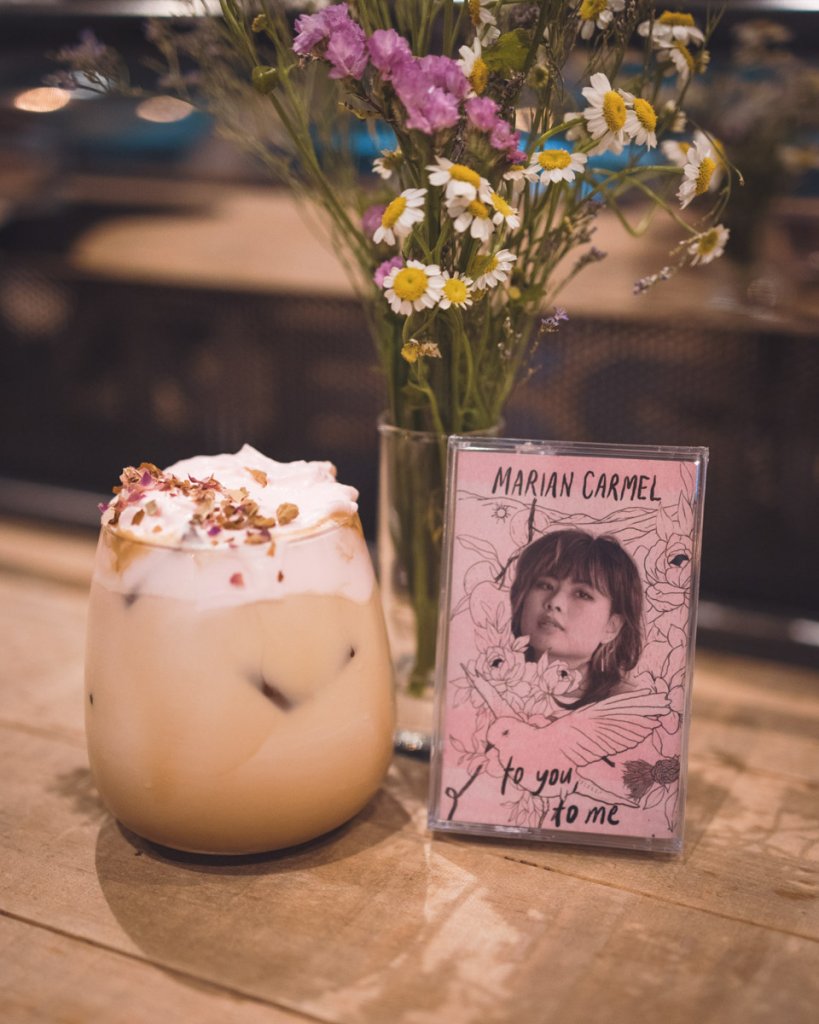 Life isn't always a bed of roses but we all learn to take the bitter with the sweet! The Tinted Rose Latte is an exclusive beverage put together as an homage to Marian's single "Rose". The bespoke concoction begins with a rose-flavoured iced latte – rose syrup, espresso and steamed milk, and it's topped off with whipped cream and edible roses. You might just see things through rose-tinted glasses with your first sip!
Make sure you head down to Swee Lee Social Club Star Vista to try this exclusive menu item a try! It'll be available till 19 February.