As the younger sibling of mega-brand Fender, Squier is commonly dismissed as a budget brand, but naysayers couldn't be further from the truth. Made from quality tonewoods and top-notch electronics, Squier's lineups are always something to look forward to and 2022's offerings are no different!
Shop Squier's FSR & 40th Anniversary
From updated versions of vintage classics, to fresh entries in their acclaimed Paranormal and Affinity series, there are Squiers for hire. We've already put together a handy guide about the brand's current makes and models. Read that, then join us as we pore over Squier's newest guitars in 2022.
Read more: Upgrade Your Axe: Our Best-Selling Fender Telecasters of 2022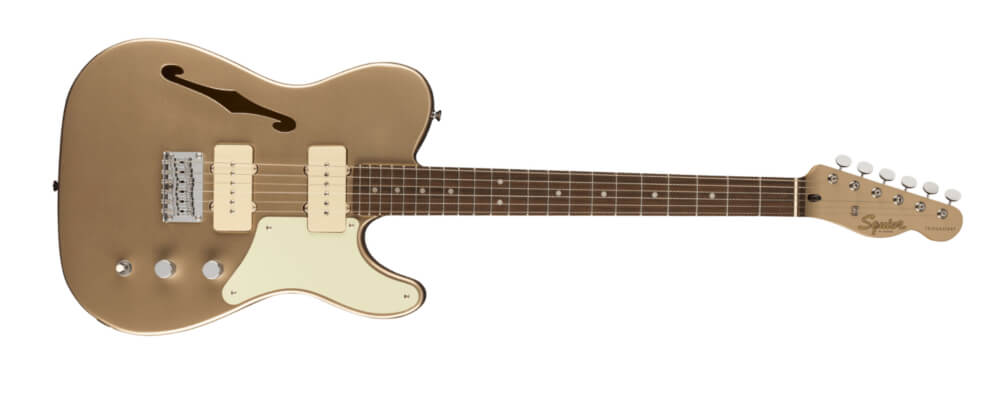 The Paranormal series is known for its modern take on classic Fender designs, and the latest addition to the series is a semi-hollow body with a twist on the 50s Tele. Instead of an alder body, they've chosen a well-balanced poplar mainframe paired with a laurel fingerboard. The latter material hews close to Indian rosewood in looks and feel, singing with rich overtones and vibrant highs. Always putting player performance first, the string-through body bridge and slender C-shaped neck profile cater to both string stability and effortless playability. Dual Fender-Designed Alnico Jazzmaster single coils pair well with its resonant body, melding into a bright, yet smooth sound.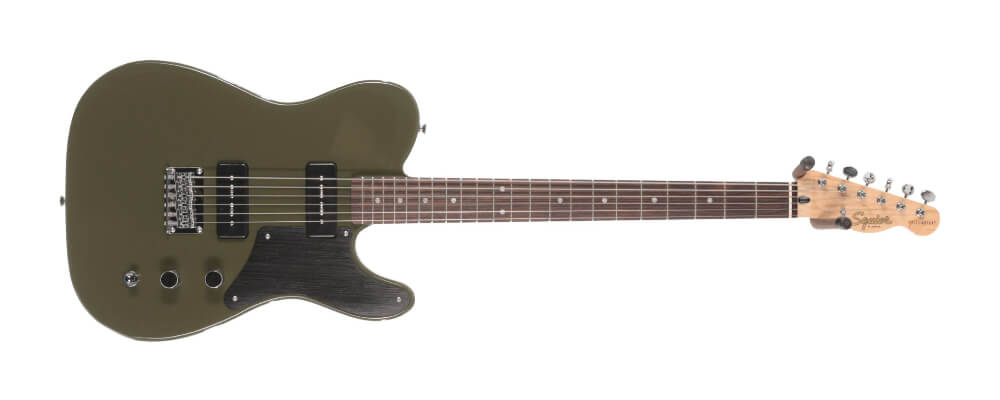 Baritone guitars used to be esoteric pieces of equipment that only dedicated players would have in their arsenal. Not anymore! The Baritone meets the Tele in an epic crossover as Squier doubles up on its Paranormal Cabronita Teles with never before seen colourways and upgrades. With its Fender-crafted soapbar pickups, the guitar sounds like a dream. Play it straight for zingy and honey-like tones. Get the gain going and light up with a fuzz-heavy, tight midrange sound that would fit right into a detuned metal chugfest.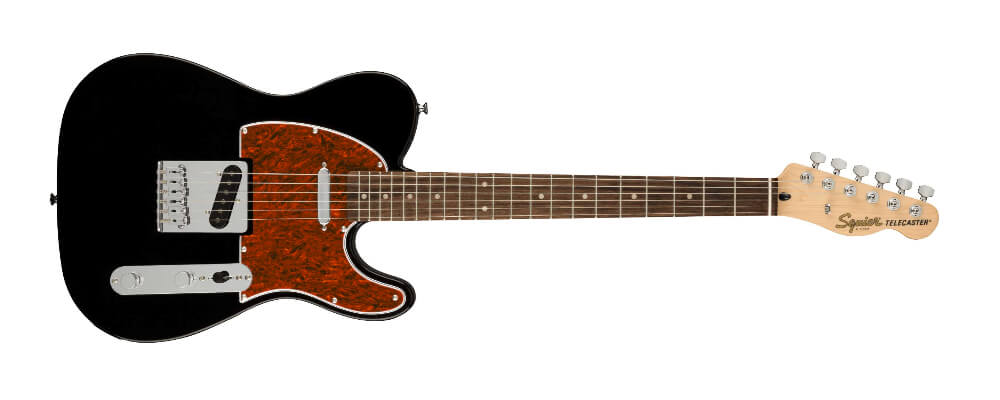 An affordable and well-rounded guitar, Squier's Affinity models are the perfect gateway axes for beginner musicians. Its string-through-body-bridge brims with resonance while amping up string tension for a steady playing experience. 21 medium-sized jumbo frets allows for easier bends, picking, and runs – making for a comfortable playing experience. Sealed die-cast tuning machines with split shafts for off-the-cuff string changes ensure your strings stay in tune for extended periods of time. Finally, two single-coil Tele pickups with volume and master tone controls makes this the perfect starter guitar for all you burgeoning rockstars.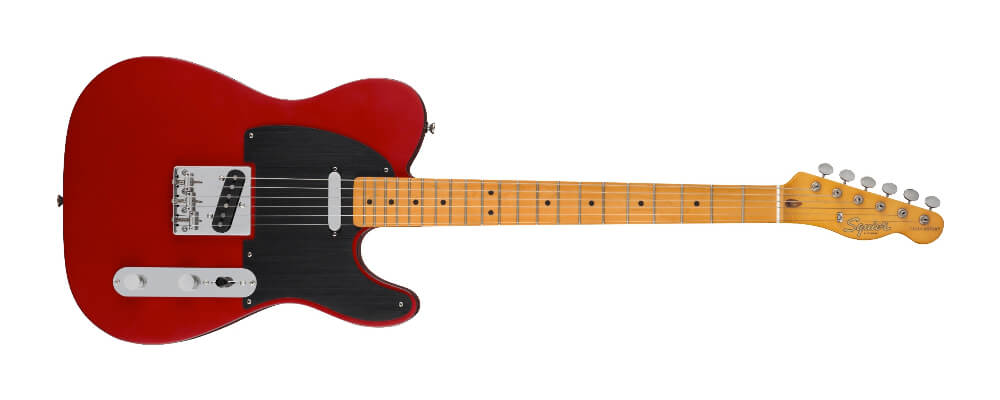 2022 marks Squier's 40th year in business, and their stunning anniversary design lives up to the hype. Thoughtfully-aged chrome hardware and a jet black anodised aluminium pickguard set this Tele apart from other T-styles. Retro fittings meet contemporary playability in a 3-saddle bridge and vintage tuning keys. The Fender-designed Alnico single-coil pickups boast crystalline tones that punch perfectly across rock, pop, and jazzy genres. The 9.5-inch fingerboard's larger playing surface allows for wider string bends and broad vibratos. A perfect axe if you ask us.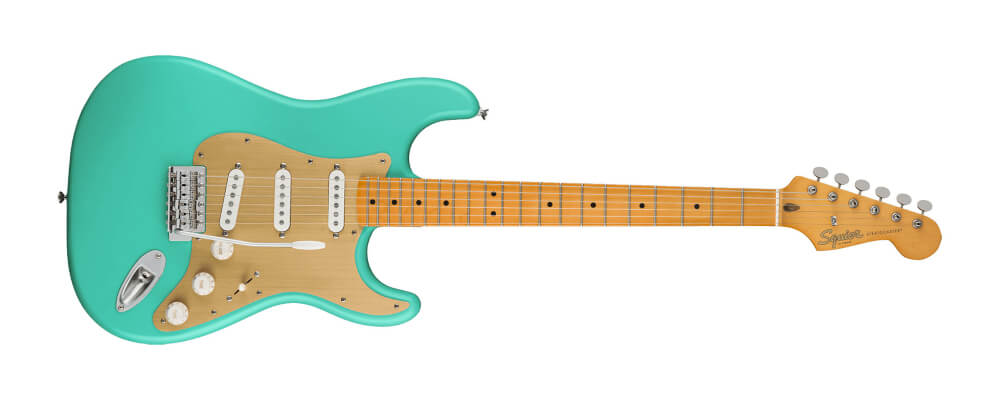 You've met the 40th Anniversary Tele, now bask in the presence of its Strat counterpart. Bedecked in the same aged chrome hardware, anodized aluminium pickguard, and a commemorative engraved neck plate, it's a vision. Everything you want in an S-style is here too. Solid Nyatoh body with unending curves? Check. 6-saddle synchronised tremolos and tuners? Double check. The 40th Anniversary Strat also comes loaded with Alnico V-loaded single coils that bring out the Strat's signature spank, strut, and sizzle. Along with sound-shaping tools like a 5-position blade, master volume, and twin tone controls, talk about the best anniversary present ever!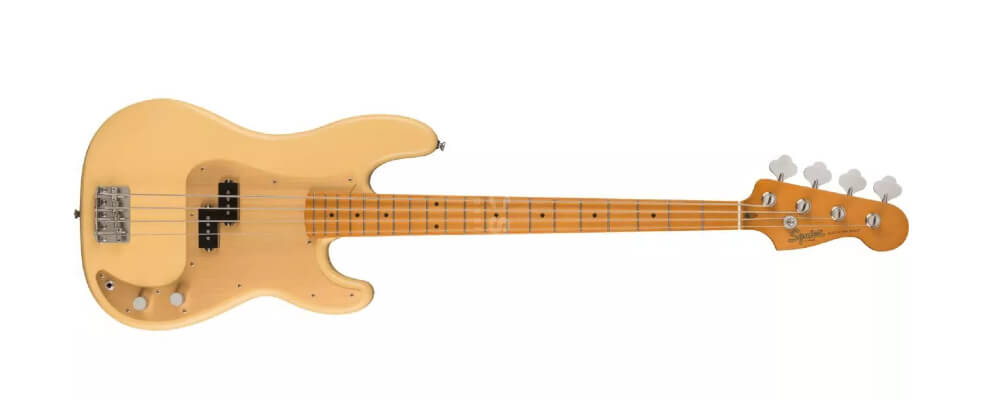 After four decades, it's safe to say that Squier's gotten bass-craftsmanship down. To celebrate Squier turning 40, the revolutionary Precision Bass has been given an upgrade! This interpretation retains the original's body-hugging contours, balanced in both standing and seated positions. Split single-coil pickups bring out the bass' quintessential thick and punchy tone with deep lows and rounded mids. Motown's favourite sound goes to work on your ears, while the aged chrome hardware and gold anodised aluminium pickguard are a veritable feast for the eyes.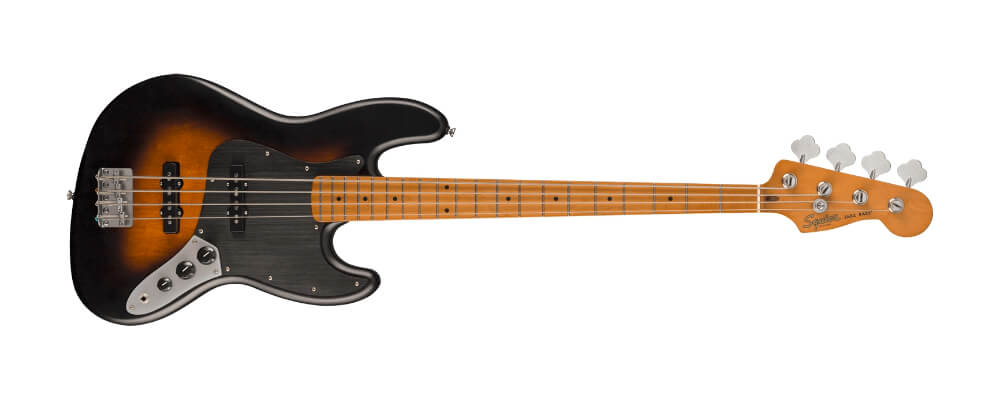 Don't settle for one bass. Defined by its offset-waist body shape, the J Bass' contoured body staves off discomfort even through the longest jam sessions. Speed bassists will appreciate the fluidity of its slim C-profile neck, especially handy for those swift jazz overtures. Try blending the volumes of its dual alnico single-coil pickups for some tonal magic. With its shimmering gold anodised aluminium pickguard with aged chrome hardware, this 40th-anniversary edition of the Jazz Bass is built for timeless action and appeal.
---
As always, Squier has hit it out of the ballpark! We're always left amazed after our annual pilgrimages through their latest collections, and we hope you've found yourself equally enthused. Think you could stand to own a Squier of your own? They don't come much better than this year's designs, so take your pick from the guitars and basses on offer here. Just a reminder, the 40th Anniversary editions are limited, so you'd best act quick if you've lost your heart to one of them!
Shop Squier's FSR & 40th Anniversary
Ready to make a connection? Come seal the deal down at your nearest Swee Lee store. Wanna get to know them first? Then peruse the selection and other Squier products on our website. For the latest store offerings and deals, sign up for our newsletter!
Read more: The Best Heavy Metal Guitars & Amps for 2022