The Telecaster is definitely one of the world's most iconic guitars. Developed in 1950 by Leo Fender, the inimitable Tele went on to become the world's first mass-produced solid-body electric guitar. Musicians the likes of Led Zeppelin, Radiohead, Slipknot, and more spanning across various genres have since incorporated Telecasters into their kits.
Shop Our Best-Selling Telecasters
While the Telecaster has undergone many modifications in the time it's been around, its most unforgettable iteration involves Fender's single-cut design with a sleek headstock, and ashtray-style bridge. Bolt-on construction and single-coil pickups make for an unmistakable bright and spanky tone, although some modern versions utilise humbuckers instead.
Today, there's a Tele for everyone – from rank amateurs to well-honed professionals. It's a straight-shooting axe that lends itself to a variety of styles and settings. Here are 7 of Swee Lee's best-selling Fender Telecasters from 2022 (so far)!
Read more: Guitar Pedals for Beginners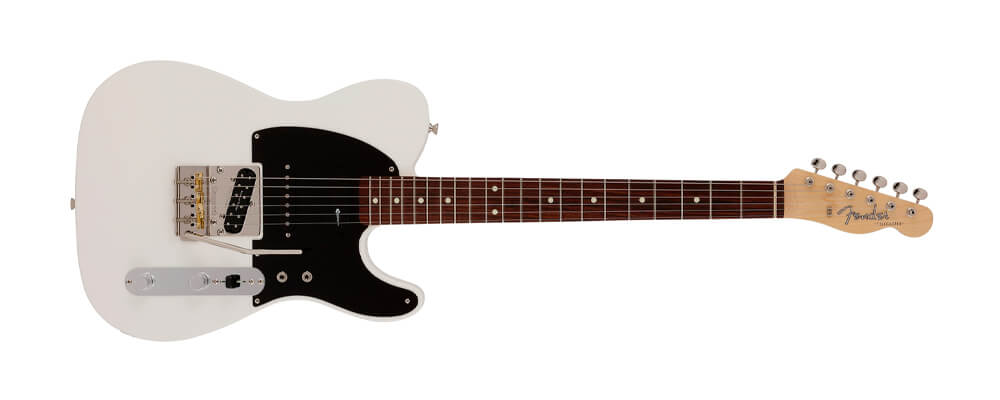 Known as the "samurai guitarist", MIYAVI's enormous presence in Japan's guitar scene cannot be overstated. Equally impressive is his signature Telecaster, a bold testament to his love of the unconventional. For starters, he's gone for a HSS configuration, tacking on a Seymour Duncan Little '59 humbucker in the bridge to accompany single coiled Pure Vintage '65 Gray-Bottom (middle) and Sustained Driver (neck) pickups. In addition to the master volume, tone, and 5-way selector switch, the Tele also features two new controls for the Sustainer Driver. The first turns it on and off while the second allows you to switch between Fundamental, Harmonic, or Blend sustain voices. Finally, three brass saddles round off the whammy-heavy Maverick Super Vee tremolo system. Jam-packed with MIYAVI's playstyle, prep yourself for a timeless challenge with this custom shop Telecaster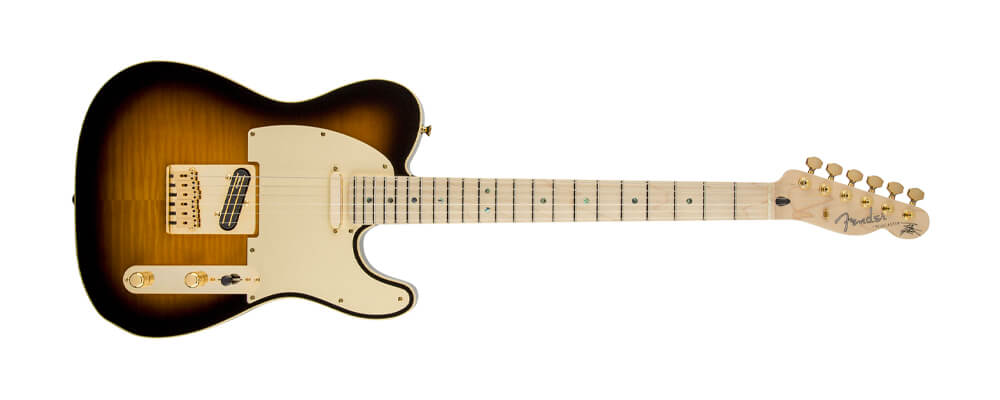 In between fronting Winery Dogs and his own soaring solo career, Richie Kotzen has found time to develop his own Telecaster. Kotzen's idiosyncratic fingerpicking technique plays easy on its wide C-profile maple neck bound to a contoured ash body with flamed maple top. Instead of defaulting to a single-coil, the bridge and neck areas deploy DiMarzio Chopper T and Twang King pickups respectively. Armed with hand-calibrated magnets and double wax-potting, the Twang King's crunchy lows and mids power through anything from rock to fusion jazz.
Read more: The Best Heavy Metal Guitars & Amps for 2022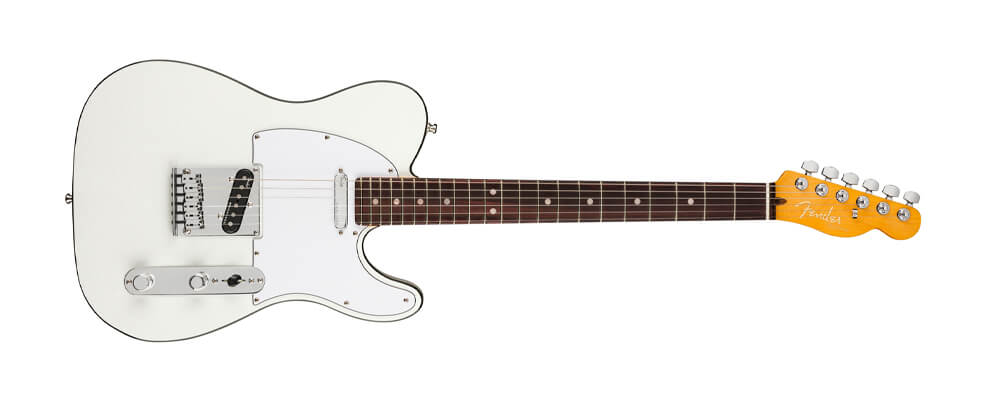 With its polished alder body, all-maple neck construct and embossed headstock, nothing embodies a classic Telecaster like the American Ultra. The axe also comes upgraded with comfort contours on the top, back, and heel. While retaining the quintessential SS config, Fender's upped the game on the American Ultra with its revolutionary Noiseless circuitry, which shears off signal noise and hum typically heard in older models. Even better, the volume knob contains an S-1 switch that aligns pickups in a series for guttural tones that sound just like those of a humbucking pickup. It's the best of both worlds!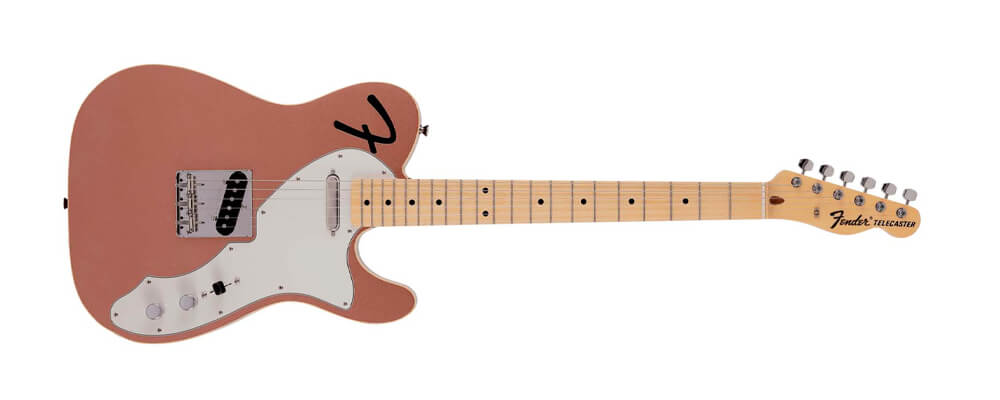 Want a guitar that stands out? Fender Japan's Thinline Teles are cunningly adorned with a spaghetti "F" logo where a traditional cut-out shape would normally be. This quirkiness carries through the guitar's glossy ash body – finished in polyester – and onto knurled Flat-Top knobs and a 3-saddle strings-through-body-bridge. Expect tons of retro character in the twin Original Vintage Telecaster pickups, and channel that authentic '50s twang that would fit right into a rockabilly concert.
Read more: Signature Sounds: John Mayer's Gear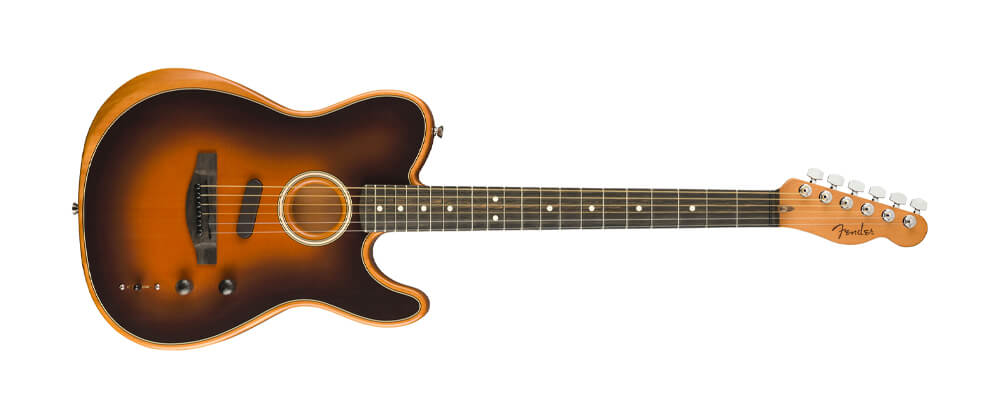 Can't decide between an acoustic or electric guitar? Fender saves you the trouble with their hybrid Telecaster that straddles both domains to perfection. Layer acoustic rhythms with electric textures mid-song at the push of its 5-way switch. With each switch position pivoting between two distinct sound profiles – clean/crunch and parlour/dreadnought, play around with a 10-voiced system. Blend sounds effortlessly via the rear mod knob and cruise into hum-free leads with the magnetic bridge pickup. Its mini-soundhole mahogany body, designed with a SIRS resonance enhancement system, ensures that the Acoustasonic sounds delicious plugged into an amp, or straight into a PA.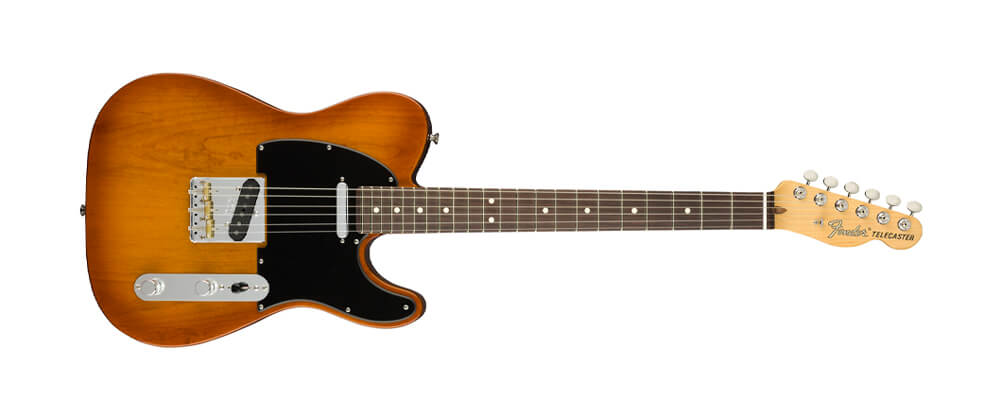 The American Performer Series' is the perfect Telecaster for beginner players. It's got all the bells and whistles of a standard Tele, from a highly playable maple neck and rosewood fingerboard to jumbo frets. The guitar's innovative Greasebucket tone control rolls off highs without adding unwanted bass or volume fluctuations. Bucking any accusations of being old-fashioned, this T-style opts for Yosemite single-coil pickups with flat-staggered pole pieces that expertly balance fiery tone with aggressive bite.
Read more: A Swee Lee Exclusive: Harmony Introduces Sierra Ukuleles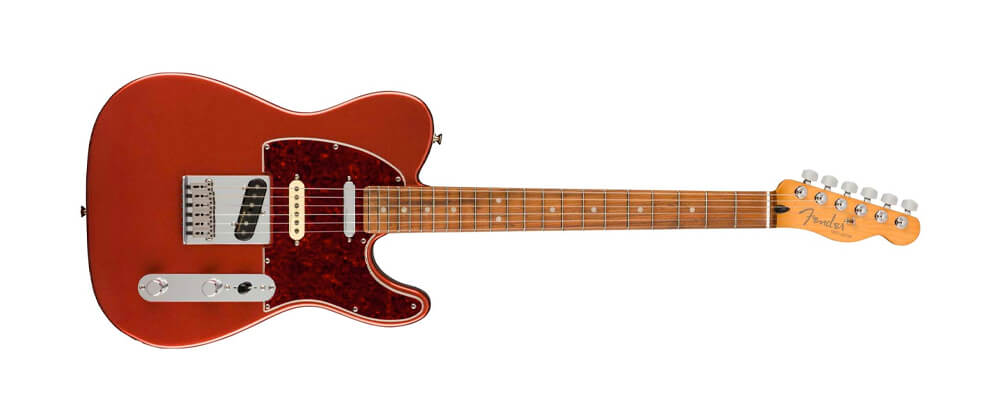 One glance at this hot-rodded Telecaster's fast-action neck tells you what it's built for – action. Its contemporary 6-saddle string-through bridge is chompy without sacrificing intonation. Deluxe cast and sealed locking tuners keep notes in check, even through speedy string changes. You'll be spoilt for choice with the guitar's Noiseless Strat single-coil pickup and a duo of Noiseless Tele pickups in the neck and bridge position. Need more texture in your sound? Adjust the tone knob and set the neck pickup to positions one or two, and there's no holding you back!
---
Once again, there are no fast and hard rules when it comes to selecting the right Telecaster for you. You can stay on the beaten path with a classic T-style or opt for an axe kitted out with alternate pickup configs and hardware upgrades. Single-coils melt into country, funk, and bluesy sounds, while high-octane humbuckers better serve rock and metal enthusiasts. As long as you know what you want to sound like, you're all set to rumble!
Shop Our Best-Selling Telecasters
Want to know more about T-styles and other guitar styles? We're happy to share our knowledge at any Swee Lee outlet. There are many more options available in-stores and online, so keep yourself in the loop and sign up for our newsletter. Whenever something new pops up, you'll be the first to find out.
Read more: MONO x Teisco Drop Special Edition Vertigo™ Electric Cases