Darren Teh is an honest guy. As we chat before the interview, he's about as candid as can be while talking about his gear, the music industry and everything in between.
So it isn't a surprise to us that the name of his pop-punk band, An Honest Mistake (AHM), seems to be an apt fit to his candour. Playing the role of the vocalist and guitarist, Darren is nothing short of a modern day polymath with lecturing and organising music festivals being some of the other things he fills his CV with.
Having gone through multiple tours across Asia, sharing the stage with the likes of Boys Like Girls, Motion City Soundtrack, and Against The Current and releasing five albums since their inception in 2008, what is next on the horizon for AHM?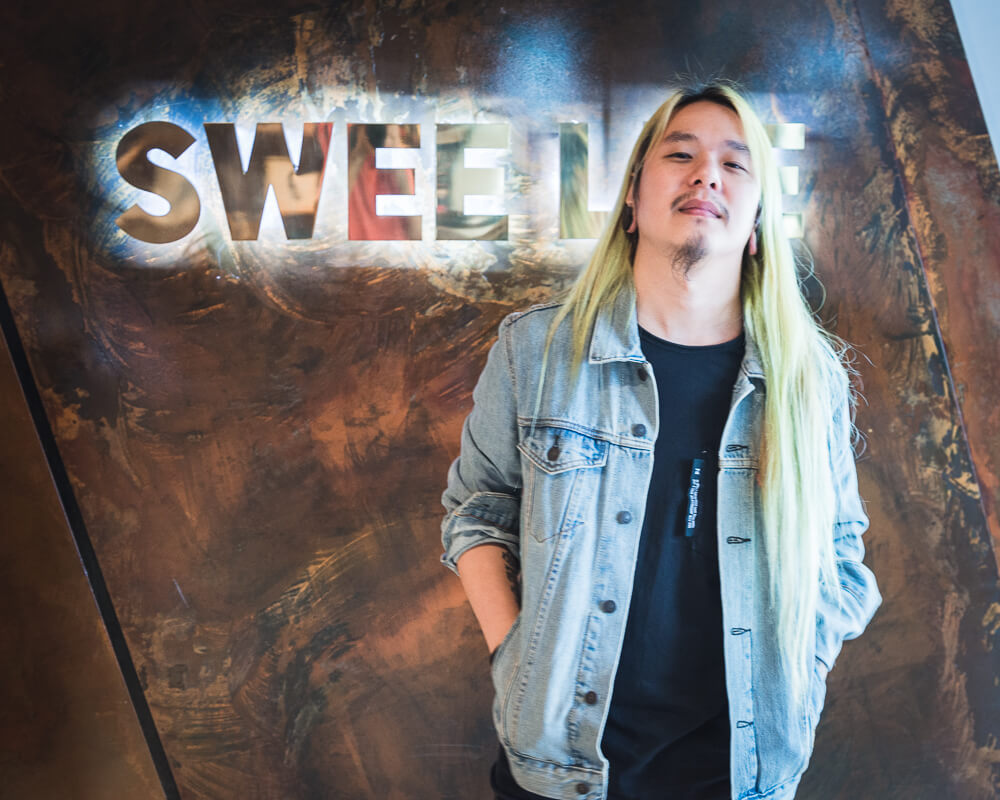 Hi Darren! It's been awhile since we last saw you here! What is happening in 2020 for AHM?
2020 is looking good for us in-spite of the obvious challenges. We kicked off the year with a big corporate show where we got to perform with Mad August. They're a big band in the Chinese scene so it was quite an honour to be able to not just share the stage but to collaborate on the performance.
In the 3rd week of February, we were in Okinawa, Japan for another music conference where I was speaking at and performing. We're building bridges and paving the way for other artists in the future, you know what I mean?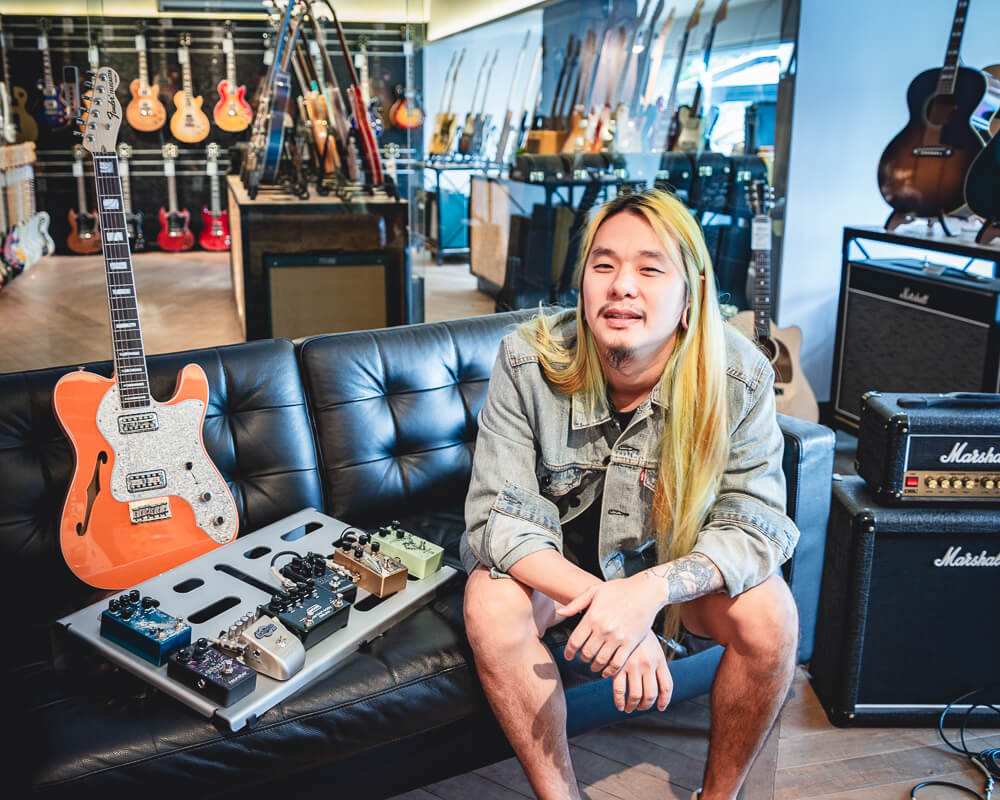 We were doing a bit of travelling while we were preparing for our new release. We've been working on this track for close to a year. It was a little different from our usual that's why it has taken a bit of time to perfect it. By the time this article is out, we would have released our new single.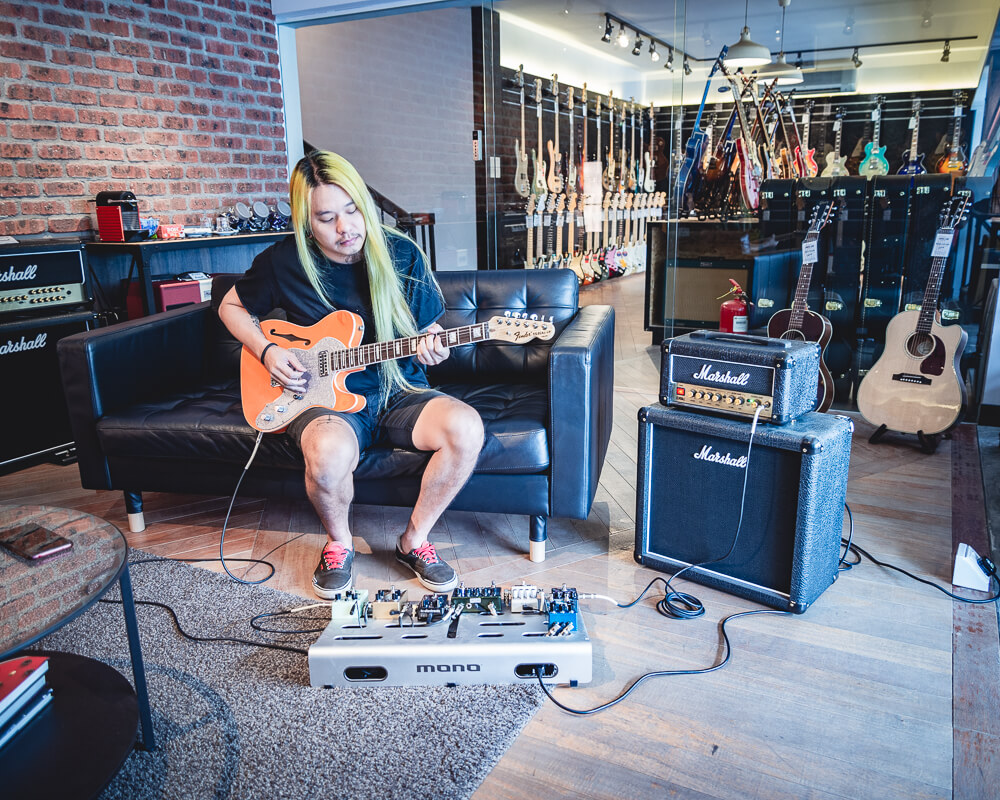 How about in 2019? Any interesting developments last year?
In 2019, the An Honest Mistake was just cruising. We had some big shows and a couple of smaller ones. It was a time for realignment and slight rebranding in our direction.
We also closed out 2019 by doing a tour in Bangkok. It was a 4-day tour but we did 6 shows within that short period of time. It was tiring but it's one of those things we just wanted to do. We were there mainly for a music conference called Bangkok Music City where I spoke at and performed as a band. Since we were already there, might as well book a few more shows!
How are you guys changing moving forwards? Has it anything to do with that new track you guys are releasing?
Yup, you're right! We've always been a pop punk band but right now we're tapping into more electronic and R&B sounds. It's a huge step because it's not just a shift stylistically but a shift in our minds as well. Rethinking how we initially operated when writing is no easy chore. We're super excited to release it and to see what the reception will be!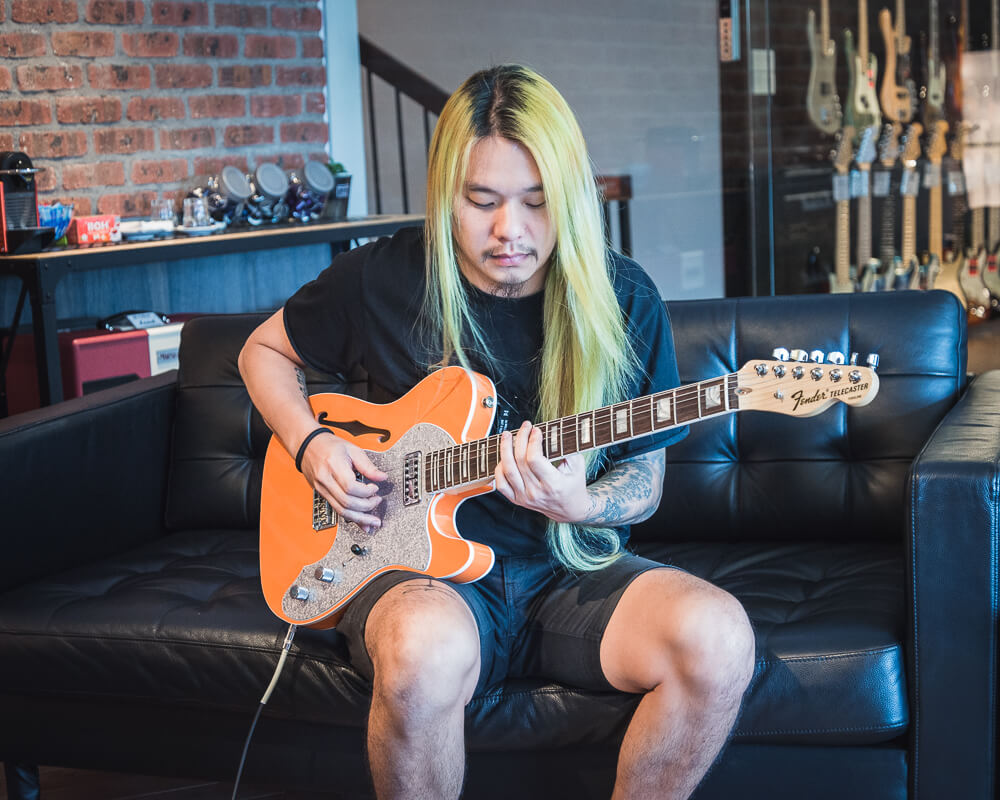 Definitely looking forward to hearing your new sound! What have you been doing away from the band?
Apart from being an artist/performer, I manage a few artists. It's a small outfit that I operate under AHM Records which is a label we had formed in 2011/2012 for billing purposes with the foresight that we'd become a full-fledged label later on. We are still operating at a very minimal where we do artist management & development as well as bookings. We've delved into organising events as well. That's pretty much what I've been doing since 2018 where I left the artist management job. This is a continuation off of that.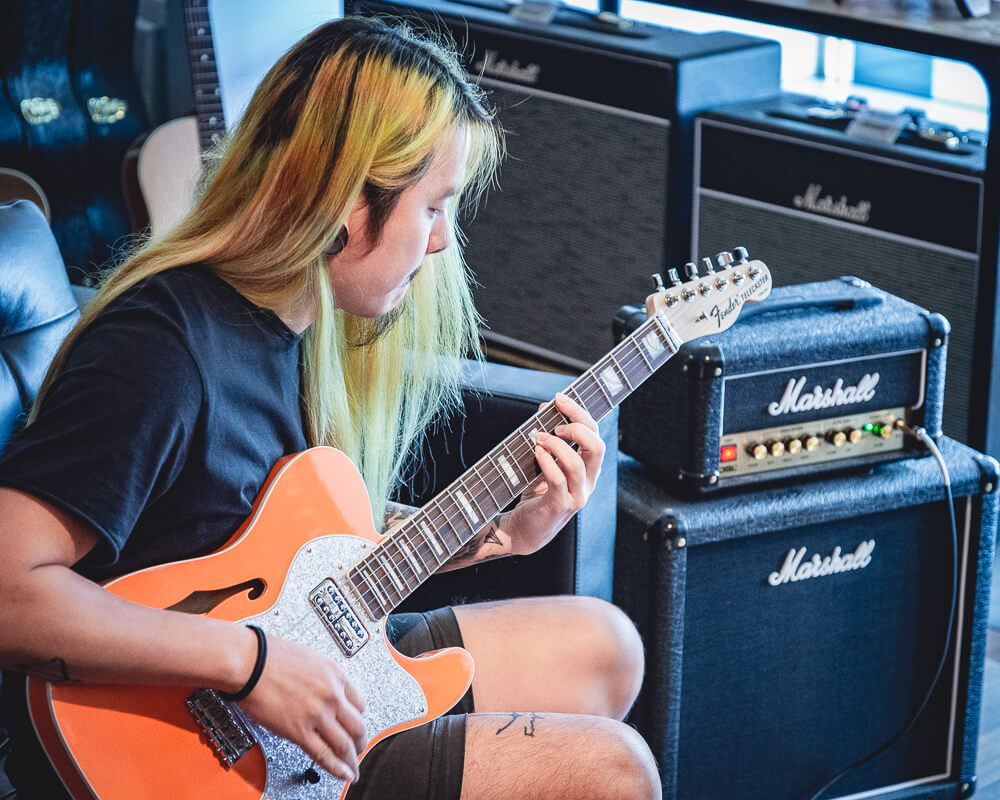 Let's talk a little about gear now! I hear that you like to keep things pretty simple on tour. What is the philosophy behind your sound?
I have always been a straight to amp kind of guy. I've been playing British styled amps for many years since the beginning of my career as an artist in Malaysia. I used to see them in the backlogged guitar magazines that my brother had and I just fell in love with them.
My first tube amp was a 15 watt head and I still play those to this day either through a 2×12 open back cab and closed back cab. I won't bore you with details but here's my take – you don't need a 100-watter and giant 4×12 in most venues. What's the point of having such a large amp that's difficult to lug around and the volume's only up to 1.5? I'm a believer of smaller amps where you get to maximise the tubes and get the fullest out of them.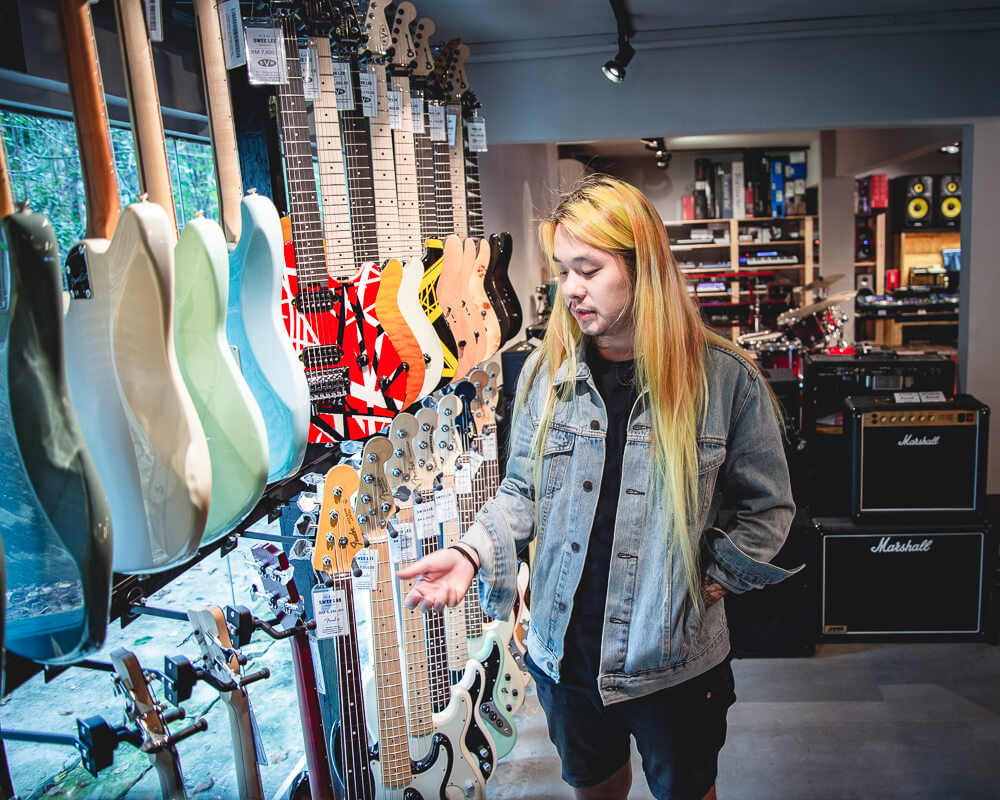 So before we sat down, we saw you scouring the area for gear. What did you manage to find?
Actually, I wanted to test out some pedals for a change. I know I said that I'm a straight to amp guy but when we travel with the band, I don't have the liberty of lugging my amp around so having pedals can really help me the sound I usually get with my own set up on the road. My setup is pretty simple: A good drive, a good delay and reverb is all I need. This setup is pretty much the basic 'praise & worship' setup for the times I play in church.
I picked out the Marshall DSL1H and a Marshall MX112R 80W 1×12 cab to help me test out the effects; yeah you guessed it! It's a tiny amp. That's all it needs to be for me. Throughout the entire tryout session, I was on the 'Classic Gain' channel. It was clean enough with a tiny touch of breakup. Everything was played on the Fender Ltd Ed Parallel Universe Telecaster Thinline Super Deluxe by the way.
Here's a look at some of the pedals I found that worked really well for me.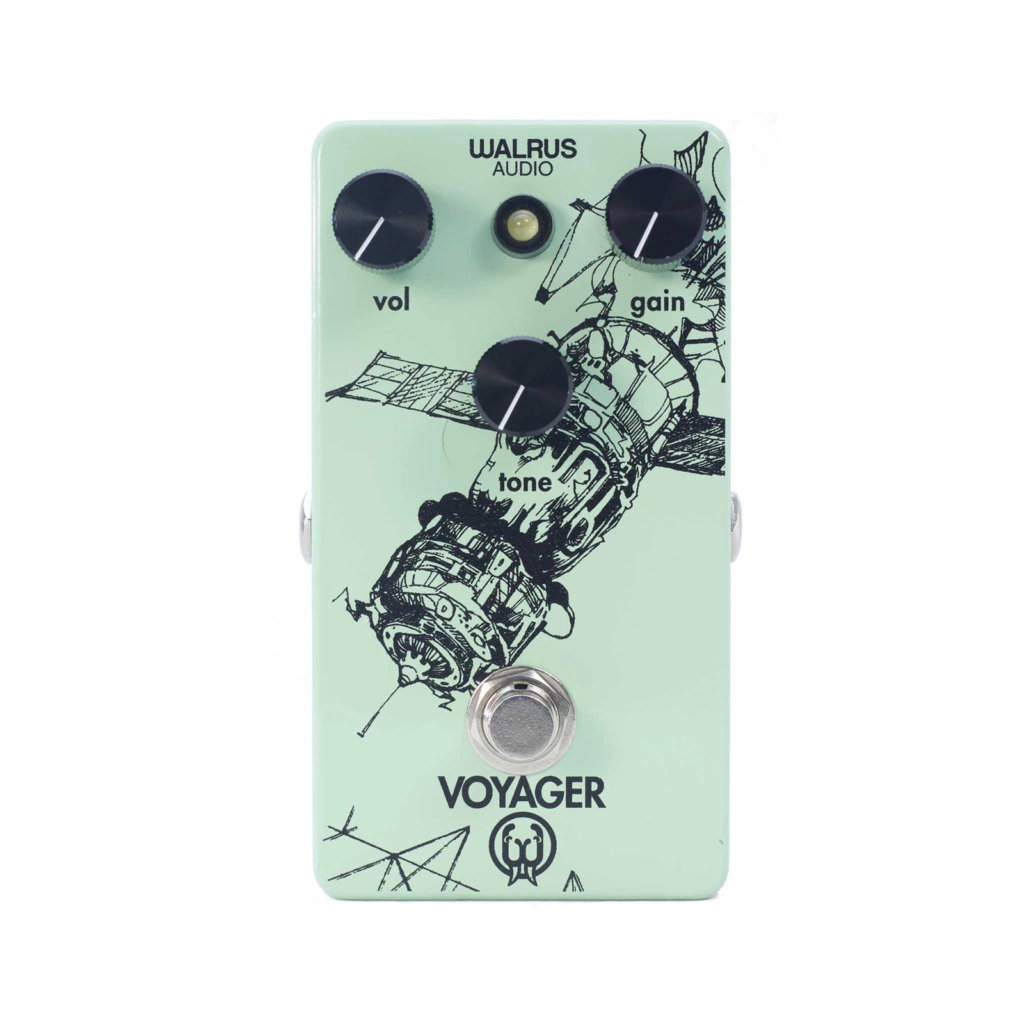 This was the first pedal in the chain. Simple traditional controls: volume, tone and gain. This pedal really impressed me. It could go from mellow drive to mid gain. I could play chords and each note rings perfectly and remains perfectly audible unlike some other pedals where it's just a wall of sound that lacks definition. I could get a decent chug too if you're all about that. For a pedal at this price, it'd be a waste to use it just as a booster. Being the simple guy that I am, I don't bother stacking or mixing pedals. I'd just use it for its intended purpose; straight up!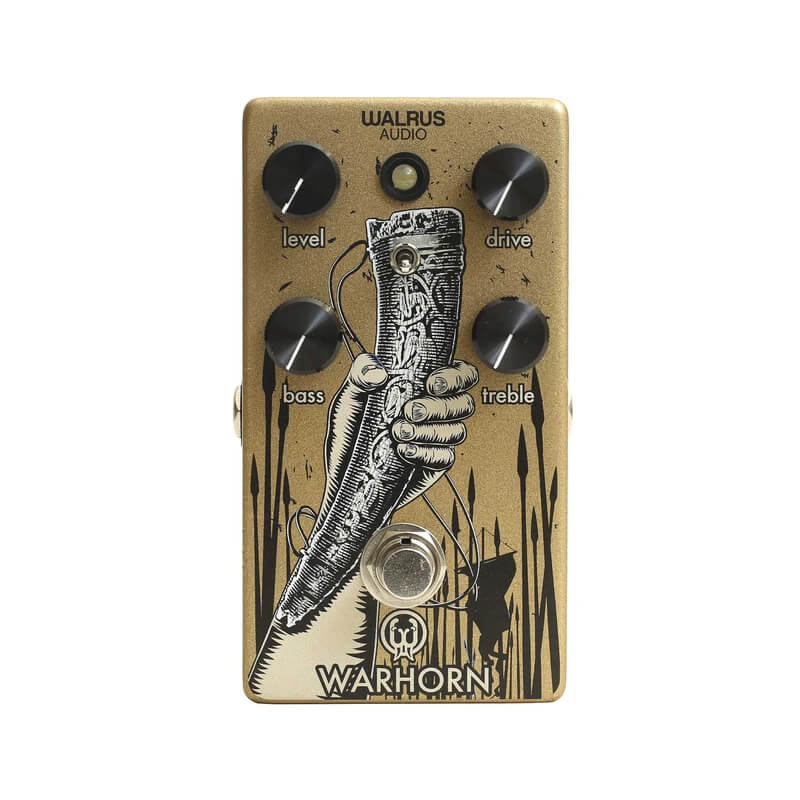 Somewhat similar to the Voyager but with 2 different voicings plus a bass and treble control. This reminds me of my Digitech Bad Monkey Overdrive. I used it prior to owning an amp and it worked so well. I even used it on bass. Anyway, with the Warhorn, I had the switch down. It was definitely more gain-y than the 'up' position. With the 2 band EQ controls I was able to dial in a more precise tone as compared to a regular one knob tone control. I realized that a tone knob often cuts out a lot of low end as you turn it up. Having a 2 band EQ control, I could still have the clarity that I needed and yet maintain the low end.
TC Electronic Dark Matter Distortion Pedal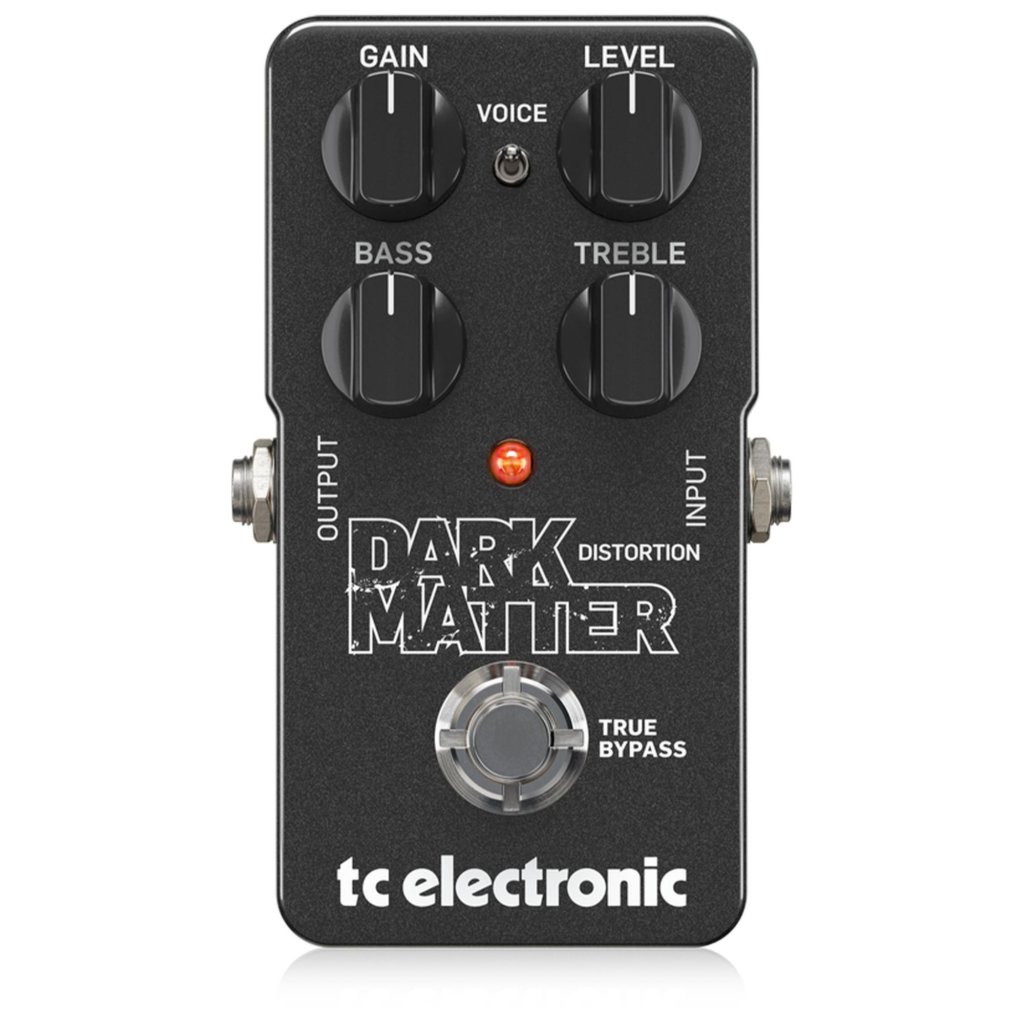 All the craze about TC when they first came out with the Nova Delay and everybody would have either the Hall Of Fame Reverb and Flashback Delay but rarely ever the drive pedals by them. I picked this one out specifically mainly because it was a fraction of the price of the Walrus Audio pedals. This one had similar controls to the Warhorn including the 'voice' switch. The major difference would of course be the price. The other would be the quality of sound. They may both have similar controls but the Dark Matter definitely has more gain to it. It's essentially an overdrive/distortion pedal. You could switch between these two modes pretty much. Not on the fly but you could choose. For beginners getting into pedals, this would be a good investment to start off with.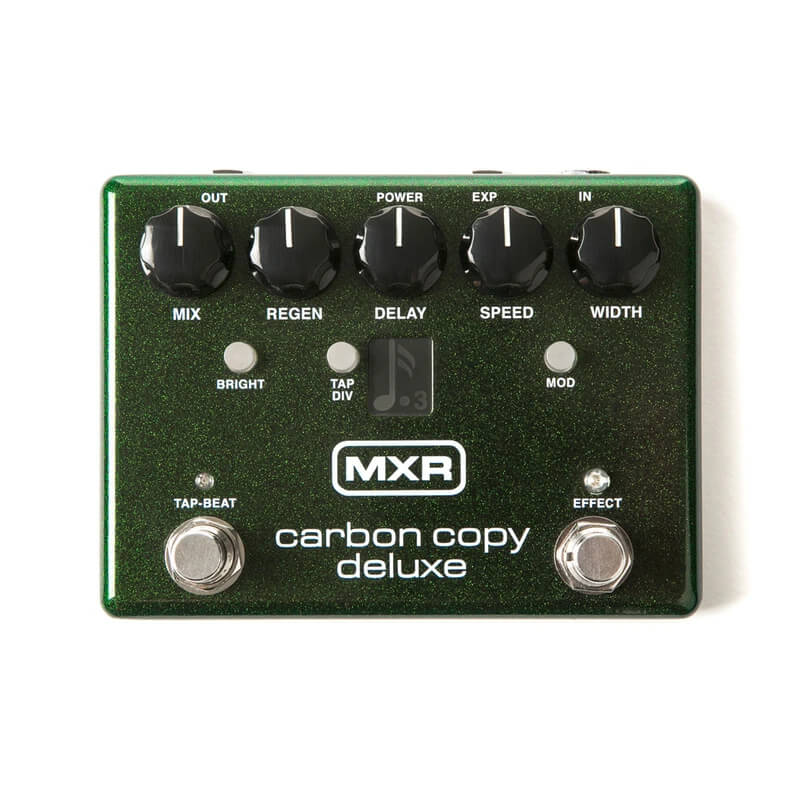 Ah the famed Carbon Copy Delay. I owned a regular version before and I loved it but not enough to keep it. I sold it off mainly because I wanted something with tap tempo. The MXR Carbon Copy Deluxe on the other hand definitely gets the job done. I've always loved the tone of the repeats and and now with a tap function available together with its divisions, this pedal is definitely a keeper. It's analog. Pure tone. If you're in a post-rock band, the way the pedal oscillates is something you might want to check out.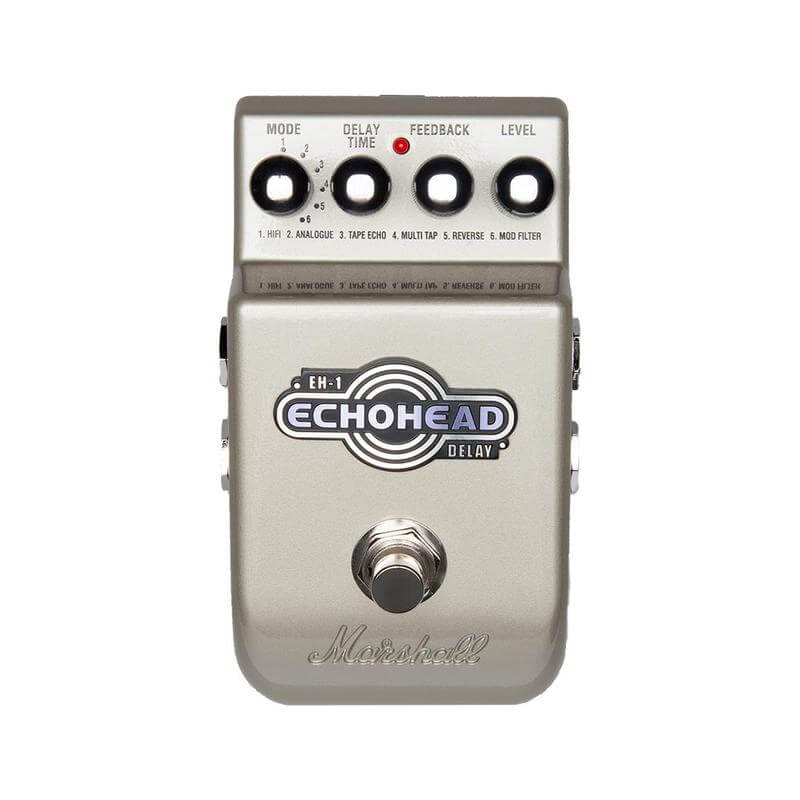 The most under-rated delay pedal in the market. Nobody ever talks about how amazing this pedal is. While everyone is hung-up on the Strymon Timeline and pedals of that caliber, this tiny box has a few unique features that makes it stand out. The first delay pedal I've messed with was my brother's 'Lazer' delay. At that time, I didn't even understand what it did or why it was even called a delay. Later on, I had the chance to play with a Boss DD-3 where I was able to understand the parameters of a delay better. When he got the Marshall Echohead, I had to have a go at it and lo and behold, I was blown away. Blown away then and even now.
First of all, it's got an external tap pedal input. That's already a winner. It's got 6 modes and all of which are so subtle even when the mix is turned up all the way, it does retain a chunk of the clean signal. It's such a smooth pedal that works so well especially if you are creating space within the entire band. You don't need that arena sound to create space. Just the warmth and subtlety would do. My favourite modes are the reverse and mod filter. While most reverse modes on most delay pedals have that awkward repeat, the Marshall Echohead does it so well as though the repeats are seamless. The mod filter creates a kind of a phaser effect with the delay. For all the atmospheric stuff that churches are moving into with praise and worship music, you can't go wrong with this one.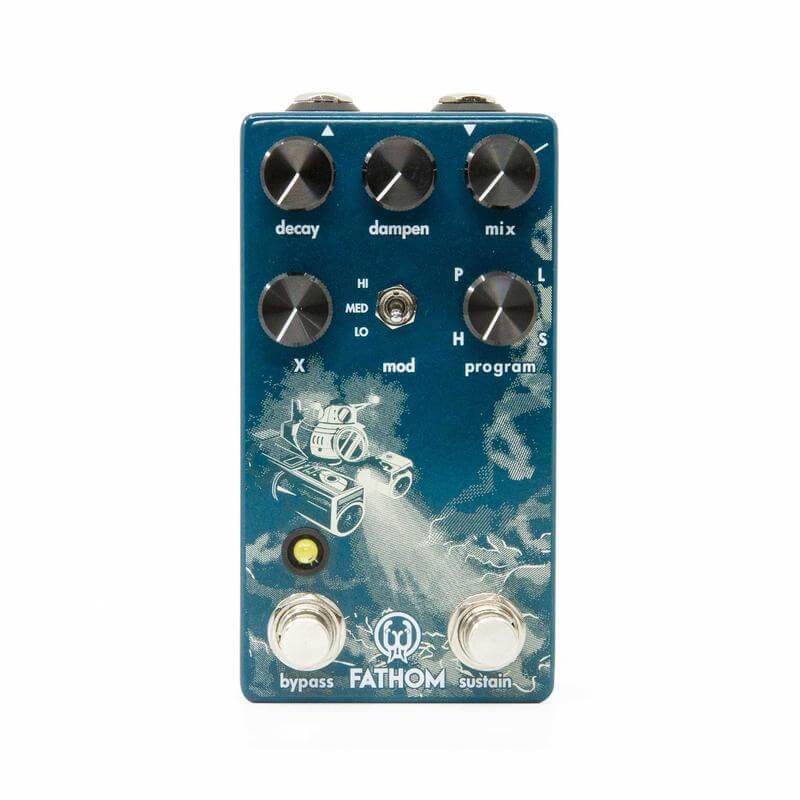 I picked this pedal to showcase the a reverb with different modes. On top of that, I wanted to mainly compare the shimmer modes. I had this one on the 'S' mode which stands for sonar ( I initially thought S meant shimmer). The cool thing about this mode was the way you could blend the octaves in this mode using the 'X' knob. While most reverb pedals have a pre-delay knob, this one doesn't really have one. The effect takes place as immediately as you pluck the strings. It's like putting a POG (Electro Harmonix POG) through a reverb except you don't need a POG in this case . There's so much that can be done with this pedal. My favourite function is the momentary sustain switch where if you tap on it even when the pedal is turned off, you'll be able to get a short burst of reverb. This works especially well when you just want the effect at a certain point of a song you're playing. Instead of tapping it on and off, just hold on the switch for that period.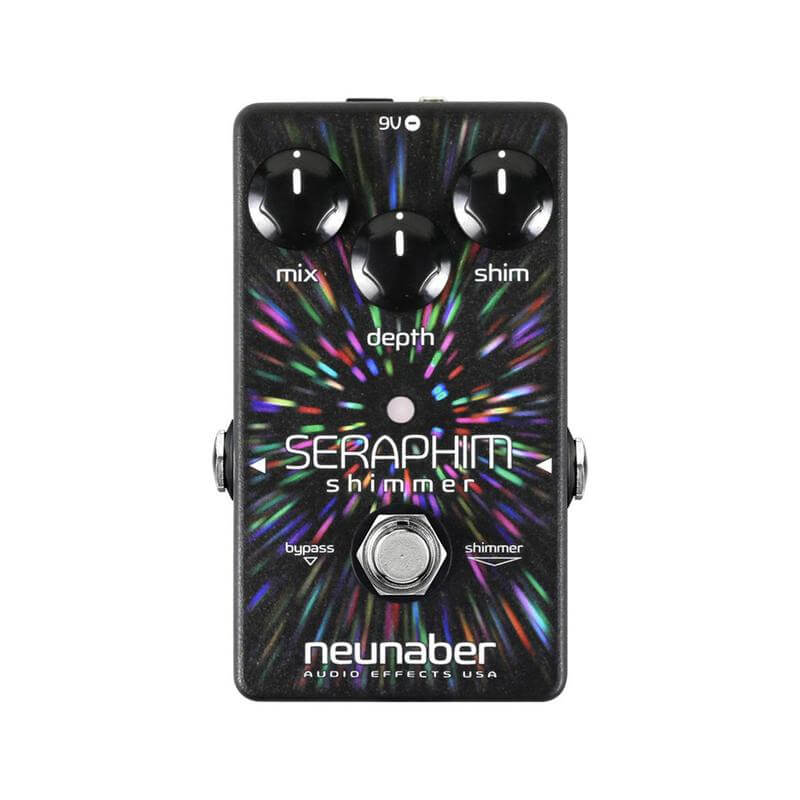 The pedal from heaven. If you ever die and go to heaven, I reckon this is how it would sound. Plus, a seraphim is a kind of angel anyway so I guess the makers at Neunaber probably thought of it too. The Strymon Blue Sky is by far the best subtle shimmer reverb I've heard but the Seraphim puts every other shimmer pedal to shame. Of course, I'm basing this only on the shimmer mode of any reverb pedal. The Seraphim does the job and does it well. On my board for church, I have the Digitech Hardwire Supernatural on shimmer mode and another super under-rated reverb pedal, the CKK Electronics Infinite Reverb. Combining these two pedals would only allow me to get what the Seraphim is able to do with a click of a button. It creates a bed of sound that resonates and reverberates as if it's forever when the 'depth' control is maxed out. It doesn't oscillate. It doesn't envelop everything else that's played before. It's subtle. It's big. It sounds heavenly. You could also switch between the shimmer mode and could still run it like the Neunaber Wet Reverb. 2 in 1 pretty much.
These are some of the pedals that I picked out mainly based on the purpose of each one. While there are tons of more advanced and coveted pedals, these worked for me. Especially in the context of praise and worship, I'd say these would be a perfect setup. That being said, just because you have the most expensive pedals or the most advanced doesn't automatically make you a better player. Take your time and experiment with what works best for you and according to your budget.
If you are interested in keeping up to date with Darren's and AHM, you can follow them on Instagram @darrenahm & @ahmband. You can also stay up to date with their shows on their Facebook page here. They've just released their new single "#IDGAD" so if you're interested in checking out their new sound head over there right now!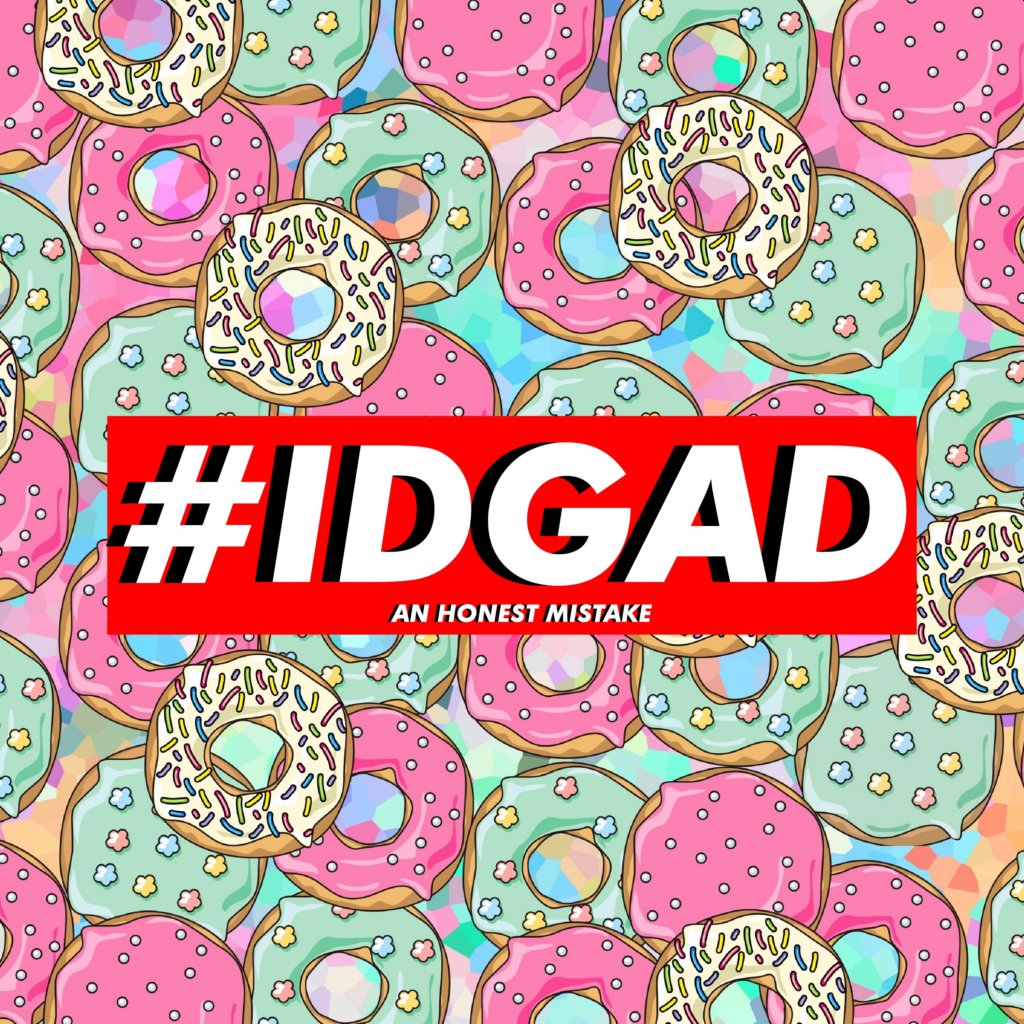 If you are interested in some of the pedals that Darren has tested out, please do check out the extensive range of pedals we have in our inventory right here!
If you'd like to read about our previous artist feature, you can do over here!