RØDE Microphones have landed at Swee Lee and we're happy to welcome such a popular manufacturer of mics to our gear line up.
From modest beginnings in Sydney to the global recording heavyweights they are today, RØDE mics are commonplace in the arsenals of recording artists, podcasters, fimmakers and more.
Here are just some of the RØDE mics with a stellar track record, and we can't wait to show them to you.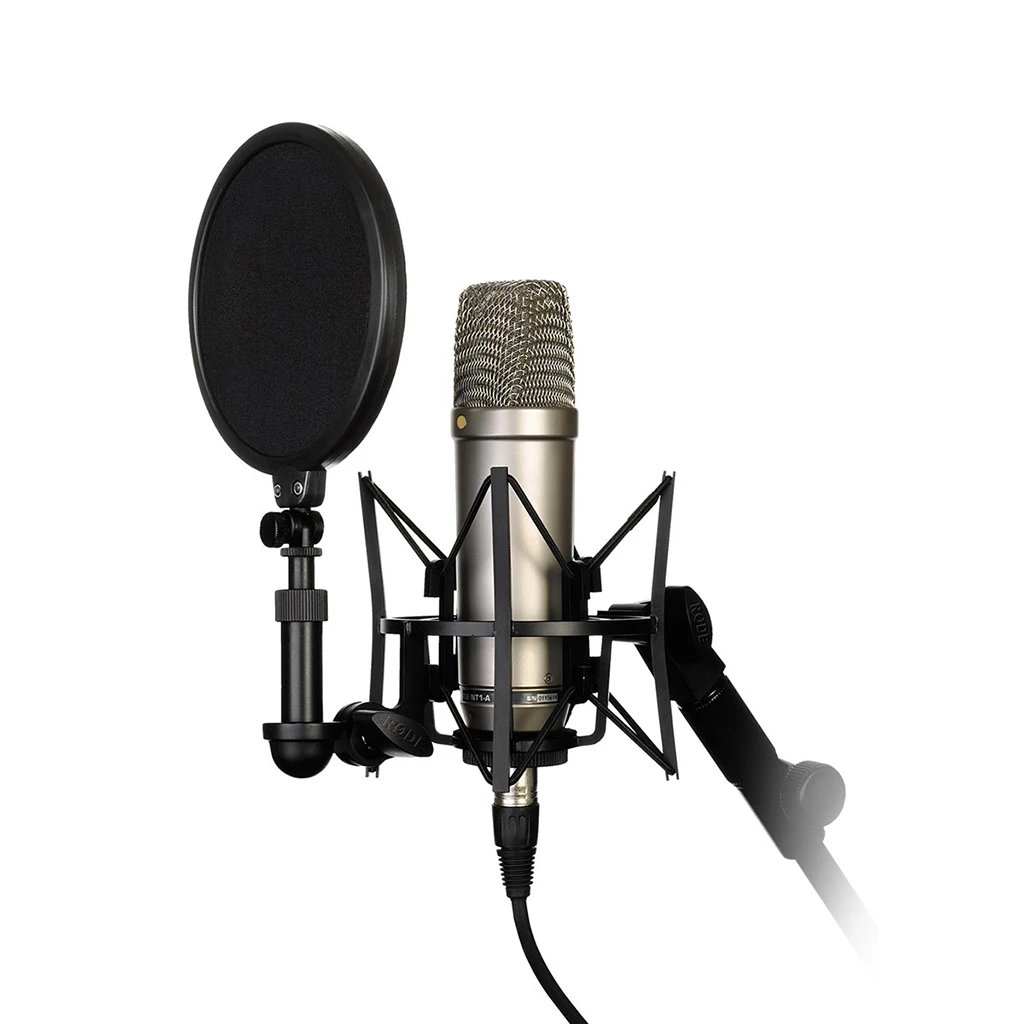 A large 1" capsule cardioid condenser design, the xf NT1-A is one of the most used mics in the industry. Dubbed the "world's quietest microphones", the NT1-A effortlessly captures clean, clear audio without the pops, hiss and crackle associated with mics of lesser pedigree. A gold plated diaphragm and true condenser design, the NT1-A delivers the warmth, extended dynamic range, and clarity usually found on vintage or high-end mics. This mic has a fairly neutral frequency response – albeit with a slight emphasis on the higher frequency ranges – which means you'll actually sound somewhat true to life in the final recording. The NT1-A can also handle decibels of up to 137dB(SPL) – meaning that you can record guitar cabinets and drum kits without hearing distortion due to signal overload.
Looking classy with its satin-finished, nickel-plated body while its solid-full body metal construction makes the NT1-A as durable as they come. And as with all the RØDE mics, build quality is top notch with even the smallest details having been thoroughly vetted over during the design and manufacturing phase. In fact, RØDE are so confident in the longevity of their products, they are willing to back up their bravado with a 10-year long warranty.
Bundled together in this package is everything you'll need to get your mic set up – RØDE includes a dedicated shockmount, a quality pop filter, a dust cover, a quality XLR cable, and even an instructional DVD that will get you up to speed with all things to do with miking. Whether you are a professional audio engineer to a recording enthusiast, the NT1-A offers you a great mic that performs when the studio lights turn on!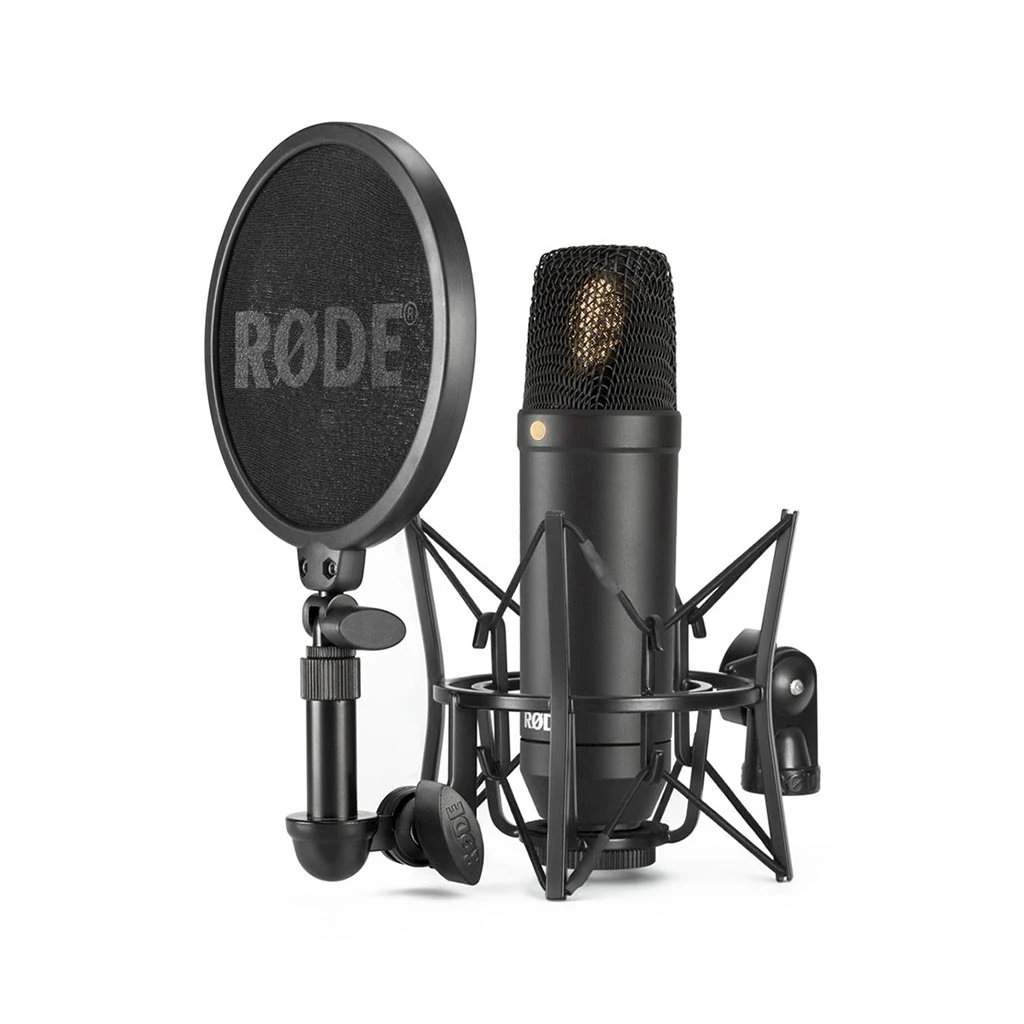 The latest iteration to take up the iconic designation, the new RØDE NT1 model is their most advanced flagship to date! As with the NT1-A, the NT1 is as silent as a church mouse with only a tiny 4.5dB of self-noise.
While the NT-1 shares a lot of visual cues with its NT1-A cousins, this flagship mic has been completely redesigned from the ground up. A marked difference comes in the form of the NT1's innovative capsule design. Codenamed the HF6, this capsule is a prime example of RØDE's fusion of artistic design approaches and cutting-edge manufacturing that manages to capture a sound profile reminiscent of the famous vintage microphones while at the same time exhibiting extremely low noise and modern durability.
Now for the golden question: "What's the main difference between the NT1-A and the NT1? Well, they're very similar in most ways except when it comes to the frequency response. While the NT1-A has a near neutral frequency response, the NT1 has an almost dead-on neutral frequency response. The NT1 doesn't introduce colouration or influence the integrity of the audio it is capturing – it simply captures sound for what it is. If you'd like a mic that does an excellent job of capturing a recording without imposing any emphasis on sensitive frequency bands, the RØDE NT1 is the one to go for.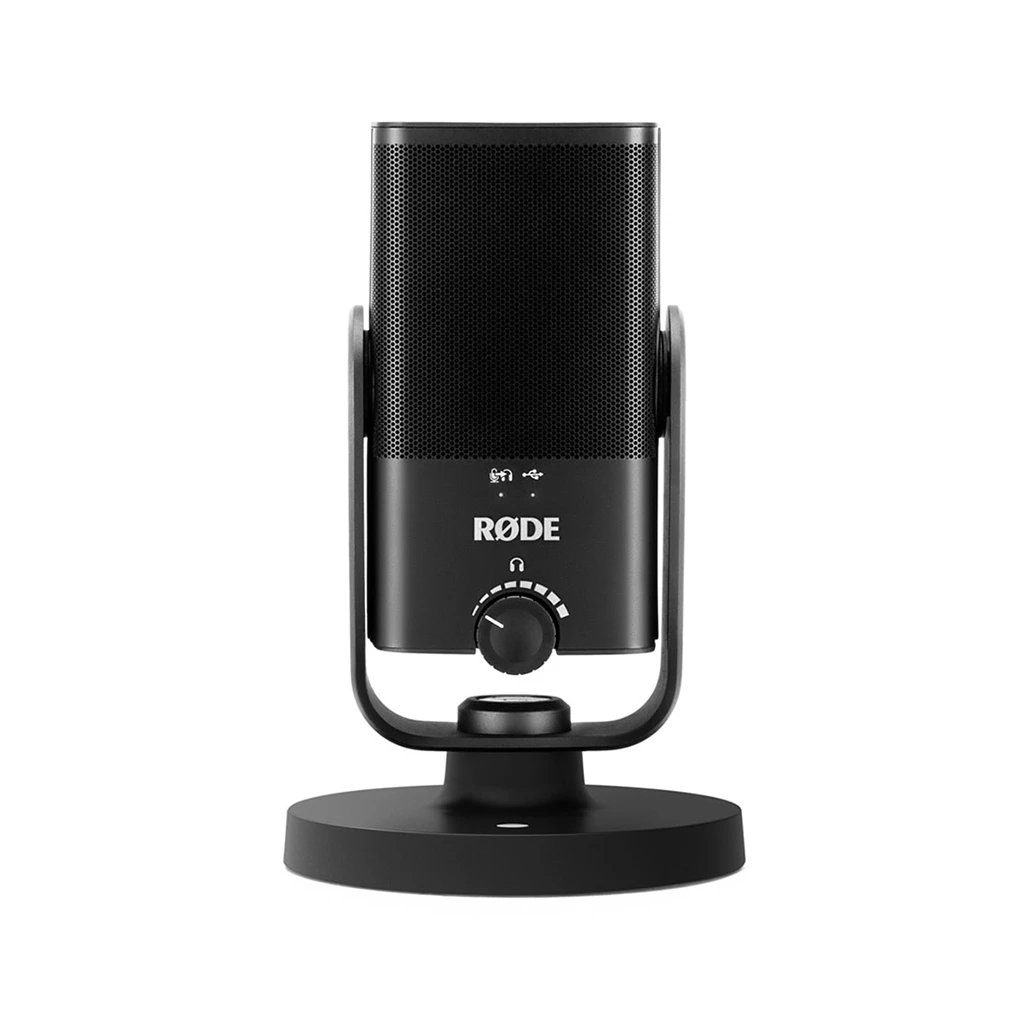 The NT-USB Mini is the mic to go for if you desire a pocketable powerhouse in your sound recording setup! Featuring the legendary build and sound of the RØDE brand, the NT-USB Mini is RØDE's answer to the barrage of USB mics in the market these days. Targeted at creators like podcasters and streamers and entry level prosumers, the NT-USB Mini's frequency response is fairly flat and neutral – ideal for rooms that have not been acoustically treated with frequency bands being tweakable later at post-production for the ideal mix.
Being a USB powered mic, you don't need an expensive audio interface or sound card to start recording. Just plug in to your PC, Mac, or tablet, and you're ready to get going. You can use it on any platform with any major digital audio workstation (DAW), thanks to its class-compliant USB output. Even if you don't have a DAW installed, the NT-USB mini will still allow you to record on free-to-use, web browser-based applications such as BandLab.
For added convenience, the NT-USB Mini has a built-in headphone amplifier that makes it easy to monitor your live recordings. The 3.5mm headphone output offers zero-latency monitoring – a feature perfect that eliminates that pesky echoing effect that can befuddle most recording sessions. If you're looking for a powerful mic with a compact enclosure, the RØDE NT-USB Mini is the mic for you.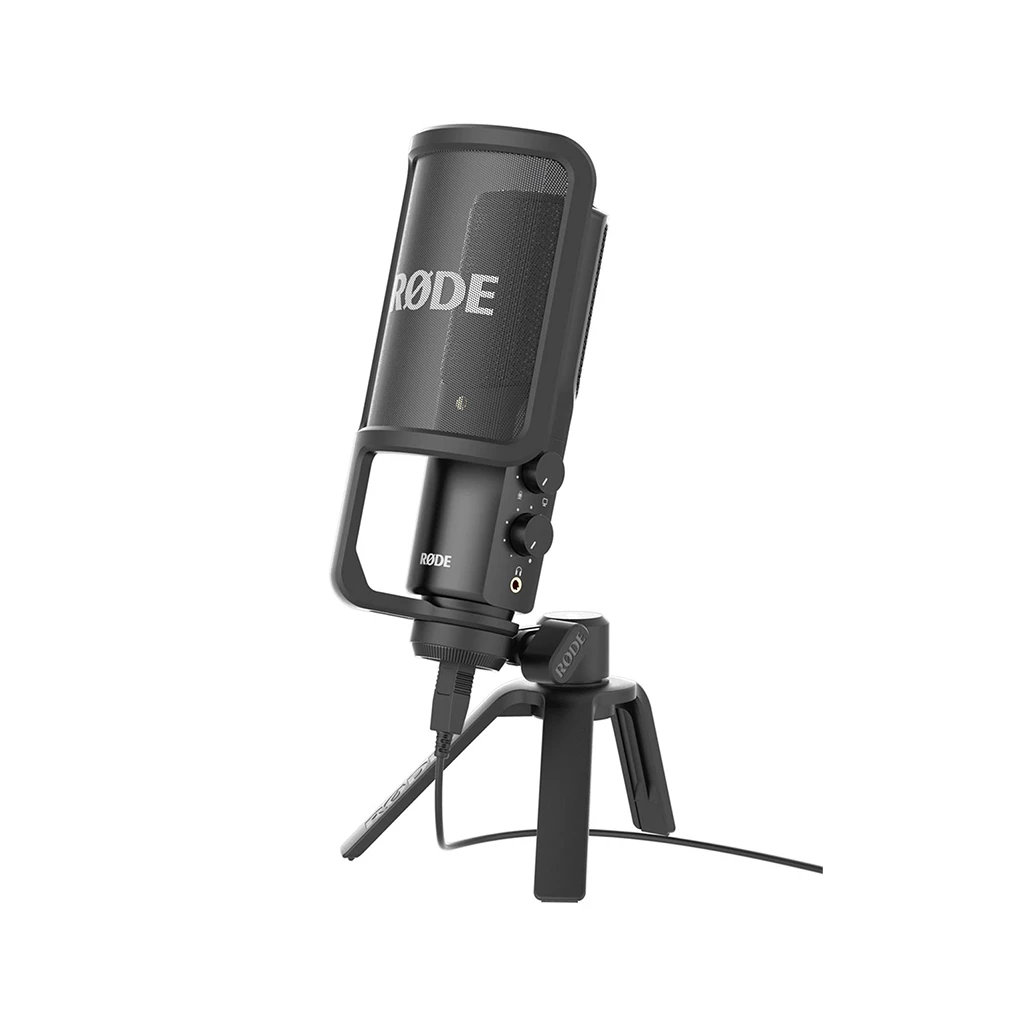 The bigger brother to the RØDE NT-USB Mini, the NT-USB is a highly versatile USB microphone that is ideal for multiple high-quality recording applications. A Jack of all trades, this mic is the ideal budget solution for recording musical performances in addition to content creation applications such as podcasting, streaming and voice-over work.
The RØDE NT-USB does not deviate from this established norm –this mic sounds very natural, clear and transparent, and does not suffer from popping and sibilance issues that are endemic to most mass-market USB mics.
The capsule has an extended frequency response that works so that your recordings stay crisp while being sensitive enough to capture subtle sounds that test the threshold of human hearing. But this isn't just a one trick pony, the NT-USB is also robust enough to take loud audio sources without turning your recording into a garbled mess of distorted peaks! Afterall, one of the most important qualities of a great mic is a beautiful dynamic range.
Quality in both its sound applications and construction, the RØDE NT-USB is a great piece of kit that gets the job done easily and produces top-notch results.
Head over to our online store for our collection of RØDE Microphones here! You can also find our full selection of sound recording gear at Swee Lee on our online store here.