Some labels have their feet firmly planted on the ground. They're good at what they do and they stick with it. Others are willing to chart a different flight path for the sake of innovation, leaving earlier conventions behind. But only a select few manage to take the leap into modernity without compromising on their original standards. Fortunately for you guys, that third category is where you'll find our newest brand. Say hello to Gravity Picks.
Though a relatively young company, Gravity Picks already has an impressive array of ranges. While many manufacturers have turned to automation, this US-based company still finds the beauty in personal touches. In fact, Gravity Picks employs a tiny squad of craftsmen that cuts each plectrum by hand and polishes them to perfection.
With guitarists and bassists everywhere adding these boutique beauties to their collection, we thought it only fair that you should know a little more about them. From the feel-good beginning to their most recent innings, we'll lay the foundation. Prepare for the take-off, because here comes Gravity Picks!
Read more: Why Everyone Should Own A Travel Guitar
Prepare for launch
A charming, wholesome love story. That's pretty much Gravity Picks' biography in a nutshell. When Chris Fahey picked up a guitar aged 12, little did he know that it would shape his later life. Whenever he was in a tough spot, playing the instrument got him through it. He juggled a few hats throughout his early adulthood – ambulance driver, wedding DJ, forklift operator – but nothing quite stuck. Then, Fahey landed a job at a guitar pick company. And the rest, as they say, is history.
For 4 years, Fahey learnt everything he could about the trade. Techniques, materials, creation processes – the works. As he crafted, he began to realise that this was where his passions lay. Finally in 2011, the day of reckoning arrived. Gathering up all his life savings (and courage), Fahey dove straight into his own pick enterprise. That $4,000 proved to be an invaluable investment. Today, Gravity Picks runs out of a Californian facility 60 miles east of San Francisco.
Fahey and his team take immense pride in their offerings. Before they can even think of releasing a new product, each potential design undergoes painstaking rounds of R&D. Shapes and materials are carefully considered. That's because Gravity Picks considers customer satisfaction to be their main priority. Especially when many of those clients are giants in the music world.
No, really. Have a gander. Gravity Picks' roster of featured artists speaks volumes about how highly thought of they are. Billy Idol's main man, Steve Stevens, is on that exclusive list. As is Rob Chapman, who contacted Fahey after a pick mysteriously found its way into his guitar room. Just goes to show that even fate is on Gravity Picks' side. And who are we to deny fate?
Pick me up
With the exception of the Gold Series' and signature synthetic thermoplastic models, most Gravity Picks are made from Polymethyl Methacrylate, better known as acrylic. This thick-cast, stiff material doesn't yield or bend easily under pressure. The lack of flex leaves nothing to chance, as does the proprietary beveling system that ensures consistent edging. Acrylic also produces a sound that is fuller and brighter than that of their nylon counterparts. This makes their picks ideal for guitarists who love full control over their playing. Each shape comes in a variety of thicknesses, and many even have XL versions for meatier grips.
Because variety is the spice of life, you might want to try out different makes to see which one best suits your needs. Assorted packs contain a good mix of pick designs. You're in for a whole lot of quality experimentation, depending on whether you're choosing 4, 8, or 12 plectrums per set. Of course, if you've already made your mind up, there's no need to faff about. Just head straight for your number one choice. Your pick of picks, if you will.
Classic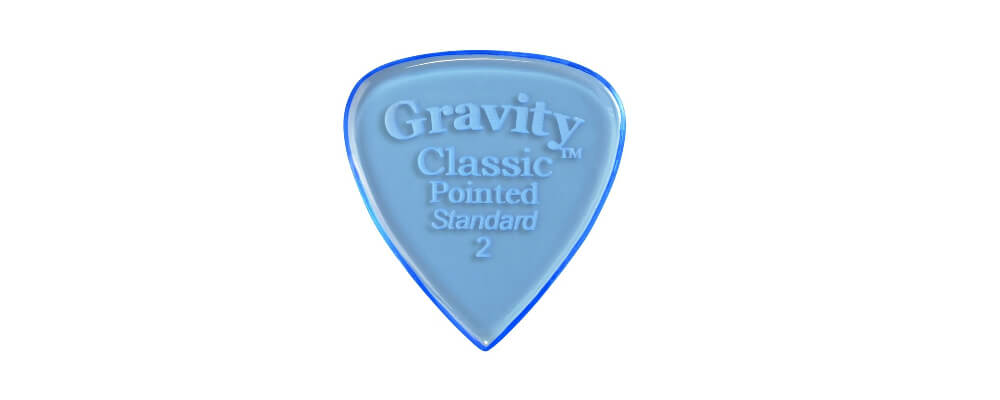 If it ain't broke, don't fix it. That's the Classic's whole deal. Its teardrop design is arguably what most people have come to recognize as the archetypal pick shape. This might explain why it's one of the brand's bestsellers. With a slightly sharper tip than is traditional, its laser-etched surface is easy to grip and glides smoothly across strings. The symmetrical design extends to an 80-degree bevelled edge for a good balance between speed and tone quality.
Sunrise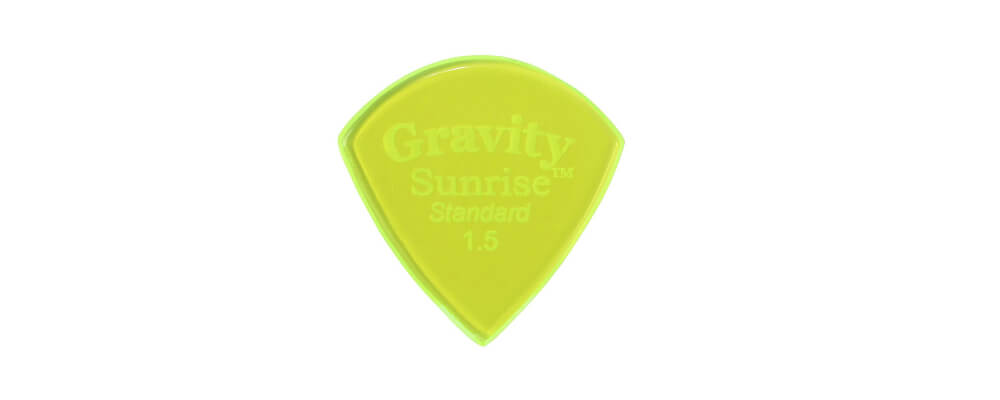 We wouldn't be surprised if Fahey's other bestselling design dawned on him after a terrific night's sleep. Its extremely ingenious design incorporates 3 distinct playing surfaces in just one single pick. By palming the plectrum in different positions, you can tackle swift attacks for leads or float through gentle chord work. Strike with the obtuse and acute edges for single-note riffs, or switch to the rounded side for full-figured harmonies. Adaptability, thy name is Sunrise.
Razer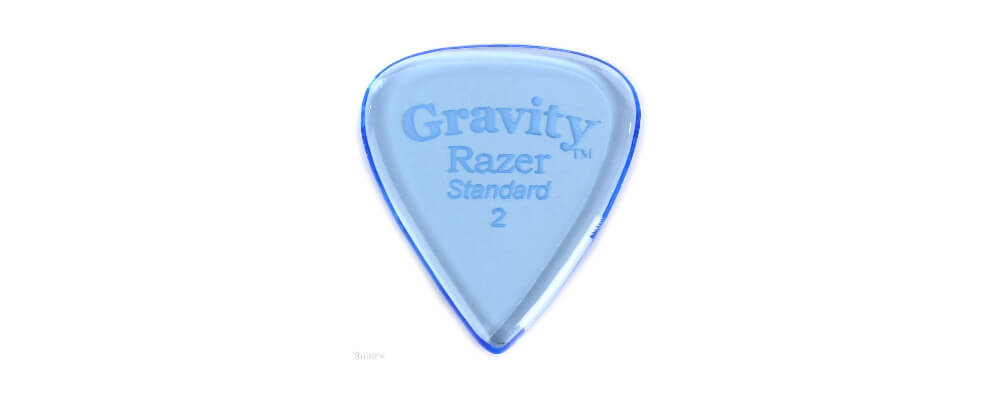 With a name like Razer, how could this pick not be the sharpest tool in your shed? It's a sleeker version of the Classic. The narrower build and more angular structure are highly suitable for detail-oriented players. No sloppy picking with this one, you'll have to bring your A-game. But it's worth it! Guitarists and bassists are in store for a focused attack with more clarity than you can cajole out of any nylon pick out there. It's particularly adroit at speedier metal runs, honing articulation and isolating notes with surgical precision.
Stealth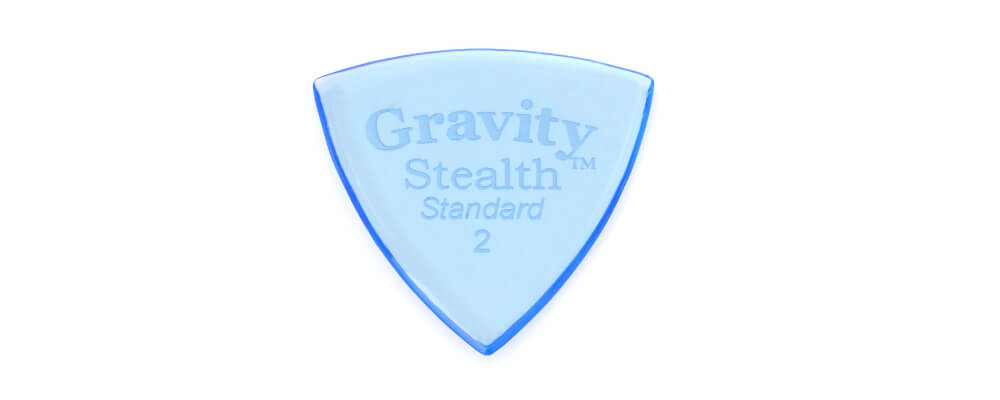 Let's be real, handling a guitar pick doesn't always come easy. It may be second nature to some, but others might find it a fiddly task. Like children learning fine motor control skills, individuals with lower grip strength, or those with larger fingers. Keep your struggles under wraps with the Stealth. Hewing close to an equilateral triangle shape, it's the increased surface area that does the trick. Along with the manually-buffed finish, it keeps your grasp right where it should be. Especially if you get the version with multi-holes for extra non-slippage. Don't worry, your secret is safe with us.
003 Jazz 3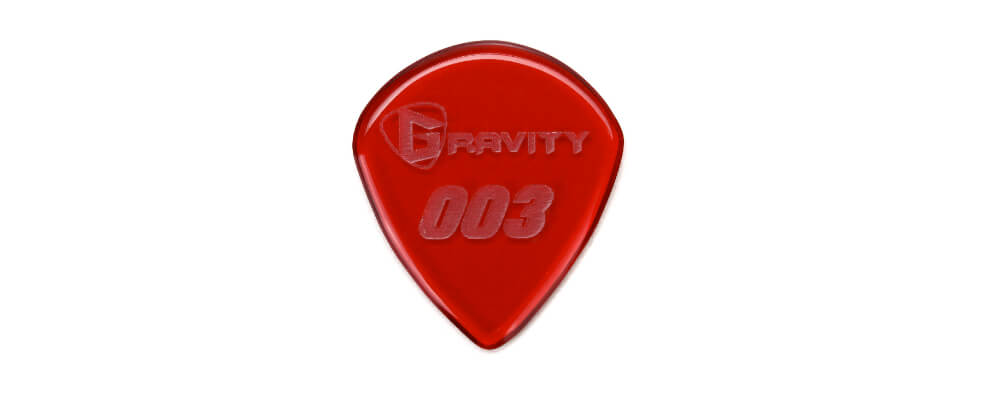 Gravity Picks' most long-awaited model was years in the making. Fans flooded their inbox with requests begging for a jazzy pick in their signature style. Ever the stickler for perfection, Fahey refused to budge until he was sure his design was at its best. The 003 is a nod to cult-favourite Dunlop Jazz III, albeit crafted in acrylic instead of the original's nylon. We deem it ideal for speed soloing. The pointed tip and minute profile provide enough agility to blaze through even the fastest runs with pin-point precision.
---
Feeling lightheaded at the prospect of owning your own Gravity Picks? Can't say we blame you. With these one-of-a-kind picks at your disposal, you'll be walking on air with each strum. Quick note – while we've brought in their best-sellers for now, there's always room for more. In the event any of your top picks are missing from our catalogue, drop us a message. We'll get them pre-ordered and sent to your doorstep ASAP.
Choices, choices! We know making a purchase decision can be tough, so feel free to throw burning gear questions our way. Anything on our website is fair game. Here's another helpful tip. Sign on for our newsletter. It's a collection of bargains, popular clicks, and up to the minute picks for your privileged eyes only.
Read more: Your Guide to Hollowbody & Semi-Hollowbody Guitars