Carter McLean isn't your ordinary drummer – he's what you might call a pro's pro! From jazz adventures with Charlie Hunter, drum work on Broadway's Lion King, all the way to his many solo albums – Carter McLean is known for being extremely prolific and well-versed across multiple genres.
He's also a time warlock, with the uncanny ability to juggle between being a musical educator, content creator, and maintaining a packed studio and touring schedule. His musical ability is also well respected by his peers – having shared the stage and recording booth with stellar names such as Greg Holden, Charlie Hunter, Victor Wooten, Anthony Hamilton, Jamie McLean and many more.
With some help from our friends from Ludwig USA, we managed to snag a bit of Carter McLean's time to answer some of your burning questions on Instagram. You can watch our Instagram Story Highlight for video snippets of his AMA on our Instagram page.
Also, we've just written a beginner's buyers guide for the drums! So if you've ever wanted to get into drums, now's the perfect time!
P.S. In conjunction with the beginner drummer's buyer's guide, we're also currently having a Drumsticks, Mallets & Brushes Special. From 24 Jan to 21 Feb, buy 2 pairs and get 5% off! Talk about a deal!
Read more: Buying Your First Drum Kit: A Guide For Beginners
What is your favourite music genre?
I don't think I have one type of music I like. I really listen to a lot of different stuff. Not everything – I don't love everything.
But (I do like) straight-ahead jazz, R&B, funk. Some of the earlier hip hop stuff, classical music, solo piano music, vocal music. But my favourite stuff to just listen to are Stax Records. You know, like Donny Hathaway, Motown, that kind of thing.
What are the things you wished you knew about the music industry when you started?
The music industry has changed quite a bit. I started playing music in 1988. And you know, now things are really different – people used to sell a lot of records, they used to be able to tour a lot more, make more bread.
If I could say one thing. If I could go back and tell myself something it would be: Be able to be versatile! Because you never know when you're going to get a call from somebody. And if you can't play that style of music, or know that style, you're not going to get the call. So just be as versatile as possible, especially today.
How did you transition from practising to performing? Do you have timeline advice for aspiring drummers to go from beginner to performer?
I started playing gigs pretty soon out of the gate. I would say probably a year or two after I started playing. My brother's a guitar player and singer and I was doing gigs when I was like 11 or 12 years old playing parties for people – making pretty decent money for a 12-year-old. And I've been playing ever since.
So I would say get to it as soon as you can hold down a beat and have decent time – get out there and gig!
Who inspired you to become a drummer?
When I was young, the people that I saw that really inspired me were bands like Van Halen, Led Zeppelin, and The Who. So kind of like classic rock bands for the most part.
When you see John Bonham playing as a kid – it's pretty exciting! The same thing with Alex Van Halen, he's got all the toms and a big kit and, you know, he's playing arenas – it's a really fun thing to see. And I remember seeing that as a kid saying that's what I want to do.
You wear many hats: rock climber, skier, photographer, drummer, etc. How do you do it? Time management tips maybe?
Yeah, so I used to be a big skier, outdoors guy, rock climber. I had a lot more time to do that when I was younger. I don't have as much time to get out and do that but I try to when I can.
Photography is almost a daily thing now because as a musician, you have to have an Instagram page or you know some kind of a feed, and you've got to be constantly taking photos. So one of my favourite cameras is this Fuji X100F – love this camera, does a lot of great videos too (or you can just use an iPhone).
So the music thing and the photography thing kind of go hand in hand these days, but try to carve out time for whatever your hobbies are outside of drumming. It really is good for your mind and your soul.
What are some interesting stories you can tell us about working on Broadway? Any funny stories?
There are a lot of funny stories I could tell you about working on Broadway but one of the funniest one, real quick, was (on a weekend). Usually, on a Saturday and a Sunday, there are two shows – there's an afternoon show and an evening show. And in between the shows, you have three or four hours to kill – so people go out and get dinner, people go to the movies.
I remember this one day, I went out to get dinner. And I came back into my drum room – which is my own (very quiet) room with a door. I laid down and took a nap and I forgot to set an alarm. When I woke up, the orchestra was (already) playing "Circle of Life", which was this first song.
I was completely asleep, jumped up (when) I realised the orchestra is playing. Sat down behind the drums only to realise my right arm was completely asleep. And I still didn't have my in-ear headphones on. So as the song was starting, I grabbed my in-ears and played the first song pretty much one-handed, because my right arm wasn't working. So (the) moral of that story is to set an alarm, but that only happened once in 24 years.
Other than drums, what are some hobbies that most of your fans are unaware of?
Some other hobbies that I have are gardening – we have a really big garden at our house so we grow vegetables, so I deal with a lot of that stuff. Also, photography like I was mentioning – I'm really big into that. But also just being outside; being healthy; hiking; being out my dog and just spending time with my wife.
Sometimes the best thing for drums is to step away from them for a second, maybe take off for a week, and then come back to it. So having other hobbies is really great (for that).
What's something that most beginners get wrong when starting with the drums?
I think something most drummers get wrong in the beginning is the obsession with technique and speed, everything is faster (and) louder. And that's fun when you're a kid. But when you grow up, and you play real shows with real people, that stuff doesn't matter. So having a really solid time, feel, having a good touch on the instrument, and having really good ears – that's more important than anything. If you're a good listener, you're on the right path!
Top three drummers in your opinion?
Picking three drummers these days is almost impossible, so I'll just rattle off a list. Some of my top guys are always Tony Williams, John Bonham, Jack DeJohnette, Brian Blade, Bill Stewart, Roy Haynes, Elvin Jones, Idris Muhammad, and also, Kenny Wollesen. There are so many people that you should check out like it's almost impossible to make a list.
But not just drummers, check out the bands these people are playing with and other people that they are using in the drum seat. Paul Motian (for example), I mean, I could go on and on. But typically it's mostly straight-ahead jazz guys. But you know, also all the groove guys.
Which rudiment do you predominantly use in your playing, especially on solos? And are there any favourites? What is your thought process when you do solos?
When I'm playing, I really don't think about rudiments. I've never been a big rudimental guy. I know paradiddles, and singles, and doubles and all that kind of basic stuff. But I never did drum corps or anything.
When I'm soloing and just playing, I'm really just trying to flow with whatever I'm hearing. So if I have to do a right, right, but I need to break it up to right, right on two different instruments – your technique should allow you to do that. So really let your ear guide you and don't get caught up in the right, left, left, left, right, right, left, left – all that stuff. Another good thing is to check out the book I did called "Concepts and Creativity" that breaks all of those ideas down in a pretty straight-ahead way.
How do you record your drums? They sound so crispy!
The way I record my drums is typically (with) a kick and an overhead mic. But that totally depends on what I'm recording for – if it's an artist and they want snare, rack tom, overheads, room mics, all of that stuff. But typically if I'm just going to record an idea or put something on Instagram – it's either just through my iPhone, or it's an overhead ribbon mic and then like an AKG D12VR on the bass drum typically, or an Earthworks mic. But you know, the recording thing takes a long time to figure out and it's a lot of trial and error. Nobody showed me how to do it – it's just go down, figure it out!
During the lockdown when musicians have no chance to work with others, how do you upkeep your musicianship? Especially in ensemble playing.
So during the lockdown, I've been doing a lot to keep myself busy. I did two records with Charlie Hunter, virtually. So I would track send (it to) him, he would track then he'd send it back to me. That's how we did those.
And then I did two solo records, a solo drum record and then a record called "Move You", that's kind of more instruments. Just trying to keep my head creative and thinking about the music part of it first and less about the drums. I think if you put the music first, the drums will always be correct if they follow up.
What instrument would you play if you didn't pick the drums?
If I didn't play the drums, I would be pretty stoked to be a great piano player. I think if you ask a lot of drummers, they'd play the piano. Jack DeJohnette is an amazing piano player. There are a lot of people that write on piano.
I play a little bit, but I'd like to be much better. I just tend to lean towards working on the drums, doing clinics, and stuff. So that's kind of where my brain goes. But I love writing on the keyboard. I played bass and acoustic guitar. So the more instruments you play, the better your ears are going to be, the more context you'll have on the drumset.
What's your number one tip for developing rhythm?
The number one tip for developing rhythm would be listening to a lot of different music. I'm talking difficult music like classical Indian music and straight-ahead classical stuff with a lot of time changes in time signatures. And then also just practising with a metronome and getting your pulse really solid.
The house is burning down. What is one Ludwig snare that you would save?
All right, the house is burning down. What do I grab as far as my snare? I have a vintage, mid-1920s Ludwig. It's nickel hardware. It's in impeccable condition.
It was a one owner drum – came in the original suitcase with the original rosewood sticks. And it's just like a time capsule. It's absolutely incredible, so that's the drum I would keep.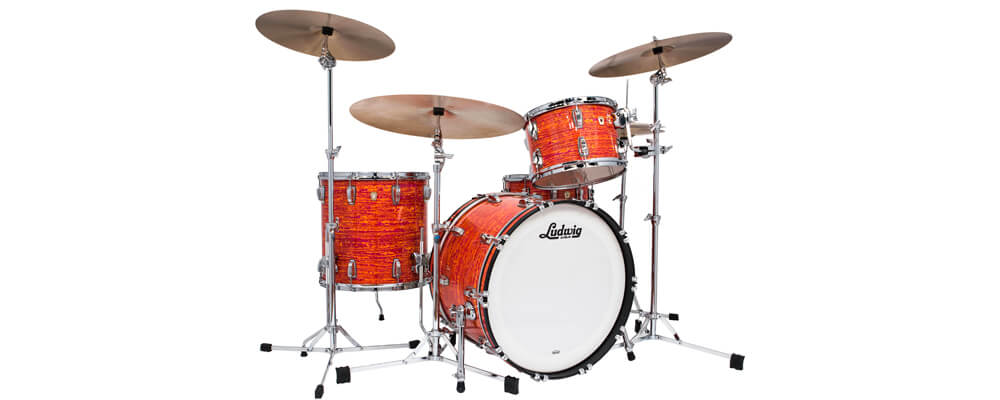 We know that you have both Ludwig Classic Maple and Legacy Maple kits! How do you pick which one you will use for each gig/session?
Yeah, so I have a Ludwig Legacy Maple kit and then I have a Ludwig Classic Maple kit. The Classic Maple kit I have kind of tuned for pop-rock stuff like Lion King. Then the Legacy Maples have a little rounder of an edge. So I have those usually tuned up more kind of for the jazz, soul jazz kind of stuff that I like. So most of the time I'm playing my green Legacy Maple kit. I love it.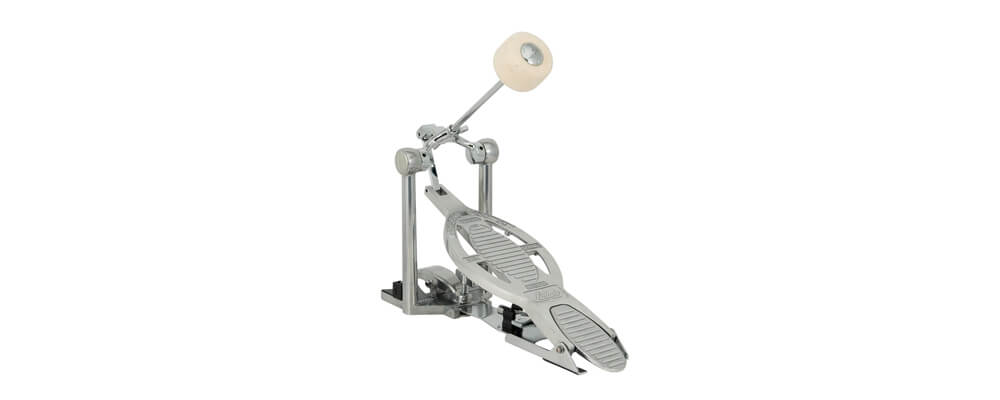 Which pedal do you use most of the time: the Ludwig Speed King or Speed Flyer? What do you think about them?
So I use both the Speed King and the Speed Flyer. Most of the time I use the Speed King because I don't do a bunch of crazy foot stuff. And the Speed Flyer, I use at Lion King or something where I need a little more oomph for when I'm playing maybe a 22-inch bass drum or I need to do some faster stuff with the foot. They're both great, but the Speed Flyer tends to be (for) more pop modern stuff and the Speed King is more groove kind of slower stuff.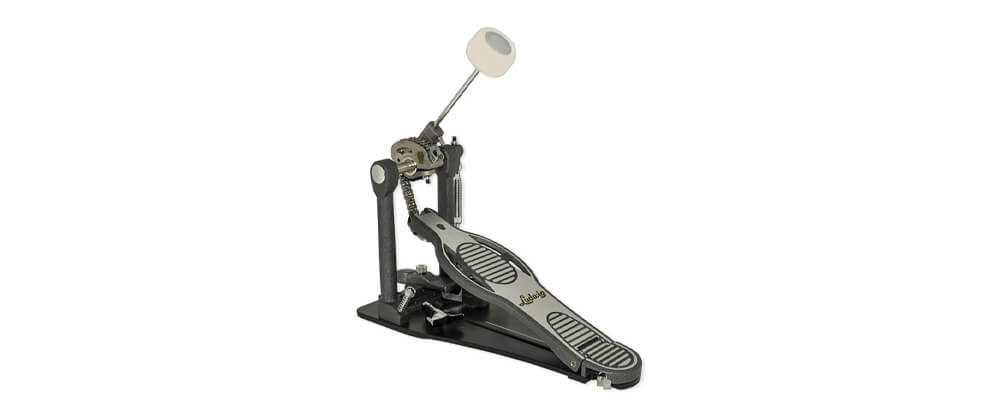 Let's talk about something that's often underlooked. What are the qualities that have led to your preference for Evans Strata drum heads on your drum kits?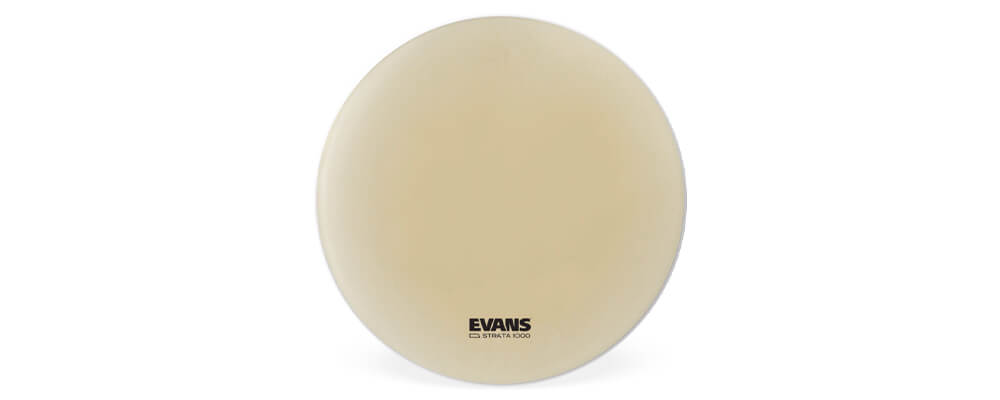 So what I really love about the Evans Strata heads, in particular, is they're very thin. They're a classical drum head for snare drums and concert toms.
I started using them on my drum kit because they had a really nice open sound and a really nice feel. I'm not sure exactly what that film is, but it's got a really nice touch to it. So I use it on snares, kick drums, toms and all sorts of stuff. They're fantastic heads, try them out!
Tell us about your Promark Carter Mclean signature sticks. Can you explain their unusual shape?
Alright, so this stick has kind of an unusual tip. It's a lot longer and more pointy than most. And the reason being is when you're playing ensemble at an angle like this, you get a very fine tip, which is a darker, more articulate sound.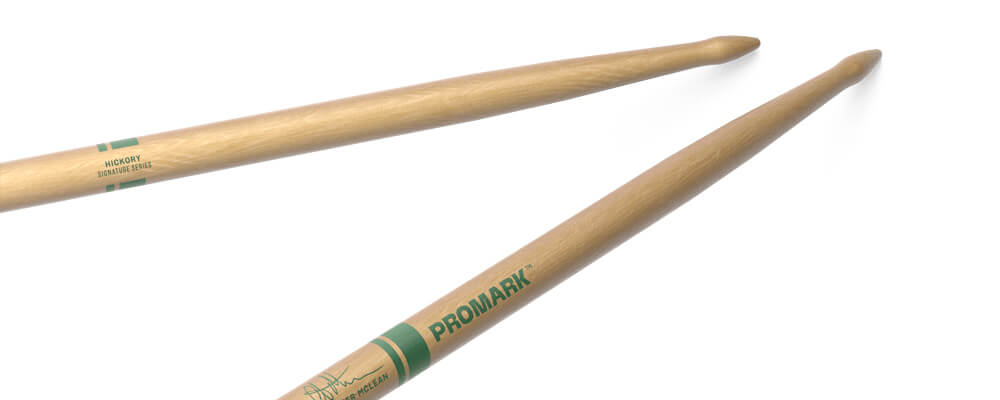 As you drop the stick and get more parallel with the symbol, you get all of this wood hitting the ride cymbal, and that creates a brighter, more washy open ride sound. If you're playing rock, it's great. So all you do is turn your hand and you get different cymbal sounds. Also, that stick feels great on drum heads when you're doing press rolls. Or when you're hitting floor toms or rack toms it's just got a nice big fat feel to it.
What's an overlooked aspect when people set up their drum kits?
Setting up a kit is really, really personal. Everybody sets up (differently). Some people have their hi-hats really close to them, some have them far. Some stuff feels like this or like this.
I try to sit where my feet are even. My hi-hat and my bass foot are at the same distance from me – kind of centred. I think people sometimes have everything too close to themselves, where you kind of feel like you're being attacked by the drums. I try to set up so it's out in front of me. So I can reach everything comfortably. But it's also not all right on top of me. Also, you want to have a good posture sit up straight and everything is just kind of within a wrist flick away to get to. Hopefully, that helps.
What do you look for when selecting drum sets?
What I look for when selecting drum sets, if I'm looking at vintage stuff, got to make sure the edges are cool and the hardware is all okay and functioning. But also the vintage stuff, there's always such a vibe with those. So looking at the colour and how well it's preserved. Sometimes they made really fun different finishes then.
And on new kits, it's more like creating something from scratch. I have a new kit that I'm designing for early next year, 2022, that's really bizarre and different for most people. And I have that kit being built because I want to approach the kit in a different way – where I'm using two bass drums at the same time, but also keeping my foot on the hi-hat pedal. So stay tuned for that!
But (selecting kits is) really just (about) creating a vibe. Every kit should inspire you to play different things.
What do you consider when you pick cymbals?
Alright, when I pick out cymbals, I'm just obviously going for tone. When I play on like late-night TV shows or Lion King or something that needs to cut through a band (or) that a microphone will hear on camera, or on stage – I go for a heavier cymbal. If I'm just playing a duo with Charlie Hunter or something, I'm going to go for a much thinner, softer sounding cymbal because we get to play very quiet together.
Everything is different depending on applications. I have a 26-inch 30th-anniversary ride that's incredible. I could bring that and a pair of 12-inch hi-hats to a gig and be set. Or like on Lion King, I have a bunch of cymbals – I have a 22-inch ride, a 10-inch splash, 19-inch crash, 15-inch hats and two Chinas. So it just depends on the gig. It's all about application and picking the right sound for the instruments you're going to be playing with.
Talk to us about your practice routine!
My daily practice routine, honestly, changes every day. Today, for example, I was playing along with the marimba loop that I created just to work on my time and phrasing. Sundays I'll just play with mallets some days I'll work on my Kaleidoscope exercises and pushing that farther than I can even play.
Some days I'll just play to records and some days, I don't want to practice. Sometimes you got to know when to take a few days off and kind of regenerate some creativity. If you try to force it all the time and squeeze it, you know, it can be counterintuitive sometimes doing that. So, practice routines should be inspiring and whatever moves you that day, I would explore.
In your opinion, what is the most important trait for a drummer?
The most important trait for a drummer is – don't have a big ego! The music is way bigger than the drum part you're playing, or the drums you're playing, or what kind of hi-hats you have, or what kind of snare drum stand you have, or what kind of drum heads you use.
The biggest thing is to get out of the way of the music and let the music come through. And if all you have to play is (a simple beat), then do that and be really into it. Listen to the music that's happening around you. If the tune calls for like (a complex beat)then play that and try to figure out where one is and be on top of it. But don't have a big ego. Be confident, not cocky, and groove your ass off.
---
Huge shout out to our friends at Ludwig Drums USA for making all this interview with Carter McClean possible. If you're interested in keeping up to date with Carter's music ventures, give him follow on Instagram @cartermac. You can also keep up to date with his shows and music releases over on his website!
Conversely, if you are inspired by Carter McLean and are looking to start or level up on the kit, Swee Lee has an assortment of drum gear to help you reach your musical goals! Check 'em all out at our website!
Read more: A Simple Cymbal Guide for Beginners