Whether you're a seasoned guitar virtuoso or a passionate pedal enthusiast, finding the right power supply is imperative to getting the best out of your pedals. To keep your guitar tones in top gear, here are our picks for the best pedalboard power supplies you can buy in 2023.
Shop Pedalboard Power Supplies
Types of Pedalboard Power Supplies
First things first, let's cover the basics of what you will need to know about pedalboard power supplies. When it comes to powering your pedalboard, there are two major types of power supplies to choose from:
Daisy Chain Power Supplies
Daisy chain power supplies are the more budget-friendly option that works for simple pedalboard setups with few pedals. This type of power supply allows you to connect multiple pedals in series using a single power output. 
While daisy chain power supplies are affordable, there are two considerations. Firstly, they aren't ideal for setups with a large number of pedals. More crucially, daisy chain power supplies can produce a lot of noise and interference in the signal chain.
Isolated Power Supplies
Isolated power supplies are the gold standard for pedalboards – especially if you're looking for unparalleled sound quality. Each output on an isolated power supply is electrically separated from the other outputs, ensuring that each pedal receives clean and noise-free power. This isolation eliminates the possibility of ground loops and unwanted noise, resulting in superior and transparent performance.
Things to Consider When Buying a Pedal Power Supply
Here are some essential factors to consider when you're selecting your very own pedal power supply:
Number of Outputs: Evaluate the number of pedals you currently have or plan to add to your setup. Then, ensure that the power supply has enough outputs to accommodate all your pedals while leaving room for any potential future expansions.

Power Requirements: Different pedals have varying power requirements. Check the voltage (V) and current (mA) needs of your pedals and ensure that the power supply can deliver the required power to each pedal.

Universal Switching: Touring or heading abroad soon? Make sure your pedalboard power supply has the ability to change its input voltage range. This feature allows your power supply to adapt to different voltages supplied by different countries (usually ranging from 100V to 240V) via a switch.

Size & Weight: If you're frequently on the move or have limited space on your pedalboard, opt for a compact and lightweight power supply that won't add unnecessary bulk to your setup.

Build Quality and Durability: Planning to take your pedalboard around town? Choose a power supply with a sturdy build and durable materials to withstand the rigours of frequent use and transportation.

Budget: Consider your budget and weigh the features you need against the price of the power supply.
Check out our picks for the best pedalboard power supplies for 2023: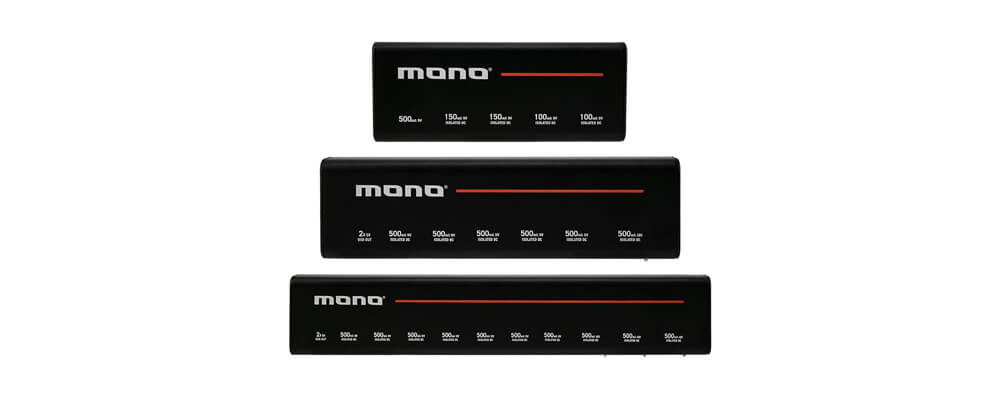 You've definitely heard of MONO's reputation for excellence with their critically acclaimed instrument cases and pedalboards, so it's no surprise that their brand-new pedalboard power supply units are an absolute home run.
Compact and Lightweight: The MONO Power Supply features an ultra-slim profile and is designed to fit under the smallest of pedalboards. Its lightweight and durable aluminium housing ensures longevity and mobility – perfect for on-the-fly gigs and clutter-free studio sessions.

Quiet as a Whisper: Enjoy flawless performances with precise and energy-efficient power regulation, ensuring your pedals receive clean electricity without unwanted noise or hum.

Power for Every Occasion: The MONO Power Supply is available in three sizes, each equipped to meet diverse pedalboard power needs. From the small version ideal for compact builds, to the large model which is ready to power up to ten pedals.

Expandable Outputs: Think you might want to step up to a bigger board? No issues here. You can simply link the MONO Power Supply to another one to power up more pedals with ease.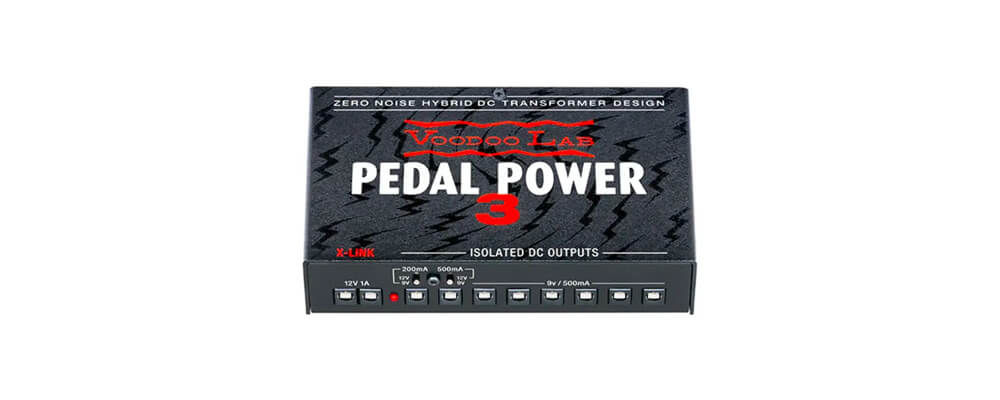 Voodoo Lab has been making pedalboard power supplies for as long as we can remember, and they continue to be a favourite among musicians due to their reliability and durability. One such example of a true workhorse power supply is the Pedal Power 3.
Zero Noise: Voodoo Lab's hybrid DC transformer generates a highly linear DC charge that is practically noise-free out of the gate. Add that to its advanced computer-optimised filtering and you've got a premium analog signal path for the ultimate pedal performance.
Keep it Current: Got power-hungry stomps on your board? Keep them satiated with individual outputs of 500mA on the Pedal Power 3. You've also no need to worry about overloading or shorting out your setup – each output only provides the exact current required by your pedals.
Flexible Expansion: If you ever find a situation where you need more outputs than eight, you'd be glad to know you're covered. The Pedal Power 3's two X-LINK outputs allow you to connect to Voodoo Lab's X-Series expansion modules like the X4 and X8 without needing to plug in additional wall power. That's up to 24 outputs!
Wide Power Compatibility: Versatility is the key with the Voodoo Lab Pedal Power 3. You can get the voltage you need to support regular 9V stomps as well as less-common 12V, 18V, and 24V variants – just combine its onboard 9V and 12V DC outputs.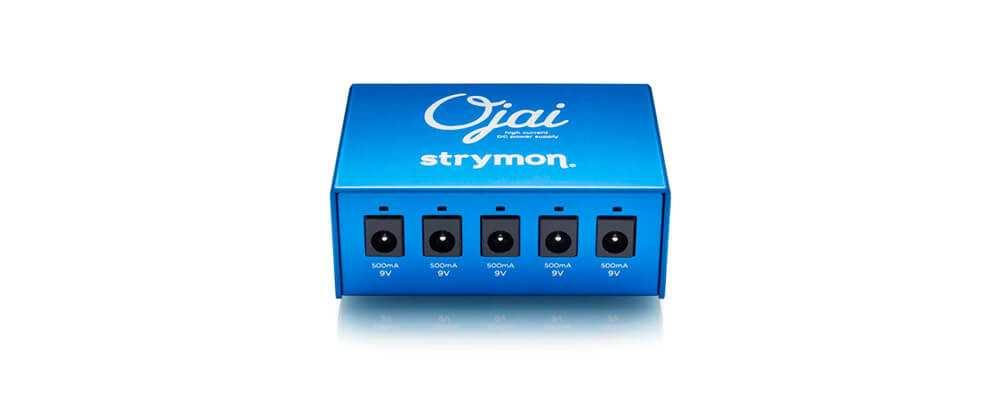 Don't be fooled by its size —the Strymon Ojai is an absolute powerhouse. In fact, this tiny terror is the most technologically advanced and feature-packed pedalboard power supply in its weight class.
Soak in the Silence: Ojai's all-analogue circuitry provides two layers of electrical isolation, entirely removing ground loop and AC line noise issues. This allows your pedals to sound the way they were intended.
Conveniently Expandable: Ojai is part of the larger Strymon ecosystem. Want to juice up more pedals? Connect a Zuma or Ojai unit to the 24V Thru jack to increase outputs as needed.
Small but Powerful: Despite its petite build, the Strymon Ojai can pack a punch. Five 9V 500mA outputs are plenty enough to provide enough current for your pedals to shine.
Space-Efficient Design: The benefit of being small? The Ojai's compact size saves valuable space on your pedalboard, offering a clutter-free and organised setup. It's also lightweight – which goes a long way toward saving your back.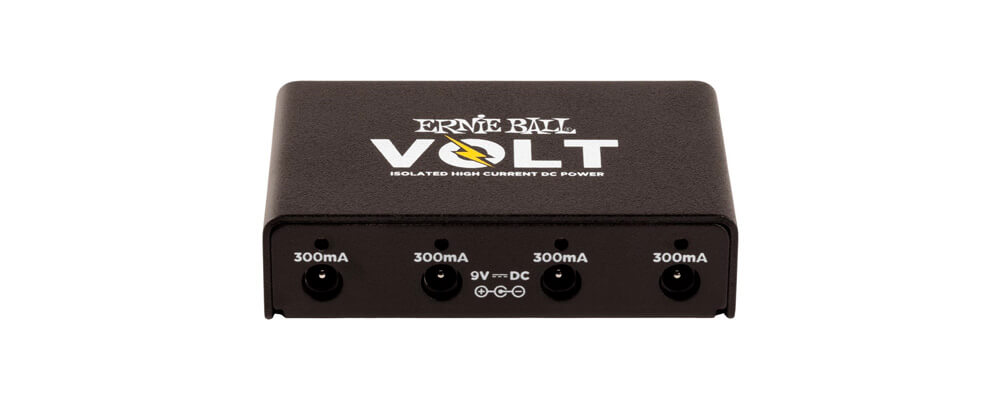 You may know them for their iconic instrument strings but Ernie Ball sure knows a thing or two about making great guitar gear. In the Volt, the Californian company has created quite the power supply contender that delivers reliable and clean power to pedals without breaking the bank.
Affordable Excellence: The Ernie Ball Volt provides exceptional performance at an affordable price, making it a budget-friendly option for musicians without compromising quality.
Power for the People: Despite its cost-effective nature, the Volt has four high-current DC outputs for clean, regulated power. You can rest assured knowing this diminutive power supply is both thermally shielded and has a short circuit-proof design with ultra-low noise operation too.
Good Things Come in Small Packages: Measuring at just 90 x 59 x 23mm, the Volt is smaller than a pack of guitar strings. This gives you the ultimate flexibility in placing it anywhere on your pedalboard.
Road ready: Jet-setting guitarist? There's no need to fuss with varying international voltages here. You can plug the Volt into virtually any outlet from around the world using the universal AC adapter and not worry about blowing your rig out.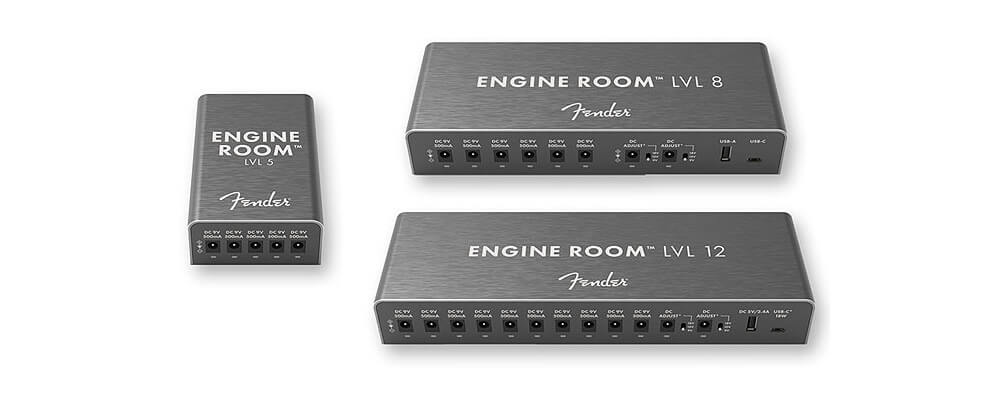 Fender is one of those names that needs no introduction. Since the 1950s, they've dominated the electric guitar scene – making guitar and bass gear for almost every application and situation. Enter their recent Engine Room LVL – a great power supply series that gives you everything you need and nothing you don't.
Clean and Consistent: Fender's commitment to excellence shines through in the LVL. Like any self-respecting power supply, the Engine Room LVL provides clean, noise-free power that ensures a pristine signal path for your effects.
Land at Any LVL: There's a power supply for every pedalboard size here. Choose between 5, 8, or 12 500mA DC outputs to match your specific effects needs. The LVL8 and LVL12 have toggle switches to give switchable voltages of 9V, 12V, or 18V too.
Rock Solid Convenience: While its sleek anodised aluminium casing makes the LVL look classy, it is also rugged and road-ready. In addition, each power output has a 2-colour LED indicator to indicate that power is being delivered to your pedals – perfect for troubleshooting at dark performance venues.
A reliable pedalboard power supply is the backbone of any well-functioning pedal setup. Whether you prioritise compactness, versatility, or affordability, these power supplies offer exceptional performance and will keep your music charged with energy for a long time to come. So, power up your pedalboard with one of these top-notch power supplies and let your music soar to new heights!
Frequently Asked Questions
1. Where should you place/ mount your pedalboard power supply?
When it comes to mounting your pedalboard power supply, there are a few factors to consider for optimal functionality and convenience. Here are some suggestions:
Underneath the pedalboard: One common option is to mount the power supply underneath the pedalboard. This can help save space on the top surface and keep your setup neat and organised. Many pedalboard manufacturers offer dedicated brackets or mounting solutions specifically designed for this purpose. Make sure to check the dimensions and weight limitations of your power supply to ensure compatibility with the mounting system.
On top of the pedalboard: Some pedalboard designs allow for the power supply to be mounted on top of the board itself. This can provide easy access to the power supply and simplify cable management. However, it may take up valuable real estate on your pedalboard, so consider the size of your power supply in relation to the available space.
Ultimately, the choice of where to mount your pedalboard power supply depends on your specific setup, preferences, and the available space on your pedalboard. Consider factors such as cable management, ease-of-use and accessibility when making your decision.
2. Why get a power supply when you can use batteries?
Firstly, not all pedals can run on batteries. In fact, most mini pedals and a select group of modern effects are not compatible with 9V batteries. So if you're looking to incorporate one of these pedals into your rig, you'll definitely need a power supply to provide the necessary power.
While batteries offer a hassle-free approach, pedals that do use batteries are at the mercy of the battery's lifespan. Additionally, batteries will continue to drain if the pedal is left plugged in – which is usually the case in a pedalboard setup. If you're performing live or recording, the last thing you want is for your rig to fail due to a dead battery.
Read more: The Best Pedalboards 2023