We're barely into 2023 and Ibanez has dropped a plethora of new guitars right on our doorstep. What's on the menu this year? Anticipate both familiar and daring designs that'll keep long-time fans happy, but also make trendsetters sit up and pay attention.
While there are plenty of signature models (some of which we've already covered), they've also thrown in a few acoustic and AZ series additions to get excited about. Let's get this show on the road.
The Ibanez Axe Design Lab
A brand new year comes with a brand new Ibanez series. Replacing the outgoing Axion Label, the Ibanez Axe Design Lab takes up the mantle of introducing avant-garde guitars. The 2023 models pay homage to familiar Ibanez designs, and here are some that have caught our attention.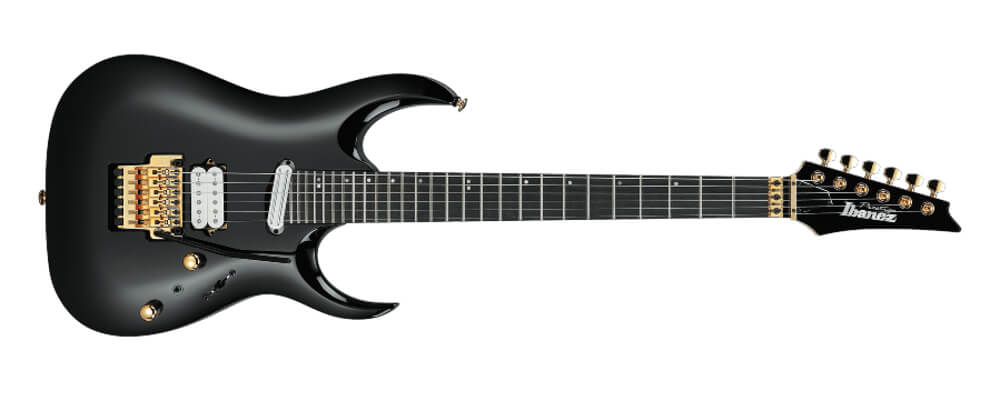 What do you do when 24 frets aren't enough? You turn to this Prestige with resonant African mahogany body and swift 5-piece maple/walnut Wizard HP neck. It relies on a pair of DiMarzio humbuckers for red-hot riffage. The obvious attraction on this Prestige is undoubtedly the 27-fret Macassar ebony fingerboard. Whether you're tearing through multi-octave runs or furious sweep picking, you'll never run out of fretboard space.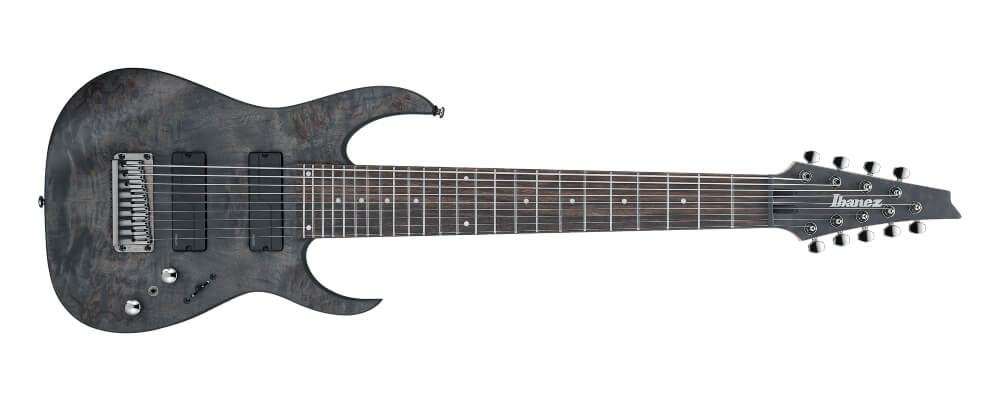 If 8-strings don't cut it, perhaps the latest Ibanez extended-range guitar will be right up your alley. Enter this 9-string tone monster guitar that combines the sleek design of the RG with uncompromising specs. Built with a poplar burl top, nyatoh body, and a 5-piece maple/walnut Wizard-9 neck, this behemoth rings clear and true thanks in part to its Gibraltar Standard II-9 hardtail bridge. Tone-wise, it sports Fishman Fluence Modern Humbuckers – a duo capable of going from modern active to high-output without noise nitpicks. Fiddle with the dedicated push-pull pot on the guitar's volume knob to pivot between two unique voices, and toggle the coil-tap switch for further sonic textures.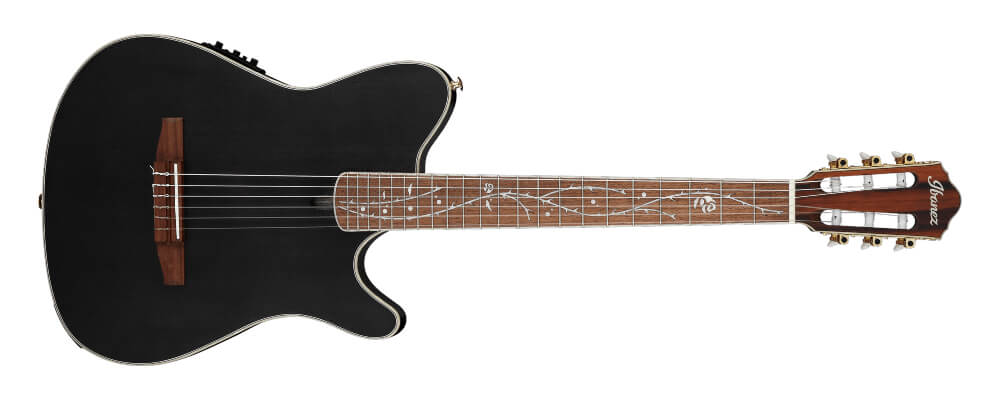 Just one of the many new signature models dropped by Ibanez this year, the TOD10 Tim Henson Signature lets guitarists sample what the Polyphia virtuoso is all about. Keeping his shredding skills and nimble fingerstyle gymnastics in mind, Ibanez has gone with a roasted maple neck in an AZ Oval "C" shape. Tone is at the instrument's forefront too, from the warmth exuded by its American basswood body, to two multi-voice Fishman Fluence humbuckers. The latter goes from searing-hot leads to glassy cleans without noise or inductance annoyances. To seal the deal, an eye-catching 'Tree of Death' inlay trails its thorns down the ebony fingerboard.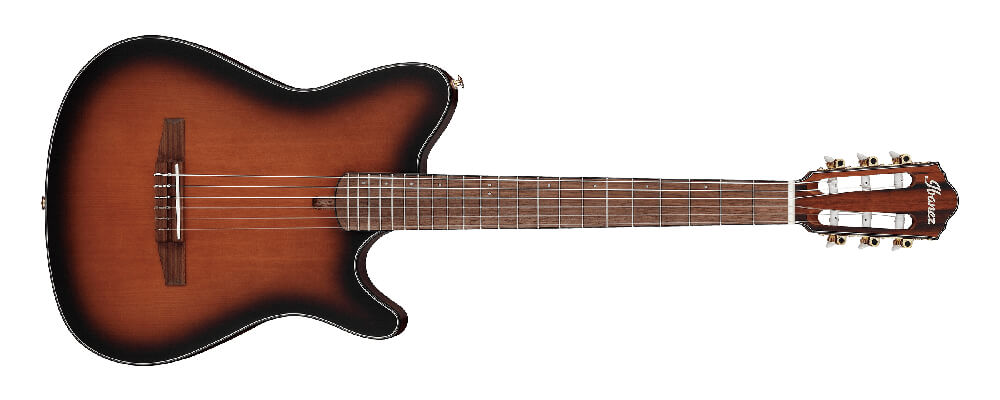 You'll never forget the first time you lay eyes on this acoustic-electric. It's a marked departure from the traditional nylon string, right down to its reed-thin 50mm body and wide 1.8-inch nut. Beneath the seemingly solidbody facade lies a classical-style fan bracing which takes response to a whole new level. Even the gentlest strum or pluck emulates the tones of a classical guitar to perfection. While it sounds superb unplugged, the T-bar under-saddle pickup blooms into a wide range of organic piezo-style sound when connected to an amp. Guitarists who enjoy adding percussive touches to their playing should be thrilled by how vibrant open-palm hits are with this instrument, almost like that of a bass drum.
The Ibanez AZ & AZES Series
Ibanez launched their AZ series 5 years ago, with a brand new solidbody shape. The offset double-cutaway design is reminiscent of the classic Fender Strat, but its Super All Access neck joint is pure innovation. A couple of years later, the company followed up with the more affordable AZES subseries, also known as the AZ Essentials.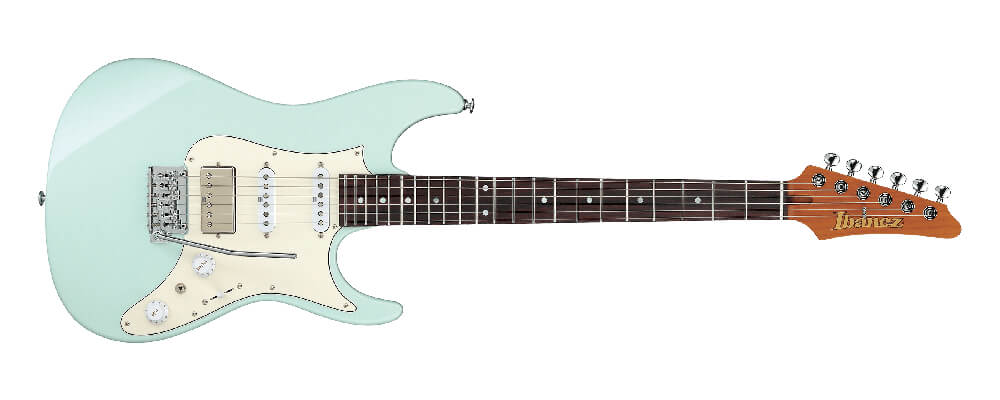 Every collection needs a good all-rounder, and this is it for the AZ series. To start with, it's comfy enough to wield for hours, thanks to the ergonomic rear body contour that hugs you close. Your ears will enjoy lengthy jam sessions too because the Seymour Duncan Fortuna pickups are some of the most sonically diverse in the business. The HSS config isn't just endlessly versatile but sings with clarity and dynamics even when the gain is cranked up. Tack on the MIX9 switch system to flit between 9 different sound combos or go from humbucker to single-coil mode, and you've got yourself enough variety to last a lifetime.
The Ibanez Q Series
Known for their headless design, the Quest series pairs its unorthodox builds with cutting-edge electronics, albeit at affordable prices. With so much going on, these guitars are ideal for technical or showy performers, especially in the rock and metal genres.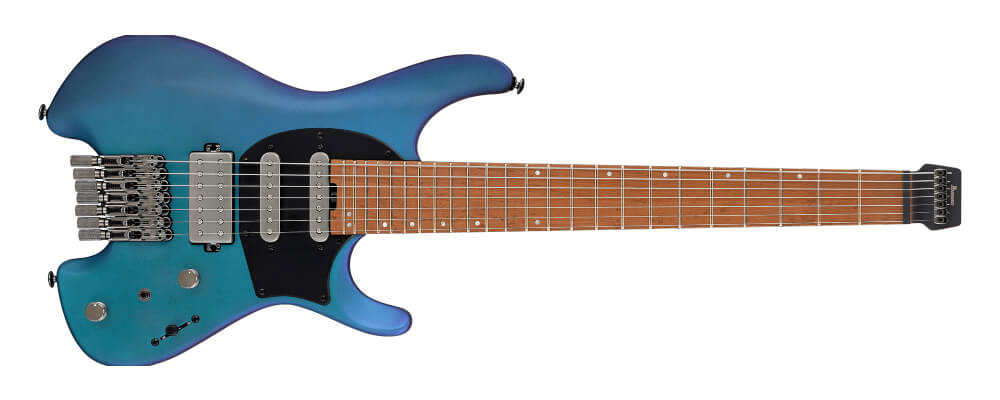 Love standing out in a crowd? You're the perfect candidate for this guitar. Not only is it aesthetic goals, but this 7-string's design also prioritises tone, performance, and player comfort. The former is especially apparent in the balanced Q58 humbucker and R1 single-coil pickups, which remain crystal clear with minimal self-noise. Adjust tuning at your leisure – the Mono Tune bridge enables an expansive intonation range, working alongside the Jescar EVO gold frets for stress-free bending. There's a lot of room for experimentation, particularly when you consider that this guitar accommodates any brand or gauge of strings.
The Ibanez EHB Series
As its name suggests, the Ergonomic Headless Bass line stands out for its lack of headstock and distinctive looks. You'll find nods to the Soundgear series in its chambered body designs, with the upper horn bearing some resemblance to that of the BTB series. With full-fat tone and rugged hardware, these basses are not for the faint-hearted.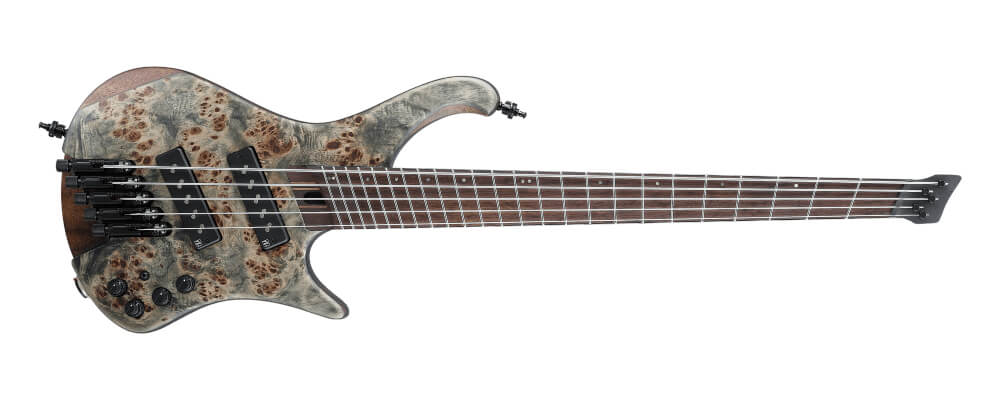 When it comes to player-friendly affordable guitars, Ibanez has hit it out of the proverbial ballpark with this 5-string multi-scale bass. It packs a surprising amount of value into its lightweight African mahogany build. To improve note definition and sustain, look to the Mono-rail 5 bridge with double-anchored saddles. It minimises sympathetic vibrations, prevents strings from ringing, and also improves energy transfer between the strings and body. Keep classic, chunky tones in your playbook via the Nordstrand Big Split passive pickups. The split-coil humbucking design is fantastically responsive, churning out growls and silky purrs depending on how you handle the strings.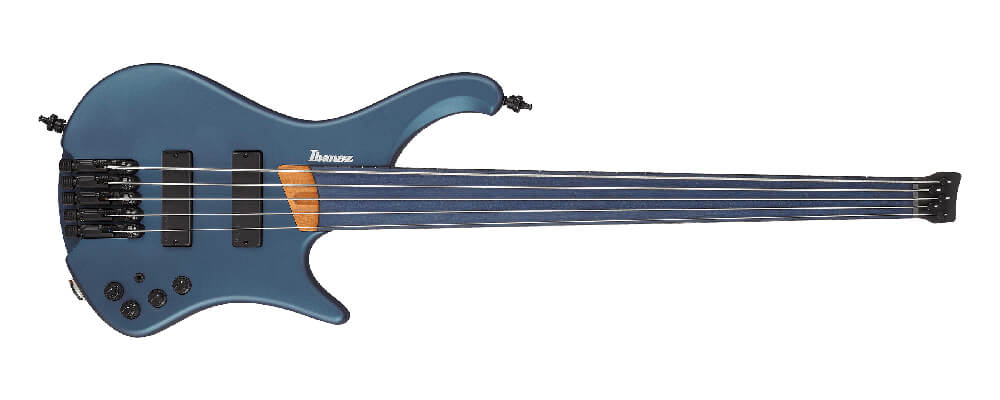 Encourage a beginner bass player with the gift of an EHB. Despite its wallet-friendly price, this 5-string fretless bass has everything you need to slap and pop alongside the best of them. The graphite-reinforced 5-piece roasted maple/walnut neck with ebony fretless fingerboard was made for your speediest solos. Whether you're into jazz, blues, metal, or prog – the premium Bartolini BH2 pickups pump out soapbar tones with relish. Their low noise design cuts back drastically on annoying buzz, focusing instead on massive sound with pin-point note articulation.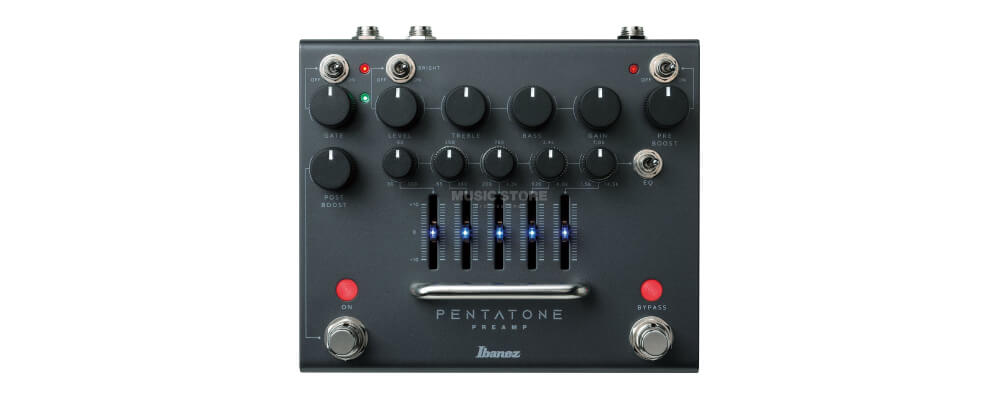 The secret to a great tone is a kickass preamp pedal and EQ. Fortunately, extraordinary tone-shaping control, dynamic arrays of distortion, and generous amounts of EQ are all at your disposal with the Ibanez Pentatone Preamp. This all-analogue preamp features five distinct tone shaping sections: a pre-boost, distortion with two-band EQ, a noise gate, 5-band parametric EQ, and post-boost. The pedal also has a bright switch, which boosts the high-frequency range to improve treble response. Two integrated footswitches control the preamp bypass and post-boost functions, while adding an Ibanez IFS2L external footswitch increases the player's control by making the pre-boost and 5-band parametric EQ foot-switchable as well.
Read more: Ibanez AZ, AZS & AZES: Vintage Guitars for the Modern Age